What Does MKBHD Think About The Tesla CyberTruck?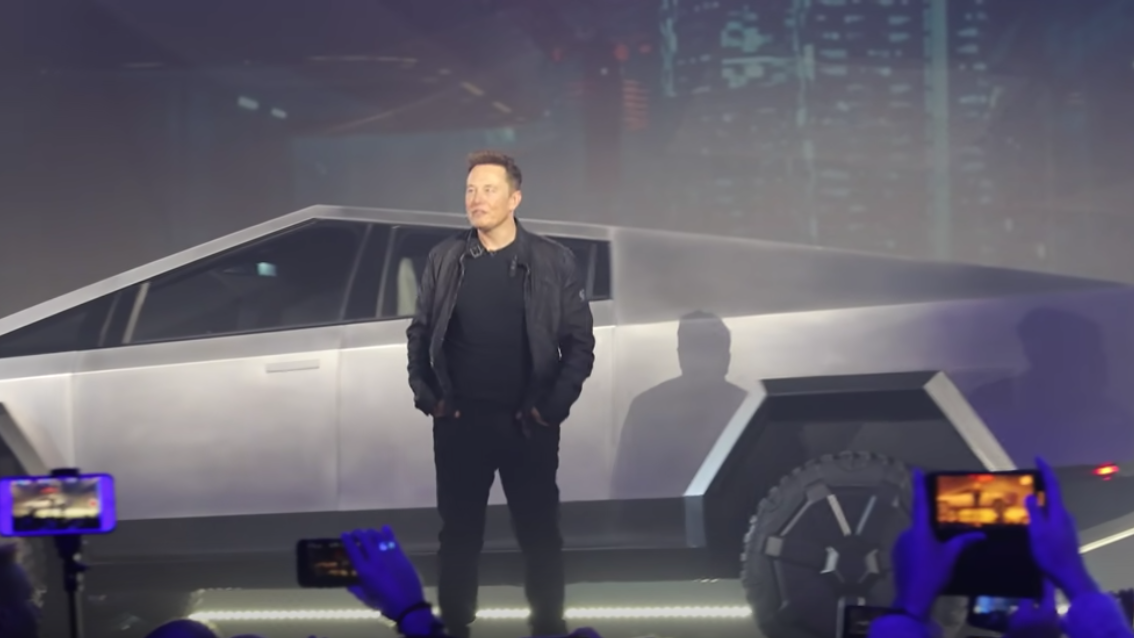 Elon Musk is nothing if not ambitious. Once again, the South African billionaire is attempting to completely upend an automobile market, this time with the Tesla CyberTruck. Since Musk and Franz von Holzhausen unveiled the product in November, the online reaction has been divided. Some Musk/Tesla fans have praised its visionary (even extraterrestrial) design. Others have wondered how Musk is going to get the typical pickup consumer to buy such a bizarre looking vehicle. And, as one would expect from the internet, a third group has primarily confined their thoughts to derisive memes.
YouTube star Marques Brownlee succinctly captures the feelings of an average person when exposed to the CyberTruck. In his first video, from the launch event, he is obviously skeptical, even when taking it for a test drive:
However, upon a few days of reflexion, MKBHD realized the CyberTruck's potential to revolutionize the entire driving landscape. Watch his rationale for pre-ordering the model:
The Tesla CyberTruck is still two years from availability, so you have plenty of time to decide where you fall on this weird looking pickup truck.
How To Install A Front License Plate On Your Car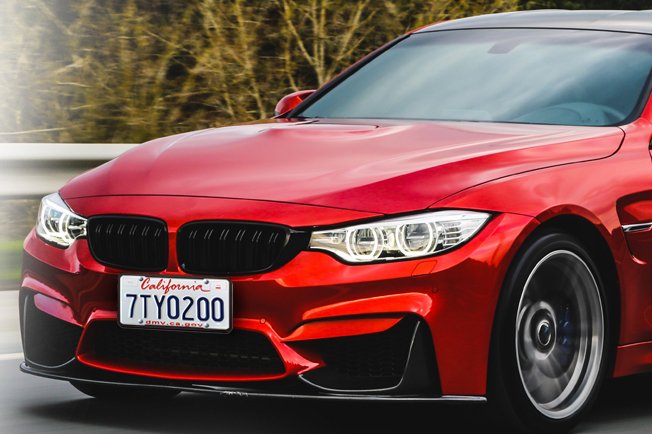 Some states require not one but two license plates—one on the front and one on the back of your car. This means that when you go to the DMV to update your registration, they hand you two plates. They do not, however, give you any guidance as to how to attach the front one to your car. If you bought your car in a two-plate state, then it is not an issue. Your vehicle already has a plate attached to the front, and all you have to do is switch them. But if you purchased your vehicle in one of the 19 states that only mandate license plates on the rear of your car, you have to figure out for yourself what to do about your front plate.
You might think that because more than half of all states require front license plates, that it would therefore be standard for cars to be made with holes in the front for licenses to be screwed into. You might think that, but you would be wrong if you did. As I was researching online how to tackle this issue, I stumbled upon an entire debate between car aficionados and state governments about how front license plates ruin the aesthetic of the car. I don't want to get into that here, but suffice it to say car manufacturers are not putting any holes in their vehicles that are not absolutely necessary.
The best information I found on the internet led me to this set of license plate brackets on Amazon. So I purchased it, hoping it would come with special instructions on attaching it to my vehicle. It did not.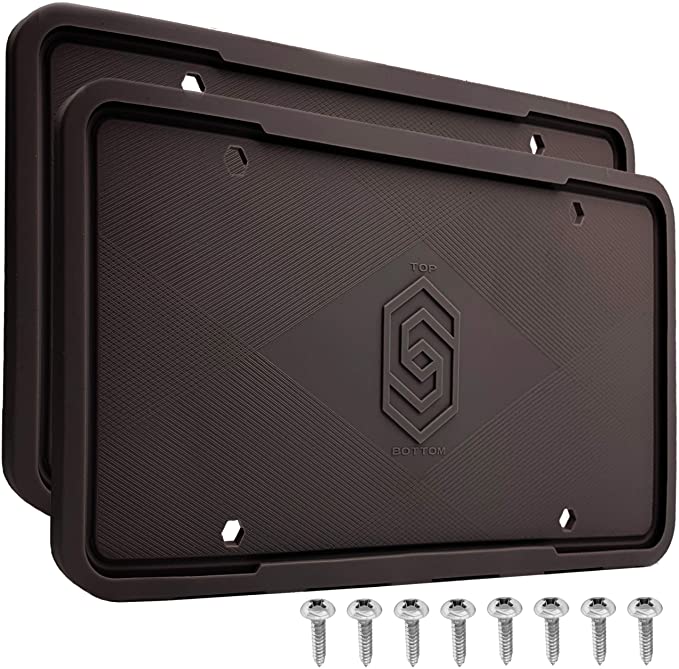 Solid Silicone Black License Plate Frame Covers 2 Pack- Front and Back Car Plate Bracket Holders. Rust-Proof, Rattle-Proof, Weather-Proof ( Black). — $13.99
Still in the dark, I called my local car dealership and asked them if they could put the plate on for me. "Sure!" they said. It would only cost me the small fee of $75. That seemed a little ridiculous to me, and when I asked the guy on the phone how it could possibly cost so much, he responded that I could expect half an hour's worth of labor. I wasn't convinced that he was being on the level, so I went down to the body shop down the street. I asked the guy there what he thought a reasonable price would be.
He started cracking up. Reasonable price? The work was so easy it should be free! Amazed, I had his guy do it then and there. It took maybe two minutes, and it was very much something I could have done at home. The mechanic simply got a drill, lined up the screws from the license plate set on Amazon, and drilled them into the bumper. Just like that my car was legal to drive on the road.
The takeaway: Don't listen to used car dealers. If you moved to a state that requires a front license plate, just order a cover online (such as the Solid brand one I bought) and do not hesitate to drill holes in your car. Although it might be upsetting to see them in your vehicle, it needs to be done. And it can even be done by an amateur like yourself.
3 Useful Car Accessories That You Actually Need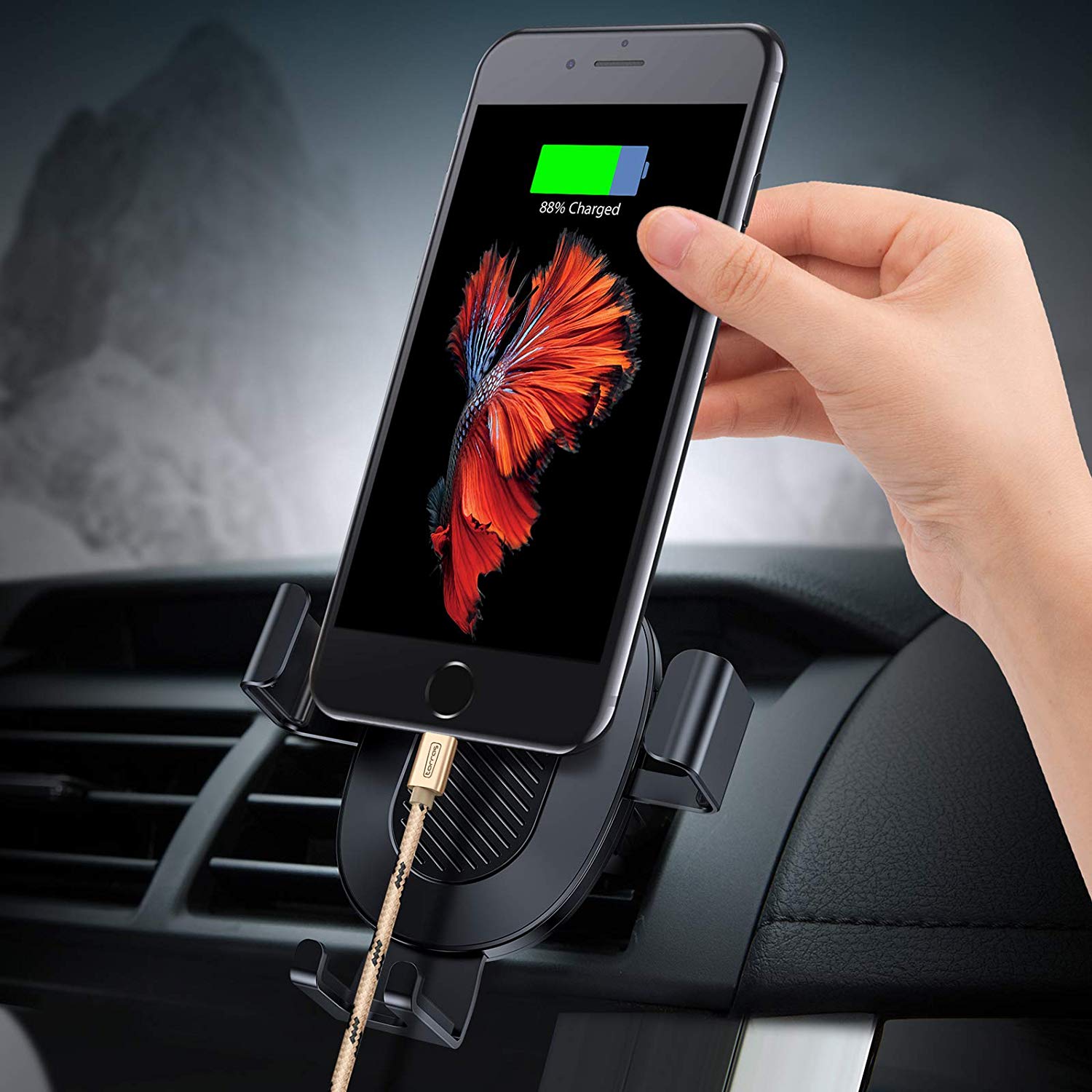 TORRAS Cell Phone Holder For Car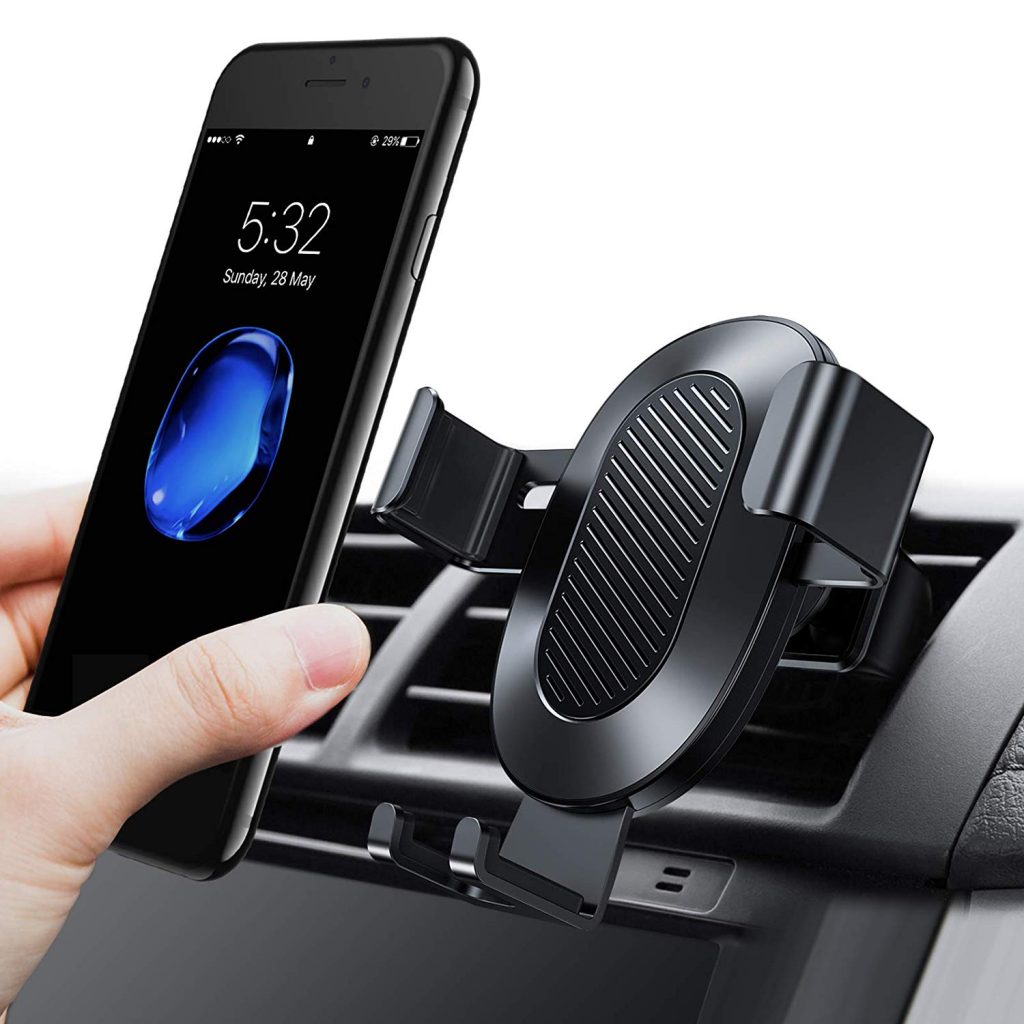 Everyone knows you shouldn't text and drive. But what if you need to look at your phone for Google Maps? Picking it up for that purpose can be just as dangerous. You should find a place that holds your phone throughout your drive. This TORRAS cell phone holder does just that. Only one hand is needed to put in and take our your cell phone. The reserved charging hole allows you to continue to charge your phone. The angle is adjustable. Two gear choices are provided so that it can be suitable for different kinds of vent boards. To install, all you need to do is insert the clip ball after releasing the nut. And you may tighten the nut to make it stable. The only reminder is you need to ensure the car vent louvers are strong enough to brace the weight of your cell phone. The car bracket is compatible with nearly all phone models from 4.0 inches to 6.5 inches. If you make money on the side by driving for Uber and Lyft, you should probably invest in one of these, since navigation is necessary at all times.
ThisWorx for TWC-01 Car Vacuum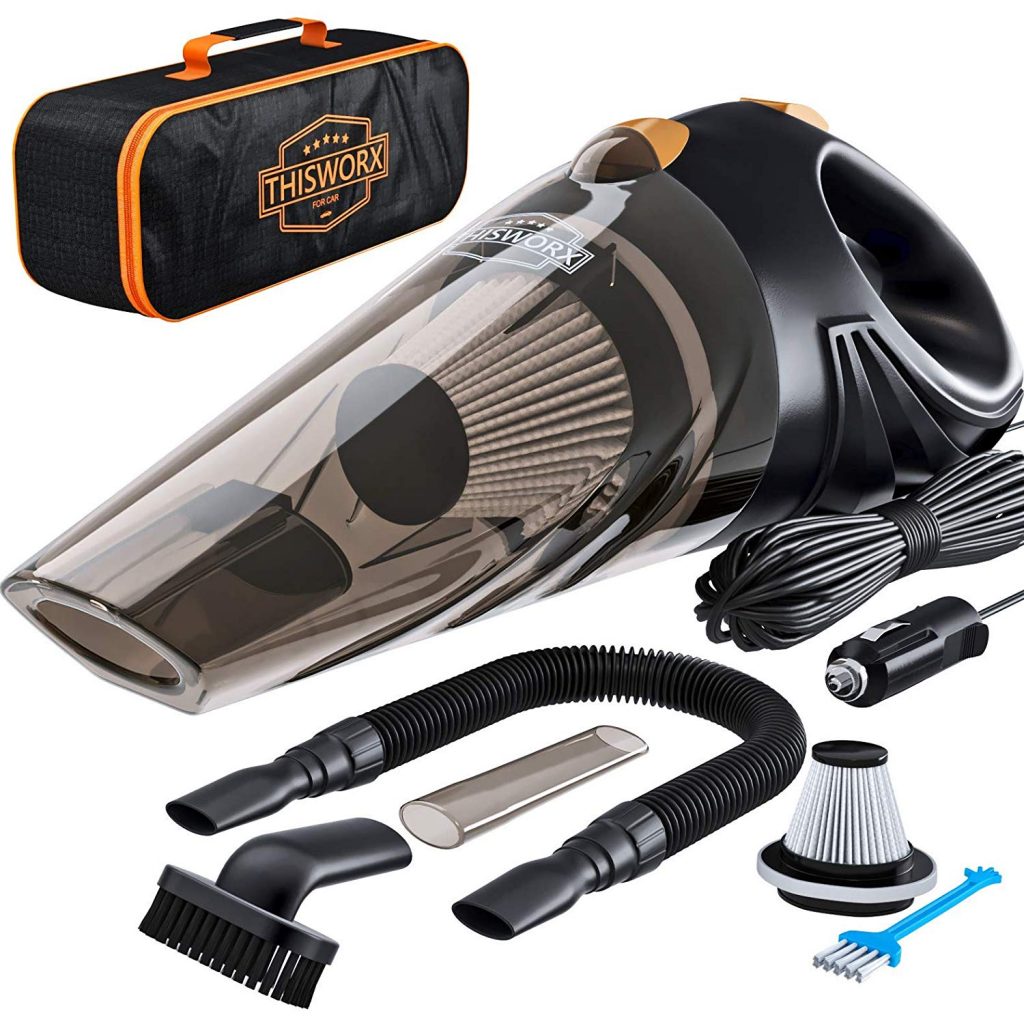 Have you ever noticed the car wash guy can only pick up small parts of the dirt in your car? To keep our car clean, we need a car vacuum to make sure no thing is left behind. It can be used for both dry and wet cleaning. The package comes with 3 different nozzles, 16ft long power cord, a carry bag, an additional HEPA filter and a special brush for filter cleaning. The long cord allows the vacuum to reach every spot inside the car. We don't have to worry about trash falling out of the vacuum because it features a trash container. The lid shuts off and secures the trash inside. The transparent container allows us to see when it's full. With this in-car vacuum, we can save more time and money and give more professional care to our cars.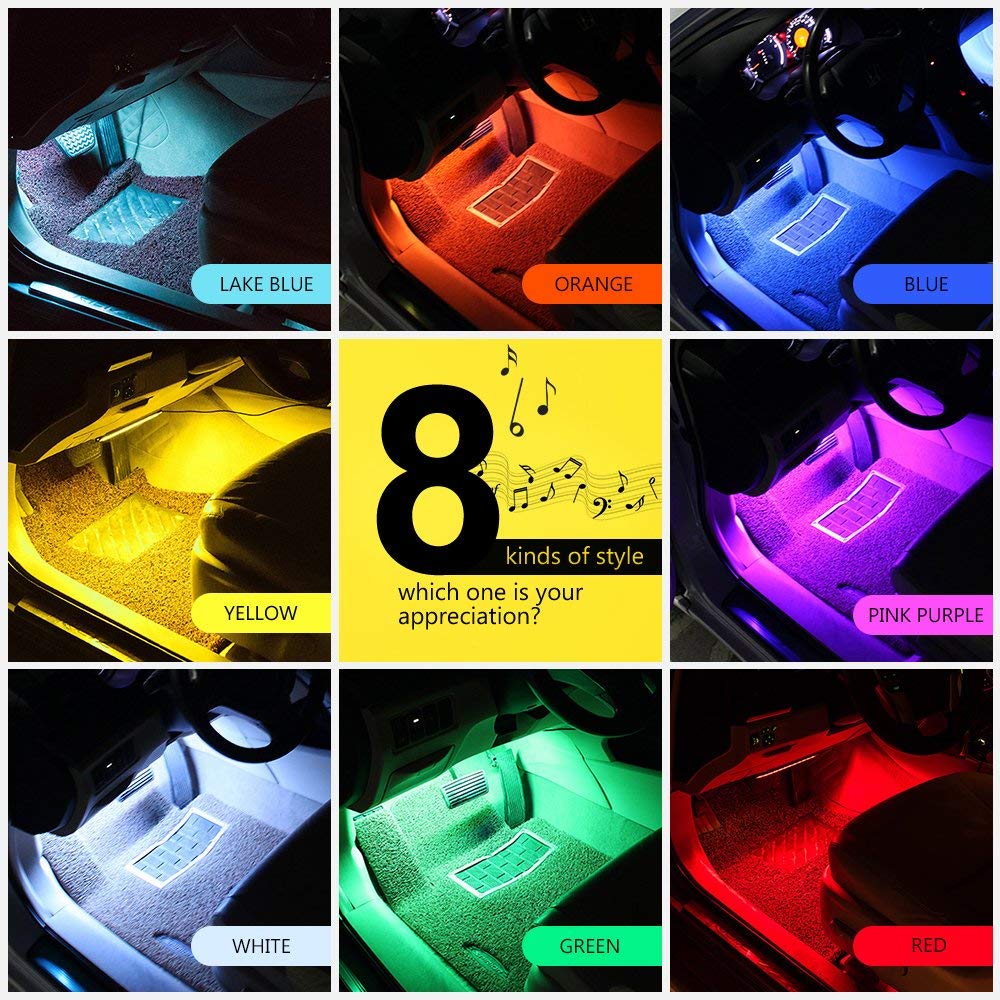 I do not like driving at night. When I first came across this car LED strip light online, I brought it immediately without any hesitation. It can light up your car to 8 different colors with LED lights that "dance" with the music, turning any old trip into a party bus. There are 4 automatic change modes: 2 jump mode control and 2 fade mode control. To install, just simply peel off the double-sided tape behind each strip and apply the LED strips anywhere you want, such as the footwell area. Then plug it into your cigarette lighter outlet and you are good to go. The package comes with four pieces of LED strips with 48 LED lightbulbs in total. Never let your friends or family feel bored when you are behind the wheel.
This Tent For Your Car Protects It From Bricks That Fall From The Sky (And Other Acts Of God)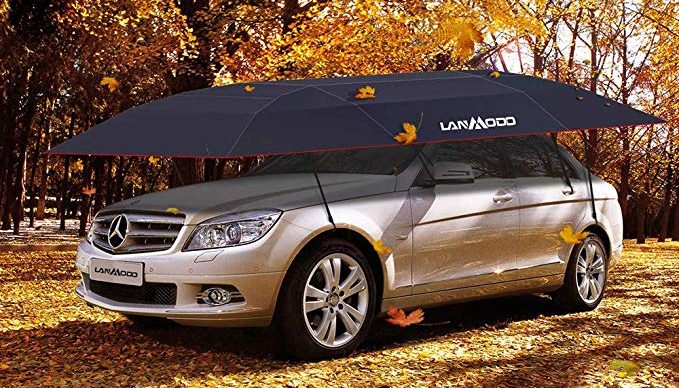 In this capitalist world of ours, wackier and wackier products hit the market every day. Just take a look through some of the most popular current campaigns on Indiegogo. You have (vegan-friendly) glow-in-the-dark sneakers, foldable baseball cap bike helmets, whatever this thing is that calls itself a chair… You also have a bunch of dubious tech promising to boost brain functioning. In other words, there is a lot of cool stuff out there for you to buy once you have fulfilled the lower levels of Maslow's hierarchy of needs.
One such cool product is the Lanmodo car tent. I first heard about this neat idea a couple of years ago when I saw a video go viral on Facebook. Hundreds of thousands of Facebook users were liking and commenting on the video, meaning that I was apparently missing out. It took me a couple of years to get my hands on one myself, but that may have been for the better, since it seems the innovative car umbrella has had some improvements in the last couple turns around the sun.
If you want to waste a lazy afternoon at work, spend some time on YouTube watching reviews of the Lanmodo car tent. There are a TON of them, and most of them feature some level of people throwing heavy objects on top of the tent to test if it protects the top of the car. From tires to bricks, the Lanmodo car tent comes through. Honestly, this thing is worth buying just to be able to do that yourself.
If you live in fear that your car will be pelted with heavy objects from the heavens, the Lanmodo car tent is a must own. Along the same lines, it is a good buy if you live in an area prone to hailstorms. If your house doesn't have a garage or if you are forced to park on the street for some other reason, this is a fantastic way to protect your vehicle from the elements. We suffered an historic snowstorm down here in the Tarheel State this past winter, and I was surprised at how well the Lanmodo tent protected my car. It saved me from a couple mornings of tedious scraping before heading off to work.
Lanmodo says that the car tent also works well as a beach tent, which, admittedly, is a functionality I have yet to try. Check back in a couple months, and I will be sure to let you all know!
Do you need the Lanmodo car tent? Depends on where you live and how much you are willing to spend on keeping your car in good condition. If you aren't too worried about it, a $30 car cover will do the trick of keeping your car free of rain and bird droppings. On the other hand, the Lanmodo car tent also promises to keep your car cool during the dog days of summer. In sum, there are many reasons to buy the Lanmodo car tent. So, hey, might as well try it out. What are you saving your money for anyway?