This MOSFiATA Chef's Knife Makes Food Prep Easy And Even Fun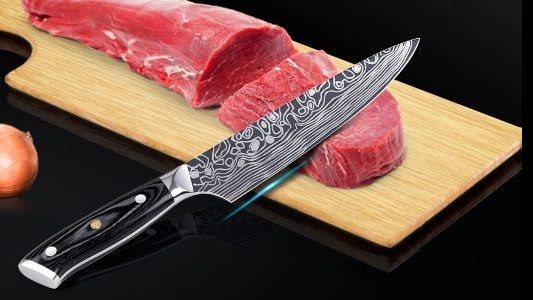 At the beginning of the month, I relished the opportunity to share with you all my transcendental experience using the most recent addition to my mother's cutlery, the MOSFiATA 8-inch chef's knife. Toward the end of my anecdote, I promised my readers that I would return with a full review once I had one of my own.
It took a tad longer than expected — summer plans will have that effect — but better late than never. The MOSFiATA 8-inch chef's knife I ordered for myself lives up to my maiden experience and subsequent expectations. The knife, emblazoned with its beautiful pattern redolent of Damascus steel, is just as super sharp as advertised, and it has become my go-to for the majority of my tasks in the kitchen. I use my MOSFiATA knife in the morning to cut up fruit, and I use it in the evening to prepare meats and vegetables for dinner.
In addition to its efficacy, the comfort this knife provides to the user cannot be ignored. I have weak wrists (or at least that is what my mother told me constantly growing up), and cutting for long periods can result in lingering stress or fatigue. I have yet to have that issue with the MOSFiATA 8-inch chef's knife, despite using it much more frequently than I am accustomed to. This knife actually makes food preparation enjoyable. For me at least, this is no small feat.
I have had this knife for a couple weeks now, and although that perhaps is not long enough to truly vouch for its durability, I feel pretty comfortable taking MOSFiATA at its word on that front. Everything else in their listing has turned out to be accurate, so why would they lead me astray on how long it holds up? Consider that with the fact that it is made from high-quality German steel with a solid Micarta handle, and you'll easily see my point.
I should also note that the chef's knife comes with a finger guard, blade guard and sharpener. I have not had to use the sharpener yet, but the finger guard and blade guard have both come in handy, keeping my digits and my knife in solid condition, respectively.
For anyone looking for a new knife that can accomplish a wide range of kitchen functions, I highly recommend the MOSFiATA chef's knife. I'd get it now, too, before the price goes up further. I'm guessing it is becoming popular: When I first wrote about it, it cost just $30; now it is $40.
These Cookies Make Christmas Great Again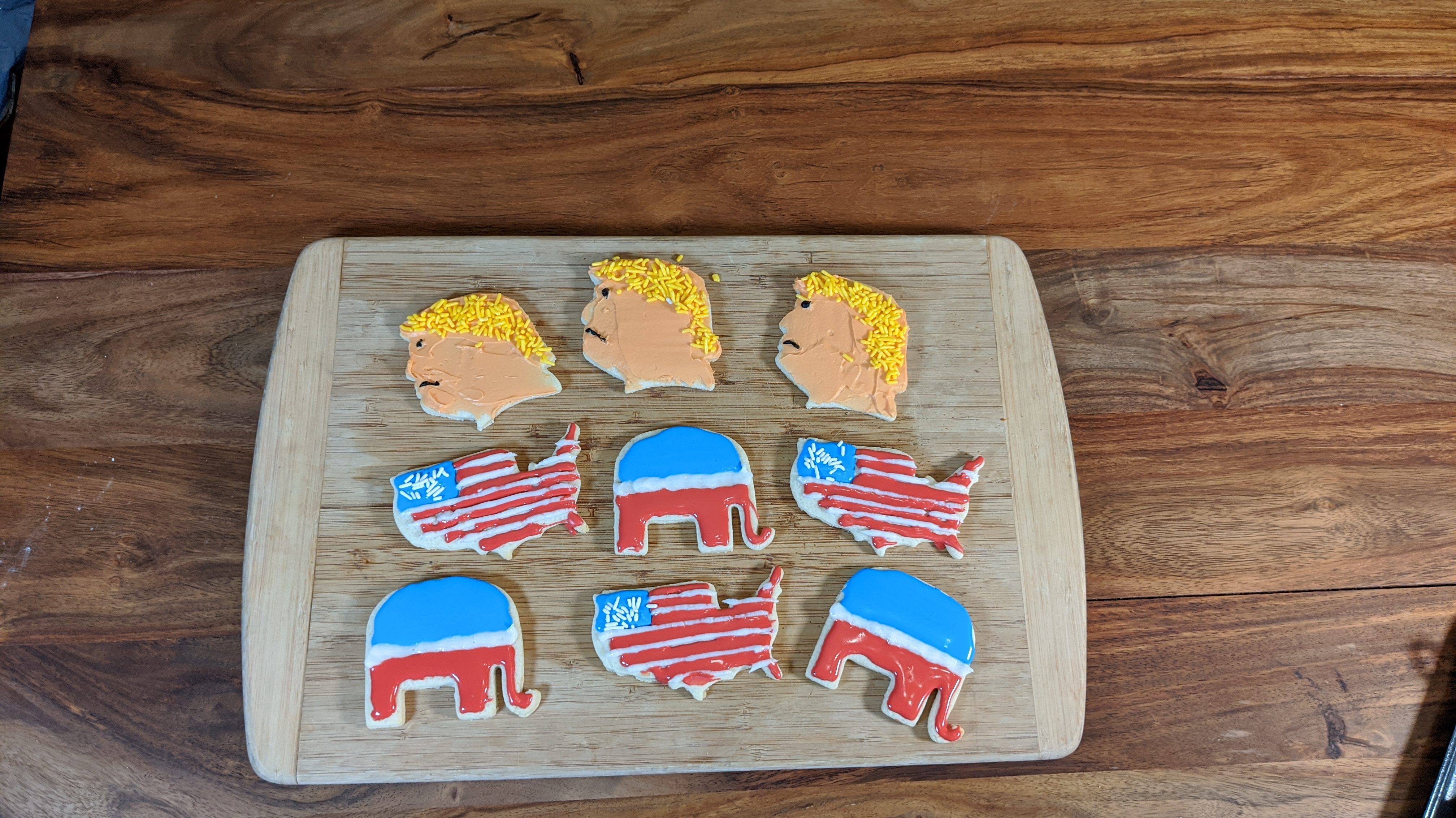 In the next two weeks, you will find yourself in plenty of situations in which you are expected to bring cookies. You have your office Christmas party, your neighborhood Christmas party, your church Christmas party and eventually whatever you do with your family on Christmas Eve and Christmas Day.
You have a few options. You could do the bare minimum: Bring store bought cookies. You could take it up a notch: Make so-called "slice and bake" cookies. Or you could go all out and impress your coworkers, friends and family members with fun styled cookies.
This pack of 3 festive cookie cutters includes everything you need to make this the most patriotic Christmas ever. It comes with one cookie cutter in the likeness of President Donald Trump. It comes with one cookie cutter in the shape of the GOP elephant symbol. And it comes with one cookie cutter in the outline of good ol' U.S. of A.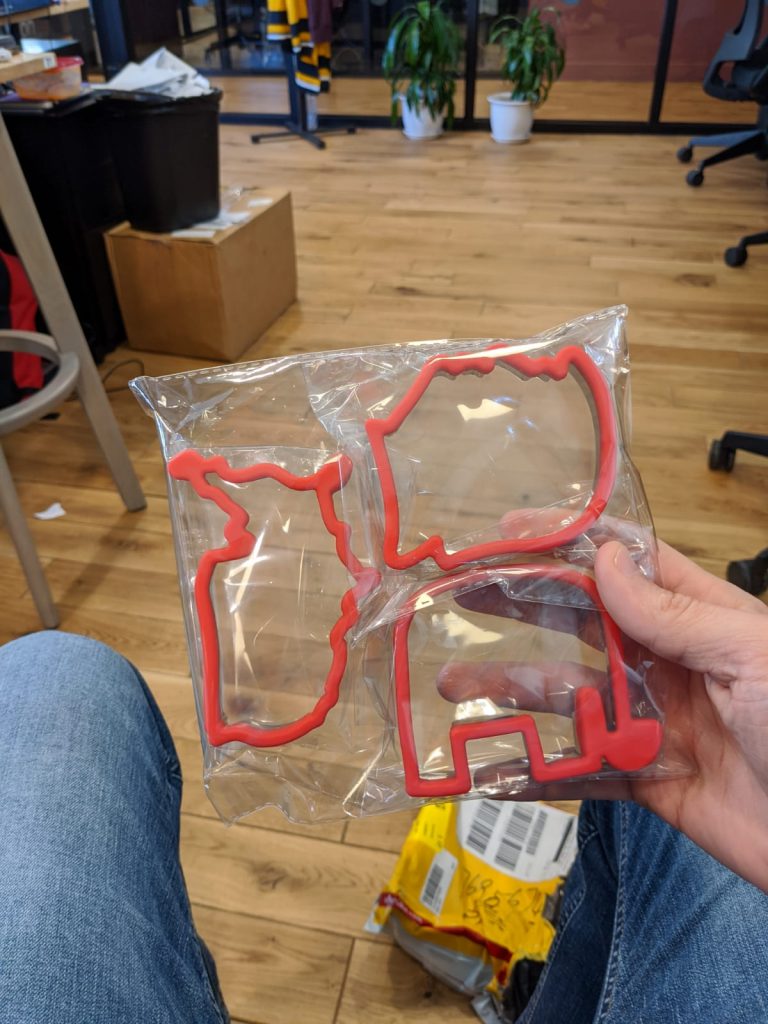 The set of 3 cookie cutters sells on Amazon for $11.99. And if you have Amazon Prime, you will get it delivered to you in just two days—plenty of time for all your holiday needs.
In addition to making cookies yourself, these cookie cutters have great gift potential, either as a stocking stuffer or as a gag White Elephant gift.
Naipo's oCuddle Massager Should Top Your Christmas List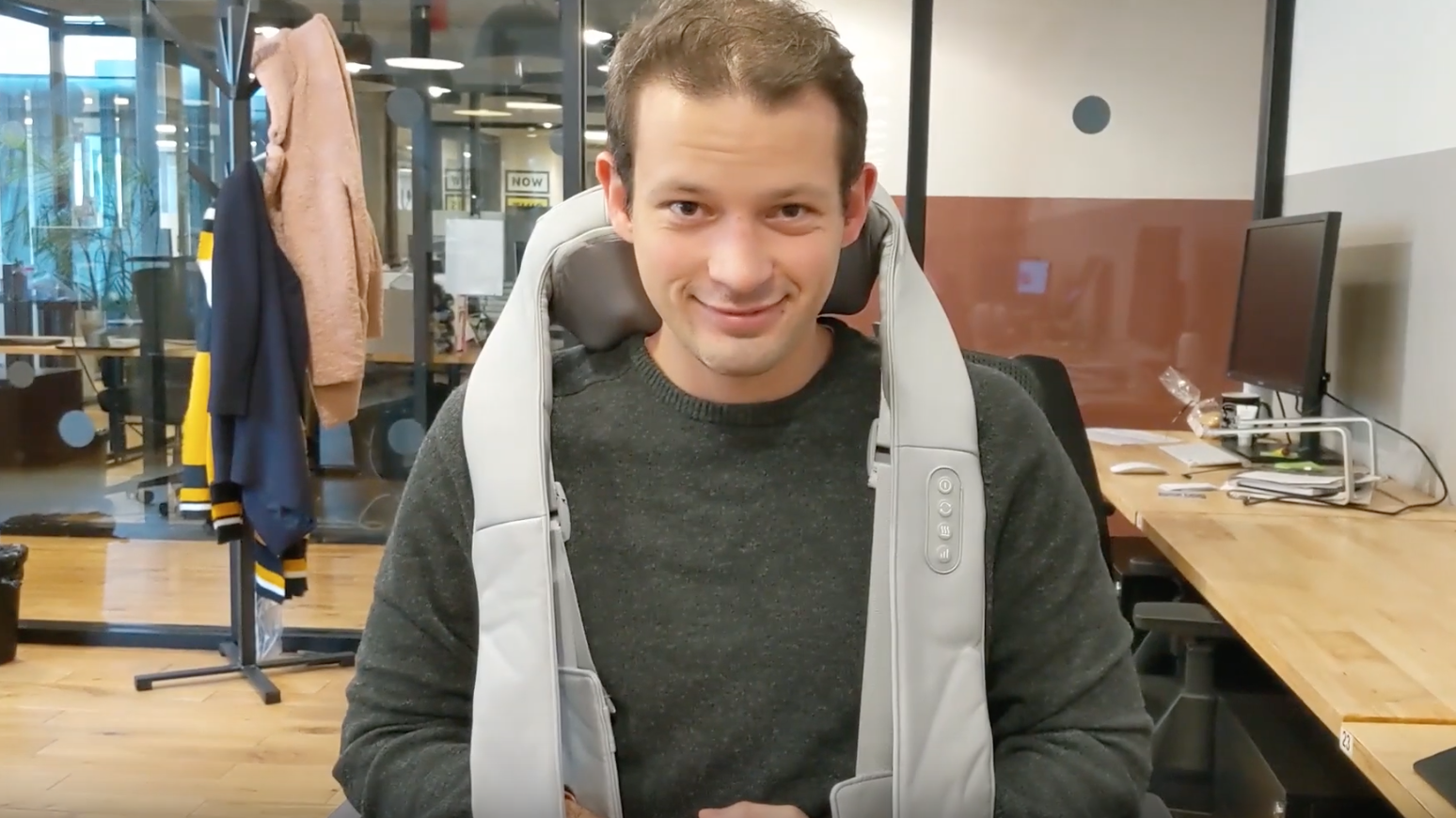 Have you started your Christmas shopping yet? Even if you have, there might be people on your list for whom you still aren't sure what to get.
Recently, we reviewed the new oCuddle shoulder massager from the wellness company Naipo. Like Parade.com, which put it #2 on their list of Best Christmas Gifts Under $100, we found it to be an ideal present for those in your life who need a little extra comfort.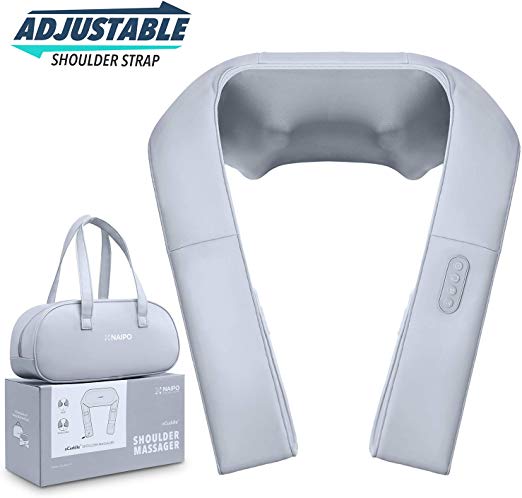 oCuddle Neck and Back Massager — $59.99
Spending a few minutes getting a neck and shoulder massage from the oCuddle is akin to getting a nice warm hug. This time of year, with colder weather and earlier sunsets, oftentimes a little warmth can do all the difference in relieving anxiety and depression and helping you get through the day.
Unlike the cookie-cutter massagers out there on the market, the oCuddle is specifically designed to fit all body shapes and sizes. Its adjustable straps ensure the perfect fit, whether you are a petite young woman or a big burly man. The two 4-fingered massage nodes feel like real human fingers, and at $60, the oCuddle is much more economical than ponying up for a real massage anytime you start to feel tense or stressed out. Furthermore, it features two levels of so-called FocalHeat technology to relieve aches and pains better than a human could.
WATCH Our Review of Naipo's New oCuddle Massager:
In this age of health and well-being, now is as good a time as ever to familiarize yourself with the new-ish player in the market. As part of a "Black Friday Carnival" promotion, Naipo is running a variety of deals on the oCuddle, plus their other massage products:
Naipo Neck & Back Massager with Heat and Air Compression on sale for $149.99
Naipo Handheld Dual-Node Percussion Massager With Replaceable Attachments on sale for $25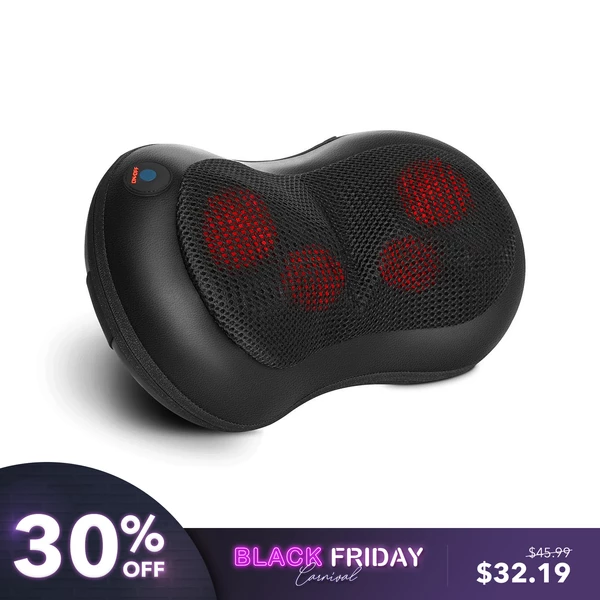 Naipo Back and Neck Shiatsu Massage Pillow on sale for $32.19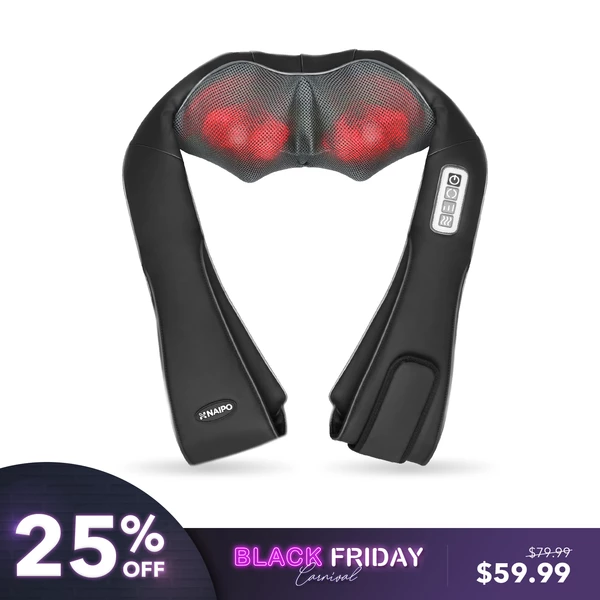 Naipo Rechargeable Neck and Shoulder Massager with Heat on sale for $59.99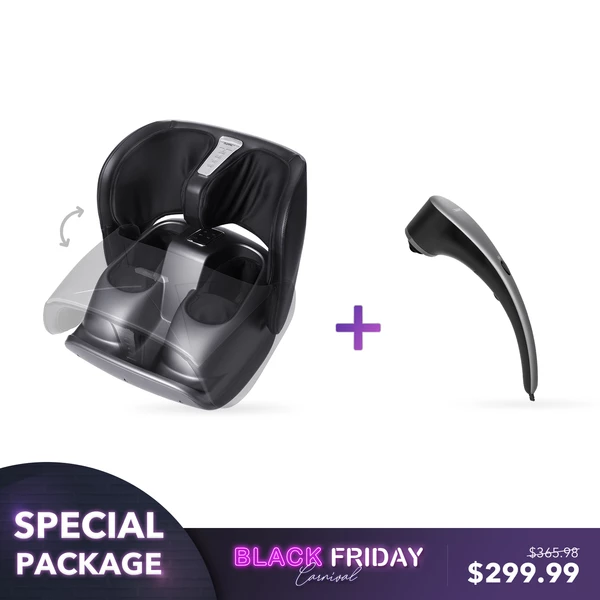 Naipo 2-in-1 Foldable Foot & Calf Massager + Handheld Percussion Massager on sale for $299.99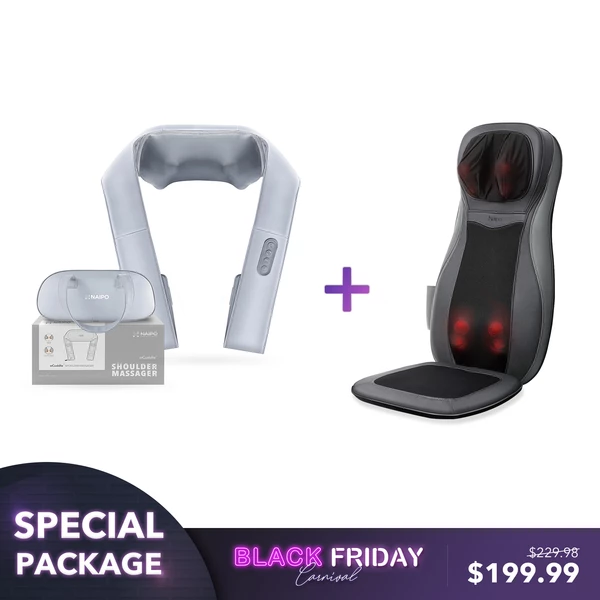 Naipo oCuddle Shoulder Massager + Neck & Back Massager on sale for $199.99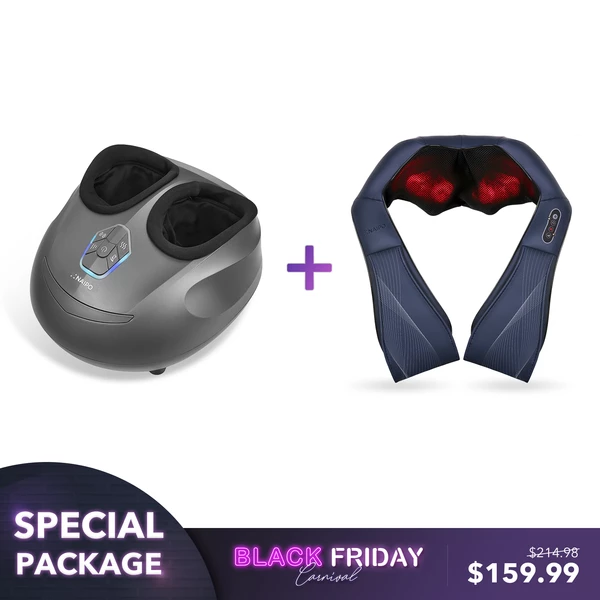 Naipo Foot Massager + Shoulder Massager Souvenir Edition on sale for $159.99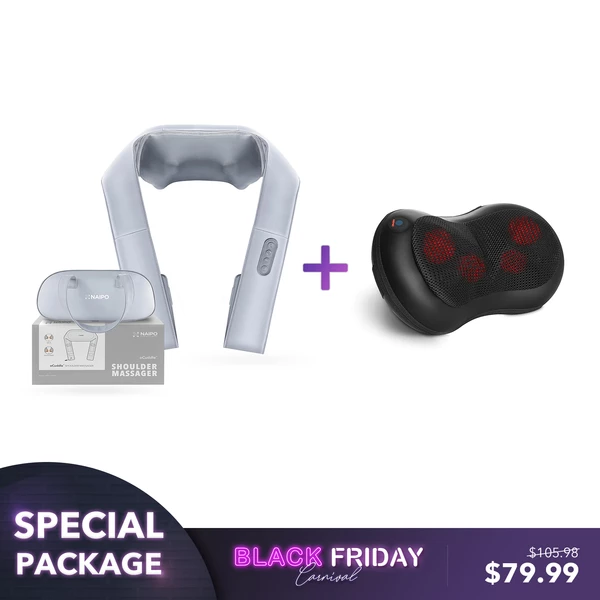 Naipo oCuddle Shoulder Massager + Shiatsu Massage Pillow on sale for $79.99
Ways To Dry Or Humidify Your House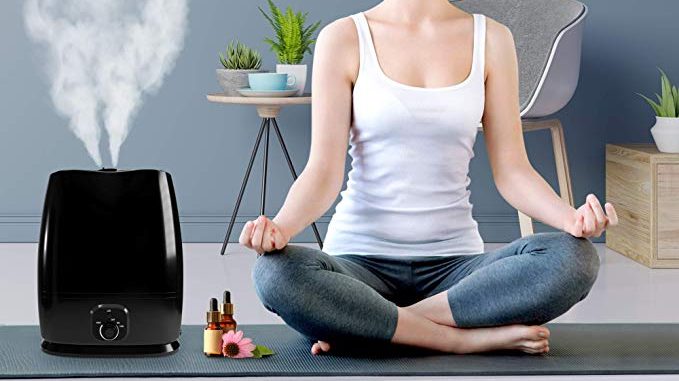 Humidity levels in your house are related to the comfort you experience. Keeping the humidity levels between 30 and 50% can reduce maintenance and help you stay healthy. High humidity can result in wet stains on walls and ceilings, moldy closets and bathrooms, and musty odor. People with allergies and asthma are in danger when dust mites thrive in an environment with too much humidity. Low humidity can result in dry skin, scratchy throats and noses, hardwood floor separation and warping, and loosening drawers. Body moisture evaporates quickly when the house is too dry. Here are some ways to remedy humidity problems.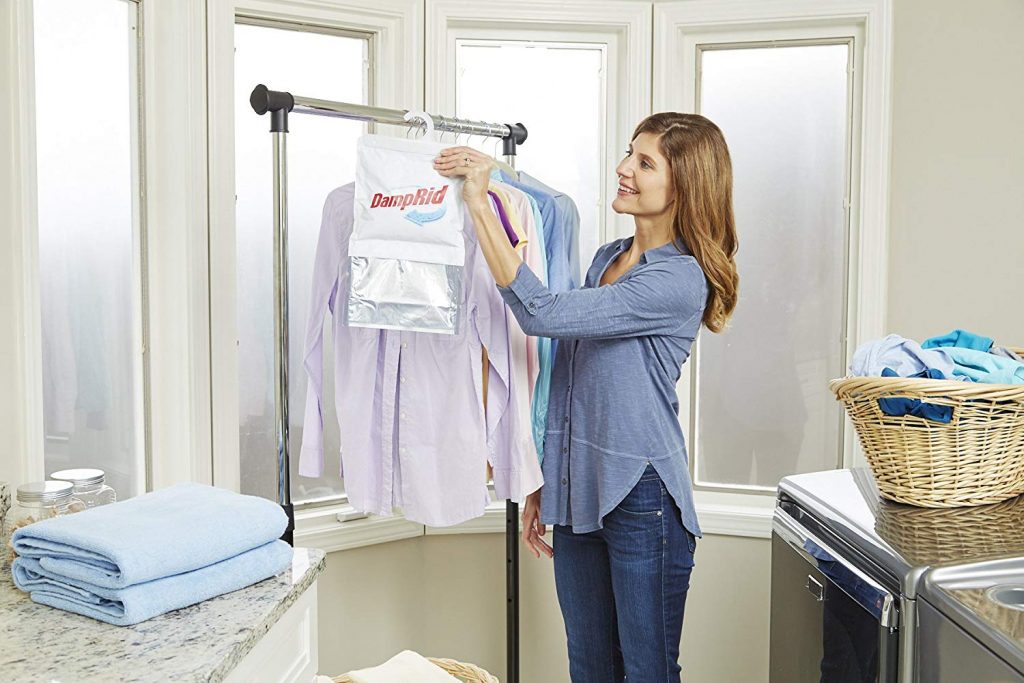 Living in the damp house isn't just uncomfortable, but mold and tiny pests can also cause illness and structural damage. Dampness develops in the absence of proper ventilation. You should do something if you feel excessively damp. There are a lot of factors that cause dampness in your house. For instance, maybe you have too many plants around or are fond of boiling or cooking with the lids off the pans. Reducing the number of plants or cooking with pans covered is never enough to lower the humidity level in the house. DampRid Hanging Bag works as a dehumidifier but no electricity is needed. DampRid's crystals absorb the excess moisture that causes damp-feeling fabrics and musty odor in the air and leave a light, pleasurable scent in the house. You can hang it in your storage areas, bathrooms, laundry rooms, cabin, car or wherever moisture is a problem. Each DampRid hanging moisture absorber packets includes three packs. I replace them every two months. After using them for a month, I hardly ever find any pesky bugs in my apartment.
DampRid FG60FS Moisture Absorber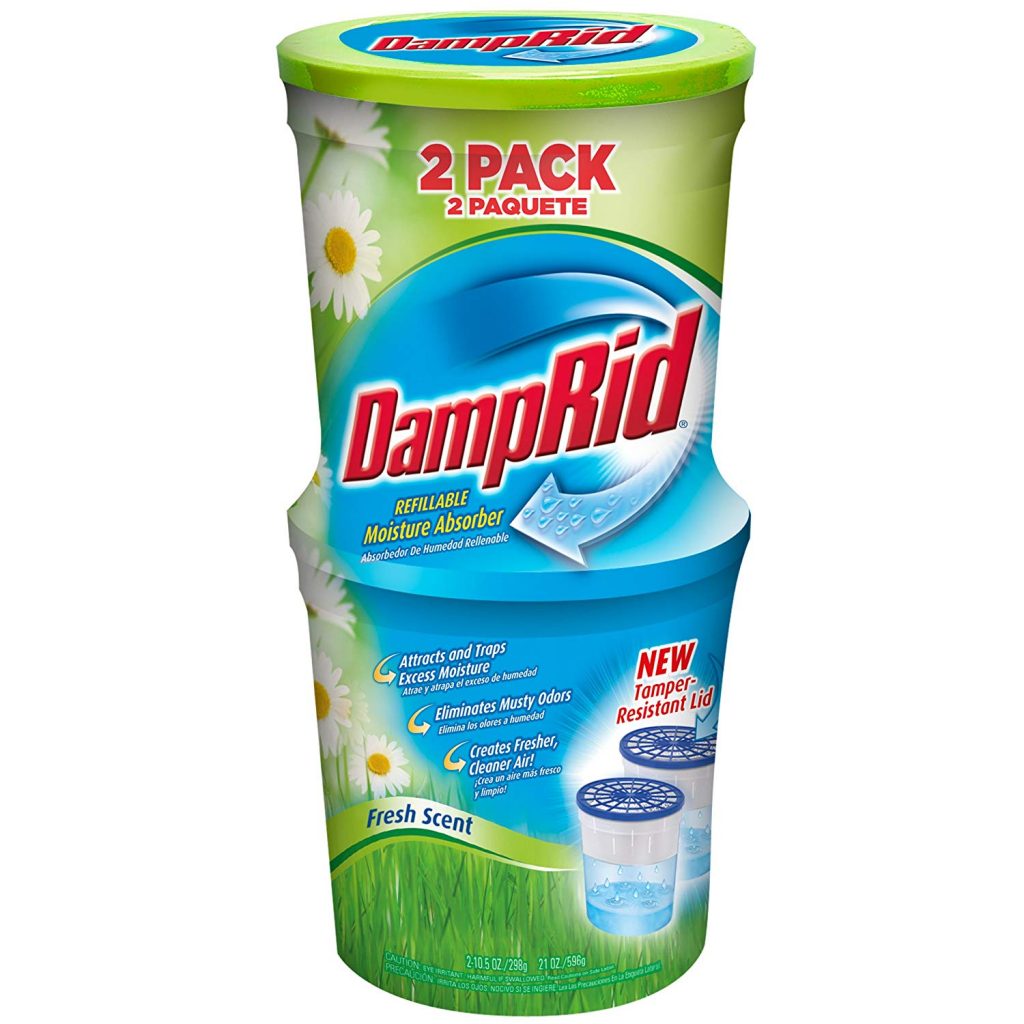 Don't like the idea of hanging the DampRid Bag on the wall or around in the house? DampRid FG60FS Moisture Absorber is another option. Similar to DampRid Bag, DampRid FG60FS Moisture Absorber can also stale musty odors by trapping excess moisture. It is designed to reduce the growth of mold and mildew. The only difference is it is refillable, which is highly economical. It is ideal to use in small and enclosed spaces such as basements, closets, and bedrooms.
Everlasting Comfort Ultrasonic Cool Mist Humidifier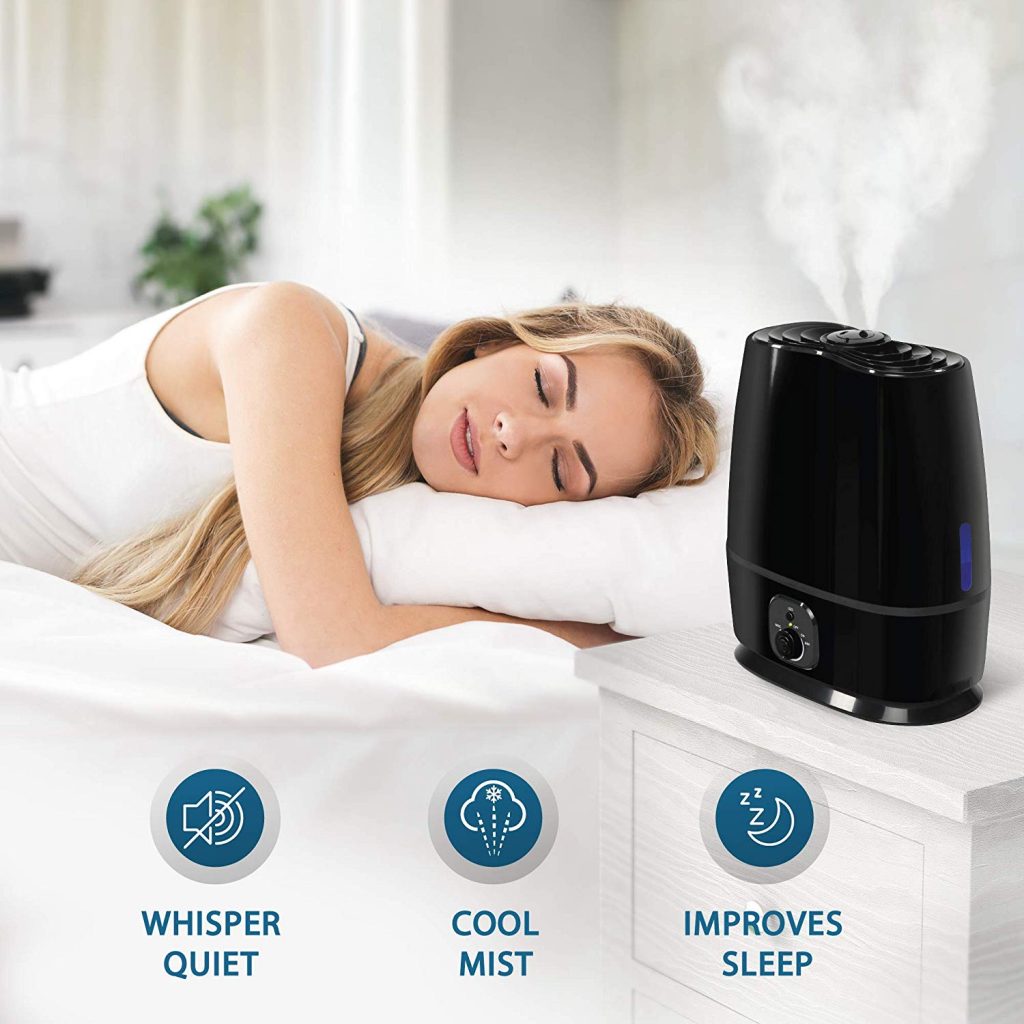 Leaking humidity in the house can result in serious health consequences especially in the winter time. Your eyes can get very dried and irritated, while skin can get flaky and itchy when they are exposed in an environment with low humidity. You may catch a cold or get the flu because the mucous membrane lining your respiratory tract has been inflamed and dried out. For one, you might want to buy more houseplants. But as a second step, you should get a humidifier. Everlasting Comfort Ultrasonic Cool Mist Humidifier is your best long-term solution because the water supply is constant. Everlasting Comfort Ultrasonic Humidifier can maintain humidity levels above 43% so that your skin will not feel too dry or irritated. It features a 6L tank with a powerful mist output. You don't have to refill it frequently. When the air humidifier is running out of water, it shuts off automatically so that the machine will not be damaged. I believe a lot of readers love essential oils. This humidifier has a built-in essential oil tray, where you can enjoy the aroma from your favorite essential oils. Everlasting Comfort Ultrasonic Humidifier is affordable to everyone because it does not require costly filters. It features a unique filter-less design, which is very economical and sustainable.