This MOSFiATA Chef's Knife Makes Food Prep Easy And Even Fun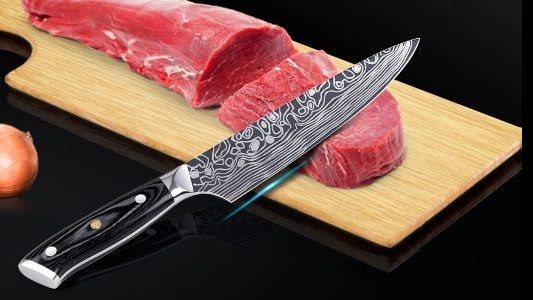 At the beginning of the month, I relished the opportunity to share with you all my transcendental experience using the most recent addition to my mother's cutlery, the MOSFiATA 8-inch chef's knife. Toward the end of my anecdote, I promised my readers that I would return with a full review once I had one of my own.
It took a tad longer than expected — summer plans will have that effect — but better late than never. The MOSFiATA 8-inch chef's knife I ordered for myself lives up to my maiden experience and subsequent expectations. The knife, emblazoned with its beautiful pattern redolent of Damascus steel, is just as super sharp as advertised, and it has become my go-to for the majority of my tasks in the kitchen. I use my MOSFiATA knife in the morning to cut up fruit, and I use it in the evening to prepare meats and vegetables for dinner.
In addition to its efficacy, the comfort this knife provides to the user cannot be ignored. I have weak wrists (or at least that is what my mother told me constantly growing up), and cutting for long periods can result in lingering stress or fatigue. I have yet to have that issue with the MOSFiATA 8-inch chef's knife, despite using it much more frequently than I am accustomed to. This knife actually makes food preparation enjoyable. For me at least, this is no small feat.
I have had this knife for a couple weeks now, and although that perhaps is not long enough to truly vouch for its durability, I feel pretty comfortable taking MOSFiATA at its word on that front. Everything else in their listing has turned out to be accurate, so why would they lead me astray on how long it holds up? Consider that with the fact that it is made from high-quality German steel with a solid Micarta handle, and you'll easily see my point.
I should also note that the chef's knife comes with a finger guard, blade guard and sharpener. I have not had to use the sharpener yet, but the finger guard and blade guard have both come in handy, keeping my digits and my knife in solid condition, respectively.
For anyone looking for a new knife that can accomplish a wide range of kitchen functions, I highly recommend the MOSFiATA chef's knife. I'd get it now, too, before the price goes up further. I'm guessing it is becoming popular: When I first wrote about it, it cost just $30; now it is $40.
This Device Makes Shredding Meat Easier Than Ever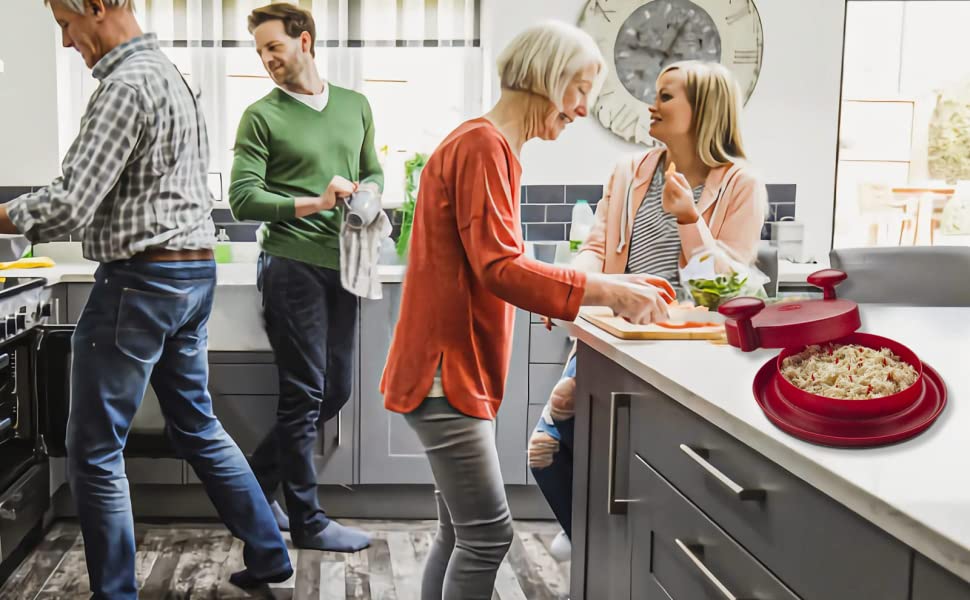 Pulled meats like chicken and pork are essentials for a wide variety of dishes, most notably summer staples like BBQ and Tex-Mex favorites like enchiladas. Even if you have the seasoning down pat, the act of pulling the meat apart can be a hassle. Most people rely on forks or bear claws. I have also heard of folks using a stand mixer to get the job done.
Now there is a special kitchen gadget for this very purpose. This shredding machine makes meal prep simple.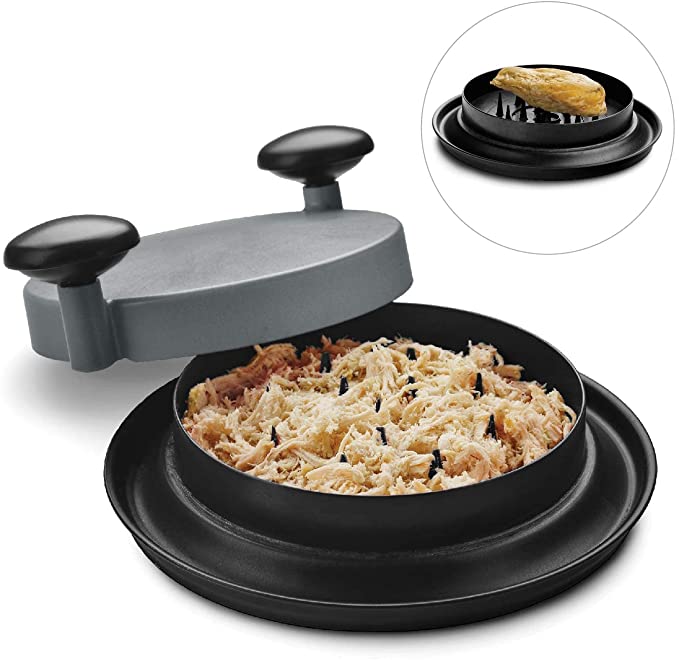 Chicken Shredder Shred Machine Meat Shredder for Pulled Pork Red Beef and Chicken 20CM/7.9IN Dishwasher Safe (1PC Gray) — $19.99
Seriously, you will not believe how easy this makes things. Just stick any piece of meat in the chamber, put on the lid, and spin it. You will have shredded chicken, pork or beef in mere seconds.
You would think such a magical device would be expensive, but at just $20 it is just a few bucks more than a good set of barbecue bear claws.
The only issue with this particular listing on Amazon is that the Chinese company that sells it (ELAPOTI) is obviously up to some black hat tactics that should, in a just world, get it banned. While it boasts an impressive 4.8-star rating, you can take a look at the reviews and see that they are for an entirely different product—doorway corbels. I myself was a bit confused at first when reading customers write about their experiences hanging a meat shredder. Perhaps the company knows that its listing may not be long for this world, since the device is listed identically in at least half a dozen different places. While we still recommend it based on convenience and price, by the time you read this article any one of these listings may have been taken down for violating Amazon's policies, so check out all the available options.
How To Store Your Wreaths Safely For Next Christmas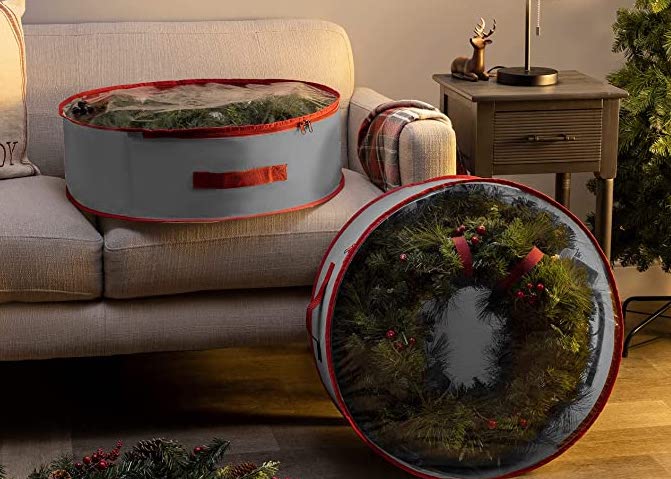 Everyone seems to have already packed away most of their Christmas decorations and accoutrements, or at least made plans for doing so. Christmas tree bags and wrapping paper organizers no longer top Amazon's #1 bestsellers list. In their stead are containers for Christmas wreath storage. This is only logical. While many folks take down their trees in the days following New Year's, you can get away with leaving a little festivity on your door closer to the end of January. Still, time marches on, and Candlemas will be here before you know it, serving as the true capstone of the Christmas season. ZOBER, which also makes the Christmas tree bags and wrapping paper organizers we recommended, has two popular versions for wreath storage: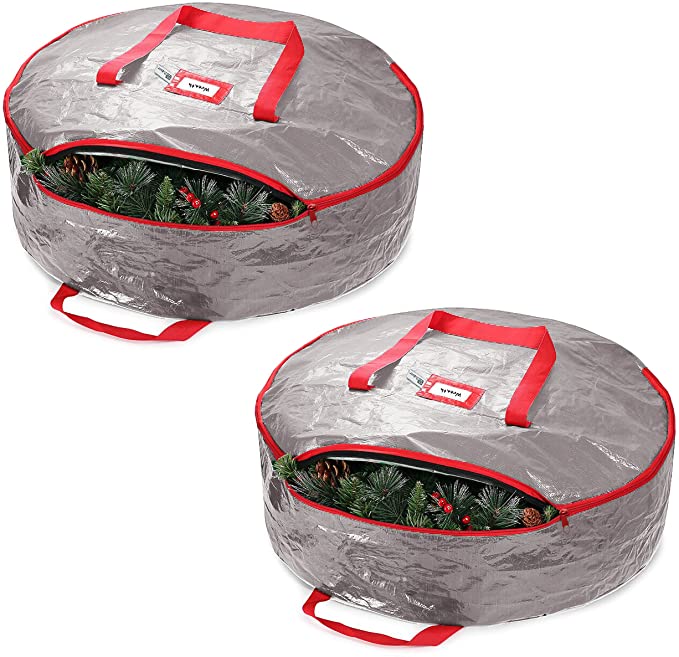 ZOBER Christmas Wreath Storage Bag – Water Resistant Fabric Storage Dual Zippered Bag for Holiday Artificial Christmas Wreaths, 2 Stitch-Reinforced Canvas Handles (24 Inch, Gray, Set of 2) — $11.99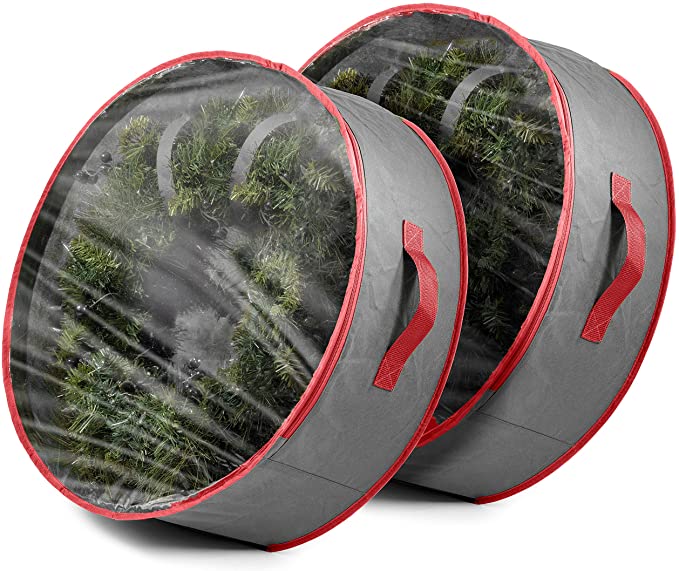 ZOBER 2-Pack Christmas Wreath Storage Container Clear Top 24-Inch, Breathable Non-Woven Material – Dual-Zippered Holiday Wreath Storage Bag & Durable Handles, Protect Artificial Xmas Wreaths — $9.99
The first one is a bit sturdier (and therefore $2 more expensive), but the second has the benefit of a see-through top. This comes in handy if yours is the type of household that keeps seasonal wreaths up all year long. By storing it in one of these containers, you can see which wreath it is without relying on trial and error (and a lot of zippering!).
Each comes in three sizes—24 inch, 30 inch and 36 inch—so you can get the one with the dimensions you need. Some Amazon reviewers even mention other creative uses for them, like Christmas pillows. No matter what you put in them, they are sure to make for better storage than a garbage bag.
The Best Way To Store Wrapping Paper For Next Christmas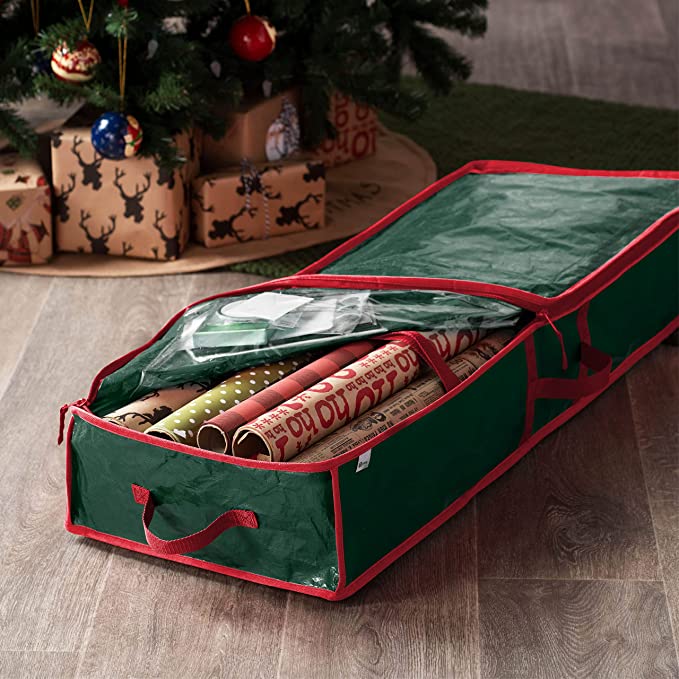 Now that the Christmas season is coming to its conclusion, it is nearly time to perform perhaps the most unpleasant task of the year's end. Last year, we told our readers about a convenient way to store their Christmas trees for the other 11 months, but that is not to only item that needs to be stowed away until December 2022. Lights, ornaments, and various other decorations also have to make their way back into the garage or attic. Many people will also pack away their remaining wrapping paper, so they do not need to start from scratch when the shopping season begins in earnest on Black Friday.
Instead of haphazardly shoving it with everything else and hoping for the best, you should be investing a small amount into a dedicated gift wrap organizer. This will keep all your rolls of wrapping paper in one place, and it will ensure they do not unravel or become unusable in the months ahead. The Zober gift wrap organizer, priced at just $15, can hold up to 20 rolls. No wonder it is an Amazon #1 bestseller.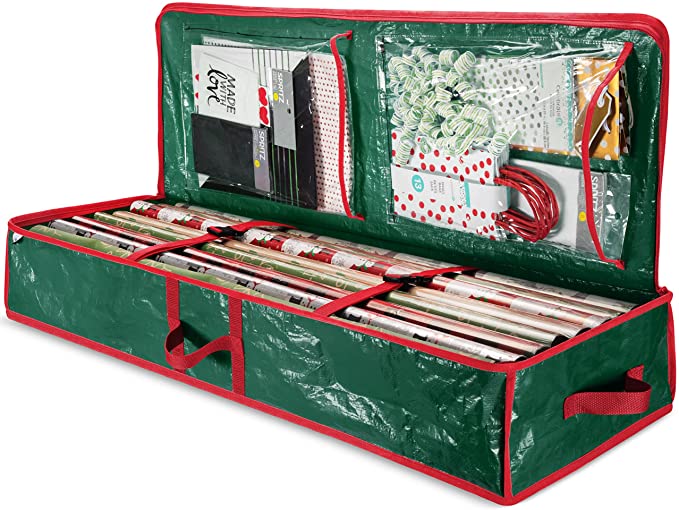 ZOBER Underbed Gift Wrap Organizer, Interior Pockets, fits 18-24 Standard Rolls, Underbed Storage, Wrapping Paper Storage Box and Holiday Accessories, 40" Long – Tear Proof Fabric — $14.99
This compact container takes up so little space that you can easily fit it under your bed or in a closet. It features buckled straps that secure your unused rolls in place. The neatest part, in my opinion, is that it also comes with two zipper compartments for storing tags, tissue paper, bags, and other wrapping paper-related paraphernalia. Not only will it save you money from buying all this stuff anew next year, but it will save you time looking all over the house for all your gift-wrapping needs.