This MOSFiATA Chef's Knife Makes Food Prep Easy And Even Fun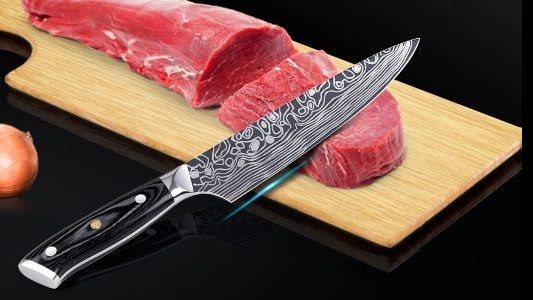 At the beginning of the month, I relished the opportunity to share with you all my transcendental experience using the most recent addition to my mother's cutlery, the MOSFiATA 8-inch chef's knife. Toward the end of my anecdote, I promised my readers that I would return with a full review once I had one of my own.
It took a tad longer than expected — summer plans will have that effect — but better late than never. The MOSFiATA 8-inch chef's knife I ordered for myself lives up to my maiden experience and subsequent expectations. The knife, emblazoned with its beautiful pattern redolent of Damascus steel, is just as super sharp as advertised, and it has become my go-to for the majority of my tasks in the kitchen. I use my MOSFiATA knife in the morning to cut up fruit, and I use it in the evening to prepare meats and vegetables for dinner.
In addition to its efficacy, the comfort this knife provides to the user cannot be ignored. I have weak wrists (or at least that is what my mother told me constantly growing up), and cutting for long periods can result in lingering stress or fatigue. I have yet to have that issue with the MOSFiATA 8-inch chef's knife, despite using it much more frequently than I am accustomed to. This knife actually makes food preparation enjoyable. For me at least, this is no small feat.
I have had this knife for a couple weeks now, and although that perhaps is not long enough to truly vouch for its durability, I feel pretty comfortable taking MOSFiATA at its word on that front. Everything else in their listing has turned out to be accurate, so why would they lead me astray on how long it holds up? Consider that with the fact that it is made from high-quality German steel with a solid Micarta handle, and you'll easily see my point.
I should also note that the chef's knife comes with a finger guard, blade guard and sharpener. I have not had to use the sharpener yet, but the finger guard and blade guard have both come in handy, keeping my digits and my knife in solid condition, respectively.
For anyone looking for a new knife that can accomplish a wide range of kitchen functions, I highly recommend the MOSFiATA chef's knife. I'd get it now, too, before the price goes up further. I'm guessing it is becoming popular: When I first wrote about it, it cost just $30; now it is $40.
Start The Spooky Season Off Right With These Halloween Decorations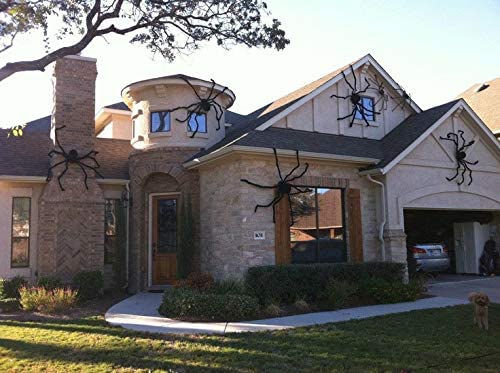 Spooky season starts in September. That is the official rule. Maybe it's just me, but Halloween is more fun as an adult. I mean sure, we can't go trick-or-treating anymore, but personally I'd rather be sipping on a spooky spritzer than stuffing my face with candy anyways. Spooky season is one of the few times of the year that everyone (literally, everyone) can have fun for the sake of having fun. From the Halloween decorations, haunted houses and scary movies to the costumes, cocktails and parties, it's almost impossible not to have fun. So, let's get this party startled. 
First thing's first, you have to decorate. Not only is this just fun, but it will undoubtedly get you into the spooky spirit in no time. Now, whether you want to keep it simple or you want to turn your entire front yard into a graveyard is entirely up to you, but if you need some inspiration, then you've come to the right place. We've picked out some of the best Halloween decorations on Amazon to help get you started (and they're budget-friendly!). Creep it real and have a fang-tastic Halloween!
This spooky spidery set comes with a fireplace runner, a table runner, a table cloth, a lamp cover AND bat stickers for your wall. Talk about all-inclusive.
Four festive pillow case covers and four decorative coasters? This is a steal for sure. Take good care of them and these pillow cases might just last you a lifetime.
It wouldn't be spooky season without a creepy cloth. Throw it up in the corner somewhere and the room automatically looks spookier.
The banner every COVID-safe Halloween party needs. Cheers, witches!
These dish towels are adorable and they are the perfect addition if you prefer to keep your decor simple and minimal. 
An iconic piece of Halloween decor. Put it inside or put it outside, you're guaranteed to make a few people jump either way. Place it on top of a fake spider web, and you're all set. 
Keep it lit with these adorable pumpkin LED lights.
The perfect trick-or-treater greeter.
Boo-yah! These hanging ghosts are perfect indoor or outdoor Halloween decorations that everyone will love. You can even bend the arms to pose them however you'd like. 
These will put the "spooky" in spooky season.
These foam tombstones are affordable, easy to set up and the kids will love them! They also come with metal stakes to keep them secure in the yard.
Find The Perfect Caddy To Attach To The Wall Of Your Shower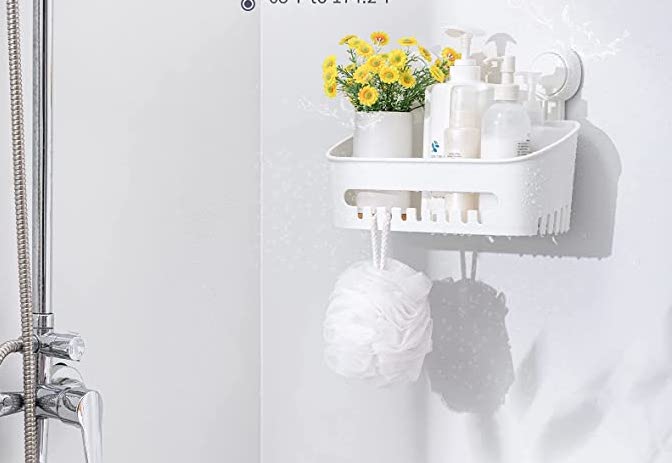 You know what is annoying? Cleaning your shower. No matter how diligently you try to keep grime from building up around your tub, you are simply no match for the twin forces of time and gravity. The hardest stains to get out are rust and those pesky pink spots caused by bacteria.
This is especially a problem if, like me, you tend to keep all sorts of rust-prone hygiene accessories in and around your shower. Specifically, I am thinking about my razor and nail clippers. The best time to clip your nails is right after you shower, when they are moist and easy to trim. Yet, keeping nail clippers in your shower is a surefire way to end up with rust. This is true even with the so-called "rust-resistant" stainless steel nail clippers.
The only solution, I've found, is to invest in a shower caddy and attach it somewhere on the tile that is not exposed to water. This is the one I bought: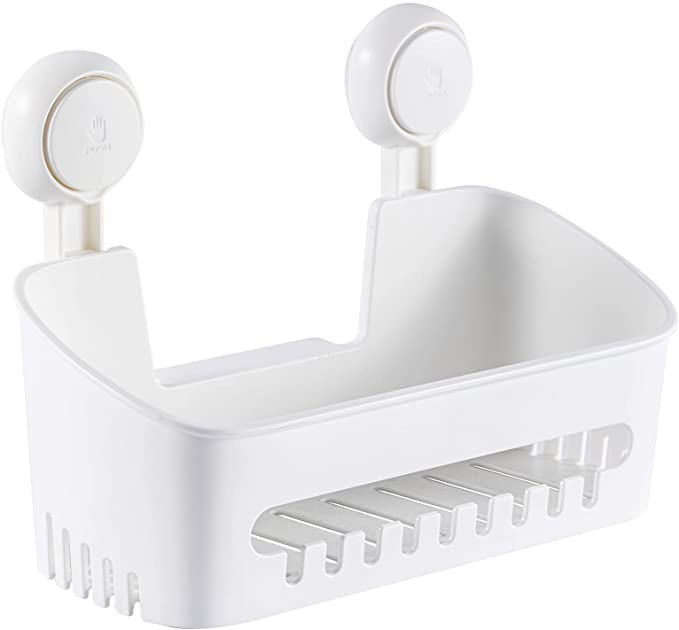 TAILI Shower Caddy Drill-Free with Vacuum Suction Cup Removable Shower Shelf Storage Basket for Shampoo & Toiletries, Kitchen Bathroom Bedroom Organizer — $23.99
All of a sudden, keeping my shower clean is no longer a herculean effort. In addition to my metal grooming products, I keep all my shampoos, soaps, and body washes in the caddy, which I attached directly under the shower head. This keeps it from getting wet. It has the added benefit of putting everything I need to access while showering within easy reach.
This shower caddy is incredibly easy to attach to the tile: It has these nifty suction cups you simply stick on. Then, if you need to take it off for any reason, you just push the buttons, and it pops right off the wall. Despite being very lightweight, it is also very sturdy. I loaded it up with pretty much anything I could find lying around my bathroom just to test its durability, and it held up under any and all pressure.
Your shower may already have some sort of shelf designed to store the aforementioned items. Even so, in most such cases rust and buildup is inevitable, and it is incumbent upon you to be proactive in improving your shower's cleanliness. In other words, it is incumbent upon you to install a shower caddy.
Organize Your Tea Bags In Preparation For Fall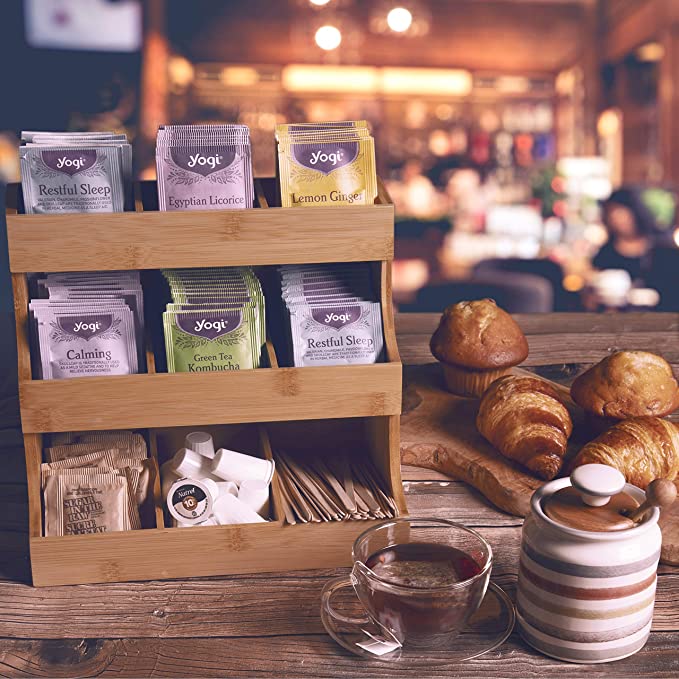 What is the autumnal version of spring cleaning? Whatever it is, it tends to happen right around Labor Day weekend each year. The summer is over; the kids are back in school; and if you are lucky the weather may even start to cool down. This is when you look around and reorganize your belongings in preparation for the colder seasons ahead.
This is obviously why tea bag organizers are suddenly selling like hotcakes. Dedicated tea and coffee bars have become popular in recent years, and if you missed the boat in 2020 now is your chance to catch up.
Most tea bag organizers that I've seen on Amazon are of the plastic variety, like this one: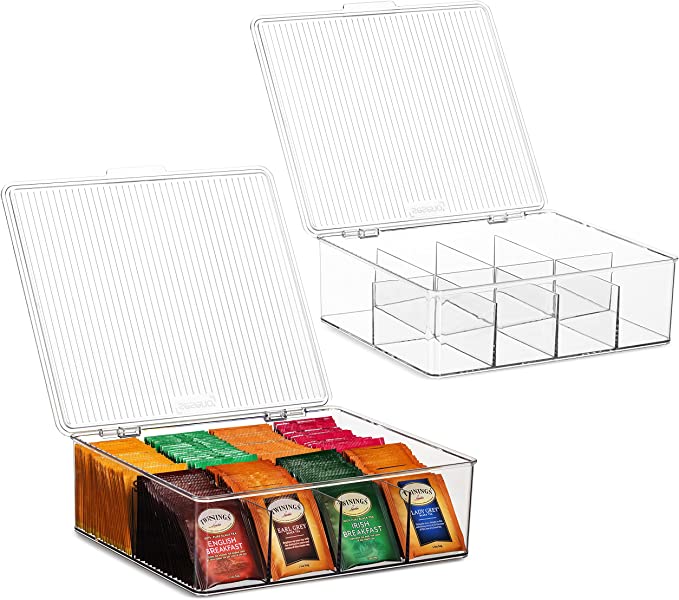 2 Pack Large Stackable Plastic Tea Bag Organizer – Storage Bin Box for Kitchen Cabinets, Countertops, Pantry – Holds Beverage Bags, Cups, Pods, Packets, Condiment Accessories Holder —$20.99
The appeal of plastic tea bag organizers (besides being, well, plastic, and therefore cheap) seems to be their transparency. Because they are see-through, you can intermingle a bunch of varieties and always know what your options are. By extension, these tea bag organizers do not take up very much space.
If you do have a little more room, however, I believe a wooden tea bag organizer has much more to offer in the way of aesthetics. Just imagine how nice this one would look in a small alcove adjoining your kitchen area: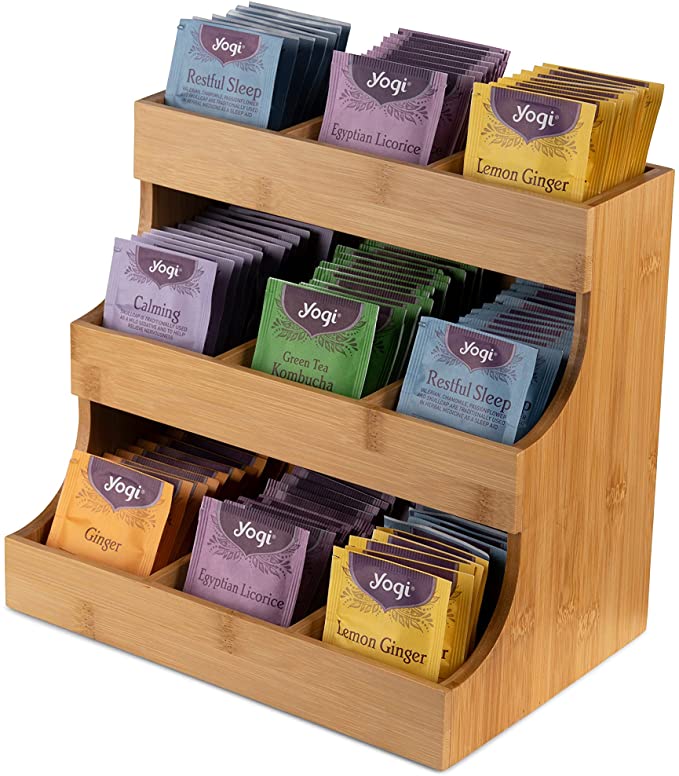 THEODORE Vertical Tea Bag Organizer. Bamboo Tea Bag Holder – Holds 180 Tea Bags. Elegant and Practical Wooden Tea Box for Tea Storage for Home, Office or Café. Can also Hold Sugar Packets and Creamers — $44.99
There is something warm and welcoming—almost "hygge"—about the bamboo version. To borrow a phrase, I do not think it is possible to take a look at the plastic one and feel that it "sparks joy."
At the end of the day, no matter what popular Netflix hosts might say, how you organize your home is up to you. These are just two general styles of the many tea and coffee holders available for you to choose from.