Book Review: "A Concise History of Hungary"
People are looking to move. I have no idea if the numbers back this up, but anecdotally at least there is talk in the air about leaving the United States for greener pastures. As the most powerful institutions in America grow ever more hostile to those adhering to traditional ways of living, it's difficult not to ask: "Is there a better place for me?"
Many people are looking to Hungary. Not only is it one of the only countries in the Western World not to be completely subsumed in the acid bath of modernity, but it also encourages repatriation by those with Hungarian ancestry. In Ireland, famous for its lax bloodline citizenship laws, you need to have had grandparents born in the Old Country. In Hungary, there is no limit to how far back you can go to prove your Hungarian heritage.
There is a catch. The Hungarian government only wants new citizens who are committed to being Hungarian. As such, you have to pass a language test in order to be eligible. And you should probably demonstrate more than just cursory knowledge about the country you are trying to be a part of. Being familiar with paprika and goulash is not going to cut it. You've got to try to learn about the history.
That's where the book "A Concise History of Hungary" comes in. Given the upsurge in interest in migrating to Hungary, it is a shock that there are so few English-language books about the storied nation.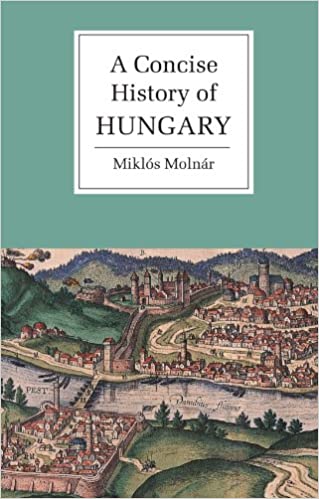 A Concise History Of Hungary (Cambridge Concise Histories) — $20.63
Do a search on Amazon for books about Hungarian history, and you will find your results to be limited. No matter, because Miklós Molnár's work is an excellent place to start. This historical survey traces the story of Hungary all the way back to before King Saint Stephen became Hungary's first king, to even before the Magyars conquered the Carpathian Basin. It tells about the many wars in which Hungary has been embroiled, from the wars against the Ottomans to the World Wars in the 20th century.
I don't know much about Miklós Molnár, but after reading his bio on the book jacket, I was skeptical of his ability to be unbiased. The blurb notes that he was the editor of a communist newspaper ("Irodalmi Ujság"). Those familiar with the intricacies of Hungarian history will not be surprised there is no love lost between Molnár and the Soviet Communists who ruled his country for four decades; in fact Molnár fled the country like Imre Nagy after the Revolution of 1956.
So readers should not be worried about the author being to sympathetic to communists. However, there is some animus in this book, especially toward the Habsburgs, who controlled Hungary for two centuries. Also, as the events depicted get closer and closer to present day, Molnár's descriptions of political parties and movements become more clouded by his own thinking.
Overall, I do recommend "A Concise History Of Hungary," if only because there is so little else out there. Until it reaches the 18th century, the book is remarkably even-handed, almost academic in tone despite its eminent readability. If I am to be a Hungarian citizen, I would like to have read more books on Hungary than just this one. But I think it is a great place to start.
'Izzy's Fire': How Reading About The Holocaust Can Help Us Today
Every Sunday, precisely when the clock strikes 4 p.m., I am one of many who fall victim to the Sunday scaries. This past Sunday, my Hail Mary attempt to fend off the scaries was to indulge myself in some premature spring cleaning. One thing led to another, and next thing I knew I was eight chapters deep into one of my favorite books. A wildly out-of-character move on my part, if I do say so myself. But new year, new me.
The book I desperately found myself lost in is called "Izzy's Fire: Finding Humanity in the Holocaust." With so many of us having questioned or even lost faith in humanity over the course of the past year, I was looking for examples of human goodness. "Izzy's Fire" is the story of how 13 members from five Jewish families struggled to defy the odds of the Holocaust and survive with the help of a small, poor Catholic family. Although not a survivor herself, the author, Nancy Wright Beasley, vividly depicts this heart-wrenching story in an engaging and compassionate light. Beginning with their escape from the Kovno Ghetto in Lithuania and ending with their new life in Richmond, Virginia, this book walks you through every step of the unimaginable. It'll break your heart and renew your faith in humanity all at the same time. 
Izzy's Fire: Finding Humanity In The Holocaust — $19.99
At the age of about 10, I visited the Holocaust Museum in Richmond, Virginia, with my aunt for the first time. Within minutes of walking into the museum, I went from being bright-eyed and bushy-tailed to heavy-hearted and hopeless. I'm not sure what I expected, but I most certainly didn't expect to meet, let alone talk face-to-face with, a Holocaust survivor himself. It just so happened that the survivor I met that day, and would later visit again, was Jay Ipson, one of the Holocaust Museum's founders. Jay's father is Izzy, which makes "Izzy's Fire" their family's story. On the day I met Jay, he told me all about his family's unparalleled struggle to survive the Holocaust, and he suggested I read "Izzy's Fire," which I was later able to get a signed copy of. The intensity behind it all is more eye-opening than I can put into words for you. 
After meeting Jay, reading "Izzy's Fire," and multiple visits to the museum, what I find so inspiring about Jay's story is not just that he survived, it's that he's taken this trauma and crafted it into a devastatingly beautiful narrative for us all to experience. The book lays it all out on the table for the reader, and the museum brings it to life. Jay's story is one that will stick with me forever and one that I will always encourage others to learn from. Above all else, Jay's story reminds us that even in the darkest of times, there's always a silver lining. Jay's silver lining was having faith in humanity. Ours can be too. So, as we all try to navigate our way through life's ups and downs and weather whatever storms come our way, I want to leave you with the same reminder Jay wrote to me: "We must always be good to our friends and neighbors."
First things first, the We Know Products team has no intention of turning this another screechy site constantly engaging with the latest front in the Culture Wars. There is only so much to be said about "cancel culture," and if you've read it on one site, you've read it on all of them. We Know Products exists to tell readers about, well, products. We analyze sales trends and report on what we think consumers are (and should be) buying.
When we wrote about the toy formerly known as Mr. Potato Head last week, we took a look at the fact that it was the most popular toy on Amazon immediately following Hasbro's controversial announcement. Likewise, in talking today about Dr. Seuss' books, it is to examine the simple fact that the once-beloved children's author is now dominating the Amazon Best Sellers list.
Seriously, take a look. The top eight bestselling books right now are: "The Cat in the Hat," "Oh the Places You'll Go!", "One Fish Two Fish Red Fish Blue Fish," "Green Eggs and Ham," "Fox in Socks," "What Pet Should I Get?" "The Sneetches and Other Stories," as well as a Dr. Seuss's Beginner Book Collection box set. The top 15 also includes "Hop on Pop," "Horton Hears a Who!", "Dr. Seuss's ABC," and "The Foot Book."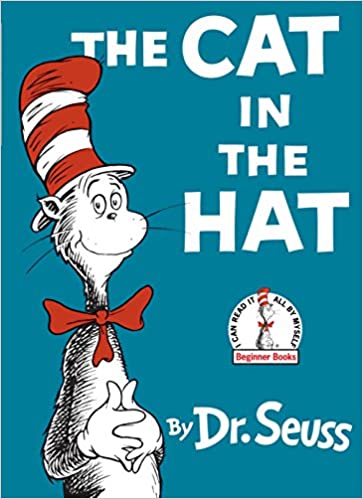 This isn't the bestselling children's book list, mind you. Those are the top books sold on all of Amazon. Interestingly enough, in case you were wondering, "One Fish Two Fish Red Fish Blue Fish" is the #1 bestseller on the list of "Children's Fish Books." And "Oh, the Place You'll Go!" is #1 on the list of Children's Jobs & Careers Reference Books. To be honest, I think the very fact that that category exists is as much of an indictment against our culture than any news-making publishing house decisions.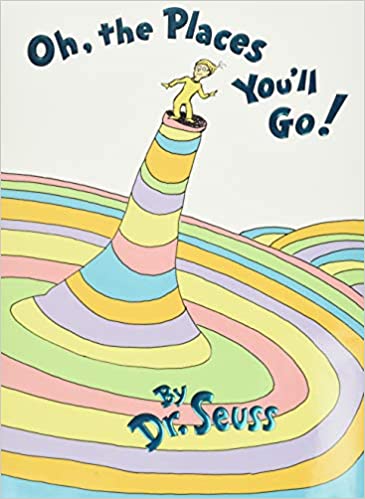 Oh, the Places You'll Go! — $8.98
In our article on Potato Head-gate, we noted that it was difficult to parse exactly what the increase in anthropomorphic spud sales meant. Not so with Dr. Seuss. One day after it was announced that six Dr. Seuss titles would be pulled from publication, his remaining titles shot up the charts.
There is no other way to interpret this than as the purchases of a scared nation: Although only six books were officially "canceled," the government claimed that the author and his entire oeuvre was problematic, severing the link between Dr. Seuss and the National Read Across America Day that just so happens to take place annually on his birthday. Stocking up on Dr. Seuss books now is insurance against future rulings on what is and isn't allowed in this supposedly free nation.
Book Review: Charles I, The Last Emperor
The world is lacking in good leadership. The case could be made that this has always been true, that power corrupts, and that to rule over one's fellow man is unnatural. A recent book about the last Austro-Hungarian emperor, titled "Blessed Charles of Austria: A Holy Emperor and His Legacy," does not make that case. In fact, it is a hopeful book, showing that it is possible to act upright in the face of human weakness and treachery. In detailing the life of Charles I of Austria, the author explores the traits that, even in a particularly fallen age, can make one worthy of veneration.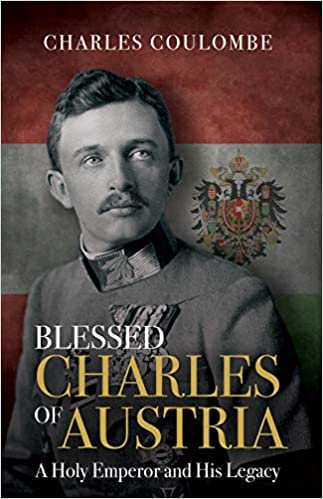 Blessed Charles of Austria: A Holy Emperor and His Legacy by Charles A. Coulombe — $27.95
Who was Blessed Charles, or "Blessed Karl" as he is more commonly known in the Catholic world? He was a monarch, yes, and obviously a pious one for him to be well on his way to sainthood. But he was also a family man, and, stranger yet, a humanitarian and a multiculturalist. That is definitely not what you would expect out of a German-speaking ruler in the first half of the 20th century.
One of the great successes of this book is to remind readers, especially American readers, about what went on during World War I. More so now than ever, with Woodrow Wilson having been "canceled," there is not a simple heuristic to understanding "the war to end all wars." The various nationalistic feuds and ideologies conflicting on the European continent in the first World War are not as easily simplified as the tagline of the sequel: "Nazis = bad."
If Americans remember anything from history class about WWI, it is that it was sparked by the assassination of Archduke Franz Ferdinand in Sarajevo in 1914. But what happened then, especially in the three years before President Wilson reneged on his campaign boast that he "kept us out of war"? It turns out that Emperor Charles (who only became heir to Austria-Hungary after his uncle Franz Ferdinand's death) was trying desperately to end the hostilities. He found his counterparts unwilling to listen.
Charles I's attempts to deescalate the world stage were ultimately so unsuccessful, that politicians in his own lands seized the opportunity to send him and his family into exile. The Habsburgs became personae non gratae in the years to follow, with the Nazi and Communist successor governments leading propaganda efforts to paint the former emperor as a traitor to his people. It is only in recent years, specifically after his beatification by Pope John Paul II in 2004, that the legacy and reputation of "The Peace Emperor" has recovered around the world.
This is to be praised, and it shows the power of goodness and truth. If coordinated totalitarian attacks cannot suppress the memory of a great world leader a hundred years after his death, then perhaps falsehood and deception do not always win out. Reading "Blessed Charles of Austria: A Holy Emperor and His Legacy" is not only a lesson in history but also a lesson in faith. At the book's conclusion, Coulombe details the status of the potential saint's candidacy, and takes a look at his cause around the world. In addition to many groups in areas formally under the Habsburg crown, a particular devotion to Blessed Karl has sprung up in the United States. Why is this? It just may be that people yearn for strong moral leadership, and for a government in which public policy matches up with so-called private piety.