Last Minute Father's Day Gifts Under $40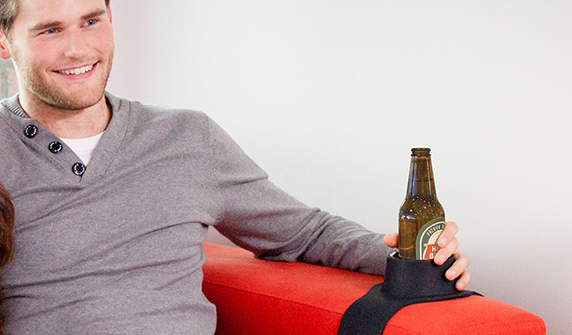 It's almost Father's Day and many of you are probably racking your brains right now trying to come up with a last-minute gift. Generally speaking, shopping for men can be a challenging task to begin with, but shopping for dads, well that's nearly as impossible as setting fire to ice. Whether you forgot about Father's Day (shame on you!) or you've been scouring the internet for weeks and still can't find the perfect gift, there's no need to panic. We've come up with some practical, unique, and affordable gift ideas for dad that are sure to say "I love you, I appreciate you and yes, I came up with this gift all on my own."  
This list of gift ideas will make any man happy whether it's Father's Day, a birthday, or any other gift-giving occasion. And they're all under $40.
For the dad who doubles as a handyman
RAK Universal Socket Grip (7-19mm) Multi-Function Adapter Set, $14.99
I'll be honest, I don't know what this does exactly, but I do know that almost any man would appreciate such a convenient and practical gift. 
For the dad with little ones
Dr. Seuss's I Love Pop!: A Celebration of Dads, $7.95
I mean come on, how cute is this?! There's not one dad out there that wouldn't love receiving this book from their kid. Aside from reading this together, you can personalize it even more by having your kids write notes for dad throughout the book. It'll easily become his new favorite book. 
For the "dad cap" lovin' dad
Life is Good Sunwashed Chill Baseball Cap, $26
Nothing screams "dad" more than a good ole' Life is Good baseball cap. 
For the grill master dad
Better Dweller Wood Grill Scraper, $25
It wouldn't be a true gift guide for men if I didn't include some sort of grilling accessory. Sorry, I don't make the rules, I just work here. Replace your dad's old grill brush with this brand new all-natural wood grill scraper that won't deteriorate before his eyes. In addition to impressing him with this high-quality grilling accessory, this wooden grill scraper can also help eliminate the annoying inconvenience of bristles falling off and the uncertainty that these remnants could ruin someone's masterfully grilled steak.
For the travel dad who hasn't updated his luggage
KOMALC Genuine Buffalo Leather Toiletry Bag, $34.99
Men aren't typically known for keeping up to date with quality luggage and travel bags. If it gets the job done then they tend not to care as much about the quality compared to us women. Ironically, that's what makes this a great gift idea. An adult man whose toiletry bag has been the same since puberty will greatly appreciate a luxurious, high-quality leather bag to replace it with.
For the work-from-home dad
Wireless Keyboard and Mouse Combo, $33.98
There's never any harm in helping dad upgrade his home office. This sleek wireless keyboard and mouse set will certainly make working from home more convenient and functional and also give his office desk a stylish new look.
For the couch potato dad
The picture says it all. 
WARNING: possible side effects include:
Inattentive husbands and dads
Ticked off wife and/or marriage problems 
Extreme potato syndrome 
Beer belly
Saggy couch
**Use with caution during football season. Stop use immediately if side effects worsen and your inner potato has taken over**
For the wine lovin' dad
Inovare Designs 1-button Electric Wine Aerator, $29.99
There's nothing better after a long day than a glass (or sometimes a bottle) of wine that you don't have to pour yourself. Treat your dad so he can treat himself. 
For the dad who loves backyard games
GoSports Giant Wooden Playing Dice Set, $30.99
Let's be honest, giant or jumbo anything automatically makes it more fun. Combine dad's love for games and the outdoors with this giant wooden dice set that includes both Rollzee and Farkle scoreboards. The best part about this gift is that it's basically a gift for the whole family so everybody wins. 
For the dad who's an aspiring bartender
Mixology Bartender Kit with Stand, $29.97
What self-sufficient adult isn't an aspiring bartender? Being able to create a delicious cocktail is a very underrated, yet nifty skill that will reinvent happy hour for everyone. This beginner bartender kit has everything he will need to become the all-star mixologist he was born to be.
For the groovy, music lovin' dad
Anker Soundcore Portable Waterproof Bluetooth Speaker, $27.99
A portable Bluetooth speaker like this makes a great gift for music lovers. Whether to the beach, office, hiking, or to the office, it can go wherever he goes. Regardless, he's sure to make good use out of it. 
For the dad who's love for the golf course is unmatched
Putt-A-Bout Grassroots Par Three Putting Green, $30.17
What is it with men and golf anyways? Whatever it is, they can now indulge in it without even having to leave the house anymore. Sorry guys, don't hate the player, hate the game.
For the dad who's always thirsty
YETI Rambler 20 oz Stainless Steel Vacuum-Insulated Tumbler, $29.98
Basic, I know. However, I'm pretty confident that nearly anyone would love this as a gift. Despite its simple nature, Yeti tumblers are extremely useful and the quality is quite remarkable.
For the dad who likes tech
Well these will just make life a little bit easier. Who wouldn't want that?
For the dad who refuses to throw out his holey socks
Saucony Men's Multi-Pack Mesh Ventilating Comfort Fit Performance Socks, $13.99
Just get the man some new socks.
This Device Makes Shredding Meat Easier Than Ever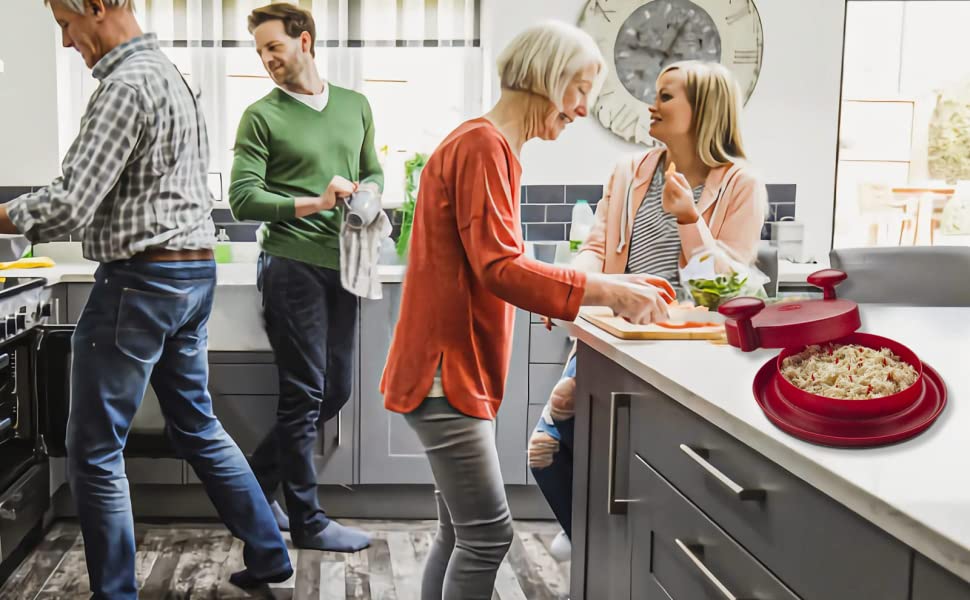 Pulled meats like chicken and pork are essentials for a wide variety of dishes, most notably summer staples like BBQ and Tex-Mex favorites like enchiladas. Even if you have the seasoning down pat, the act of pulling the meat apart can be a hassle. Most people rely on forks or bear claws. I have also heard of folks using a stand mixer to get the job done.
Now there is a special kitchen gadget for this very purpose. This shredding machine makes meal prep simple.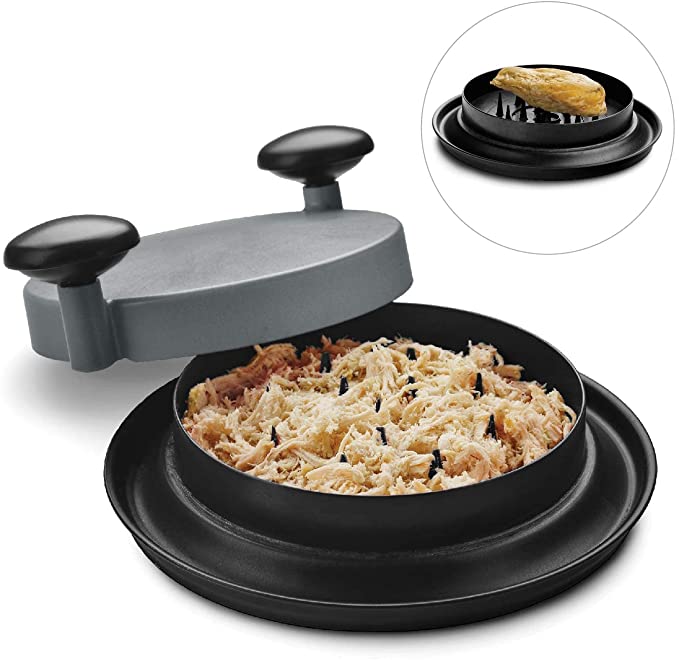 Chicken Shredder Shred Machine Meat Shredder for Pulled Pork Red Beef and Chicken 20CM/7.9IN Dishwasher Safe (1PC Gray) — $19.99
Seriously, you will not believe how easy this makes things. Just stick any piece of meat in the chamber, put on the lid, and spin it. You will have shredded chicken, pork or beef in mere seconds.
You would think such a magical device would be expensive, but at just $20 it is just a few bucks more than a good set of barbecue bear claws.
The only issue with this particular listing on Amazon is that the Chinese company that sells it (ELAPOTI) is obviously up to some black hat tactics that should, in a just world, get it banned. While it boasts an impressive 4.8-star rating, you can take a look at the reviews and see that they are for an entirely different product—doorway corbels. I myself was a bit confused at first when reading customers write about their experiences hanging a meat shredder. Perhaps the company knows that its listing may not be long for this world, since the device is listed identically in at least half a dozen different places. While we still recommend it based on convenience and price, by the time you read this article any one of these listings may have been taken down for violating Amazon's policies, so check out all the available options.
How To Store Your Wreaths Safely For Next Christmas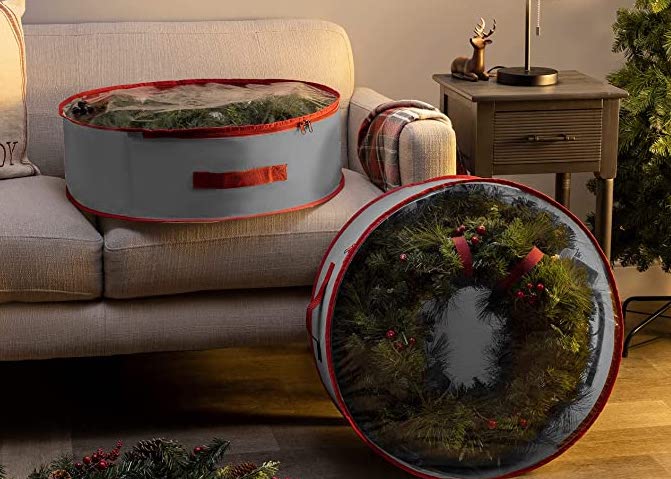 Everyone seems to have already packed away most of their Christmas decorations and accoutrements, or at least made plans for doing so. Christmas tree bags and wrapping paper organizers no longer top Amazon's #1 bestsellers list. In their stead are containers for Christmas wreath storage. This is only logical. While many folks take down their trees in the days following New Year's, you can get away with leaving a little festivity on your door closer to the end of January. Still, time marches on, and Candlemas will be here before you know it, serving as the true capstone of the Christmas season. ZOBER, which also makes the Christmas tree bags and wrapping paper organizers we recommended, has two popular versions for wreath storage: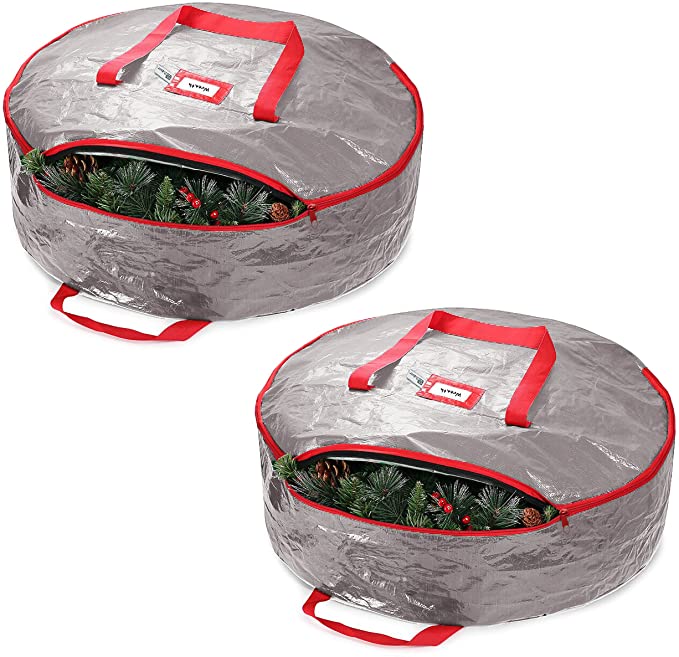 ZOBER Christmas Wreath Storage Bag – Water Resistant Fabric Storage Dual Zippered Bag for Holiday Artificial Christmas Wreaths, 2 Stitch-Reinforced Canvas Handles (24 Inch, Gray, Set of 2) — $11.99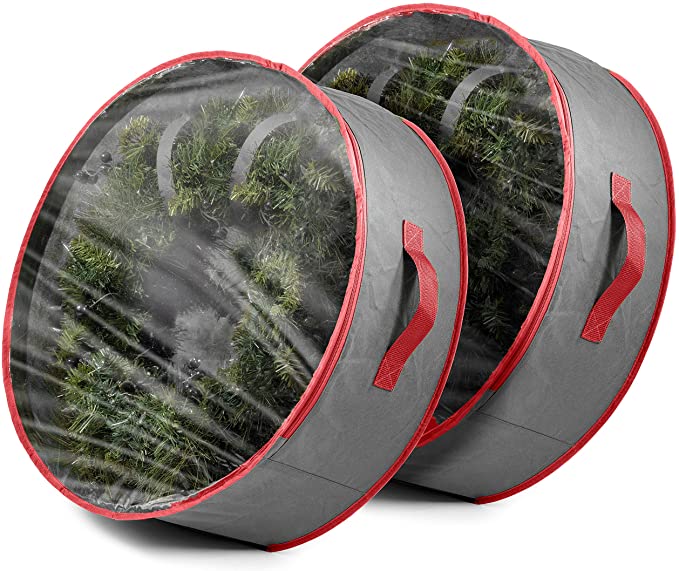 ZOBER 2-Pack Christmas Wreath Storage Container Clear Top 24-Inch, Breathable Non-Woven Material – Dual-Zippered Holiday Wreath Storage Bag & Durable Handles, Protect Artificial Xmas Wreaths — $9.99
The first one is a bit sturdier (and therefore $2 more expensive), but the second has the benefit of a see-through top. This comes in handy if yours is the type of household that keeps seasonal wreaths up all year long. By storing it in one of these containers, you can see which wreath it is without relying on trial and error (and a lot of zippering!).
Each comes in three sizes—24 inch, 30 inch and 36 inch—so you can get the one with the dimensions you need. Some Amazon reviewers even mention other creative uses for them, like Christmas pillows. No matter what you put in them, they are sure to make for better storage than a garbage bag.
The Best Way To Store Wrapping Paper For Next Christmas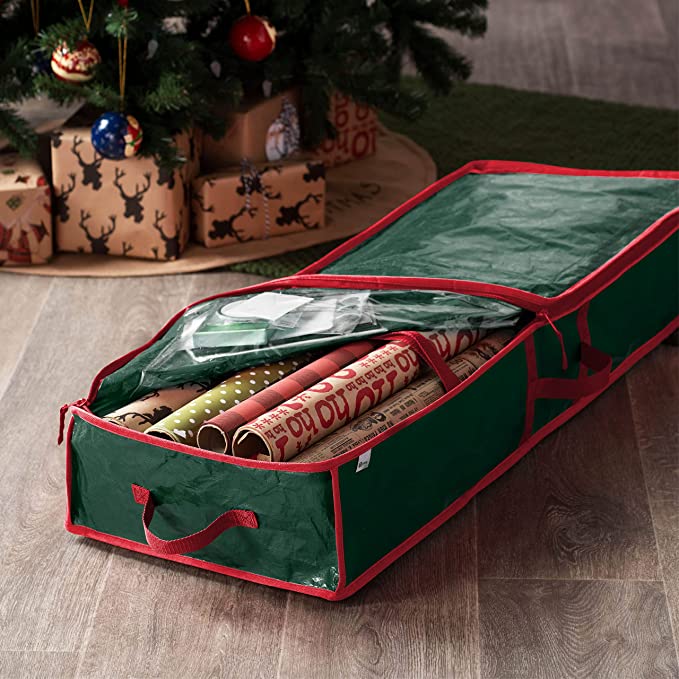 Now that the Christmas season is coming to its conclusion, it is nearly time to perform perhaps the most unpleasant task of the year's end. Last year, we told our readers about a convenient way to store their Christmas trees for the other 11 months, but that is not to only item that needs to be stowed away until December 2022. Lights, ornaments, and various other decorations also have to make their way back into the garage or attic. Many people will also pack away their remaining wrapping paper, so they do not need to start from scratch when the shopping season begins in earnest on Black Friday.
Instead of haphazardly shoving it with everything else and hoping for the best, you should be investing a small amount into a dedicated gift wrap organizer. This will keep all your rolls of wrapping paper in one place, and it will ensure they do not unravel or become unusable in the months ahead. The Zober gift wrap organizer, priced at just $15, can hold up to 20 rolls. No wonder it is an Amazon #1 bestseller.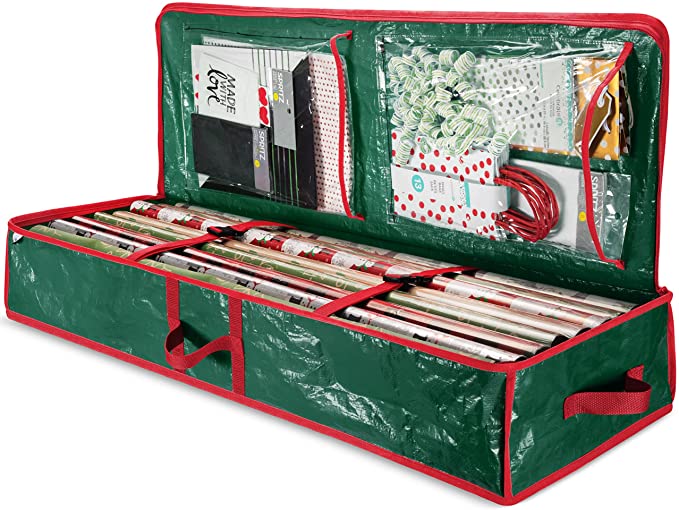 ZOBER Underbed Gift Wrap Organizer, Interior Pockets, fits 18-24 Standard Rolls, Underbed Storage, Wrapping Paper Storage Box and Holiday Accessories, 40" Long – Tear Proof Fabric — $14.99
This compact container takes up so little space that you can easily fit it under your bed or in a closet. It features buckled straps that secure your unused rolls in place. The neatest part, in my opinion, is that it also comes with two zipper compartments for storing tags, tissue paper, bags, and other wrapping paper-related paraphernalia. Not only will it save you money from buying all this stuff anew next year, but it will save you time looking all over the house for all your gift-wrapping needs.