7 Fun Outdoor Games To Host 'Backyard Olympics'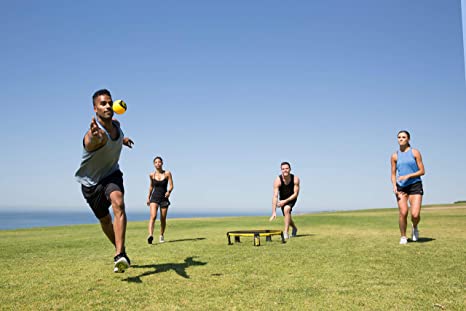 With summer in full swing, I found it very fitting to share all my favorite outdoor games with you all, so that you too can get in on all the fun. About mid-quarantine, when the boredom became all too much to handle, my family and I turned to the almighty Amazon to cure our bored minds. We had already binged everything there was to watch on Netflix and Hulu, played every board game we owned, covered every hard surface in the house with puzzles, and read more books than we had in years, so needless to say, we were tired of being cooped up inside. Even if all it meant was going outside and playing games in the backyard, we didn't care, we just needed something to do. So, we bought all the backyard games we didn't already own and hosted the "Quarantine Olympics" right in our backyard. There's no doubt in my mind that we will host another Olympics with these games again, hopefully next time it'll be for a much better occasion. Either way, these are some great games to play at the beach, at a BBQ, in the backyard, or really anytime you get together with all your family and friends. Lastly, they're a great excuse to get your kids (and yourself) away from all the electronics and outside to play!
If you have never played Kan Jam before, you're truly missing out. My old soccer coach used to bring this to our soccer tournaments for us to play in between games. We had a lot of fun with it to say the least. So when quarantine came around, I suggested it, knowing good and well that it would soon become a family favorite. My phalanges added together couldn't account for how many times this was played at my house during quarantine. If you're worried you can't throw a frisbee, don't be. Games are meant to be fun, remember? I can actually throw a frisbee decently well, but I once almost took out my own mother who was sitting 90 degrees to my left (the goal, of course, is to aim for the kan straight ahead of you). Thankfully I missed, so we all just got a good laugh out of it. Like I said, fun.
Spikeball is another great outdoor game that I most commonly see played at the beach, but obviously could be played in someone's yard as well. This is a 4-player game, and once you learn how to play, it's quite simple and loads of fun. This is a perfect game for those who tend to lean more towards the competitive side (*cough cough* my entire family), but competitive or not, I can guarantee you'll have fun. 
There are three noticeable differences between "Slam Ball" and "Spike Ball." Those are the name, the color, and the price. As you can see, "Slam Ball" is $20 cheaper than "Spike Ball," and as far as I can tell, they're the exact same game. Some people might prefer the original version of this game and are willing to spend the extra money for it, but if you don't fall under that category, then here you go. 
I'll start off by saying that this is not a standard bocce ball set, but I'll include one of those for anyone who turns their head at this one. This is the set my family has had for years and I love it. It was definitely designed for children, so I definitely recommend this set for families and those with small kids, but really anyone can have fun with it. The balls in this set are lighter and smaller than the standard bocce balls, so they're much easier to handle and lug to the beach with you, and less dangerous to throw around for that matter. I will say that the little black ball is sometimes a little hard to see, especially in the sand, but that just makes the game a little more interesting.
As I promised, here is a standard bocce set. As you can see, this one is about $20 more than the other one, but if you insist on having the large, heavy resin balls, then this 5-star product is the best bang for your buck. Not only is it "Amazon's Choice" for bocce ball, but if you get it now, you'll also save $6.50! 
Yeah cornhole is fun and all, but with this set, you get three games in one. Plus, the boards for this set aren't nearly as heavy and bulky as the cornhole boards are. With the entire set weighing only six pounds, they're much more convenient to take on trips and significantly easier to carry on the beach with you. This is yet another game on this list that is especially good for kids. It's definitely easier and less intimidating to play than cornhole and considering there are multiple ways to play, it'll be hard not to make everyone happy. 
Did I forget to mention how expensive cornhole was? It is very fun though and if you play it enough, then you will get your money's worth. I wanted to include it though, just in case you're prepared for this big purchase. Although a lot of people prefer having their favorite sports team on their boards, this set allows you to be creative and personalize it however you want! Plus, this set comes with eight bean bags as well as a bag to both your boards and your bean bags in, so it's probably the best overall choice as far as cornhole sets go. 
How To Keep Your Wine Bottle Chilled In The Heat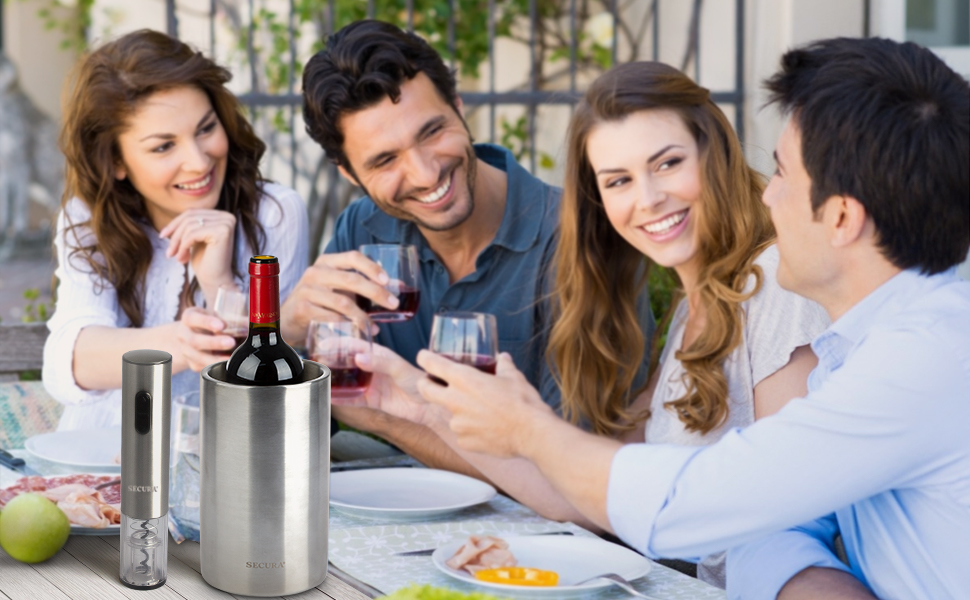 We have been posting quite a bit about alcoholic beverages lately, simply because enjoying a nice chilled drink is a phenomenal summer pastime. With Mother's Day coming up this weekend, it is the perfect occasion to talk about the most maternal of all booze — wine!
Last summer we posted our take on the Secura Electric Wine Bottle Opener. In the intervening months, our thoughts in favor of the product have not changed. In fact, we are ready to up the ante. Since it is officially the season of white wine and rosé, take advantage of Secura's gift set!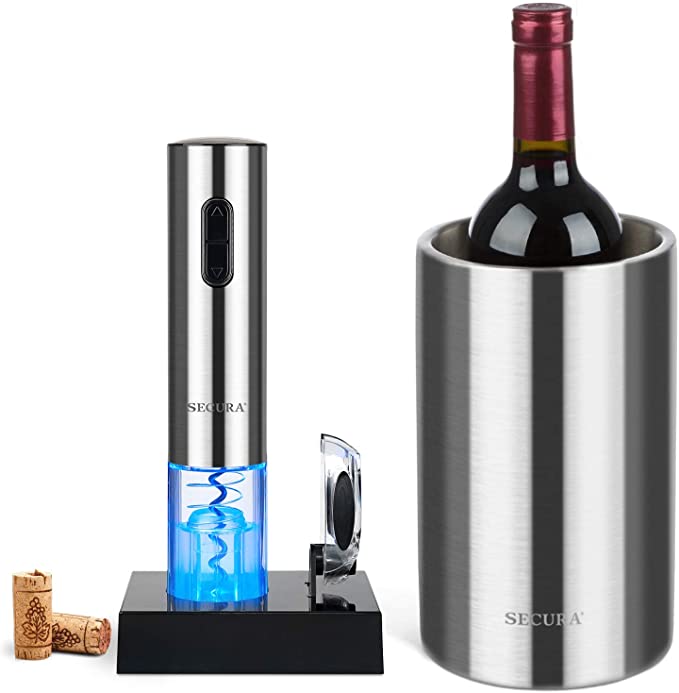 Secura Automatic Electric Wine Bottle Opener with Foil Cutter and Wine Chiller Gift Set Premium Stainless Steel Gift Set for Wine Lover — $36.99
From our previous article, you already know how the electric corkscrew works. The added value here comes via the stainless steel ice bucket. Like the margarita tumblers we teased last week, this ice bucket relies on vacuum insulation to keep your beverage at the perfect temperature.
After two years of being browbeaten to stay inside and avoid other people, summer 2022 is shaping up to be a social occasion full of picnics and garden parties. I don't know about you, but I can't wait.
Coming Soon: Vacuum-Insulated Margarita Glasses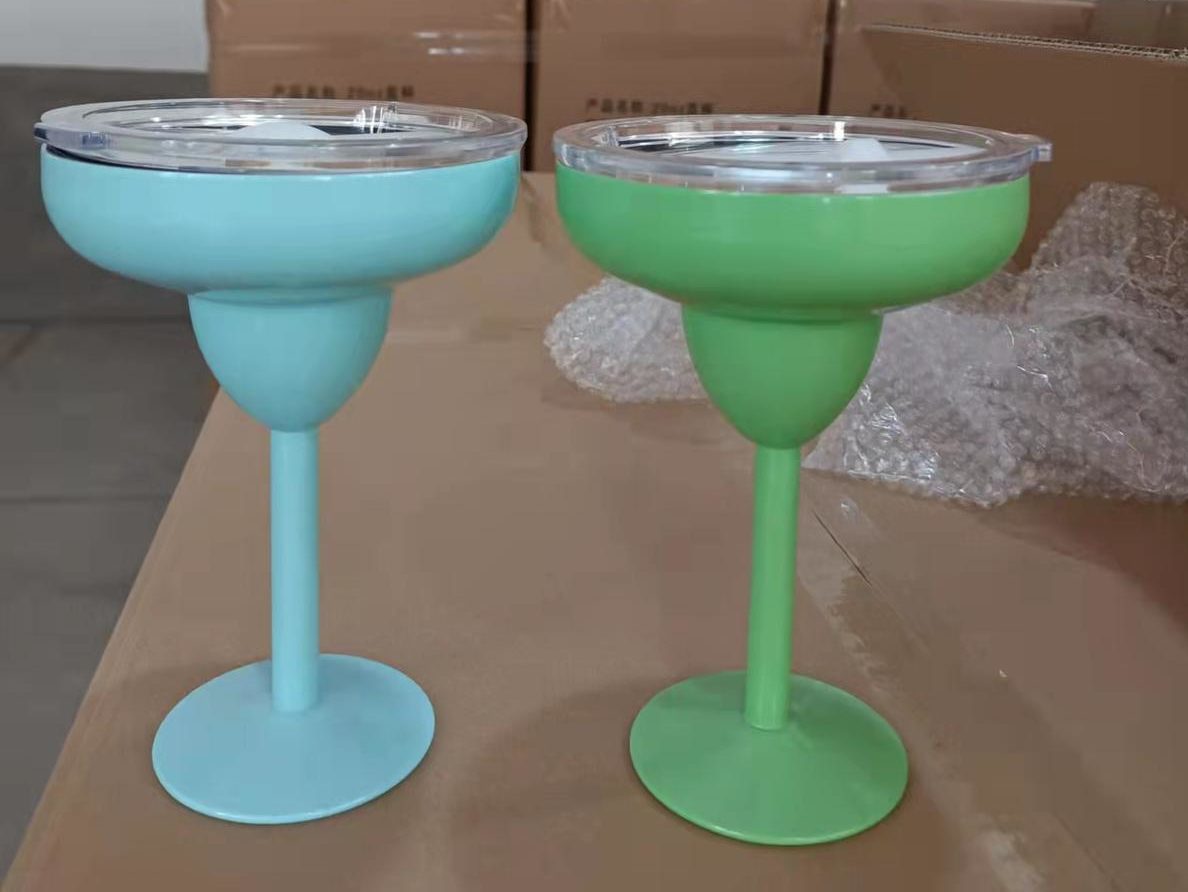 2022 is shaping up to be the summer of exciting new vacation products from Better Dweller. We already told you about their inaugural beach product, the American flag beach umbrella (now available on both Walmart.com and Amazon). Now Better Dweller has another one for you: vacuum insulated margarita glasses.
Although vacuum-insulated tumblers are all the rage these days, somehow there are not any on the market in the shape of a margarita glass currently on the market. This is wild, considering vacuum-insulated tumblers are designed to keep beverages cold in hot weather, and there is no more refreshing hot weather beverage than a classic margarita.
Surprisingly, there are actually many vacuum-insulated martini glasses out there. But who is trying to sip gin, vermouth, and olive juice poolside? I can enjoy a good martini when the occasion calls for it (shaken not stirred, of course), but honestly in 100 degree heat the thought is a tad repulsive.
As you can see from the image above, the tumblers have been produced, packaged, and are expected to hit the market within the next month. As soon as they become available, you can expect a full post here at We Know Products!
Add This Knife To Your Americana Collection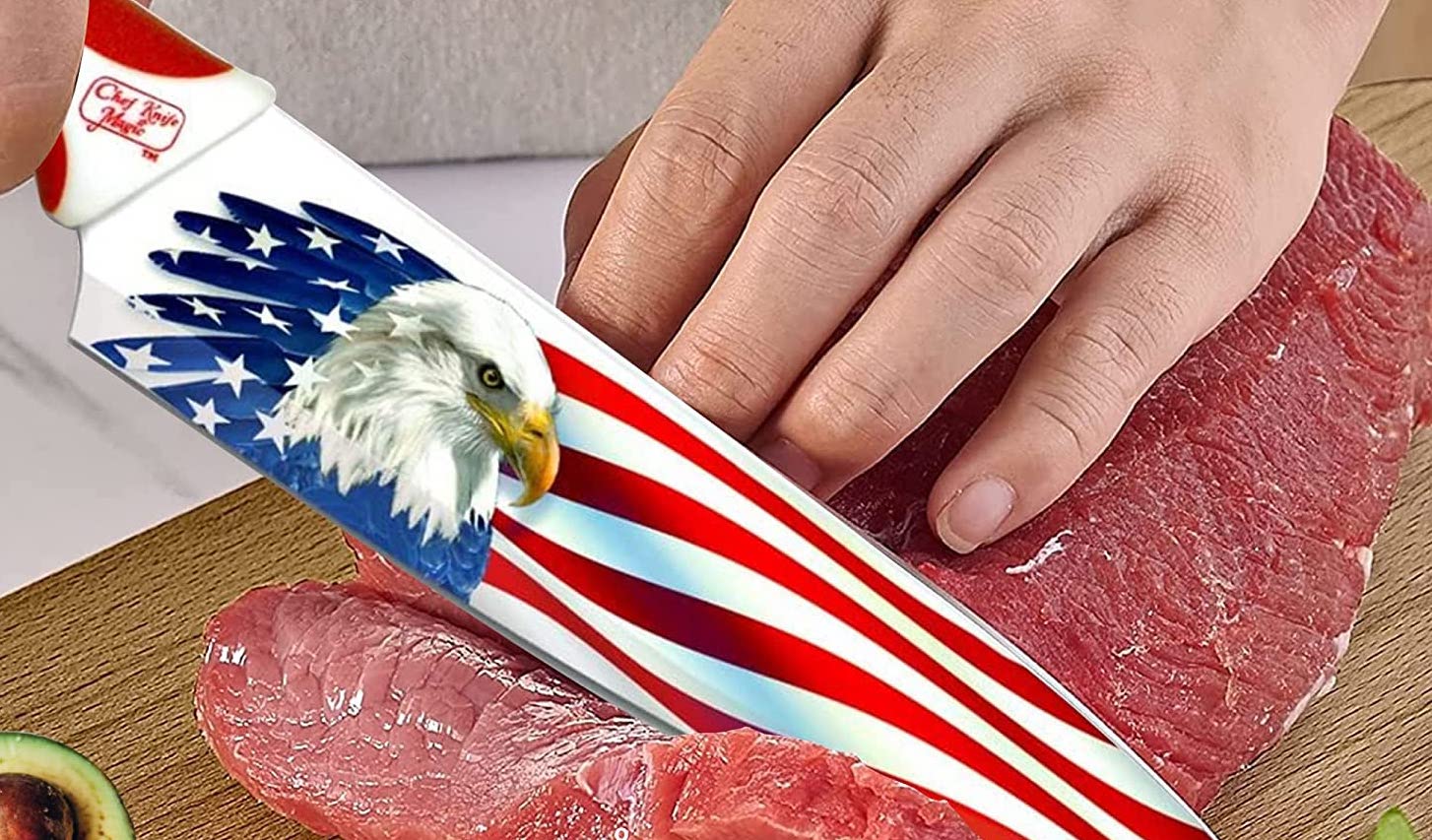 We Know Products fans know that we are obsessed with American flag products. Whether it is a backpack, a tote bag, or a beach umbrella, the item can be made better by sporting a flag of the good ol' U.S.A.
When I stumbled upon this product on Amazon the other day, I knew I just had to share it with our readers. It is an American flag-themed kitchen knife. Just take a look! It will instantly become the most patriotic thing in your cutlery drawer: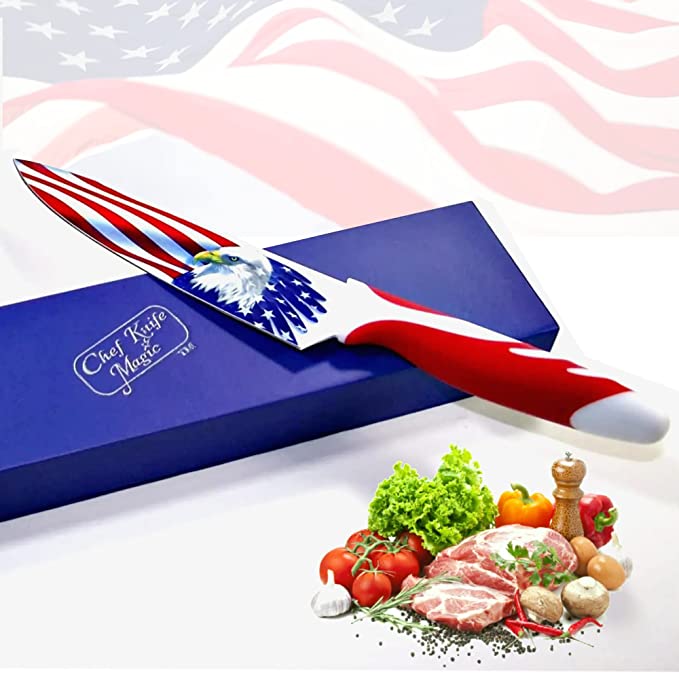 Chef's Knives – Professional Chef knife set, 8 inch sharp cutting blade – Stainless Steel kitchen cooking knife with Ergonomic handle – Loving gifts for Chefs & butcher with cool design — $23.99
If you check out the customer reviews on the Amazon listing, you will notice that many buyers originally bought it as a gag gift, then were surprised when it competently performed the function of a knife.
At a mere $24, you can easily add this knife to your bourgeoning collection of Americana.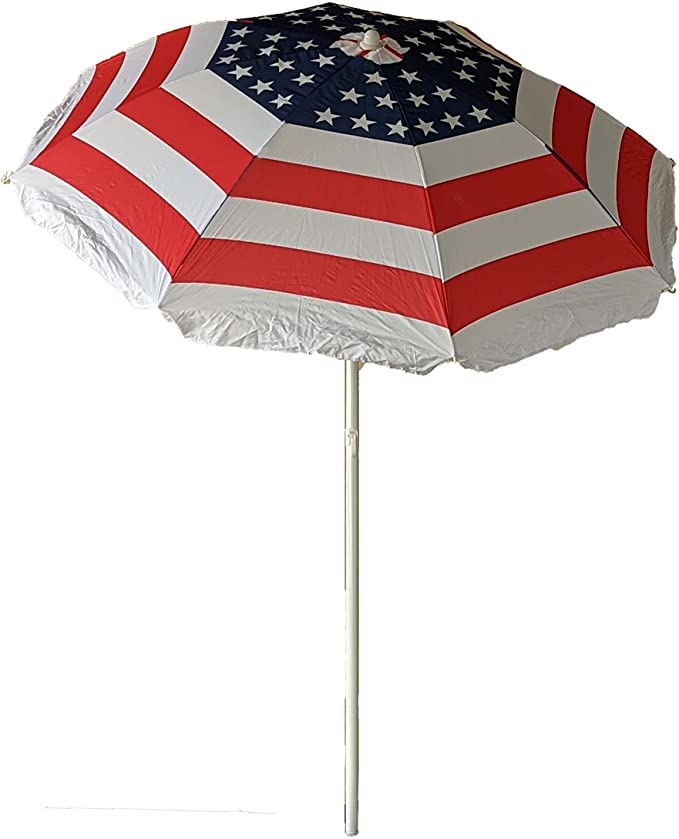 6.5ft USA American Flag Beach Umbrella, U.S. Flag Pattern with Carrying Case — $50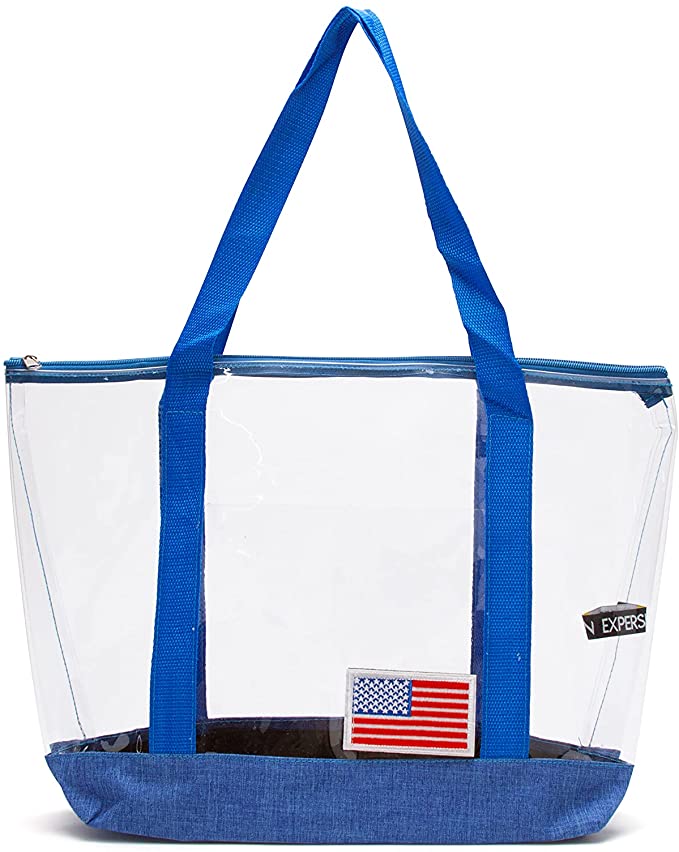 Clear American Flag Tote Bag — $14.99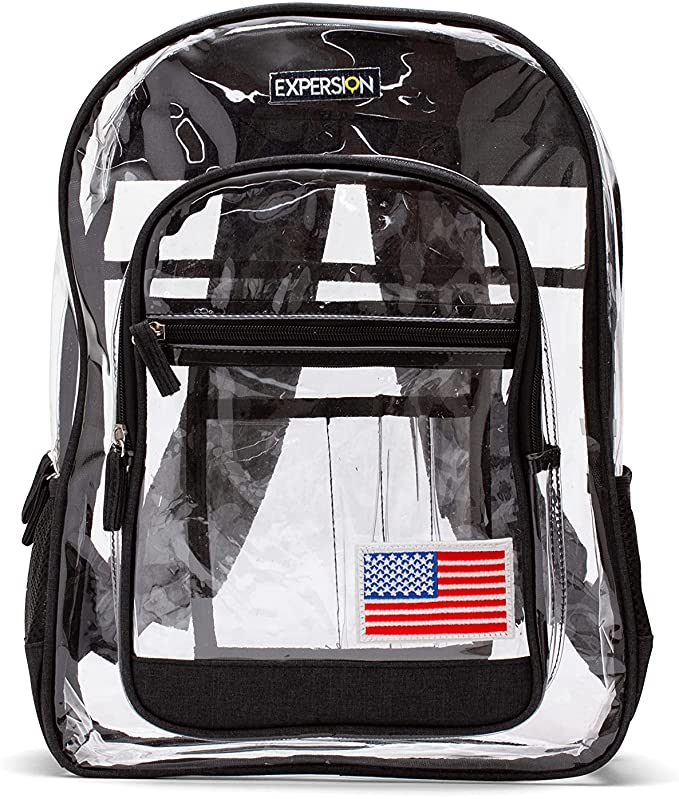 Clear Backpack with American Flag Patch, Transparent Heavy Duty See-Through U.S. Bag for School, Concerts, US Sporting Events, Stadium Approved (Black) — $20.99