These 4 Baking Needs Can Help Any New Baker Get Started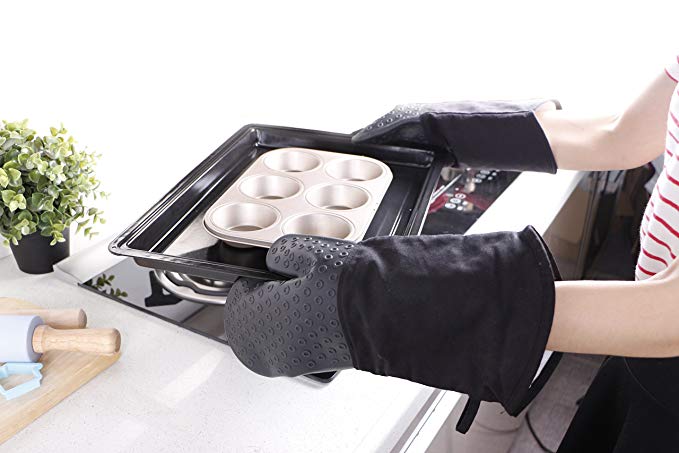 For every baker, it is essential to have the right equipment. Are you confused which pieces of baking equipment you should get as a beginner? The following tools can help you carry out your recipes effectively.
Etekcity Food Digital Kitchen Weight Scale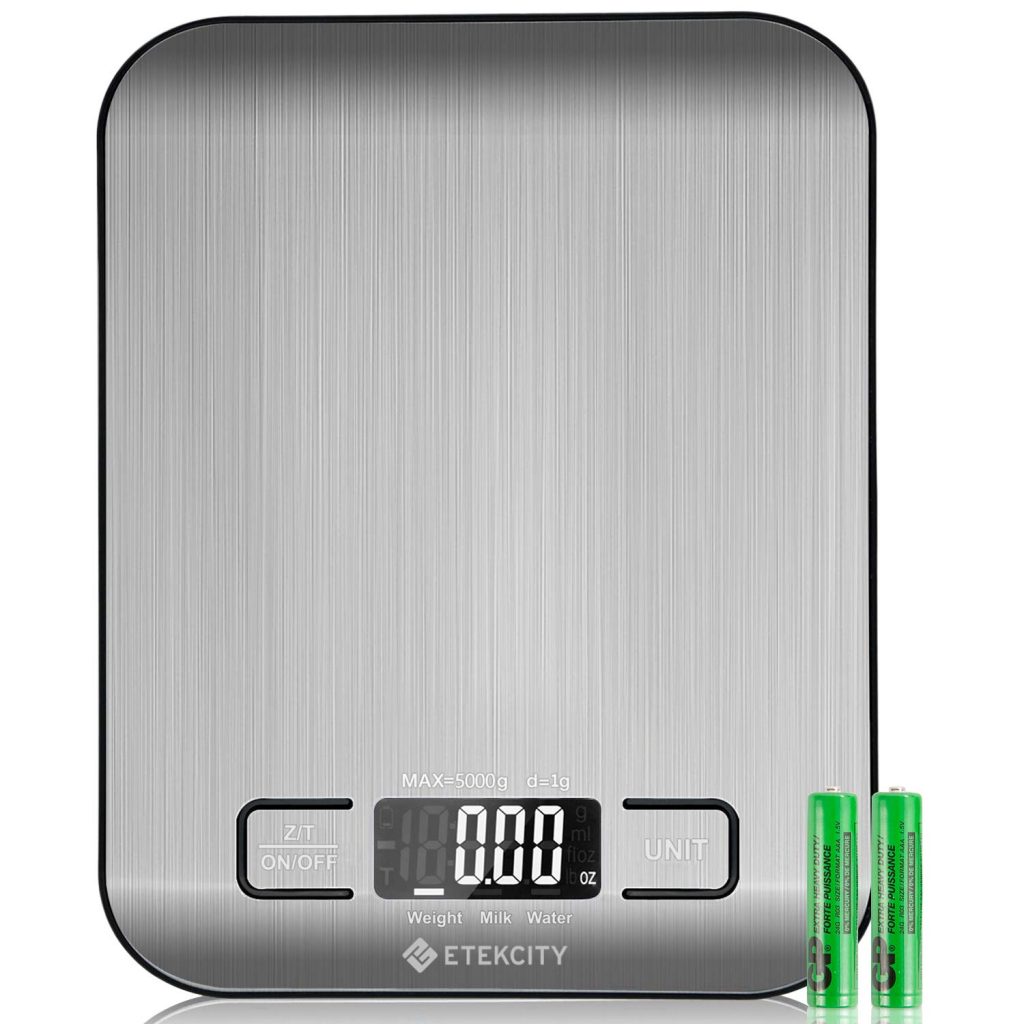 As opposed to cooking, which can be considered a kind of art, baking comes down to a science. Measurement is the name of the game. A digital kitchen scale can help you solve this problem and cut down your prep time. The surface is easy to clean because it is crafted with stainless steel. It can handle up to 11 pounds and measure in four different units: grams, ounces, pounds, and milliliters. There are two separate modes for weighing milk volume and water volume. If you put small ingredients and liquids inside of a bowl and want to weigh them, the tare function allows you to weigh them without weighing the bowl itself. This weight scale is battery-powered. The low battery indicator reminds you to replace the batteries on time to keep the measurements accurate. The slim design allows you to store it anywhere in the kitchen and leave plenty of room for other tools.
Bakeware Set – Premium Nonstick Baking Pans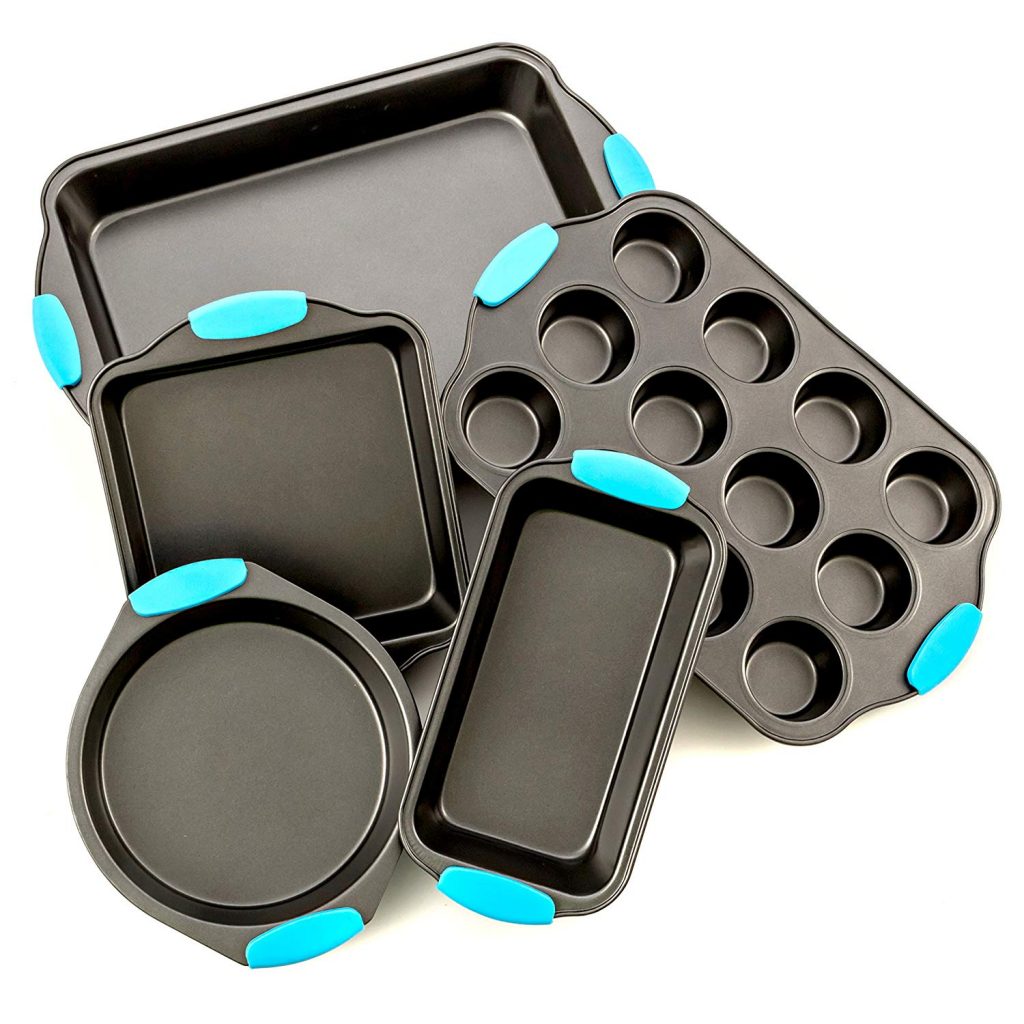 It is not news to say that an oven is essential for baking. But just because you have a good oven does that mean you are ready to go. Different recipes require different baking pans. Intriom non-stick pan set helps you to bake anything you can imagine. The set includes five pans: a bread pan, a pie pan, a square cake pan, a baking pan and a cupcake pan. You will never have to worry about rusting or warping because the pans cook food evenly. These pans are designed with a silicone handle grip, which allows you to take the pans out from the oven easier and avoid getting burnt. These silicone handles are oven-safe up to 400 degrees Fahrenheit.
Hand Immersion Blender with Whisk Attachment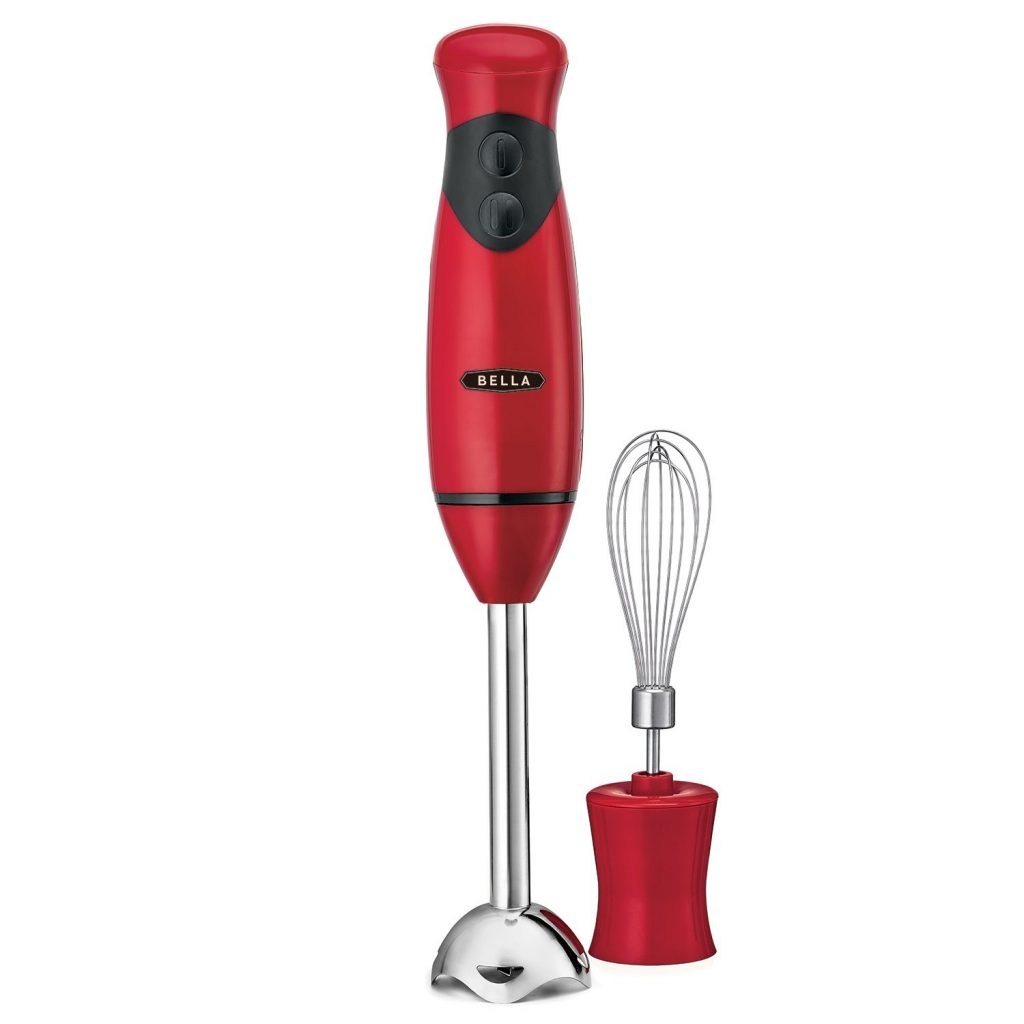 Looking for a tool that can both make whipped cream and juice? I found something for you. BELLA 14460 hand immersion blender with whisk attachment can replace your large blenders and mixers at home. With the attached whisk, you can whip cream manually or turn the blender on. There are two speeds provided. To use this sleek immersion blender, you simply press the turn on/off button. You can leave your food in mixing bowls, cooking pots or even plastic cups. It is safe to use the blender in these appliances. No need to worry that cream will be over-whipped, because the blender features an auto shut-off function. All the attachments including the whisk and the 6-inch long blending stick are dishwasher safe.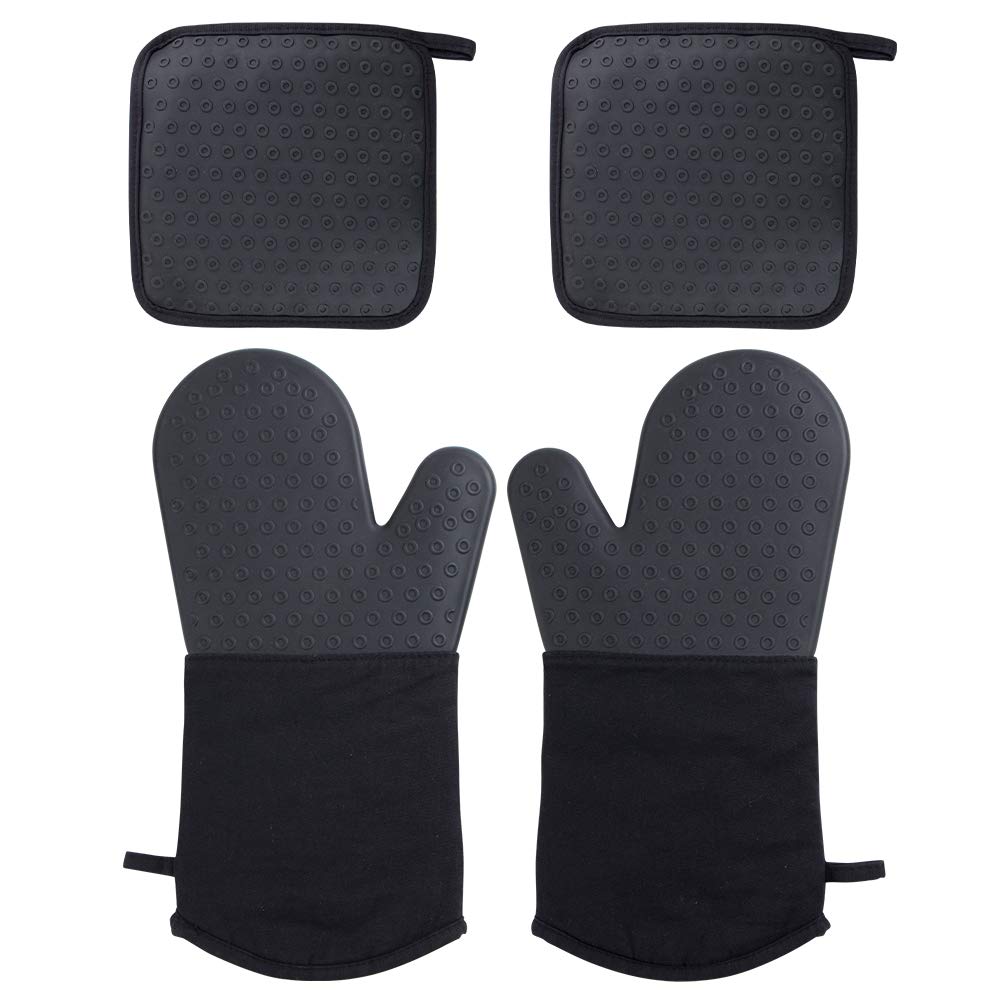 The last step is to take out the baking pans from the oven and enjoy your food. At this point, you need both oven mitts and pot holders. Unlike the ones in the store, Webake oven mitts and pot holders are made of silicone and cotton. The oven mitts cover your hand, wrist and lower arm completely. One side of the potholders are made of silicone, and the other side is made of cotton. The silicone side is non-slip and waterproof. These oven mitts and potholders can withstand up to 500 degrees Fahrenheit. To clean them, just toss them into the dishwasher. The mitts are perfect not just for baking but also for grilling outdoors.
The Perfect Coffee Machine For Being Stuck At Home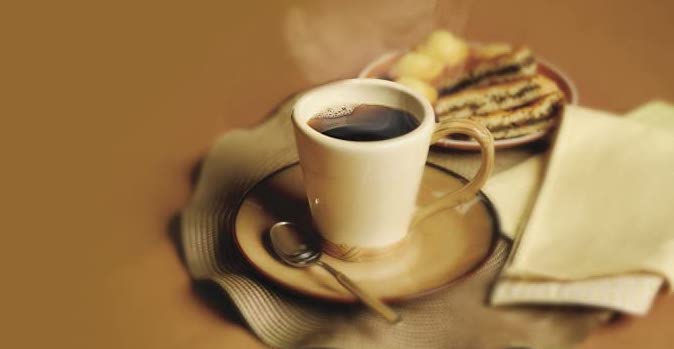 Late last week, something tragic happened: Our coffeepot broke. Someone who shall remain nameless had the temerity (or, more accurately, maladroitness) to drop the pot, shattering it into a million tiny little pieces. I arose up that morning to the devastating news that, for the first time in as long as I can remember, there would be no coffee greeting my awakening.
This problem was not easily remedied. In the days immediately following the fiasco, one of the members of my household had to make a Starbucks run each morning. This solution may have stuck a Band-Aid on the issue, but it was clearly not economical in the long run. No, we needed a new coffeepot. But which one?
I'm not exactly sure who came up with the idea to eschew the traditional 12-cup Mr. Coffee machine you can buy at the Giant for $25. Still, someone did, and as a result, a 45-cup Hamilton Beach "coffee urn" arrived at our doorstep via Amazon Prime two days later. The thing was HUGE: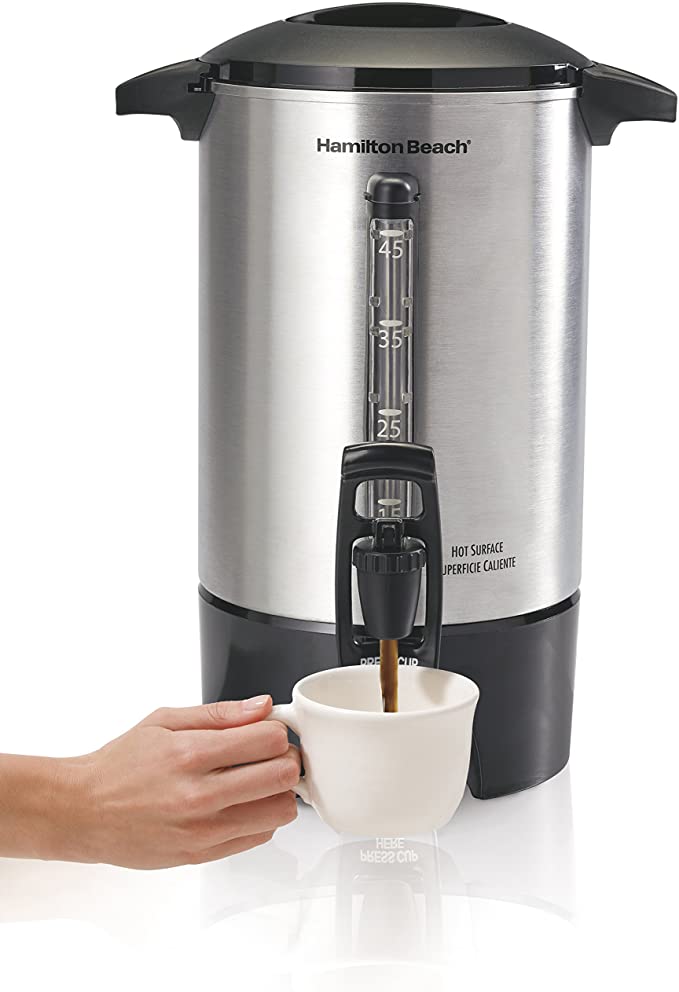 We've only been using the "coffee urn" for a few days now, but its advantages and disadvantages are quickly becoming clear. For one, the "formula" on how to make the coffee (i.e., the grounds to water ratio) is completely different from the typical drip coffee machine we were used to. Our first attempt at morning coffee was borderline undrinkable it was so weak. But we get a little bit closer to brewing the perfect cup on each attempt, and I'm optimistic that we can get there soon.
The coffee urn's biggest selling point is that it stays hot all day, as long as you keep it plugged in. The quality of the coffee will not diminish as the day goes on, as in the case with joe made in your traditional coffeepot. This has proved quite the boon during quarantine, when you want just one cup for an after-lunch pick-me-up, but do not want to go through the hassle of brewing a whole new pot. The jury may still be out on if this is actually a better buy than what it replaced. But for just $49.99 there is no question it offers great value.
What Comes To Mind? Is My Latest Quarantine Pastime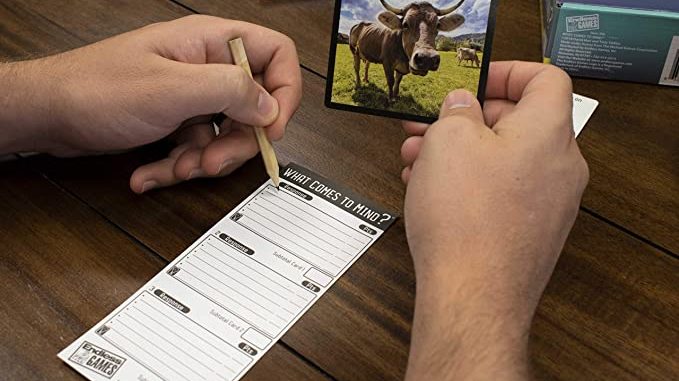 Earlier this quarantine, I promised to feature suggestions of games to play with the family while stuck in isolation. Last time, I reviewed Trivillennial. Though I promise that will not prove to be the last trivia game in the series, this week I'll profile a game of a different type. It is called What Comes To Mind?
The well-known game "What Comes To Mind?" most closely resembles is Scattergories. Like Scattergories, the object of the game is to come up with a word or phrase when given a prompt. Unlike Scattergories, instead of aiming to conjure a unique answer, you are rewarded based off how many other players you match. Instead of testing your creativity, "What Comes To Mind?" examines how well you know your competitors. That twist makes things a bit more interesting. Furthermore, eliminates the tension that inevitably arises in Scattergories, when someone lobbies for the acceptability of their undoubtedly unique but hare-brained response.
The one problem I have with What Comes To Mind? is with the format of each question card. Each double-sided card features an image on the front and six questions or statements to be answered on the back. The sixth prompt is always "What comes to mind when you look at the image on the other side of this card?" It is a clever idea, but it fails in implementation. Almost always, everyone just names the contents of the picture: "Ferris wheel," "butterfly," "squirrel." The only possibility for amusement is when a player completely misidentifies a commonplace thing and ends up, for example, writing down "parrot" when the photograph depicts a parakeet.
What Comes To Mind? comes with 75 cards, allowing for many nights of family fun. When our long national nightmare is over and done, it will presumably make for an entertaining party game as well.
It's Time To Get An Instant Pot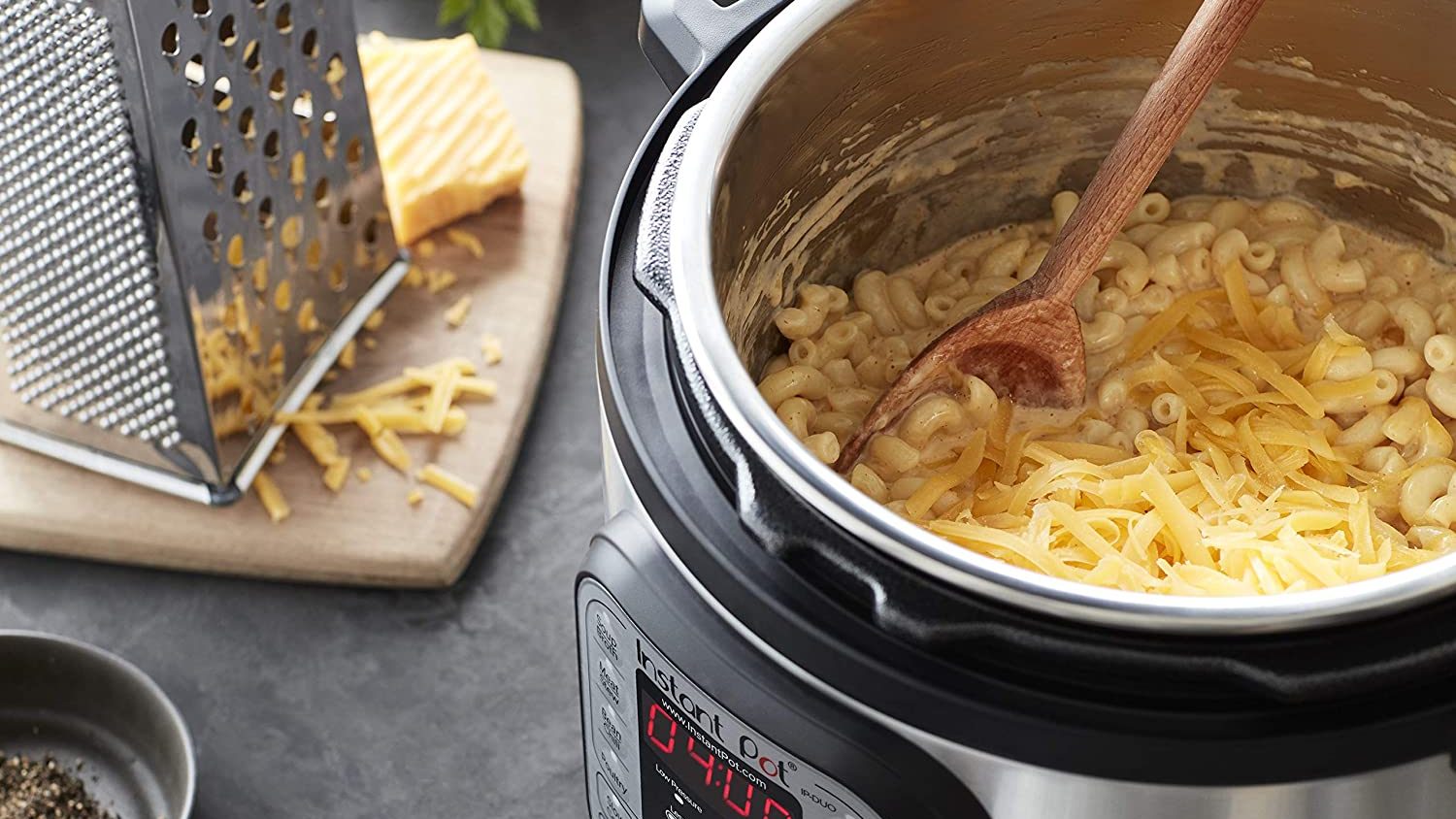 At this point, everybody knows about the Instant Pot. After four or five years of it being the most popular product on Amazon Prime Day, plus the proliferation of dedicated social media fan groups and fawning media profiles, the Instant Pot has exceeded its cult status. We Know Products even featured an article about the Instant Pot a year ago. If you don't own an Instant Pot by now, it is because you made a conscious decision.
However, it may be time to rethink that decision. With still no end in sight to mandated social distancing, we have to come up with ways to make life less mundane. That means trying out new things, especially when it comes to recipes. There's no doubt you've tired by now of making your pre-quarantine staples. The Instant Pot affords you the opportunity to experiment.
The Instant Pot, famously, is seven kitchen appliances in one. It comes with the functions of a pressure cooker, slow cooker, rice cooker, steamer, sauté pan, yogurt maker and warmer. To some people, this might seem daunting. With so many options, how is one to know where to start? Now that we are in quarantine, it doesn't matter as much. You have all the time in the world. If you fail, who cares? Just try another recipe the next day. There certainly is no shortage of Instant Pot recipes available.
The other day, we attempted our first foray into the wide world of Instant Pot by making beef and broccoli. It turned out great! I am already looking forward to the next quarantine creation.