3 Shortcuts To An Organized Home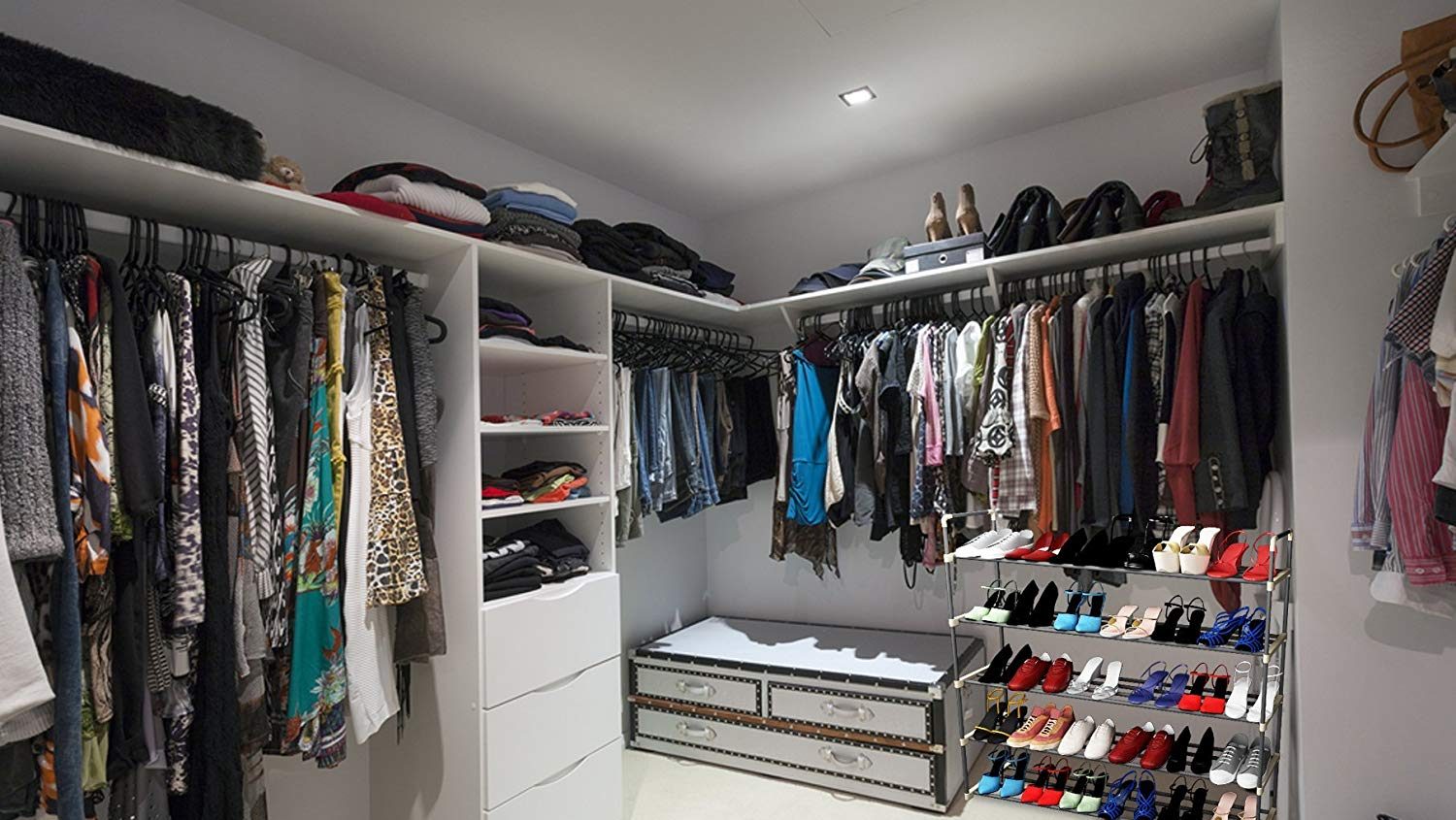 Creating a clean house is essential for the health and well-being of the whole family. A messy environment will do nothing but increase your stress level. You should always declutter your space and keep your inner neat freak alive. Organizing your house does not have to be overwhelming. Take it from me; you can whip your house into shape by following the tips below.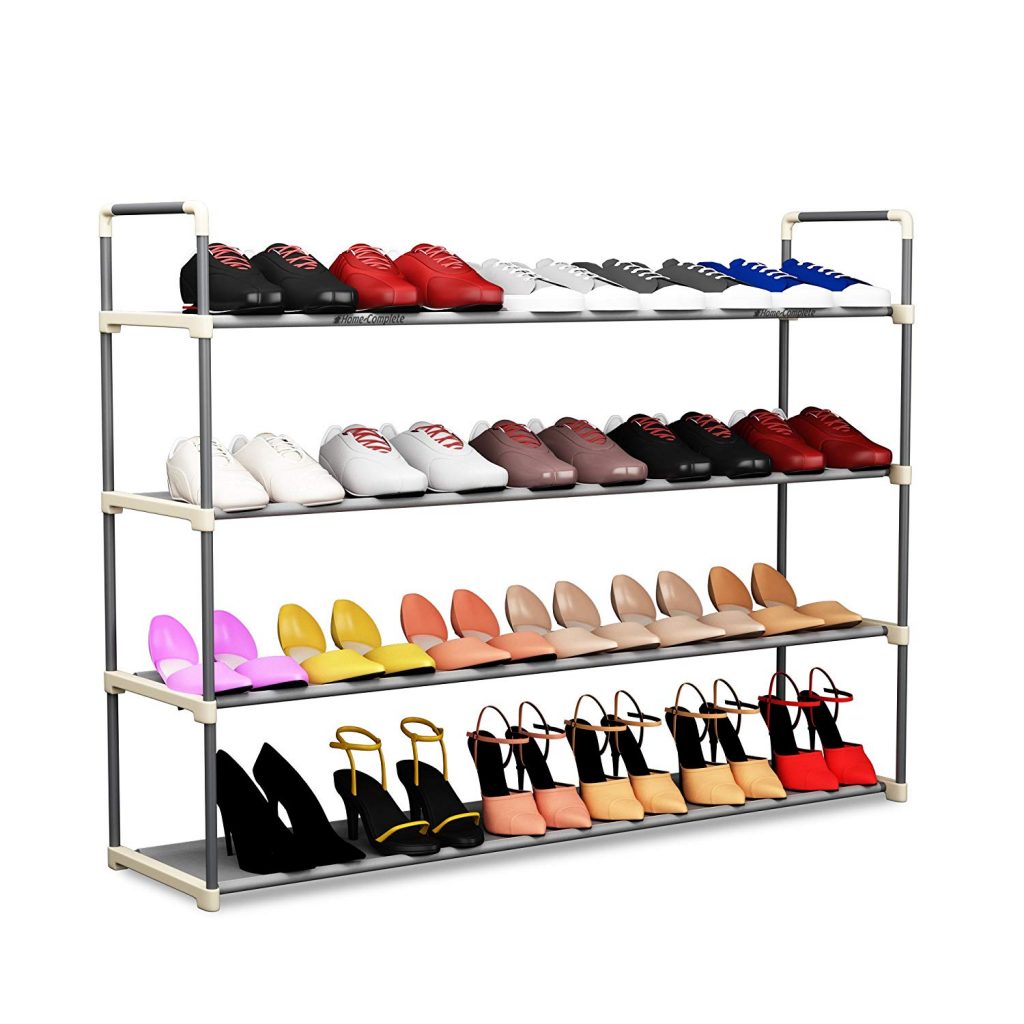 Do you take your shoes off when you get home? We travel to lots of places during the day. Every step we take picks up thousands of germs, which we end up traipsing with us everywhere we go. Taking your shoes off (and making sure guests do the same) can go a long way to sanitizing your house and have a positive effect on making sure your family members don't get sick. I have used Home Complete's Shoe Rack for years, and I happily recommend it to you, dear reader. Not only does it keep my footwear organized, but it is also quite stylish. It took me all of 60 seconds to assemble it — all by myself no less, without the help of any excess tools. All you need to do is to fasten the rails to the large white resin stands. It is great not only for entryways and closets but also for heavily trafficked areas like kitchens, garages and sheds. Given its shape, you can actually use it to store small kitchen appliances, food containers, toolboxes, paint and more. If you do use it for shoes, the 8-tier space saver can hold up to 48 pairs of shoes.
Bamboo Expandable Drawer Organizer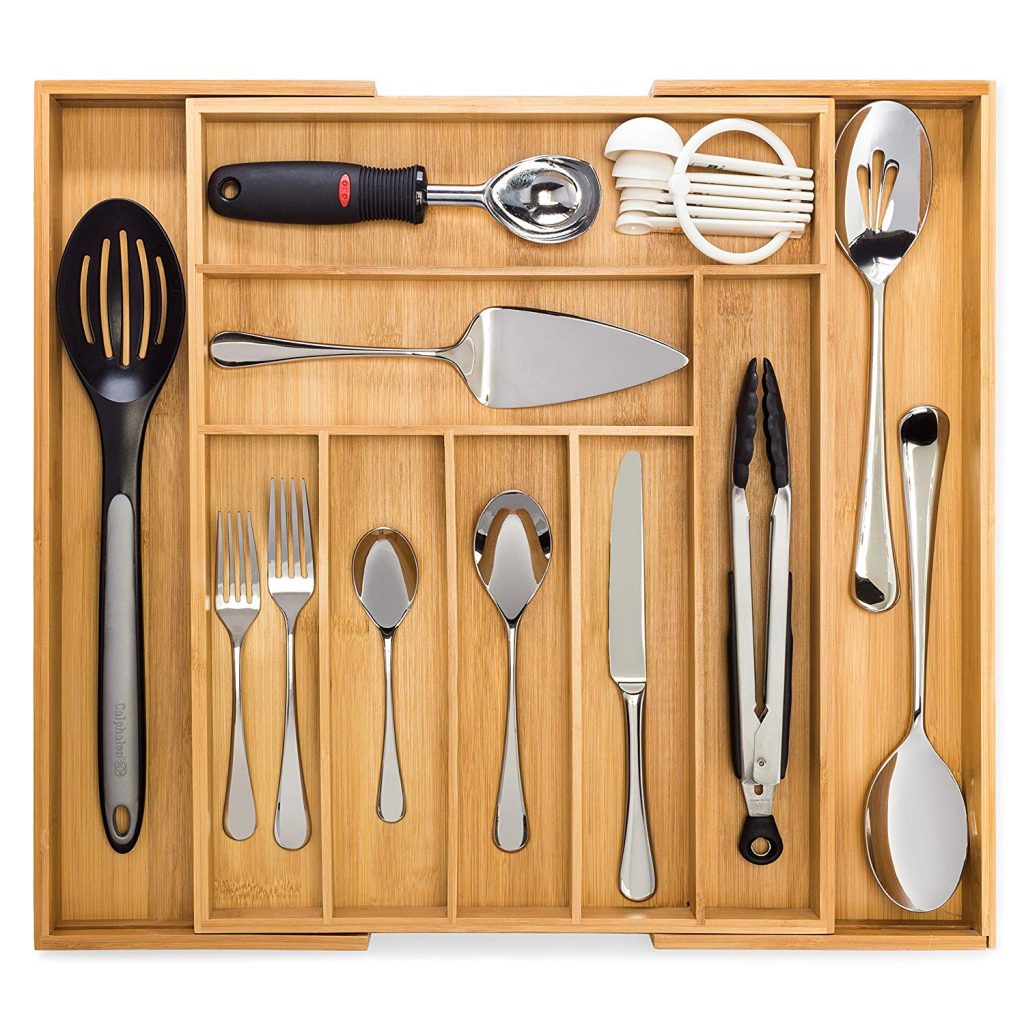 Some people may have no problem living in a messy bedroom for months on end, feeling their lives are not impaired in any fundamental way. Even so, the kitchen is a whole different animal. There is no way any functional human being can survive (let alone thrive) without a clean kitchen. We cook there; we eat there; we hopefully do our dishes there. A messy kitchen can have a direct impact on our health. Having established the importance of keeping a clean kitchen, we now must figure out how to store our kitchen utensils — our forks and spoons that touch so much food that ultimately ends up in our bellies. Most American families have an abundance of such flatware, and it can be hard to find a container that can store them all. Artisware's Bamboo Expandable Drawer Organizer is a great organizer to store cutlery and utensils. It features 7 to 9 compartments. Two of them are adjustable and expandable, maximizing our drawer space. This premium cutlery and utensil tray resists water and can be cleaned easily. The entire organizer is made of bamboo. You can wipe down all the dirt with a damp cloth.
SINARDO Wire Storage Basket Organizer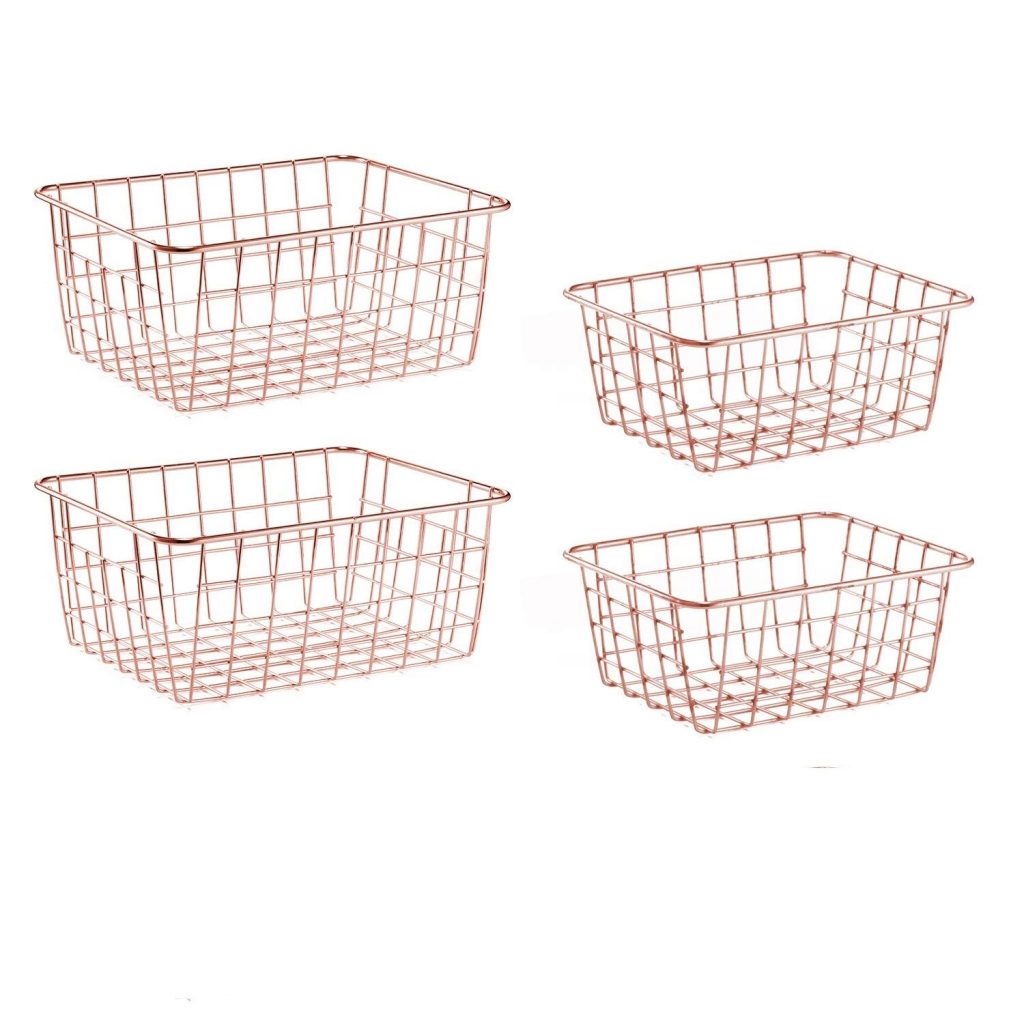 As you may have noticed in your own abode, kitchens, bathrooms, closets, and living rooms are magnets for clutter. A set of storage bins can help us control the entropy. SINARDO's Wire Storage Basket Organizer can organize anything making a mess in your house, including fruits, snacks, cans of food, cleaning products, makeup and more. Children can use these bin baskets to keep books and toys organized. With the built-in handles, we can transport the baskets from shelf to table and counter easily. The package comes with 2 large and 2 medium wire baskets. The large ones are perfect for storing apples and potatoes, and the medium ones are ideal for keeping snacks and wallets. The shiny rose gold color and the versatile design work well with all decor.
Fidget Bubble Pop Fad Solves Age-Old Problem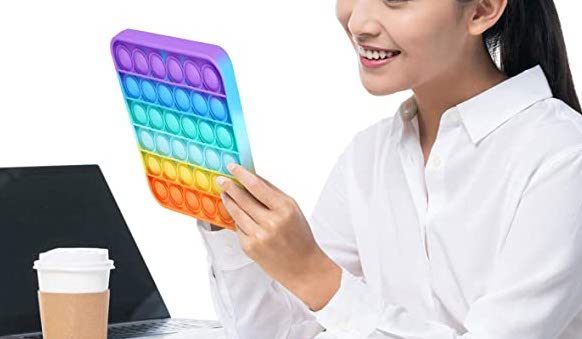 Fidget spinners are so 2017. The latest fad for fidgeters courtesy of TikTok (where else?) is the "fidget bubble pop." The name may not roll off the tongue, but that has not prevented these sensory toys from taking the internet by storm.
The foundation of the fidget bubble pop is a simple notion: "What if you could pop bubble wrap an unlimited number of times?" Everyone knows how addictive popping bubble wrap is, which makes the feeling of discovering there is no bubble wrap left almost as deflating as the popping itself is exhilarating. Fidget bubble pop solves that problem. After you are done pressing in all the little bubbles, you can pop them back out and do it all over again.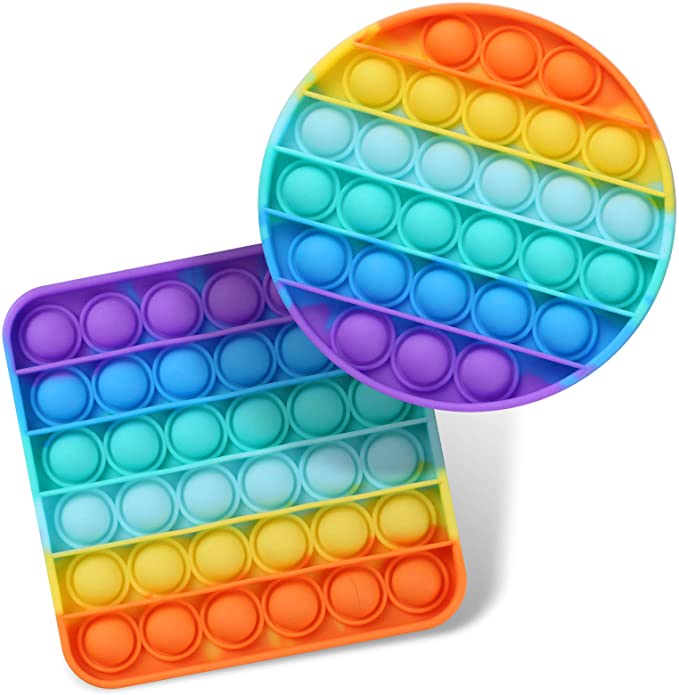 2 Packs Push Pop Bubble Sensory Fidget Toys, Autism Special Needs Stress Relief Silicone Pressure Relieving Toys, Round and Square Squeeze Toys for Kids Children Adults (Set of 2) — $11.99
These toys come in a nearly limitless number of shapes and designs, though the colorful ones above seem to be the most popular.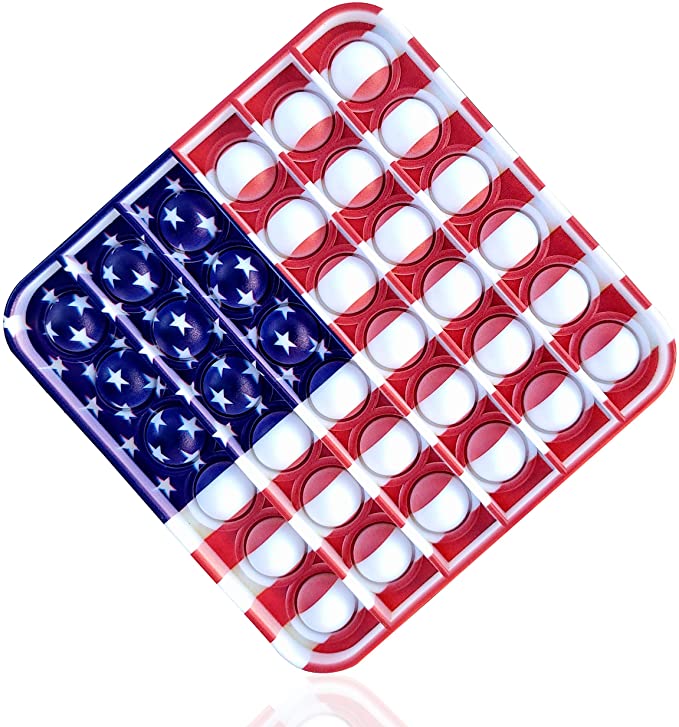 MaiZon Unlimited Pop It Push Fidget Toy – Square Sensory Bubble Toys for Autism-Anxiety-ADHD-Special Needs-Adults and Kid-Silicone Figetget Toy Bubble Wrap Popper Sounds Original US/American Flag — $15.99
In a day and age in which diverse sensory input is hard to come by, it should be no surprise that fidget toys are having another moment. In addition to being ideal for the home office, they are great for kids, especially the ones in fun shapes like dinosaurs.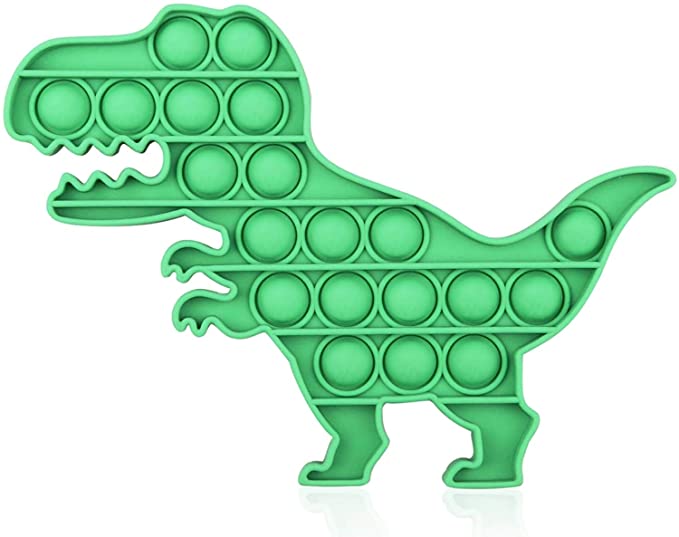 Noii Push Pop Fidget Toys.Premium Soft Silicone Push Pop Bubble Fidget Sensory Toys for Adults,Special Needs Anxiety Stress Reliever.Squeeze Sensory Toy for Kids Friends Family Home Travel-Dinosaur — $8.49
Supposedly, the toy is meant to be a kind of two-person game. In the game, you take turns pressing as many bubbles as you want, then whoever presses the last bubble loses. I can't say this is my idea of a rollicking good time, but to each his own. With your fidget toy, you can use it any way you want to.
Why Is Every Cheese Board Either Bamboo Or Acacia?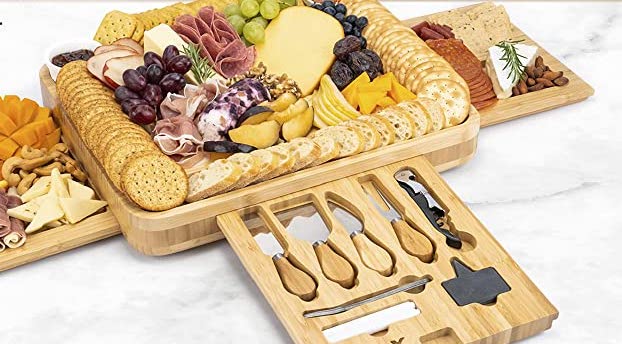 If you were to make a sweeping generalization about the selection of cheese boards available after conducting a cursory Amazon search, you would say that the market is teeming with options. Whether labeled as a cheese board, a charcuterie platter or even a cutting board, there is no shortage of products. Most are complete with photographs of beautiful spreads, featuring cheeses, meats, fruit, and even wine: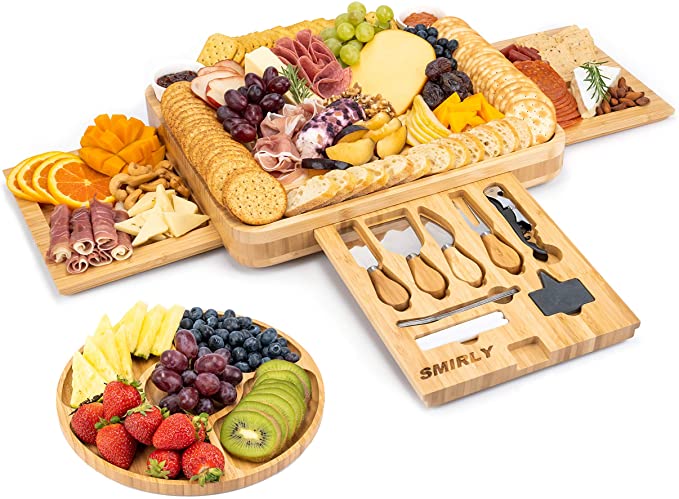 Smirly Cheese Board and Knife Set: 16 x 13 x 2 Inch Wood Charcuterie Platter for Wine, Cheese, Meat — $65.99
Yet, take a closer look, and you will find they are all exactly the same. They may differ in shape (square or round) or in number of drawers, but otherwise you see the same basic type of cheese board over and over again—made of either bamboo or acacia wood. This means that they are all ugly.
In 2021, no one wants light wood. And here I am, struggling to find any that are walnut, cherry, or maple. I only found one that I like, and it was not easy to find. Made of American walnut, this one is solely presented as a cutting board, featuring no elaborate display of prosciutto or brie.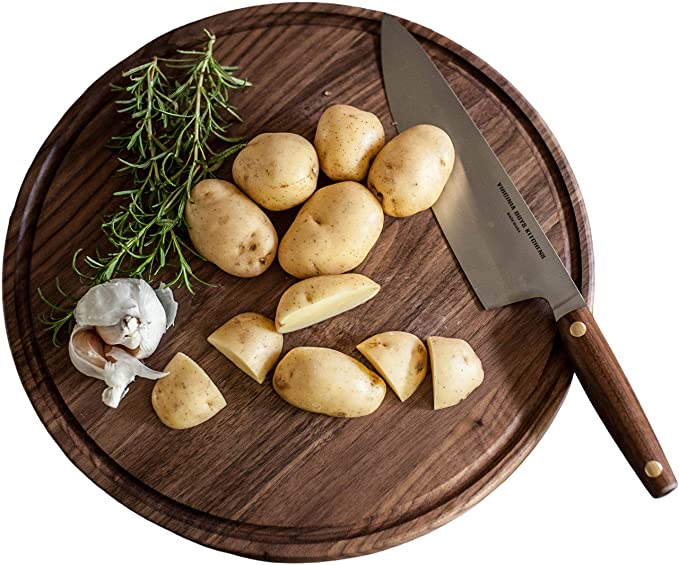 Round Wood Cutting Board by Virginia Boys Kitchens – 13.5 Inch American Walnut Cheese Serving Tray and Charcuterie Platter with Juice Drip Groove — $75
At some point, it seems, all of the kitchenware vendors on Amazon got together and made the decision that they were only going to make cheese boards out of acacia wood. This is not bad in and of itself; after all, acacia is relatively sturdy, and although not as cheap as bamboo, the price is obviously right. If you are truly looking for a cutting board, as opposed to something to display when you have company or take with you on a picnic, acacia is a good choice. As a smooth wood, it will not dent or splinter, and it is infinitely better for your knives than the plastic cutting boards in your parents' kitchen. But when you spend a lot of time putting together a spread of cheese and meats, you want more than just hardiness, you want an appearance you can be proud of.
At some point, the acacia cartel figured this out, since if you specifically search for dark wood cutting boards, you still come up solely with acacia ones. It just so happens that they've been dyed brown. Of course they would only use the dye if it were food-safe, but still, seeing all the phonies out there makes you crave the real thing.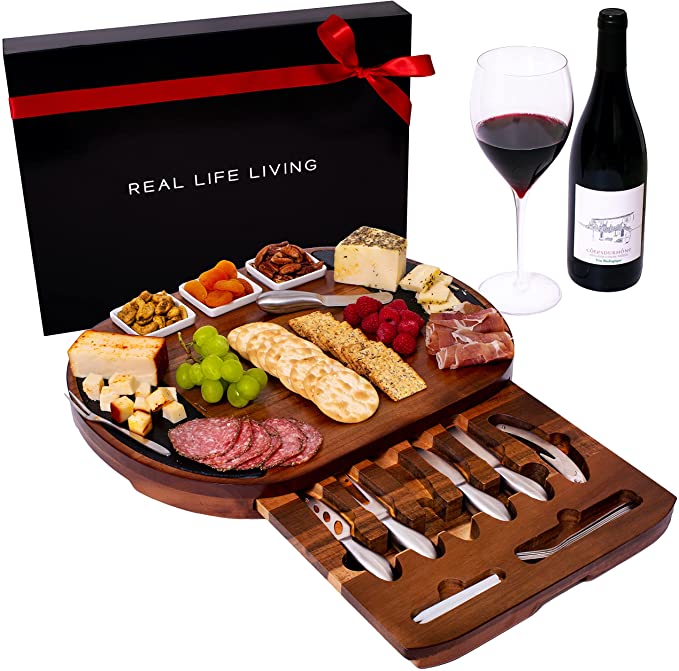 Large Round Charcuterie Board Set – Giftable 20-Piece Cheese Board and Knife Set – House Warming Present or Wedding & Engagement Platter – Acacia Wood & Slate Serving Tray for Meat, Wine & Cheese — $49.99
At $75, the Virginia Boys walnut cheese board might be a little pricier than the acacia ones. For high quality wood, sourced in the U.S.A, it is worth every penny.
Stop Buying Microwave Popcorn; Home Popcorn Makers Are $13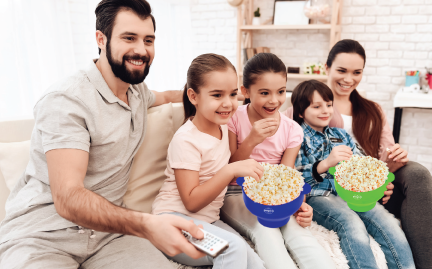 As regular We Know Products readers know, my family loves summer movie nights. Investing in the Anker's Nebula Capsule projector last year made being stuck at home infinitely more enjoyable, as it added the backyard to the tiny list of places available for recreation. Watching a movie outside on the big screen is a great activity, in some ways even superior to making the trip to the theatre. That is provided you have popcorn.
Maybe you are one of the (many, many) people who have returned to the theatre for a viewing of Godzilla vs. Kong. But for most, moviegoing experiences are going to be ersatz for some time, and for that reason, it is important to make the best of the situation. It is important that you put yourself in a position to succeed in creating an enjoyable atmosphere. It is important that you make good popcorn.
I am not talking about Orville Redenbacher or Pop-Secret or Act II or any other brand that unfolds into a bag once it is placed in the microwave. I am talking about real popcorn. Popcorn that actually tastes like popcorn as opposed to artificial butter. Popcorn that doesn't inspire self-loathing when you shovel it into your mouth.
You do not have to spend close to $200 on a true theatre-style popcorn machine, although those certainly have their perks. All you need is a small at-home popper. Luckily, there are many of those, and they are not expensive.
Take this popcorn maker, which is shaped like a coffee pot. It only costs $13!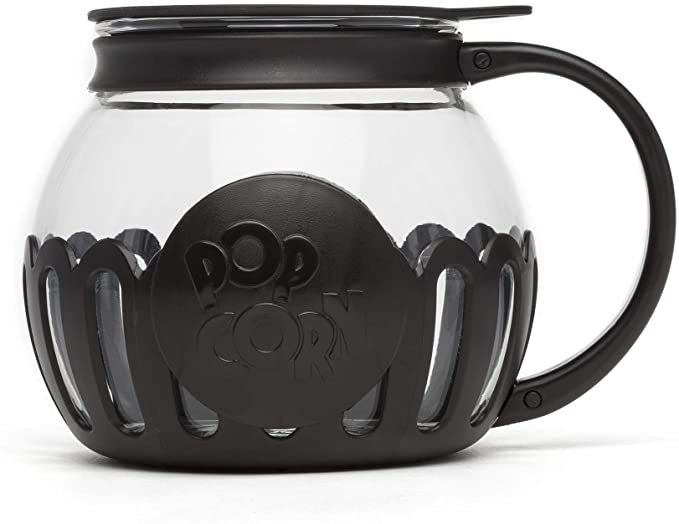 Ecolution Original Microwave Micro-Pop Popcorn Popper, Borosilicate Glass, 3-in-1 Lid, Dishwasher Safe, BPA Free, 1.5 Quart – Snack Size, Black — $12.99
So is this one, which adds the convenience of popping the corn in an usable bowl.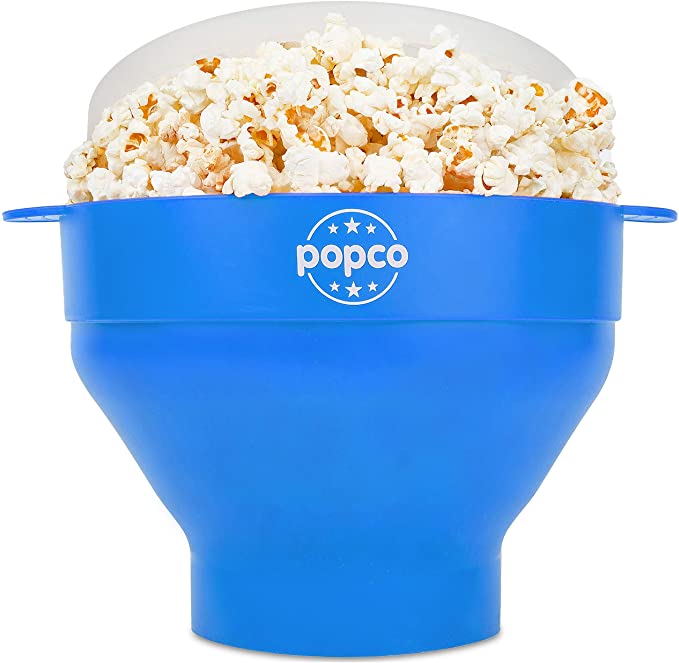 The Original Popco Silicone Microwave Popcorn Popper- 15 Colors Choices – Silicone Popcorn Maker with Handles, Collapsible Bowl Bpa Free and Dishwasher Safe – 15 Colors Available (Light Blue) — $12.99
This one, from Dash, is the expensive one of the bunch at $20. But it has a cool shape, and Dash is a respectable brand, so we will give it a pass.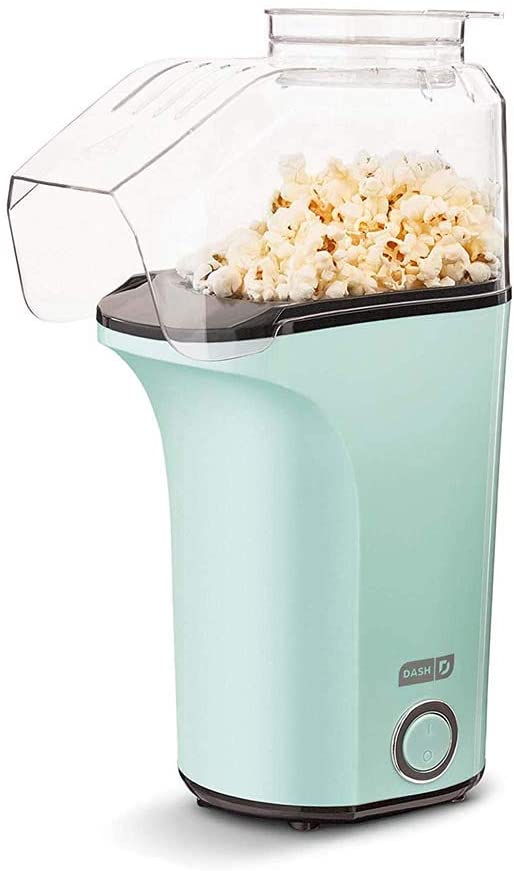 DASH DAPP150V2AQ04 Hot Air Popcorn Popper Maker with Measuring Cup to Portion Popping Corn Kernels + Melt Butter, 16, Aqua — $19.99
Like air fryers, which became popular a few years back, these popcorn machines do not require oil to operate, which basically turns popcorn into a health food. After all, corn is a vegetable. Right?
Soon enough, every household will have one of these handy devices in it, and you won't even be able to buy the "instant" stuff at the grocery store. You do not have to wait until then to get your very own.