Ways To Dry Or Humidify Your House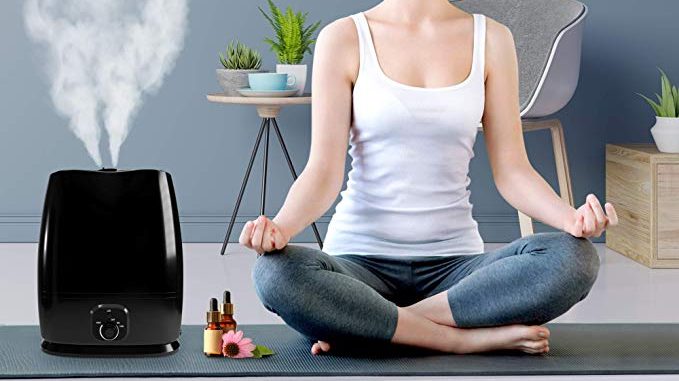 Humidity levels in your house are related to the comfort you experience. Keeping the humidity levels between 30 and 50% can reduce maintenance and help you stay healthy. High humidity can result in wet stains on walls and ceilings, moldy closets and bathrooms, and musty odor. People with allergies and asthma are in danger when dust mites thrive in an environment with too much humidity. Low humidity can result in dry skin, scratchy throats and noses, hardwood floor separation and warping, and loosening drawers. Body moisture evaporates quickly when the house is too dry. Here are some ways to remedy humidity problems.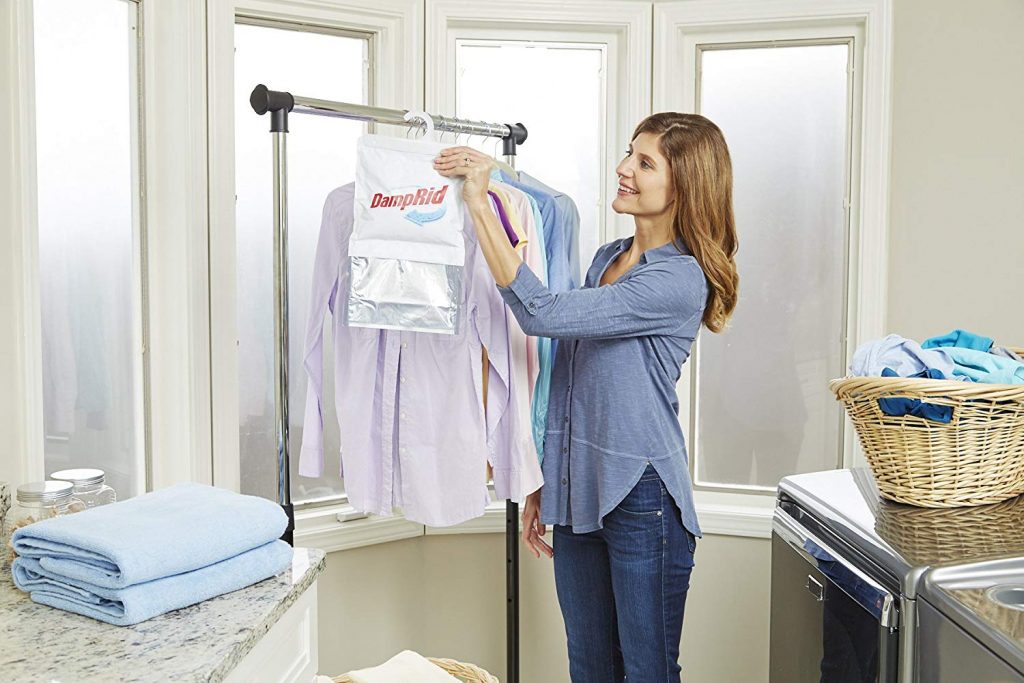 Living in the damp house isn't just uncomfortable, but mold and tiny pests can also cause illness and structural damage. Dampness develops in the absence of proper ventilation. You should do something if you feel excessively damp. There are a lot of factors that cause dampness in your house. For instance, maybe you have too many plants around or are fond of boiling or cooking with the lids off the pans. Reducing the number of plants or cooking with pans covered is never enough to lower the humidity level in the house. DampRid Hanging Bag works as a dehumidifier but no electricity is needed. DampRid's crystals absorb the excess moisture that causes damp-feeling fabrics and musty odor in the air and leave a light, pleasurable scent in the house. You can hang it in your storage areas, bathrooms, laundry rooms, cabin, car or wherever moisture is a problem. Each DampRid hanging moisture absorber packets includes three packs. I replace them every two months. After using them for a month, I hardly ever find any pesky bugs in my apartment.
DampRid FG60FS Moisture Absorber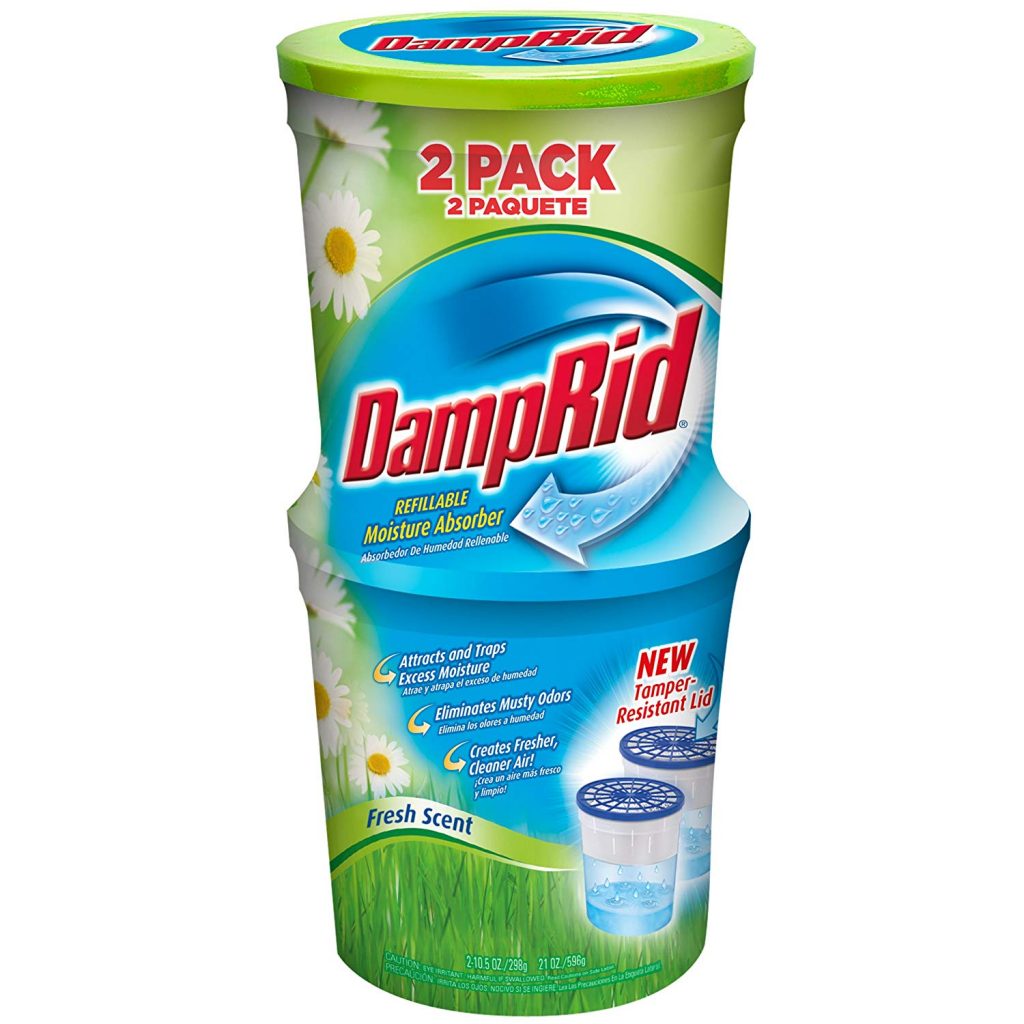 Don't like the idea of hanging the DampRid Bag on the wall or around in the house? DampRid FG60FS Moisture Absorber is another option. Similar to DampRid Bag, DampRid FG60FS Moisture Absorber can also stale musty odors by trapping excess moisture. It is designed to reduce the growth of mold and mildew. The only difference is it is refillable, which is highly economical. It is ideal to use in small and enclosed spaces such as basements, closets, and bedrooms.
Everlasting Comfort Ultrasonic Cool Mist Humidifier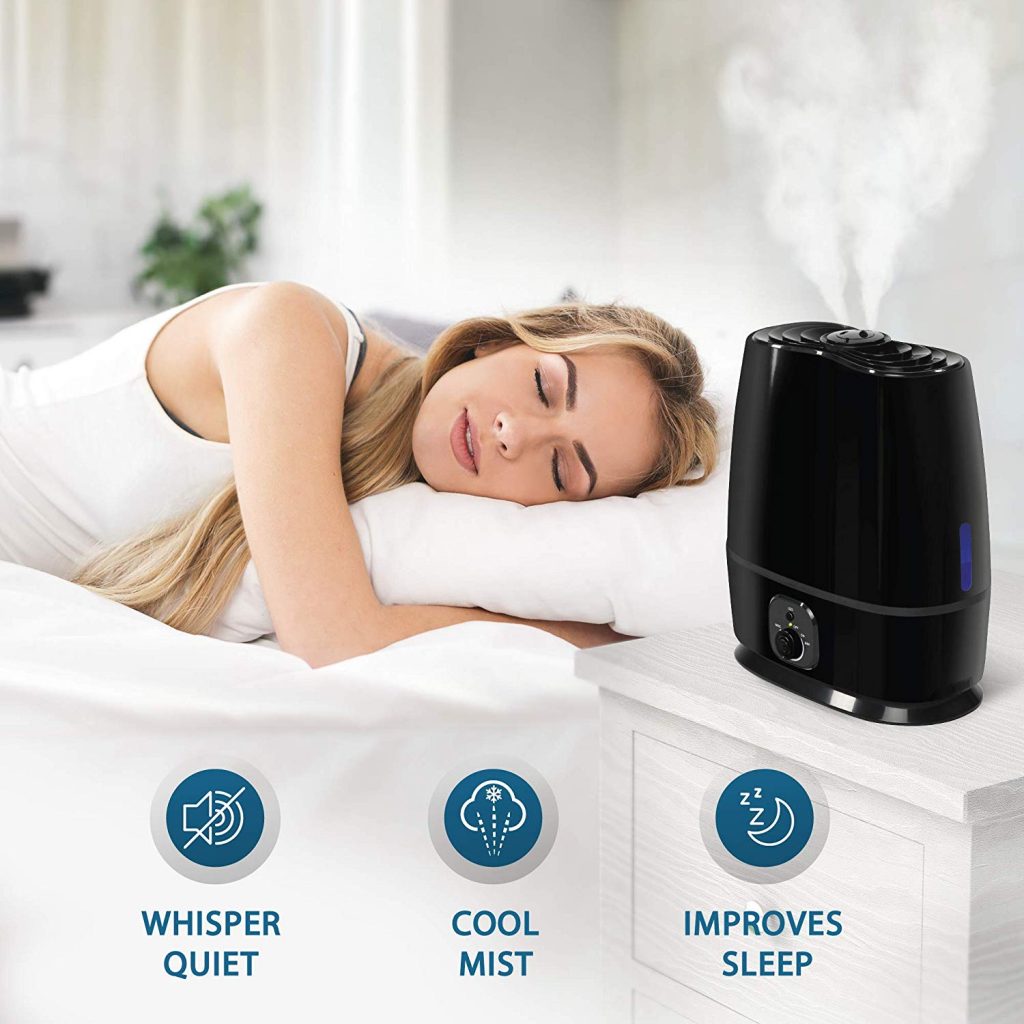 Leaking humidity in the house can result in serious health consequences especially in the winter time. Your eyes can get very dried and irritated, while skin can get flaky and itchy when they are exposed in an environment with low humidity. You may catch a cold or get the flu because the mucous membrane lining your respiratory tract has been inflamed and dried out. For one, you might want to buy more houseplants. But as a second step, you should get a humidifier. Everlasting Comfort Ultrasonic Cool Mist Humidifier is your best long-term solution because the water supply is constant. Everlasting Comfort Ultrasonic Humidifier can maintain humidity levels above 43% so that your skin will not feel too dry or irritated. It features a 6L tank with a powerful mist output. You don't have to refill it frequently. When the air humidifier is running out of water, it shuts off automatically so that the machine will not be damaged. I believe a lot of readers love essential oils. This humidifier has a built-in essential oil tray, where you can enjoy the aroma from your favorite essential oils. Everlasting Comfort Ultrasonic Humidifier is affordable to everyone because it does not require costly filters. It features a unique filter-less design, which is very economical and sustainable.
What Comes To Mind? Is My Latest Quarantine Pastime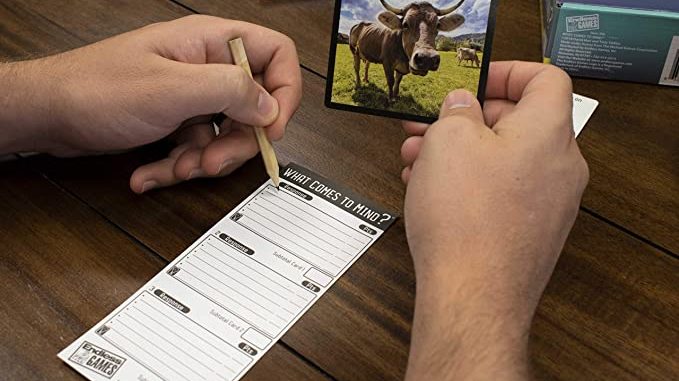 Earlier this quarantine, I promised to feature suggestions of games to play with the family while stuck in isolation. Last time, I reviewed Trivillennial. Though I promise that will not prove to be the last trivia game in the series, this week I'll profile a game of a different type. It is called What Comes To Mind?
The well-known game "What Comes To Mind?" most closely resembles is Scattergories. Like Scattergories, the object of the game is to come up with a word or phrase when given a prompt. Unlike Scattergories, instead of aiming to conjure a unique answer, you are rewarded based off how many other players you match. Instead of testing your creativity, "What Comes To Mind?" examines how well you know your competitors. That twist makes things a bit more interesting. Furthermore, eliminates the tension that inevitably arises in Scattergories, when someone lobbies for the acceptability of their undoubtedly unique but hare-brained response.
The one problem I have with What Comes To Mind? is with the format of each question card. Each double-sided card features an image on the front and six questions or statements to be answered on the back. The sixth prompt is always "What comes to mind when you look at the image on the other side of this card?" It is a clever idea, but it fails in implementation. Almost always, everyone just names the contents of the picture: "Ferris wheel," "butterfly," "squirrel." The only possibility for amusement is when a player completely misidentifies a commonplace thing and ends up, for example, writing down "parrot" when the photograph depicts a parakeet.
What Comes To Mind? comes with 75 cards, allowing for many nights of family fun. When our long national nightmare is over and done, it will presumably make for an entertaining party game as well.
It's Time To Get An Instant Pot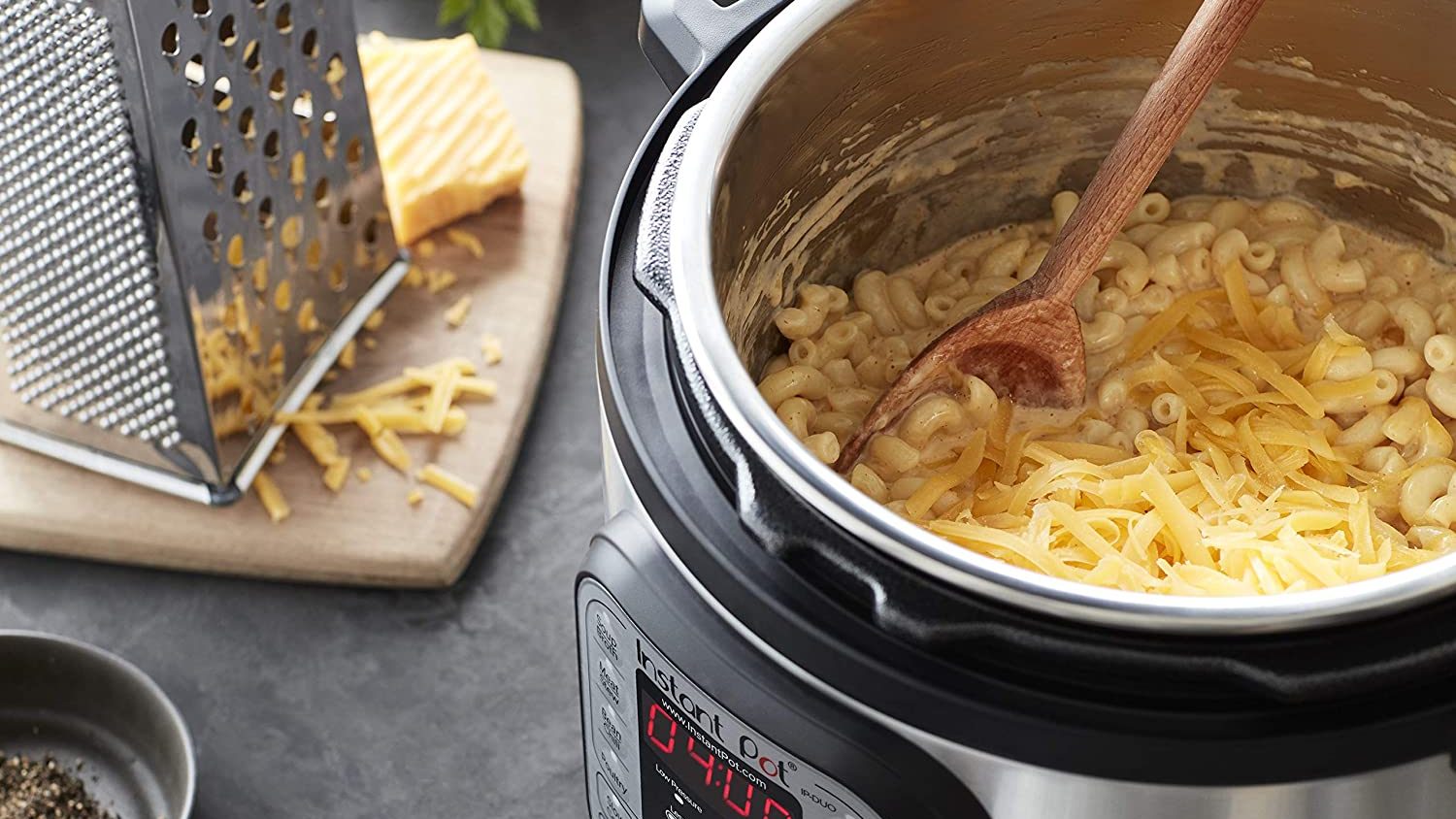 At this point, everybody knows about the Instant Pot. After four or five years of it being the most popular product on Amazon Prime Day, plus the proliferation of dedicated social media fan groups and fawning media profiles, the Instant Pot has exceeded its cult status. We Know Products even featured an article about the Instant Pot a year ago. If you don't own an Instant Pot by now, it is because you made a conscious decision.
However, it may be time to rethink that decision. With still no end in sight to mandated social distancing, we have to come up with ways to make life less mundane. That means trying out new things, especially when it comes to recipes. There's no doubt you've tired by now of making your pre-quarantine staples. The Instant Pot affords you the opportunity to experiment.
The Instant Pot, famously, is seven kitchen appliances in one. It comes with the functions of a pressure cooker, slow cooker, rice cooker, steamer, sauté pan, yogurt maker and warmer. To some people, this might seem daunting. With so many options, how is one to know where to start? Now that we are in quarantine, it doesn't matter as much. You have all the time in the world. If you fail, who cares? Just try another recipe the next day. There certainly is no shortage of Instant Pot recipes available.
The other day, we attempted our first foray into the wide world of Instant Pot by making beef and broccoli. It turned out great! I am already looking forward to the next quarantine creation.
Lew Investigates: How Much Difference Does A Toaster Make?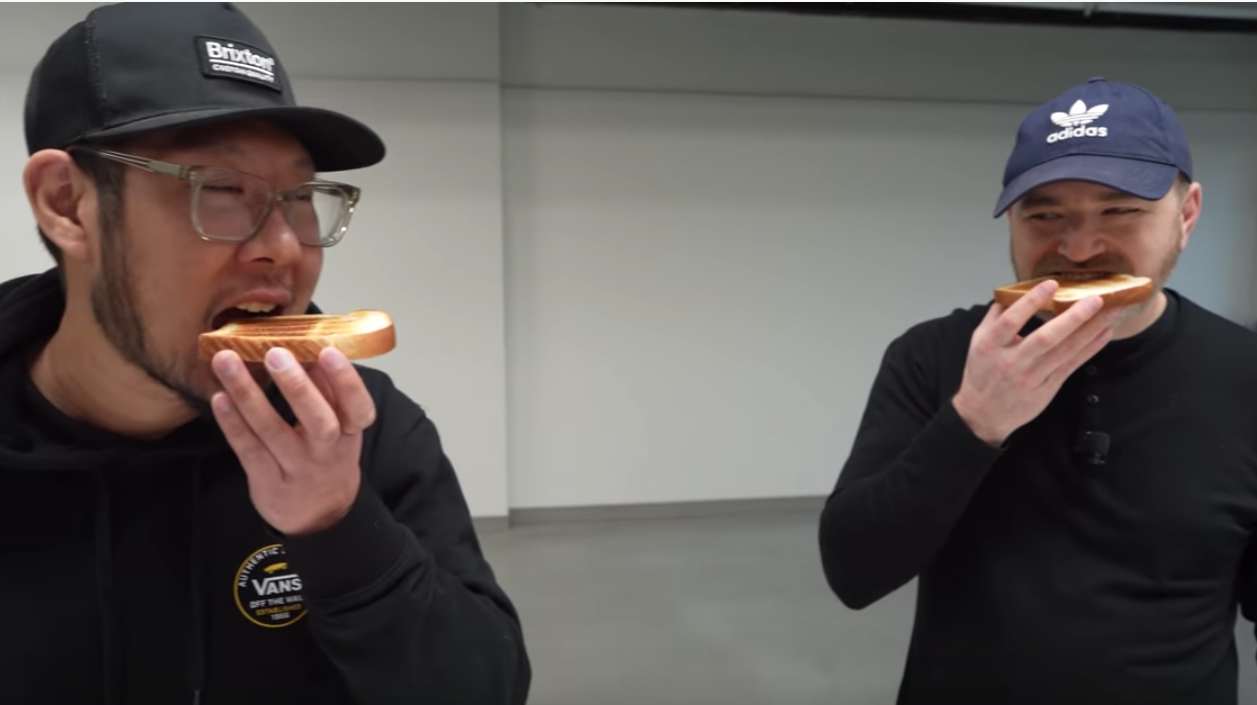 Are expensive toasters worth it? This is the question raised by Lew of Unbox Therapy after coming across the most expensive toaster on Amazon, a near-$400 model made by Mitsubishi (yes, that Mitsubishi — "Wake up and Toast").
Can anyone justify paying that much for an appliance that, at the end of the day, does nothing more than make your bread a little browner? Lew and Willy Du conduct the ultimate test, comparing the Mitsubishi toaster with the cheapest version they could find, a $15 toaster made by Proctor Silex.
To make their experiment a little more robust, they tried both toasters out on two types of bread: a generic store brand bread as well as an expensive bakery-fresh bread.
Watch the video below to find out the results. Spoiler: The expensive toaster made superior bread. But for those not looking to splurge, you can increase the quality of your breakfast even with a cheap-o toaster just by buying better bread.