Bring Yahtzee To The Beach Or BBQ With 'Yardzee'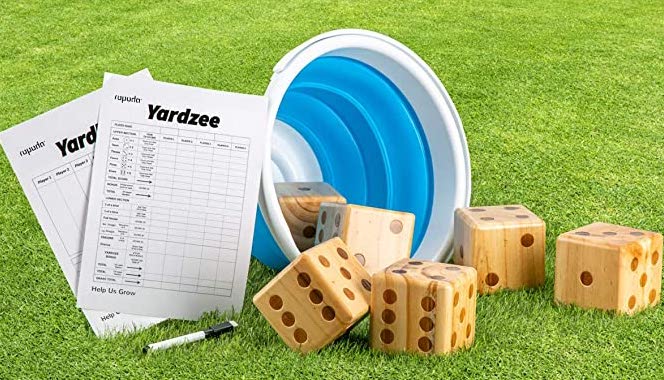 Let's wrap up "Beach Week" here at We Know Products, just in time for Memorial Day weekend. I want to talk about Yardzee. A lawn game my family has gotten plenty of use out of at home, last week was the first time we were able to try this giant version of Yahtzee out on the beach.
What is Yardzee? It is pretty much exactly as it sounds—Yahtzee for your yard. The product comes with six durable wooden dice as well as a reusable scoresheet and dry-erase marker for keeping track of points. You may remember that only five dice are used for the game of Yahtzee, so one of them is an extra. Or you could make up your own rules for some other dice-playing yard game.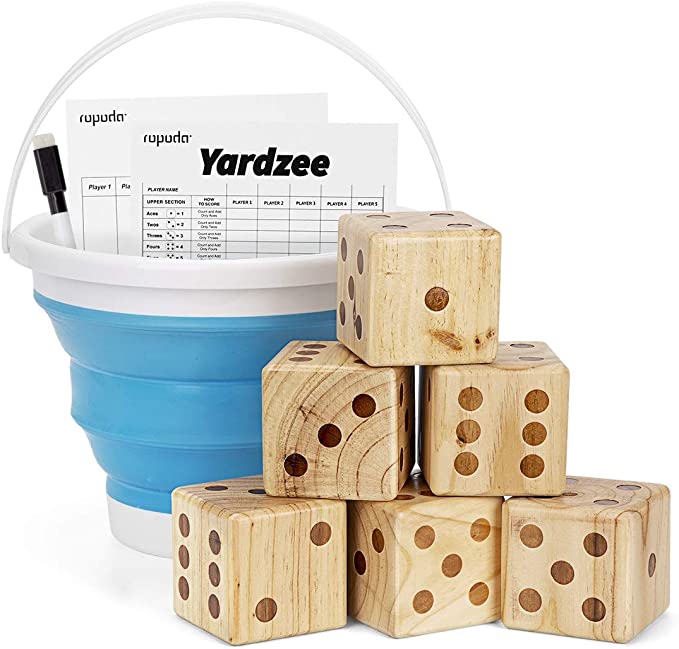 ROPODA Giant Wooden Yard Dice Set for Outdoor Fun, Barbeque, Party Events, Backyard Games, Lawn Games Includes 6 Dice, Collapsible Bucket, Score Cards & Dry Erase Marker — $46.99
Yardzee is great fun, and I am really glad we were able to enjoy it on the beach. The wooden dice, which measure 3.5″ x 3.5″ x 3.5″, are hardy and hold up when exposed to things like sun and water and sand. The pips are burned into each side rather than painted, so you don't have to worry about them washing off if they get wet.
An all-around solid product, Yardzee has just one minor issue: The bucket. The bucket is terrible. It is super flimsy, which is not what you want out of a container that you are potentially lugging around as you travel. This is especially bad when it comes to rolling the dice. In the traditional tabletop version of Yahtzee, you cast the five dice by shaking them up in a dice cup and rolling them out onto the table. In theory, that is what you do here as well, but it is hard to keep the bucket from contorting its shape along with the dice whenever you attempt to jostle them a bit.
So, while I highly recommend Yardzee, I also recommend using a different bucket.
This leads me to an interesting discovery I made while putting together this article. You can actually buy a version of Yardzee without the bucket, from the same exact brand, on Amazon for half the price: $23 compared to $46. This would obviously be ridiculous even if the bucket were not in fact the worthless piece of junk that it is.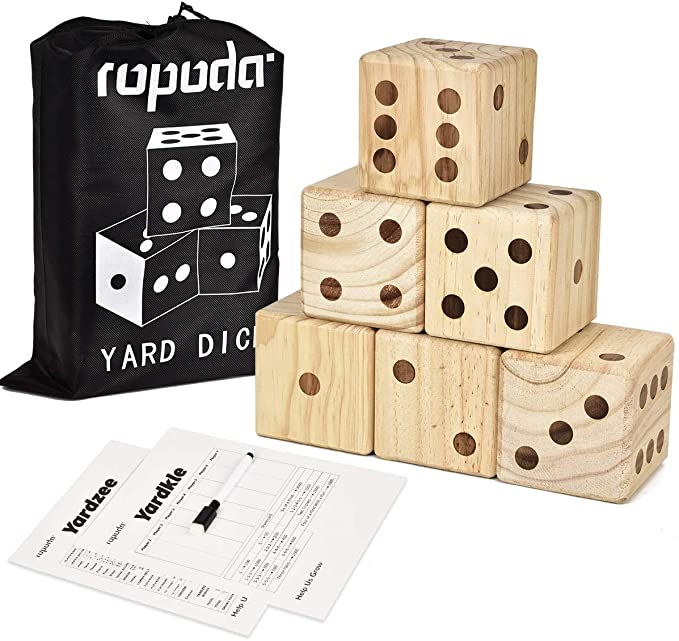 Giant Wooden Yard Dice-Giant Outdoor Gaming Dice Set 3.5″-Includes 6 Dice, Scoreboard and Canvas Carrying Bag-Great Backyard and Lawn Game. — $23.99
Besides the bucket, there does not seem to be anything from the listing immediately identifiable as the cause of this price gap. Both sets are made of solid pine, both have the burned-on pips, both come with six dice plus the scoresheets and markers. What gives?
After reading the customer reviews, I think I figured it out. Although it does not say so, the more expensive set must be sprayed in a way that makes them weather-resistant. As the comments say, and as I know from experience, it can withstand things like the ocean. Numerous reviewers for the cheaper one say they recommend spraying it with something like Rust-Oleum. This seems to be the difference.
The brand, ROPODA, should clearly mark on its pricier listing why it is worth the extra dollars. Something like Yardzee, which is sees a great deal of time outdoors, certainly benefits from anything done to it that make it last longer. The way I see it, that is the one you should buy this summer.
VIDEO: Unboxing The Expersion Clear Backpack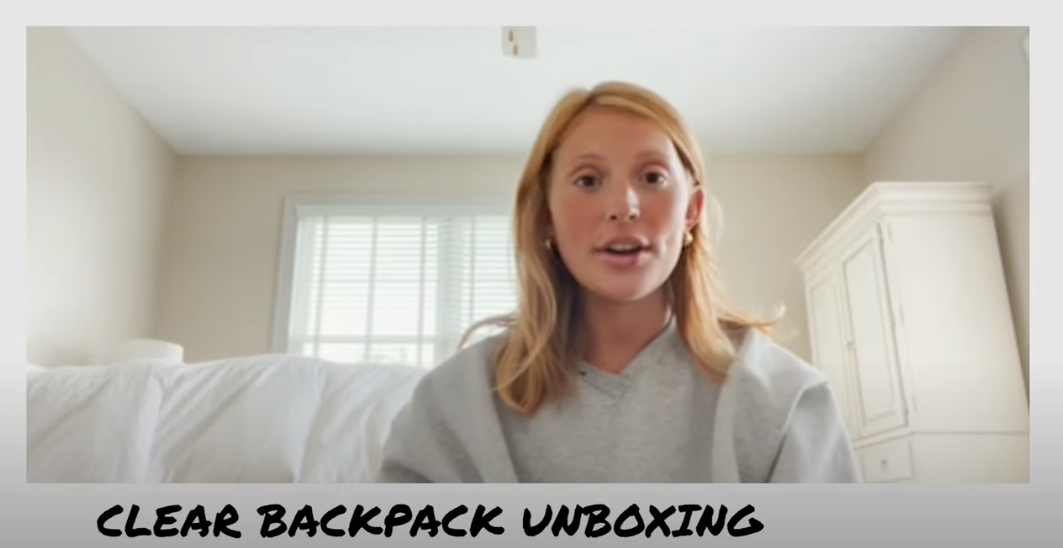 Curious as to what you'll get when you order the Expersion clear backpack from Amazon or Walmart.com? Find out by watching the unboxing video below.
VIDEO:
Honor America With A Summer Patriot Pack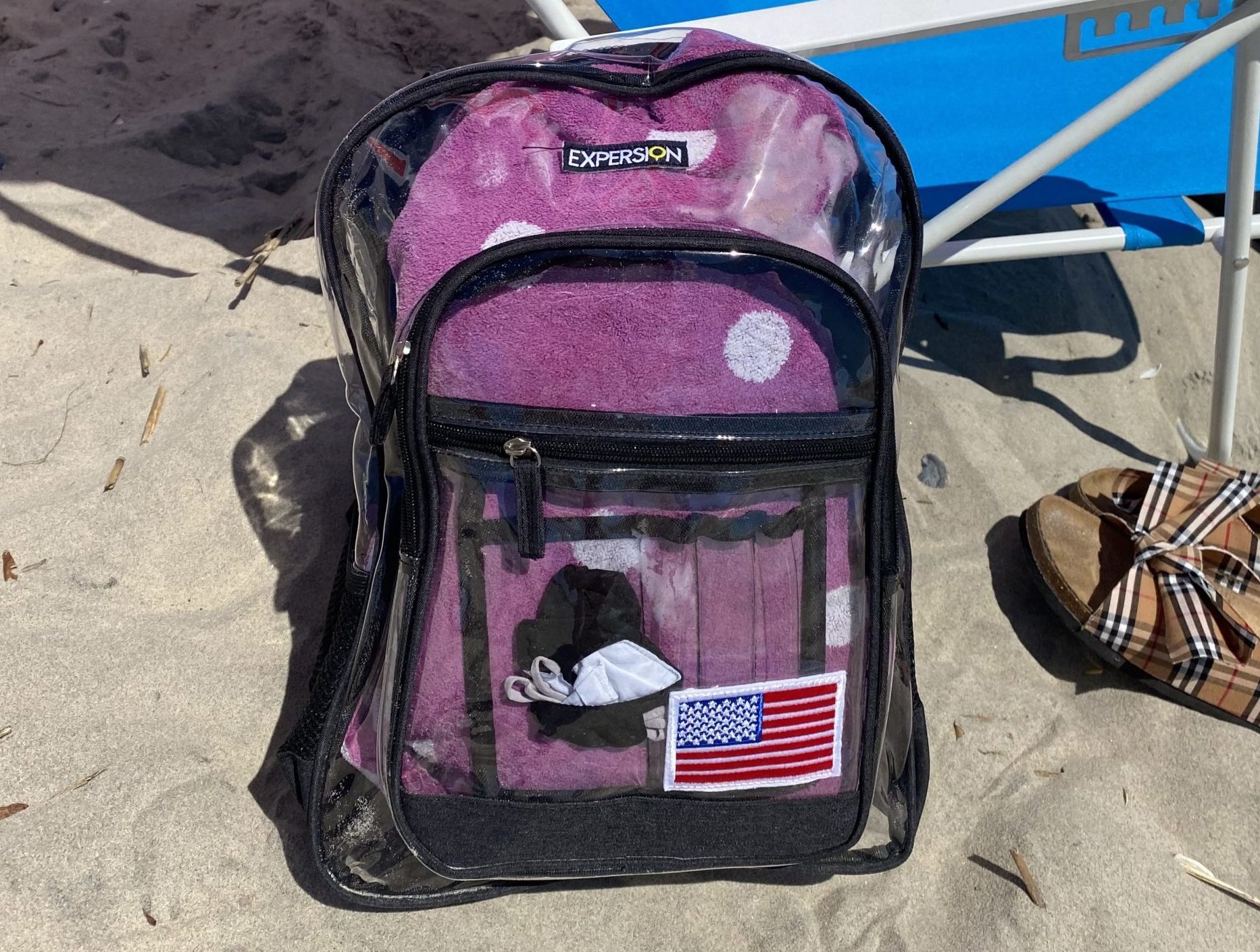 Summer is soooooo close. I know we just hit the first day of spring this week, but it feels like April and May are going to fly by, and it will be Memorial Day before you know it.
That makes this a great time to check out beach essentials. We have identified this "patriotic pack" of items depicting the U.S. flag that will help you stand out at the shore.
Better Dweller Beach Umbrella
Available on both Amazon and Walmart.com, the 6.5-ft beach umbrella from Better Dweller is a way to express both your individuality and patriotism as you catch some rays on the shore. This product is brand new for 2022, and it is sure to make you the envy of beachgoers all across the country.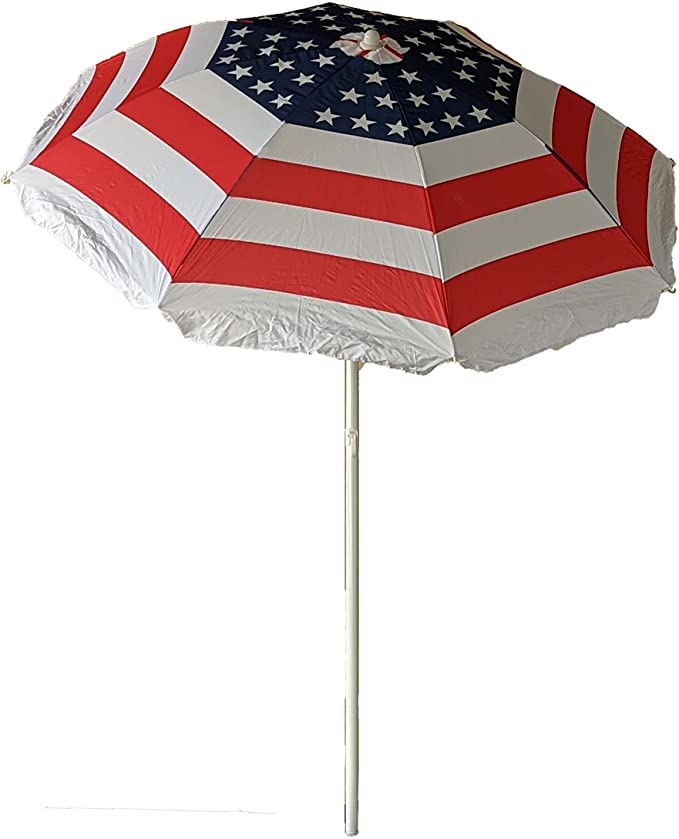 6.5ft USA American Flag Beach Umbrella, U.S. Flag Pattern with Carrying Case — $50
2. Expersion Clear Tote Bag
Even if your vacation home is on the beach, you still need a method of carrying your towels, sunscreen, beverages and other accoutrements down closer to the ocean. Of course, you want something that is easy to clean since it is sure to be exposed to sand and water. A vinyl tote bag is a great solution, and this one from Expersion features an American flag patch. Like the Better Dweller beach umbrella, this tote bag is available on both Amazon and Walmart. Unlike the umbrella, it comes in a variety of colors, including blue, black, red, pink, green, and orange.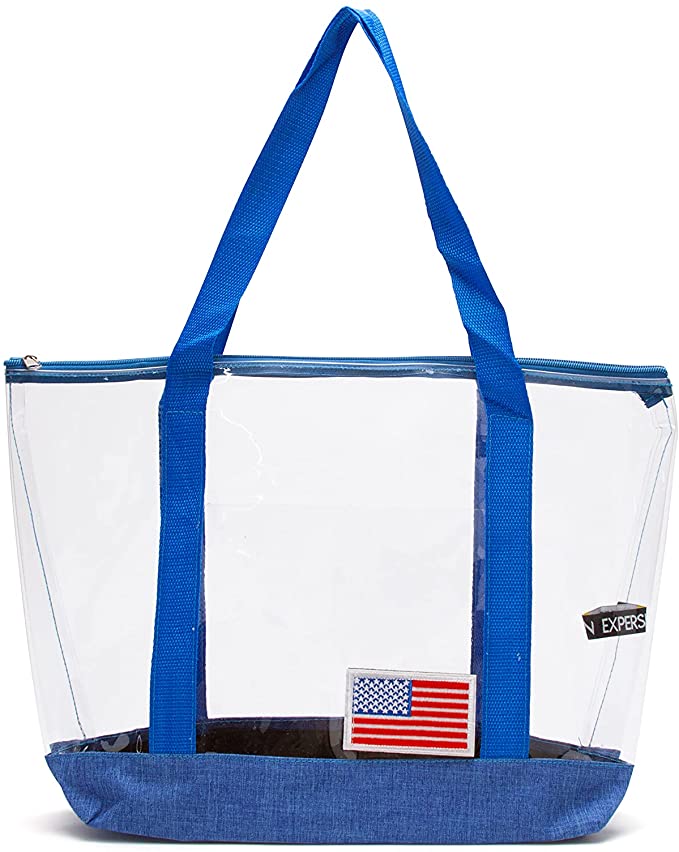 Clear American Flag Tote Bag — $14.99
3. Expersion Clear Backpack
What is a backpack but a tote bag that is easier to carry and with more space? Not just for schools and sporting events, the Expersion clear backpack can also help you get your belongings down to seashore. It is also available on Amazon and Walmart.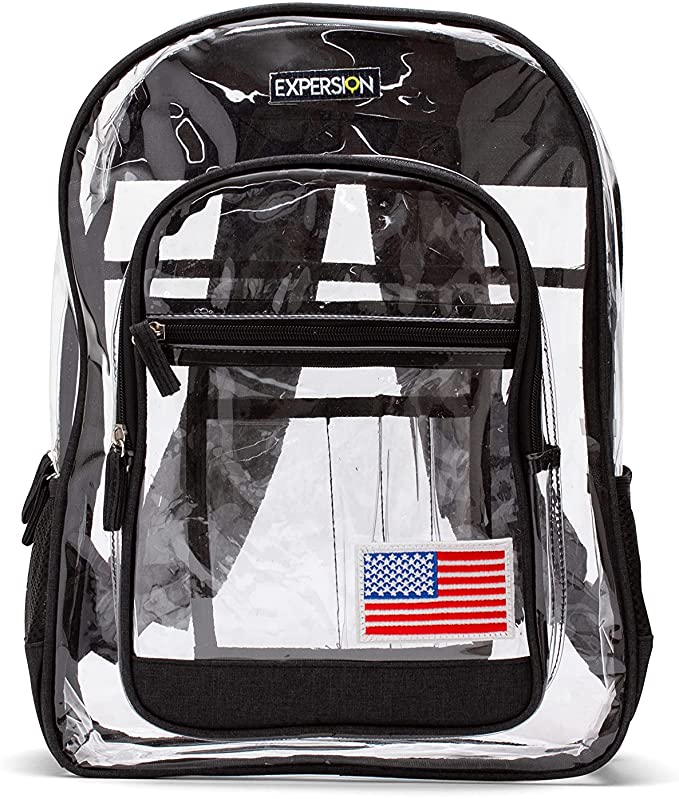 Clear Backpack with American Flag Patch, Transparent Heavy Duty See-Through U.S. Bag for School, Concerts, US Sporting Events, Stadium Approved — $20.99
Prepare For Summer With An American Flag Beach Umbrella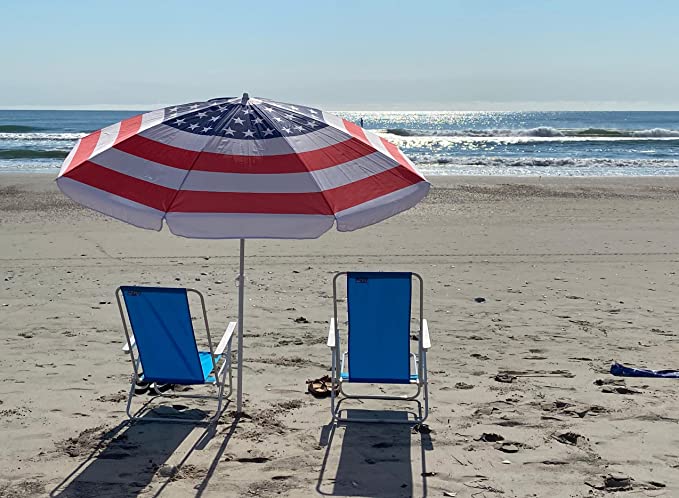 The East Coast is currently in the midst of a spate of unseasonable weather, marked by highs in the 60s today and tomorrow. After an extended cold period more typical of winter, it is impossible not to revel in the warmth and look ahead to the sunny days of spring and summer ahead.
The cabin fever this situation inspires has led many folks to begin planning their summer vacations. Whether we are talking about a day trip to the local beach or a farther trip down to the paradise marked by Florida palm trees, it is a good idea to book now before flight prices continue to increase as COVID ebbs. This also makes it a good time to shop for vacation essentials. I'm talking bathing suits, beach towels, coolers, things of that nature. I am also talking about one of the coolest new products available for the first time in 2022—the American flag beach umbrella.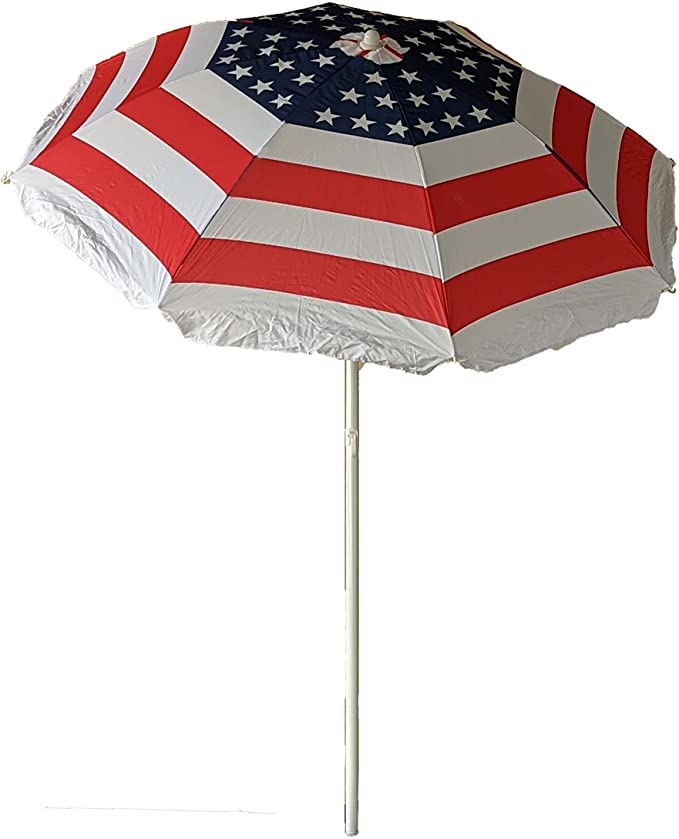 6.5ft USA American Flag Beach Umbrella, U.S. Flag Pattern with Carrying Case — $50
Available on both Amazon and Walmart.com, the 6.5-ft beach umbrella from Better Dweller is a way to express both your individuality and patriotism as you catch some rays on the shore. For years, blue has been the dominant color for beach umbrellas, creating something of an eyesore for your supposedly pleasant getaway. At least for the time being, we are still free in this country. This gives us the chance to show how much we love it by setting up a beach item decked in the stars and stripes.
The Better Dweller beach umbrella is an imposing 6 and a half feet tall and approximately 6 feet wide, and will protect your food, your beverages, and even your dogs from the sun, and you can also move your own beach chair under it when you are ready for a bit of shade. It features a tilting mechanism, so you can create the perfect angle to ward off the sun when desired. And of course it is waterproof. Furthermore, it comes with a carrying case for easy storage and transportation to and from the beach.
Your summer vacation will be here before you know it, and you do not want to be caught off-guard. Get your U.S. flag beach umbrella on Amazon or Walmart.com today!