Are There Cup Holders You Can Attach To Your Beach Chair?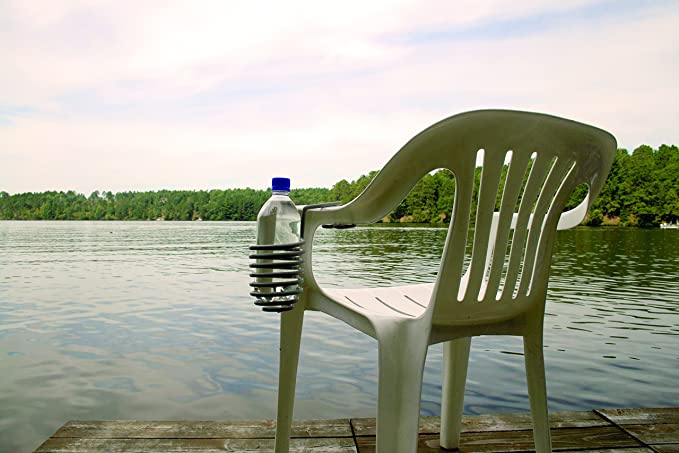 Yesterday, I promised our readers a beach week of sorts from my first foray out of state after a year of lockdown. What I really want to recommend is the sand coasters that I wrote about a few weeks back: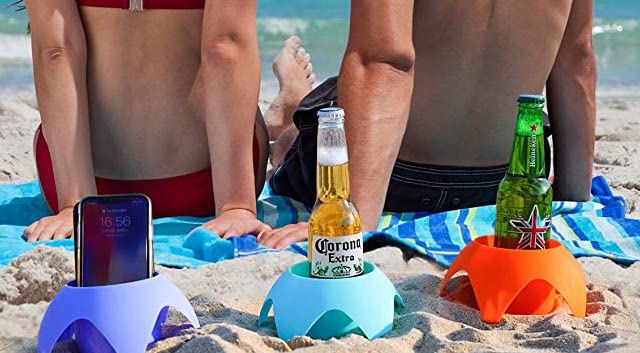 Beach Vacation Accessories, AOMAIS Beach Sand Coasters Drink Cup Holders (MultiColor, 5 Pack) — $14.95
One of the great things about renting an Airbnb instead of a hotel was that beach chairs were included in the rental, so we didn't have to lug our own halfway down the East Coast. On the negative side of things, this meant that we were stuck with the chairs they had at the house, and those chairs did not have cupholders.
Sand coasters solve this problem. But what also occurred to me was the potential value of a portable coaster product that you actually attach to a beach chair. This would mean you don't always have to reach down for your drink like you do with the sand coasters. In fact, other than the drastically reduced risk of spilling, the coasters are not that more convenient than simply placing your beer in the sand.
I did some research, primarily by searching Amazon for "beach chair cup holders." I got a lot of search results, but I am not sure that any will accomplish the job I want it to.
The biggest red flag is that despite dozens of products in multiple different shapes that have the word "beach chair" in their product details, not a single one actually has a photograph of a beach chair on their listing. You can find images of these cupholders attached to boats, golf carts, desks, strollers, and even wheelchairs, but none on the type of chair invented specifically for lounging.
Here is a look at what appear to be the most suitable options:
SkiffDaddy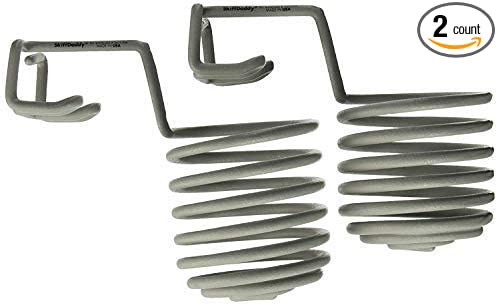 SkiffDaddy Drink Cup Holder – for Boat, Pontoon, Canoe, Golf Cart, Beach/Lawn Chair – 2 Pack — $28.97
The SkiffDaddy cupholder is the simplest contraption of the bunch, as it is pretty much just a coil. There appears to be strength to this elegance, however, and it is made with hard-drawn steel and coated with PVC. I would trust this to hold my drink. On the downside, the hooking part is not adjustable, so there is a very good chance it will not be able to latch onto your chair.
Accmor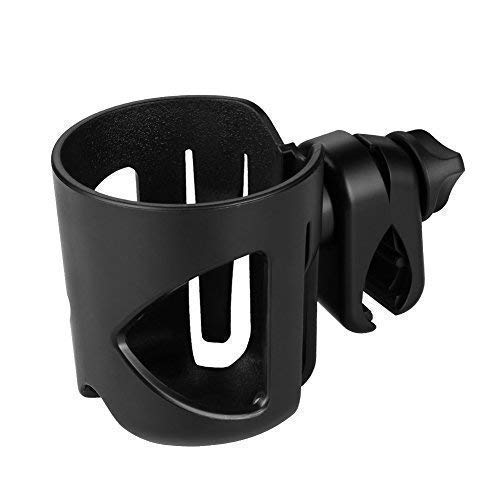 Universal Cup Holder by Accmor, Stroller Cup Holder, Large Caliber Designed Cup Holder, 360 Degrees Universal Rotation Cup Drink Holder, Black — $11.99
The Accmor universal cupholder is adjustable, both in its rubber clip jaw to attach and its actual container portion. All things considered, this is perhaps the most likely to get the job done. But since it is plastic, sturdiness and durability are a real concern. Also, I find it suspect that there is a photograph of a dude using it on a scooter and none of it anywhere near the sand.
GeaRV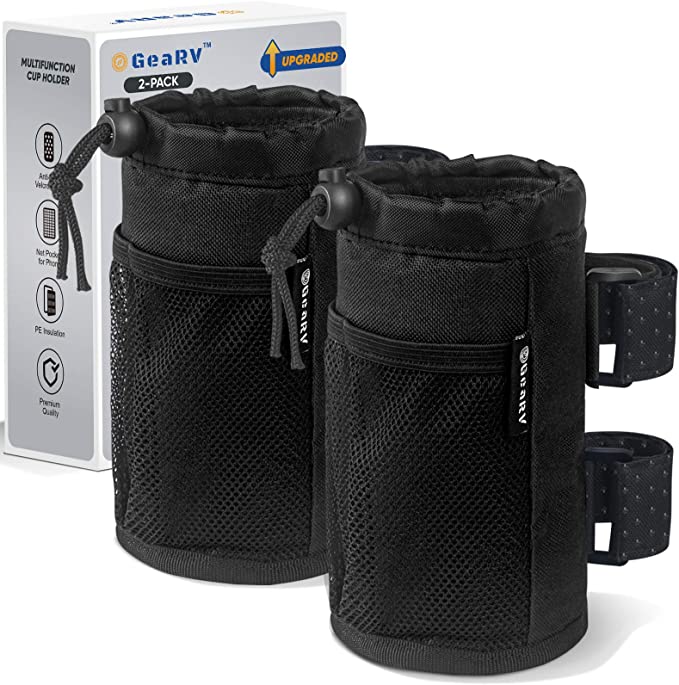 GEARV 2Pack Cup Holder for Bike, Scooter, Golf Cart and Wheelchair; Universal Cup Holders for UTV/ATV, Car, Boat; Drink Holder Accessories with Net Pocket and Cord Lock — $12.95
I am liable to believe that GeaRV model, with its reinforced stitching and Velcro strap, is the strongest option. It also has a thermal insulation layer, so it is something of a coozie as well as a cupholder. The sad part about the GeaRV is that the straps are horizontal, making it impossible to attach to the arm of a beach chair. Feel free to stick it on the upright part, but don't complain about the annoyance of having to reach behind your back whenever you want a sip.
YOY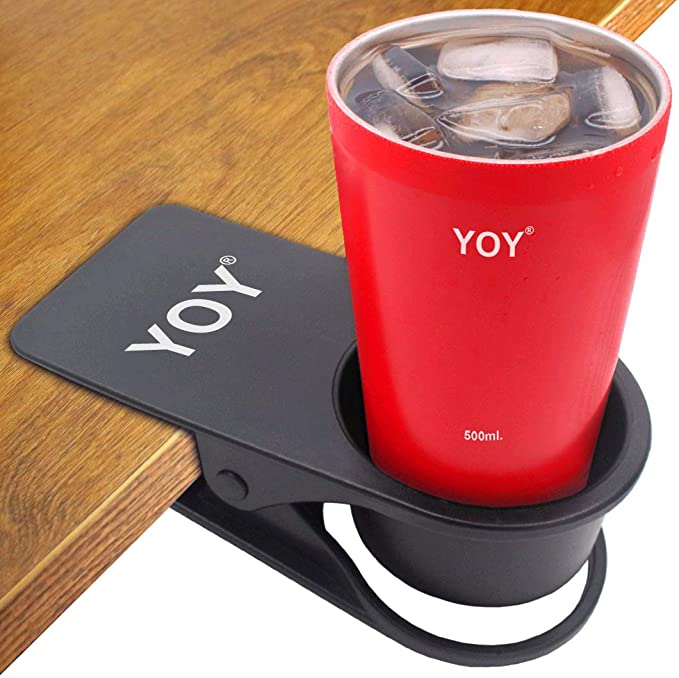 YOY Drinking Home Office Table Desk Side Huge Clip Water Drink Beverage Soda Coffee Mug Holder Cup Saucer Design, Black — $10.97
The first result on Amazon, at least when I searched for "beach chair cup holders," was for this product from YOY. To be honest, I am pretty confused by it. It is obvious at first glance that the types of beach chair that it would attach to—ones with the flat wooden armrests—invariable come with cupholders already in place, typically two of them. In the use case most commonly presented on YOY's listing, the cupholder is attached to a desk at the workplace. This seems silly, a solution to a problem that does not exist. Who needs a cupholder to stick to their desk? You can just put your drink on the desk! Please let me know in the comments if I am missing something here.
The way I see it, the world is still waiting for the perfect beach chair cupholder attachment. For now, sand coasters will have to do.
VIDEO: Unboxing The Expersion Clear Backpack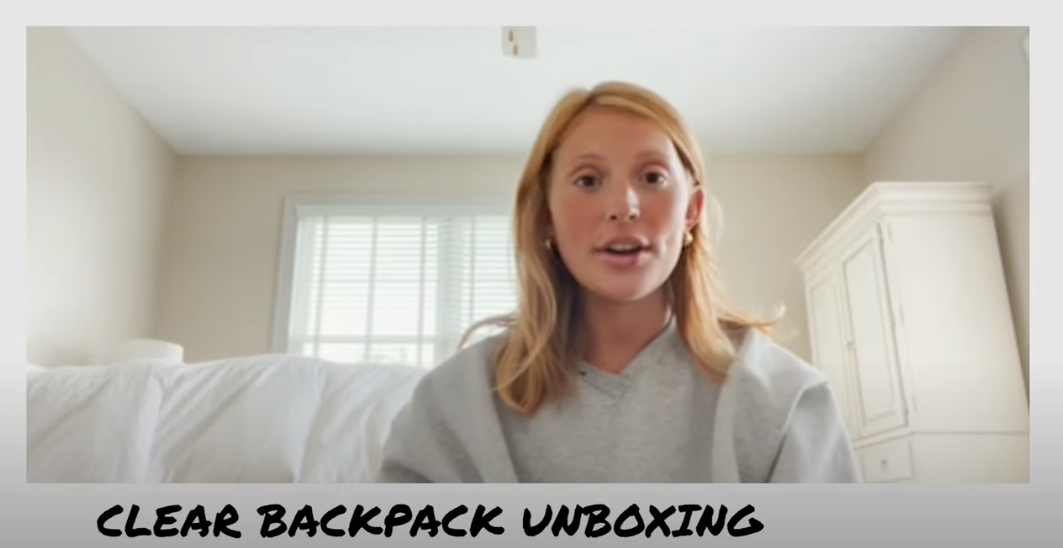 Curious as to what you'll get when you order the Expersion clear backpack from Amazon or Walmart.com? Find out by watching the unboxing video below.
VIDEO:
Honor America With A Summer Patriot Pack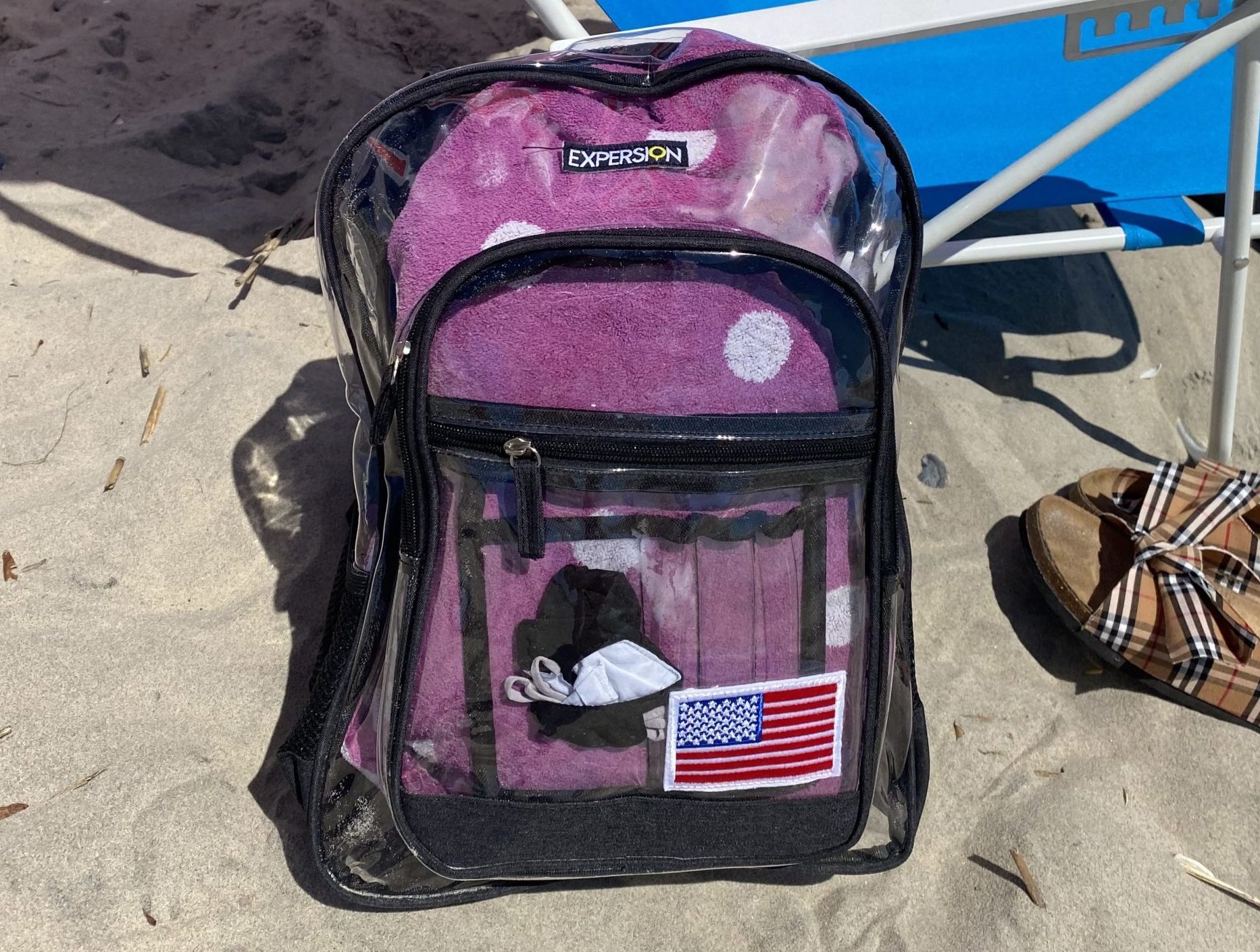 Summer is soooooo close. I know we just hit the first day of spring this week, but it feels like April and May are going to fly by, and it will be Memorial Day before you know it.
That makes this a great time to check out beach essentials. We have identified this "patriotic pack" of items depicting the U.S. flag that will help you stand out at the shore.
Better Dweller Beach Umbrella
Available on both Amazon and Walmart.com, the 6.5-ft beach umbrella from Better Dweller is a way to express both your individuality and patriotism as you catch some rays on the shore. This product is brand new for 2022, and it is sure to make you the envy of beachgoers all across the country.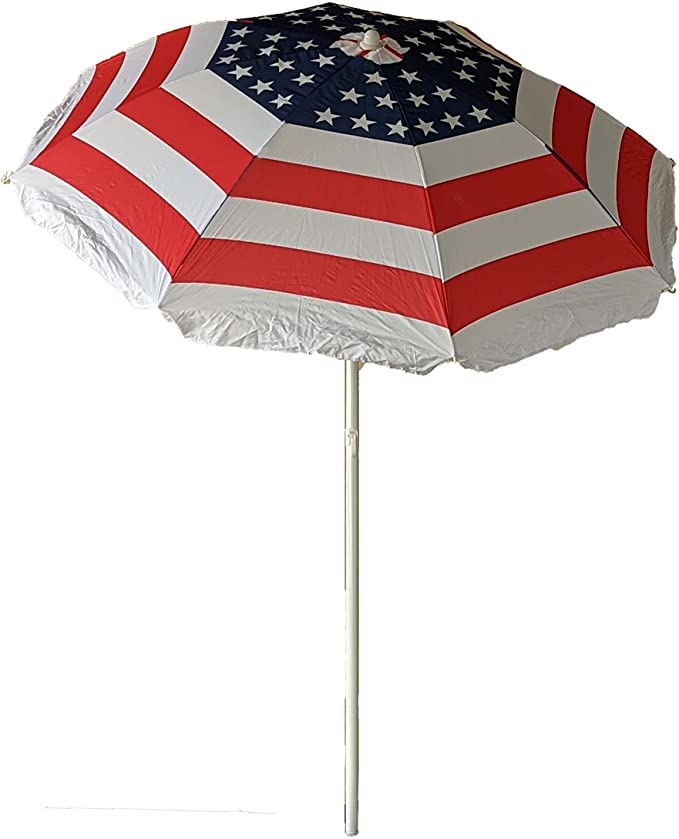 6.5ft USA American Flag Beach Umbrella, U.S. Flag Pattern with Carrying Case — $50
2. Expersion Clear Tote Bag
Even if your vacation home is on the beach, you still need a method of carrying your towels, sunscreen, beverages and other accoutrements down closer to the ocean. Of course, you want something that is easy to clean since it is sure to be exposed to sand and water. A vinyl tote bag is a great solution, and this one from Expersion features an American flag patch. Like the Better Dweller beach umbrella, this tote bag is available on both Amazon and Walmart. Unlike the umbrella, it comes in a variety of colors, including blue, black, red, pink, green, and orange.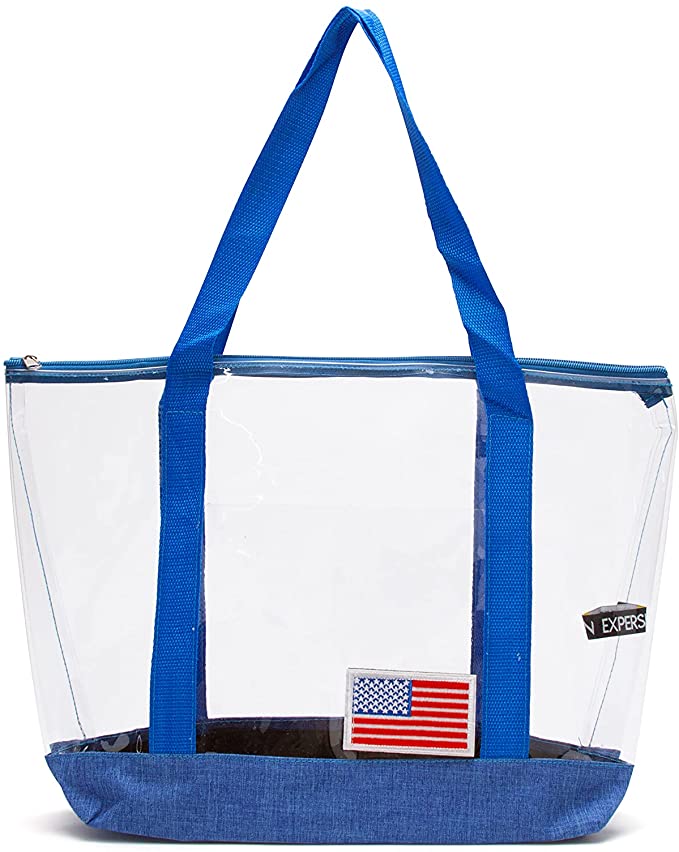 Clear American Flag Tote Bag — $14.99
3. Expersion Clear Backpack
What is a backpack but a tote bag that is easier to carry and with more space? Not just for schools and sporting events, the Expersion clear backpack can also help you get your belongings down to seashore. It is also available on Amazon and Walmart.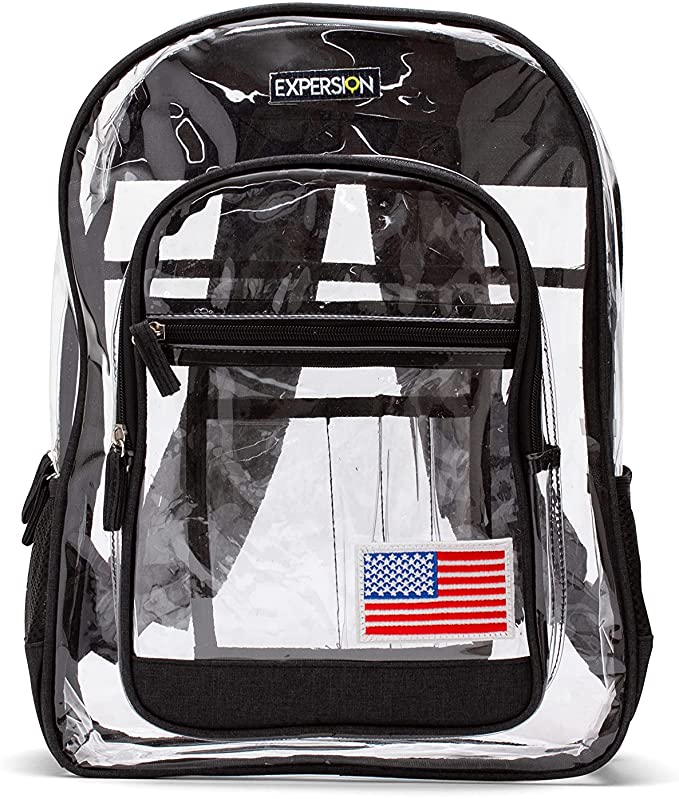 Clear Backpack with American Flag Patch, Transparent Heavy Duty See-Through U.S. Bag for School, Concerts, US Sporting Events, Stadium Approved — $20.99
Prepare For Summer With An American Flag Beach Umbrella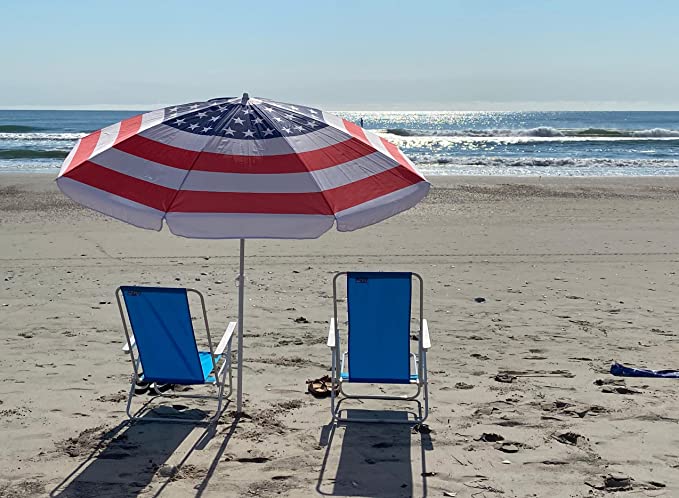 The East Coast is currently in the midst of a spate of unseasonable weather, marked by highs in the 60s today and tomorrow. After an extended cold period more typical of winter, it is impossible not to revel in the warmth and look ahead to the sunny days of spring and summer ahead.
The cabin fever this situation inspires has led many folks to begin planning their summer vacations. Whether we are talking about a day trip to the local beach or a farther trip down to the paradise marked by Florida palm trees, it is a good idea to book now before flight prices continue to increase as COVID ebbs. This also makes it a good time to shop for vacation essentials. I'm talking bathing suits, beach towels, coolers, things of that nature. I am also talking about one of the coolest new products available for the first time in 2022—the American flag beach umbrella.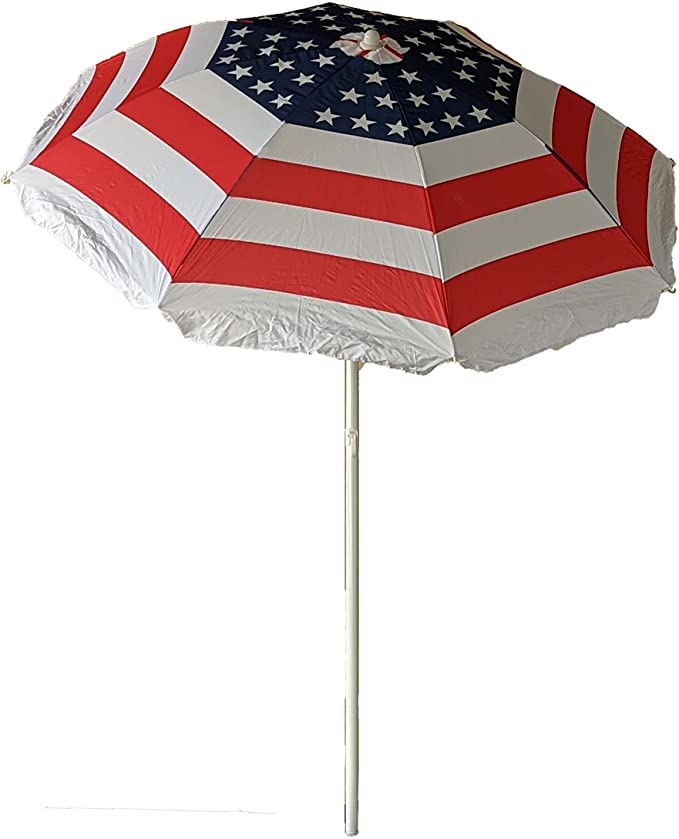 6.5ft USA American Flag Beach Umbrella, U.S. Flag Pattern with Carrying Case — $50
Available on both Amazon and Walmart.com, the 6.5-ft beach umbrella from Better Dweller is a way to express both your individuality and patriotism as you catch some rays on the shore. For years, blue has been the dominant color for beach umbrellas, creating something of an eyesore for your supposedly pleasant getaway. At least for the time being, we are still free in this country. This gives us the chance to show how much we love it by setting up a beach item decked in the stars and stripes.
The Better Dweller beach umbrella is an imposing 6 and a half feet tall and approximately 6 feet wide, and will protect your food, your beverages, and even your dogs from the sun, and you can also move your own beach chair under it when you are ready for a bit of shade. It features a tilting mechanism, so you can create the perfect angle to ward off the sun when desired. And of course it is waterproof. Furthermore, it comes with a carrying case for easy storage and transportation to and from the beach.
Your summer vacation will be here before you know it, and you do not want to be caught off-guard. Get your U.S. flag beach umbrella on Amazon or Walmart.com today!