14 Dorm Room Essentials For Going Off To College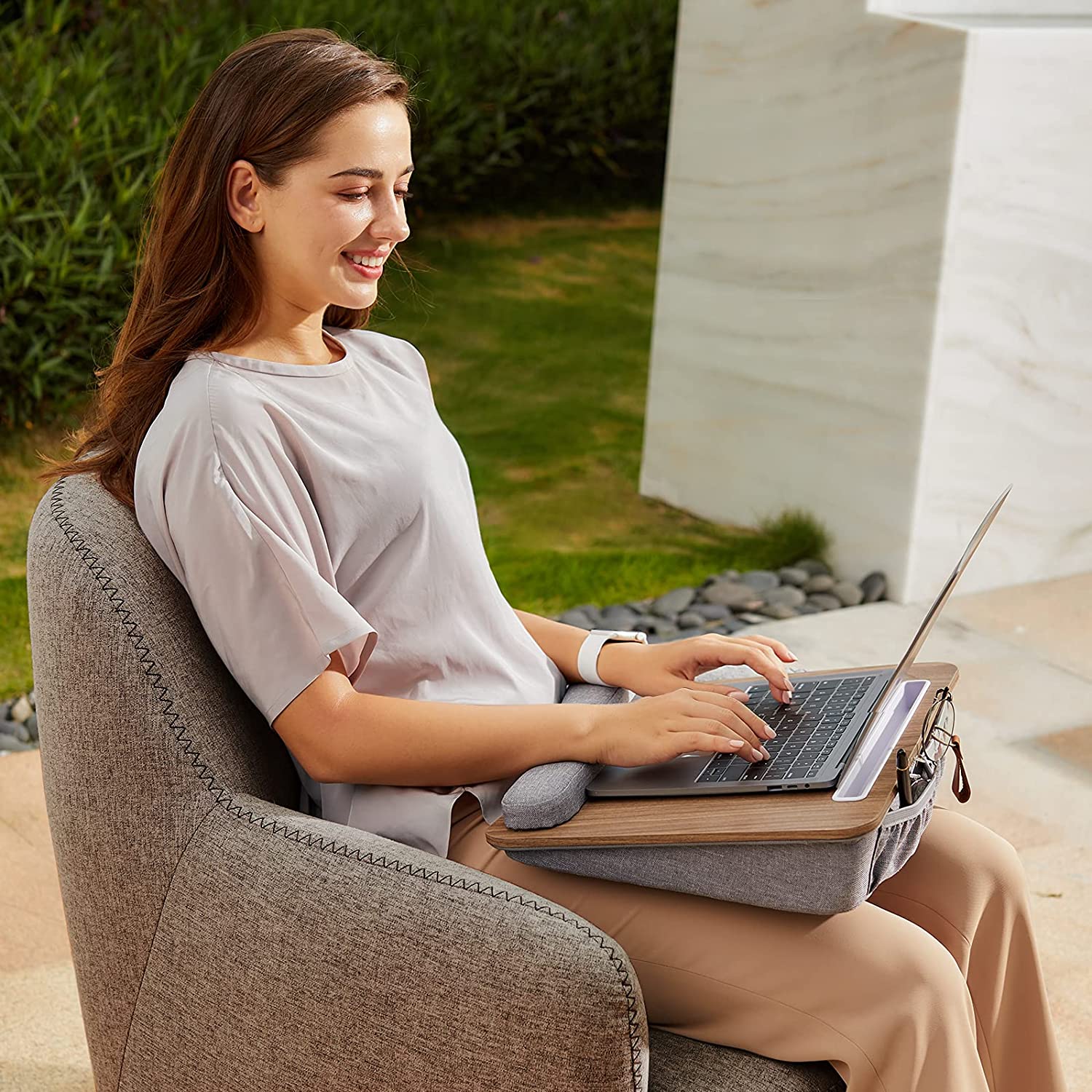 Arguably one of the most exciting things about preparing for your freshman year at college is shopping for your dorm room. You already have your room at home, but now you get to decorate a whole new room with brand new things. It's quite easy to get overwhelmed and carried away, trust me. As important as it is to show off your unique style and personality with your new decor, it's even more important to ensure that you have all the dorm room essentials as well. Although you have an entirely new room to decorate, you must not forget that you are also significantly downsizing in space and that you'll be sharing this new space with a roommate. Exciting, right?
To say college is expensive would be an understatement, but freshman year is by far the most expensive year, since you are basically buying everything you need to pick up and start a new life in some foreign place. Each year after that, you're pretty much just adding onto what you already have. Coming from someone who got way too carried away with dorm room shopping (sorry, Mom!), I've made a list of some affordable items that you're probably going to want in your dorm room or to have with you on campus. It's inevitable that you're going to burn a hefty hole in your parent's pockets, but let's try not burning one in their life's savings. 
Shower Caddy
Ah, yes, this one is bittersweet. You'll now be sharing a bathroom with several other people and you're going to need one of these to carry with you to and from the shower, keeping all your toiletries and shower supplies in one place. 
Attmu Mesh Shower Caddy Basket, $10.99
This is the more traditional shower caddy that most people will get, and there are 17 different colors/patterns to choose from. The mesh is nice to have because it dries fast and prevents any mildew buildup in the caddy. 
TERRA Home Portable Shower Caddy, $24.97
This is another great choice, just a bit more expensive. The metal hook makes it easier to hang while in use to avoid it getting wet on the ground. 
Shower Shoes
Again, you'll be sharing a bathroom with a lot of other people and you're most likely going to need some waterproof shoes to wear to and from the shower and possibly even in the shower with you. These have an anti-slip sole to ensure you don't slip and break your neck in the bathroom, and they have drainage holes which help keep your feet clean and also prevent water from getting stuck inside them. 
Finleoo Shower Sandals With Drainage Holes, $11.99-$19.99
Bedside Caddy
A bedside caddy is a good idea for freshmen, especially those with lofted beds. It provides a little more storage space, which you'll need, and if your bed is lofted, it prevents you from having to climb out of bed to grab something. It comes in handy a lot more than you'd think; I personally used mine for the first three years of college. This one comes in 29 different colors, so it'll be easy to match with your other bedroom decor. 
Surblue Bedside Caddy Hanging Bed Organizer, $13.99
Closet Hangers and Organizers
I hate to be the bearer of bad news here, but your closet is going to be quite small, so you're going to have to get creative with your space. Below are some space-saving hangers and hanging closet organizers that will help increase the limited space you have. 
Zober 5 Shelf Hanging Closet Space Saving Organizer, $16.99
HOUSE DAY 6 Pack Metal Magic Space Saving Hangers, $12.99
DOIOWN S-Type 3-PackStainless Steel Clothes Pants Hangers, $17.89
Kootek 2-Pack Over The Door Shoe Organizers, $17.99
Lap Desk
You'll have a desk in your room and of course there's always the library, but you will inevitably find yourself doing homework or studying in bed at times, so a lap desk will come in handy no doubt. You can get as boujee as you'd like with this or you can keep it simple for just $20.
HUANUO Portable Lap Desk, $20.23
Laundry Drying Rack
Trust me, you're going to need this. 
Honey-Can-Do Collapsible Clothes Drying Rack, $26.99
Eye Mask
The chances that you and your roommate have the same sleep schedule are slim to none. So, having a sleep mask will be very useful when your roommate is pulling an all-nighter 5 feet away from you or when they forget to turn off the lights before bed. This will also come in handy whenever you want to take a nap because trust me, you will. 
Alaska Bear Natural Silk Sleep Mask, $5.94
Water Bottle
Ok, yes; $50 for a water bottle is a lot. However, you will want a quality water bottle to carry around with you everywhere. And when I say everywhere, I mean everywhere. You'll be running around all day on campus like a madman, and you'll need water to keep you hydrated. Without your own water bottle, you'll end up buying plastic water bottles all the time and this will not only add up to be more expensive than just buying a reusable one, but it's also bad for the environment, and we are not about that. Hydro Flask water bottle is by far one of the best out there and if you take good care of it, it'll last you years. 
Hydro Flask 32 oz. Wide Straw Water Bottle, $49.95
Pepper Spray
Colleges do everything they can to keep everyone safe on campus, but it's not guaranteed that you'll always be safe. Walking back to your dorm room alone from the library at 3 in the morning can be a little scary, so it's better to be safe than sorry. You can clip this pepper spray onto your backpack or keys, just always make sure you have it with you and that it is easily accessible.
SABRE Pepper Spray Keychain, $9.99
Power Strip
There will only be so many outlets on your side of the room, so a power strip is definitely something everyone should have in their dorm room.
GE 6-Outlet Surge Protector, 10 Ft Extension Cord Power Strip, $13.13
First-Aid Kit
You're used to your mom having everything you could possibly need in case of an emergency, but you're on your own now. It's always a good idea to have just the basics lying around, you know, for good measure.
Be Smart Get Prepared 100-Piece First Aid Kit, $8.99
Planner
Staying organized is the key to being a successful student. You will get overwhelmed; that is inevitable. So, having a planner to keep track of all your assignments and deadlines will help immensely with the stress of college. 
Blue Sky 8.5″x11″ 2021-2022 Academic Weekly & Monthly Planner, $10.99
Calendar
Although you'll have a planner to help keep track of all your assignments and exams, you'll still find it easy to forget about something. Therefore, a wall calendar is also a good idea to make sure you don't forget any important deadlines. You can either get a paper wall calendar for the year or a whiteboard calendar that you'll never have to replace. 
2021-2022 Wall Calendar, $10.99
Quartet Combination Magnetic Whiteboard Calendar & Corkboard, $18.99
Handheld Vacuum
You'll find that it is quite easy to get a small room dirty, even if it is just a few crumbs. Handheld vacuums are great to have in general, but they are especially useful for students living in a dorm since they take up such little space.
BLACK+DECKER Dustbuster Handheld Vacuum, $43.99
How To Keep Your Wine Bottle Chilled In The Heat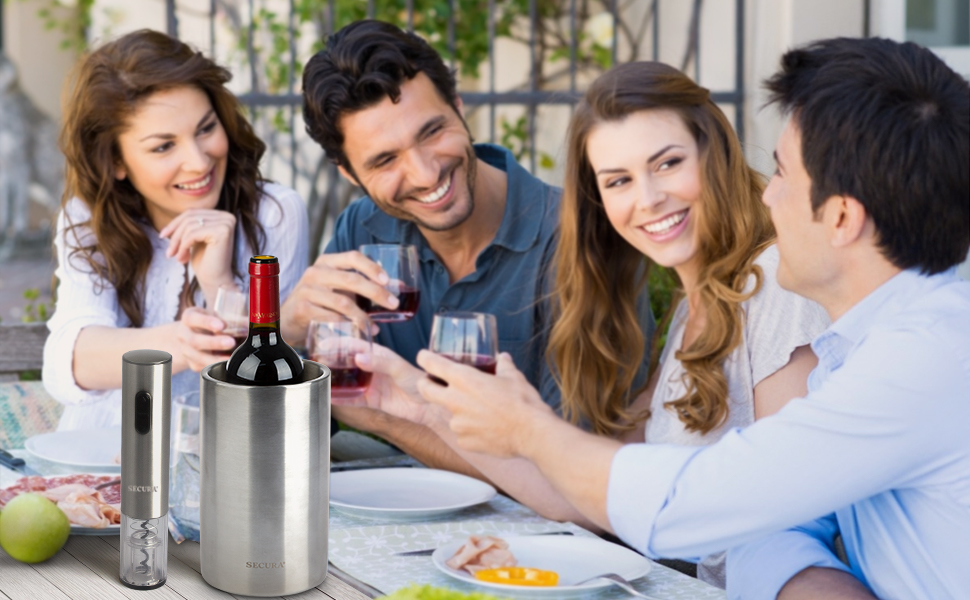 We have been posting quite a bit about alcoholic beverages lately, simply because enjoying a nice chilled drink is a phenomenal summer pastime. With Mother's Day coming up this weekend, it is the perfect occasion to talk about the most maternal of all booze — wine!
Last summer we posted our take on the Secura Electric Wine Bottle Opener. In the intervening months, our thoughts in favor of the product have not changed. In fact, we are ready to up the ante. Since it is officially the season of white wine and rosé, take advantage of Secura's gift set!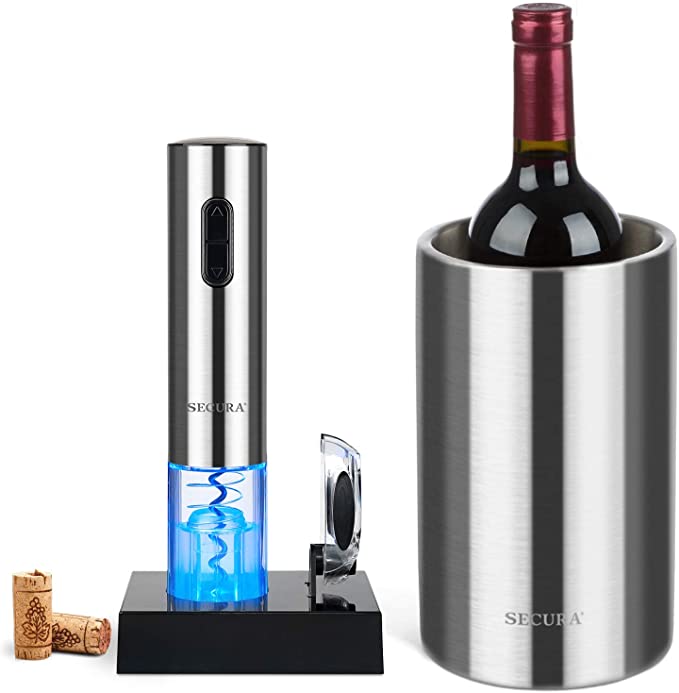 Secura Automatic Electric Wine Bottle Opener with Foil Cutter and Wine Chiller Gift Set Premium Stainless Steel Gift Set for Wine Lover — $36.99
From our previous article, you already know how the electric corkscrew works. The added value here comes via the stainless steel ice bucket. Like the margarita tumblers we teased last week, this ice bucket relies on vacuum insulation to keep your beverage at the perfect temperature.
After two years of being browbeaten to stay inside and avoid other people, summer 2022 is shaping up to be a social occasion full of picnics and garden parties. I don't know about you, but I can't wait.
Coming Soon: Vacuum-Insulated Margarita Glasses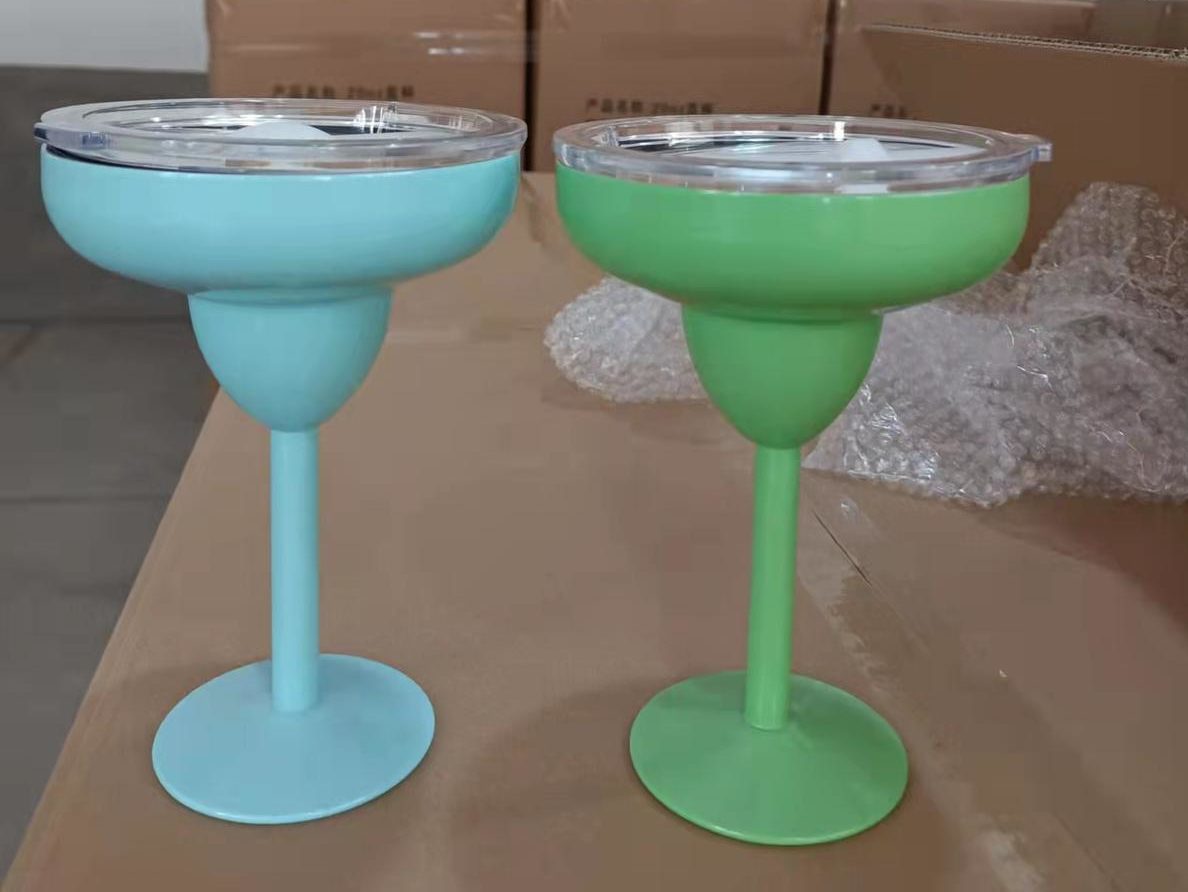 2022 is shaping up to be the summer of exciting new vacation products from Better Dweller. We already told you about their inaugural beach product, the American flag beach umbrella (now available on both Walmart.com and Amazon). Now Better Dweller has another one for you: vacuum insulated margarita glasses.
Although vacuum-insulated tumblers are all the rage these days, somehow there are not any on the market in the shape of a margarita glass currently on the market. This is wild, considering vacuum-insulated tumblers are designed to keep beverages cold in hot weather, and there is no more refreshing hot weather beverage than a classic margarita.
Surprisingly, there are actually many vacuum-insulated martini glasses out there. But who is trying to sip gin, vermouth, and olive juice poolside? I can enjoy a good martini when the occasion calls for it (shaken not stirred, of course), but honestly in 100 degree heat the thought is a tad repulsive.
As you can see from the image above, the tumblers have been produced, packaged, and are expected to hit the market within the next month. As soon as they become available, you can expect a full post here at We Know Products!
Add This Knife To Your Americana Collection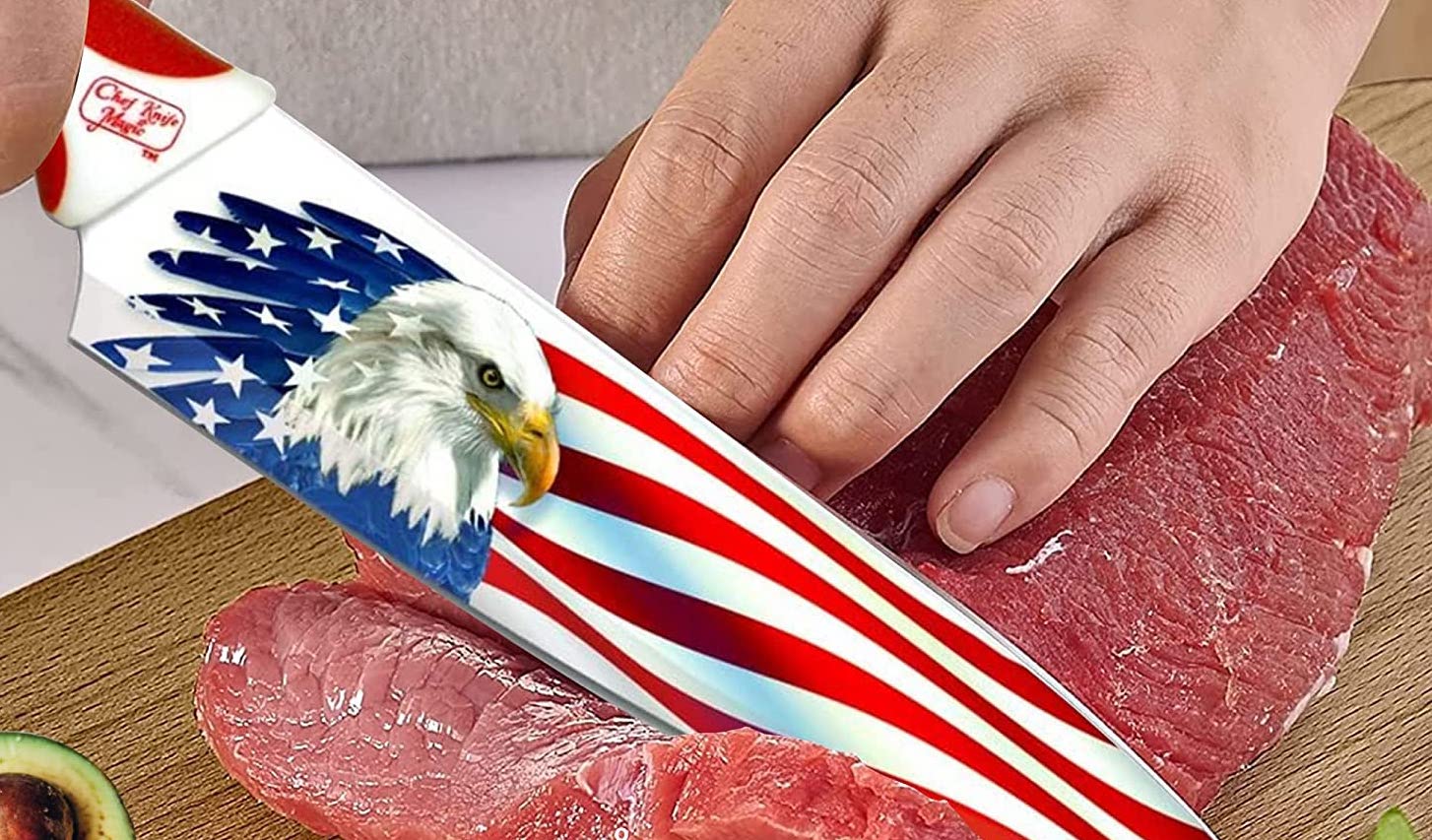 We Know Products fans know that we are obsessed with American flag products. Whether it is a backpack, a tote bag, or a beach umbrella, the item can be made better by sporting a flag of the good ol' U.S.A.
When I stumbled upon this product on Amazon the other day, I knew I just had to share it with our readers. It is an American flag-themed kitchen knife. Just take a look! It will instantly become the most patriotic thing in your cutlery drawer: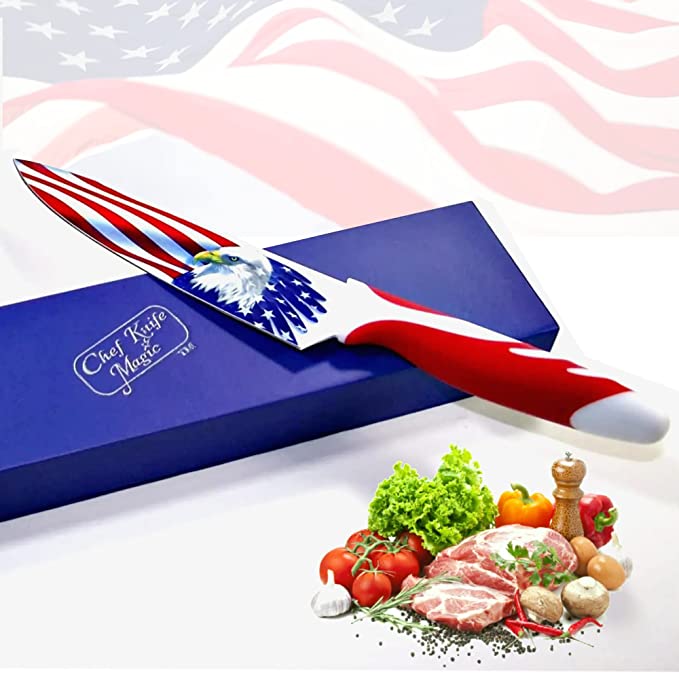 Chef's Knives – Professional Chef knife set, 8 inch sharp cutting blade – Stainless Steel kitchen cooking knife with Ergonomic handle – Loving gifts for Chefs & butcher with cool design — $23.99
If you check out the customer reviews on the Amazon listing, you will notice that many buyers originally bought it as a gag gift, then were surprised when it competently performed the function of a knife.
At a mere $24, you can easily add this knife to your bourgeoning collection of Americana.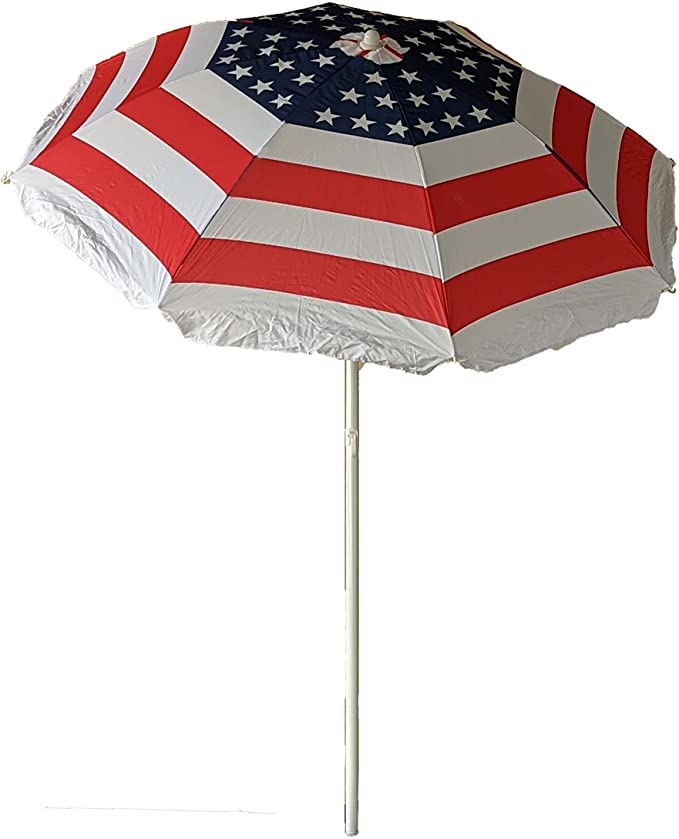 6.5ft USA American Flag Beach Umbrella, U.S. Flag Pattern with Carrying Case — $50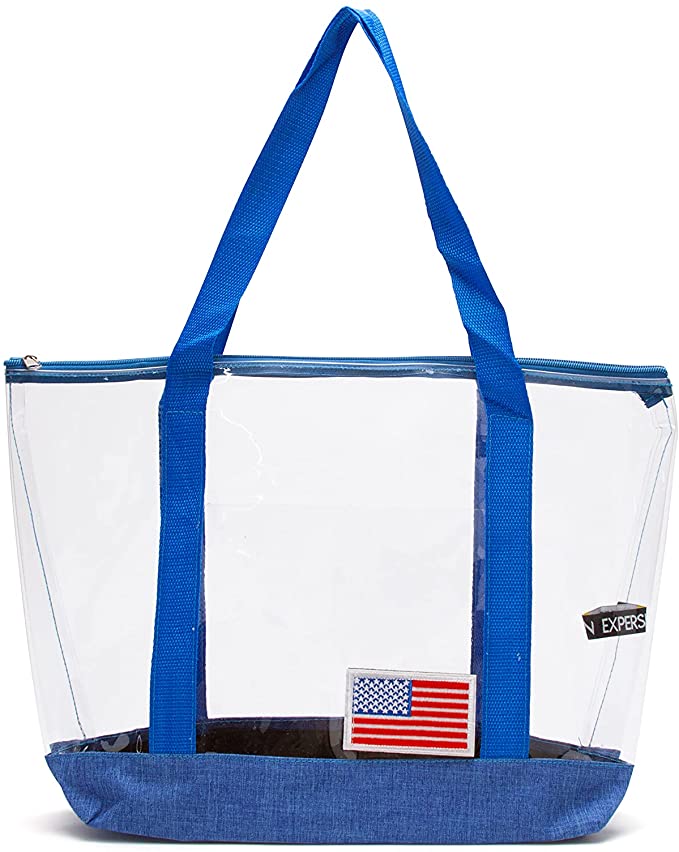 Clear American Flag Tote Bag — $14.99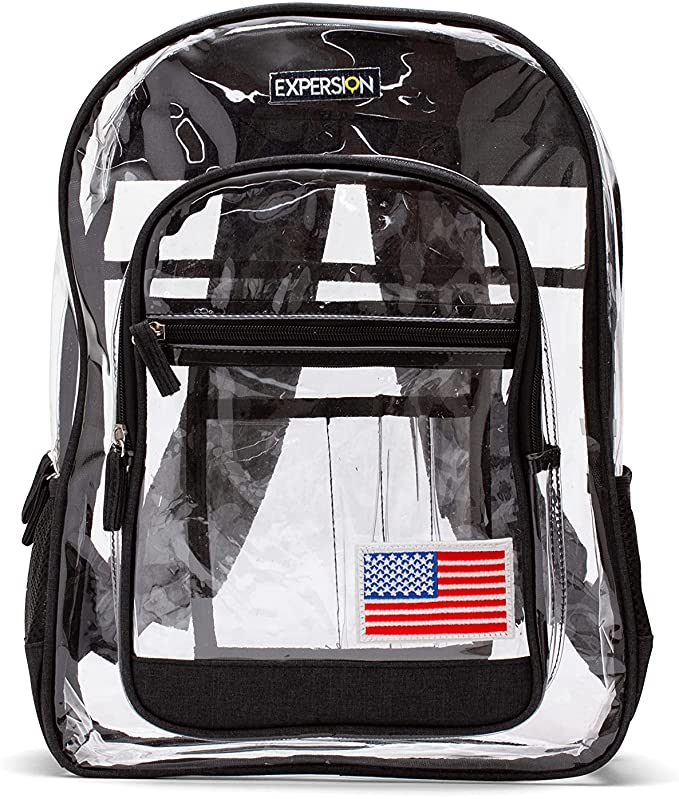 Clear Backpack with American Flag Patch, Transparent Heavy Duty See-Through U.S. Bag for School, Concerts, US Sporting Events, Stadium Approved (Black) — $20.99