Find The Perfect Caddy To Attach To The Wall Of Your Shower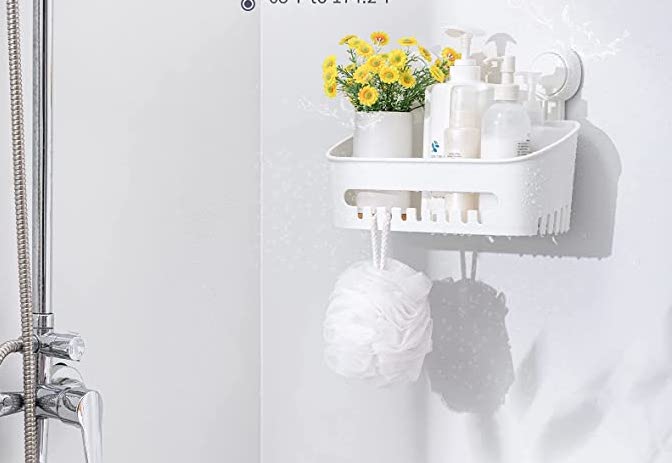 You know what is annoying? Cleaning your shower. No matter how diligently you try to keep grime from building up around your tub, you are simply no match for the twin forces of time and gravity. The hardest stains to get out are rust and those pesky pink spots caused by bacteria.
This is especially a problem if, like me, you tend to keep all sorts of rust-prone hygiene accessories in and around your shower. Specifically, I am thinking about my razor and nail clippers. The best time to clip your nails is right after you shower, when they are moist and easy to trim. Yet, keeping nail clippers in your shower is a surefire way to end up with rust. This is true even with the so-called "rust-resistant" stainless steel nail clippers.
The only solution, I've found, is to invest in a shower caddy and attach it somewhere on the tile that is not exposed to water. This is the one I bought: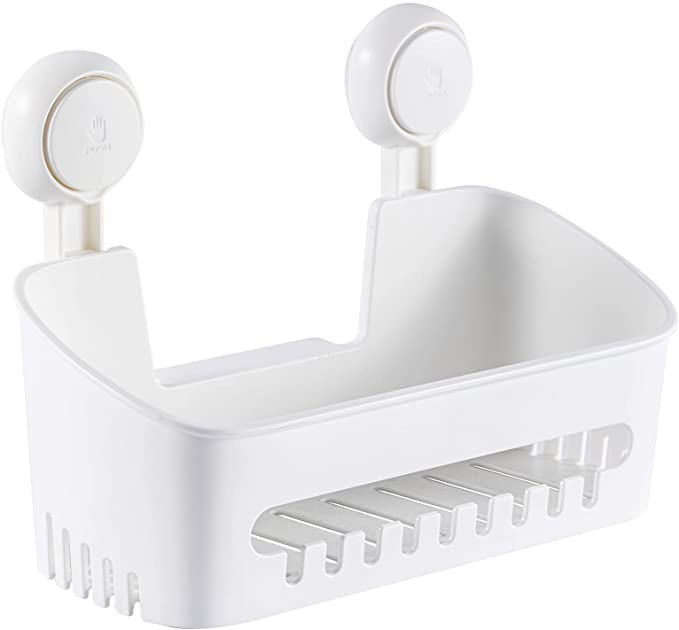 TAILI Shower Caddy Drill-Free with Vacuum Suction Cup Removable Shower Shelf Storage Basket for Shampoo & Toiletries, Kitchen Bathroom Bedroom Organizer — $23.99
All of a sudden, keeping my shower clean is no longer a herculean effort. In addition to my metal grooming products, I keep all my shampoos, soaps, and body washes in the caddy, which I attached directly under the shower head. This keeps it from getting wet. It has the added benefit of putting everything I need to access while showering within easy reach.
This shower caddy is incredibly easy to attach to the tile: It has these nifty suction cups you simply stick on. Then, if you need to take it off for any reason, you just push the buttons, and it pops right off the wall. Despite being very lightweight, it is also very sturdy. I loaded it up with pretty much anything I could find lying around my bathroom just to test its durability, and it held up under any and all pressure.
Your shower may already have some sort of shelf designed to store the aforementioned items. Even so, in most such cases rust and buildup is inevitable, and it is incumbent upon you to be proactive in improving your shower's cleanliness. In other words, it is incumbent upon you to install a shower caddy.
This Inflatable Christmas Ornament Is Coming To A Yard Near You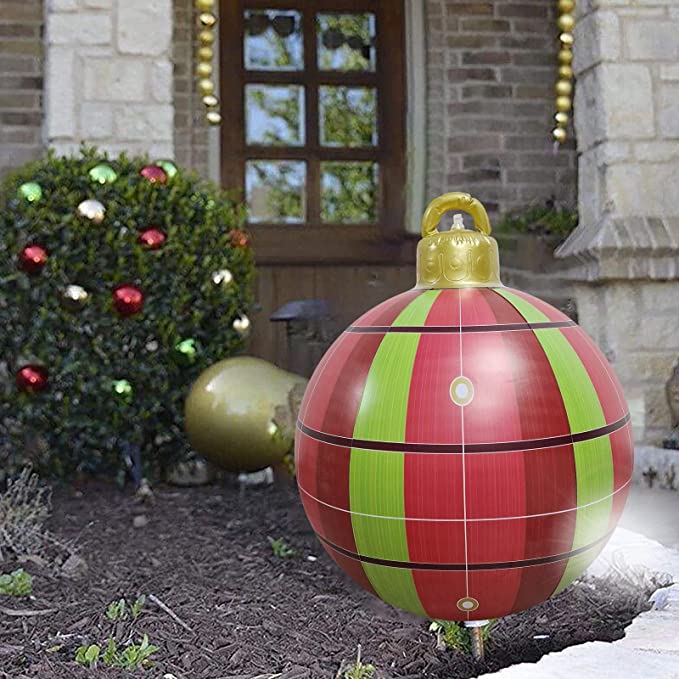 As you have no doubt heard, because of supply chain issues plaguing the world over, the time to start shopping for Christmas was weeks ago. Consumers have been taking this directive to heart. Take a look at the bestsellers on Amazon, and you will see that #1 in the "Patio, Lawn & Garden" section is this giant Christmas ball.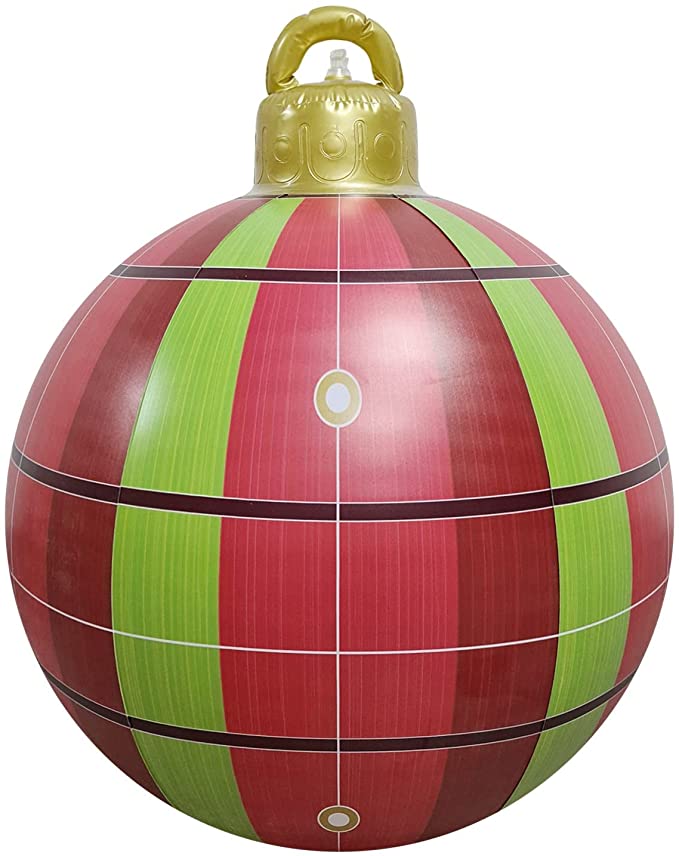 HUANKD Giant Christmas PVC Inflatable Decorated Ball, Christmas Inflatable Outdoor Decorations Holiday inflatables Balls Decoration with Pump (A, XL) — $22.99
According to the listing, "When it comes to outdoor holiday decorations, bigger ones always feel more satisfying." I am not sure I agree with that, but I can accept that kids do get a real kick out of giant inflatable Santas and the like. The real question I have concerns how big we are actually talking here. In one of the images, it seems to be a little smaller than a 5-year-old girl: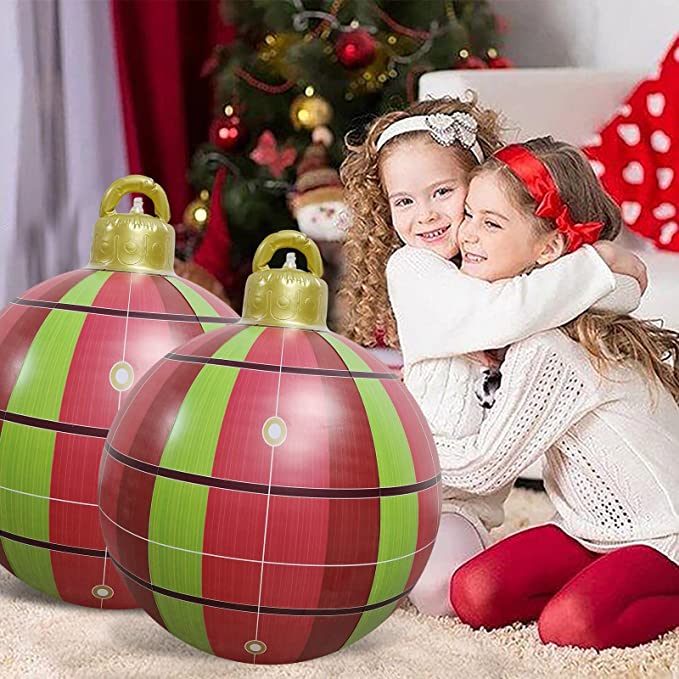 But in another one it looks to be nearly as tall as the first story of a house!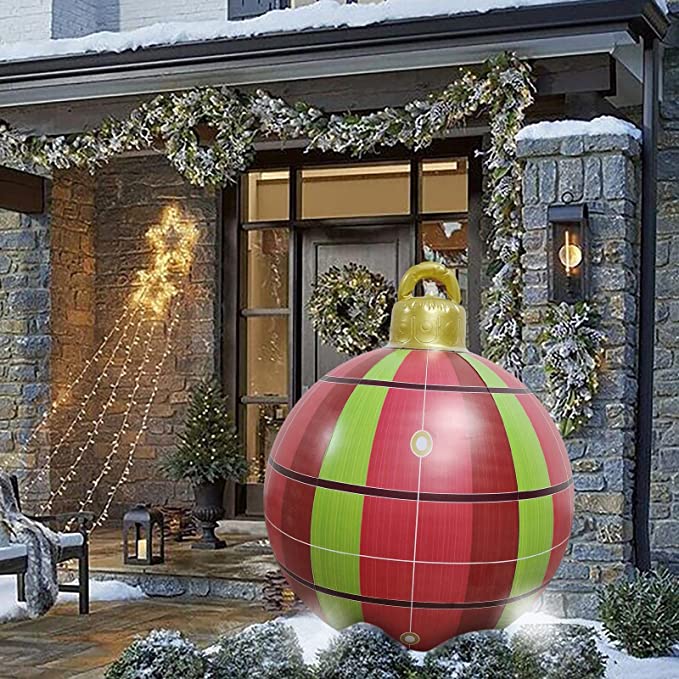 The listing says its diameter is 60 centimeters, which of course is of absolutely no help to shoppers on this side of the Pacific. Because we are here to provide a service to our readers, we looked up what that means: about 2 feet. According to an article I found on the Internet, that is about the size of a 4-month-old baby. That means the photo with the girls is definitely closer to being accurate.
Why is this particular outdoor decoration more popular than anything else available on Amazon? I couldn't tell you. It has to be partly based on price. It is not uncommon for this kind of decoration to go for upwards of $60: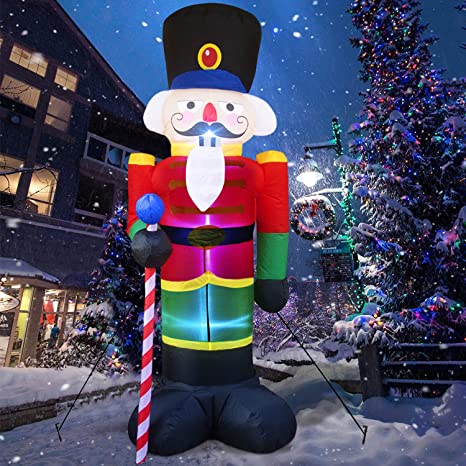 8 Foot Christmas Inflatable Nutcracker Soldier Outdoor Decorations, Light Up Inflatable Santa Claus Soldier with 3 LED Lights Blow Up Decorations for Yard Lawn Garden Xmas Decor (4 Stakes 2 Tethers) — $64.99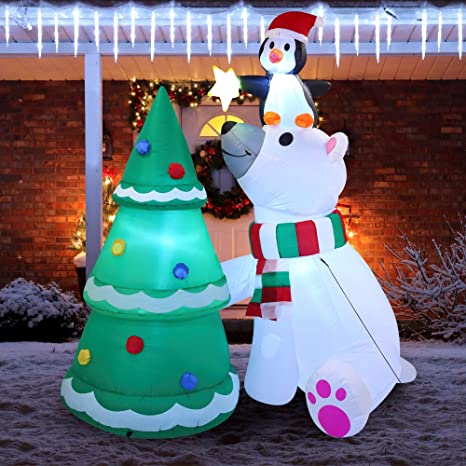 Christmas Inflatable Decoration 6 ft Polar Bear Christmas Tree Inflatable with Build-in LEDs Blow Up Inflatables for Christmas Party Indoor, Outdoor, Yard, Garden, Lawn, Winter Decor, Holiday Season — $64.99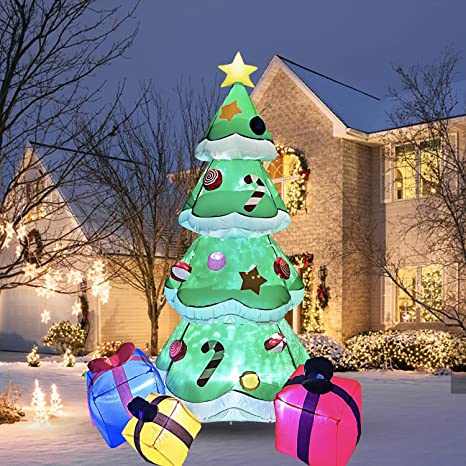 6FT Christmas Inflatable Blow Up Decoration,Inflatable Christmas Tree with 3 Gift Boxes , Self Inflatable Christmas Decor with LED Lights for Xmas Holiday Indoor,Outdoor,Yard,Garden,Lawn,Square Decor — $66.99
Notably, these eyesores are all considerably bigger than the blow-up ornament. Perhaps giving the dimensions in centimeters and including the photo beside the house are meant to obscure the relatively diminutive size of the ornament. Despite being a #1 bestseller, the ornament does not currently have any customer reviews (presumably, people are waiting until the end of spooky season to adorn their house for Christmas). One has to wonder if folks are in for a surprise when their attempt at holiday spirit dwarfs in comparison to that of their neighbors.
14 Scary Good Halloween Cocktails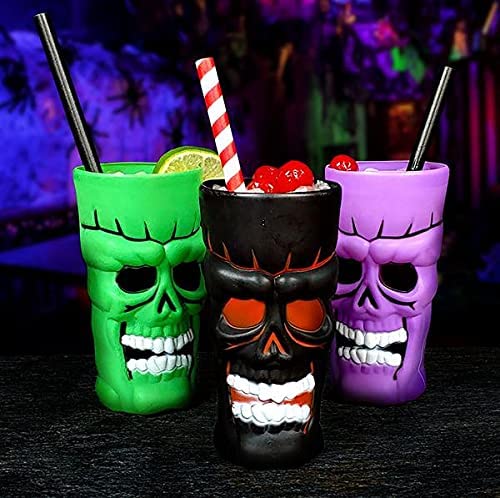 There are few holidays that are accompanied by festive drinks and Halloween just so happens to be one of them. Any season that gives us a reason to make festive cocktails is a season worth celebrating. Whether you're throwing a Halloween party or just kickin' it with some friends, we've got some of the most spook-tacular cocktail recipes that are fun to make and better to drink. Happy Howl-o-ween!
Before we start, these festive skeleton goblets are perfect for serving your spooky Halloween cocktails.
Skeleton Hand Plastic Goblets, Set of 3, $14.99
Full Moontini (via FreshFlavorful)
It wouldn't be spooky season without a black, spooky cocktail. This will have all your party guests howling for more. Get Recipe here
Purple People Eater Cocktail (via Homemade Hooplah)
If you want the full purple people eater effect, you can add some candy eyes or horns. Get recipe here
Zombie Brains Halloween Cocktail (via Yummly)
What's Halloween without zombie brains? Get recipe here
Pumpkin Spice White Russian (via The Cookie Rookie)
Pumpkin spice and everything nice. Enjoy this seasonal twist on the classic white Russian cocktail. Get recipe here
The Half Blooded Prince Cocktail (via Half Baked Harvest)
A Harry Potter themed cocktail is a must for Halloween. It's bloody good. Get recipe here
Black Magic Margarita (via Delish)
Put a spell on all your party guests with these black magic margaritas. Drink up, witches. Get the recipe here.
Alien Brain Hemorrhage Shot (via Greedy Gourmet)
Don't be fooled, it tastes better than it looks. Get the recipe here.
Melted Witch Martini (via 3 Yummy Tummies)
Because one witch-themed cocktail isn't enough for all you witches out there. Get the recipe here.
Maleficent Halloween Cocktail (via The Soccer Mom Blog)
We couldn't forget about all you Disney lovers. This maleficent cocktail is too pretty not to make. Get the recipe here.
Bride of Frankenstein (via Pineapple and Coconut)
Classy, but creepy. Get the recipe here.
Bloody Orange Cocktail (via HGTV)
You know what they say.. The bloodier, the better. Get the recipe here.
These plastic syringes will put the finishing touch on your bloody orange cocktail.
Reusable Plastic Syringes, Set of 36, $24.99
Hocus Pocus Witches Brew (via Best Day of The Week)
It's all just a bunch of hocus pocus anyways. Get the recipe here.
Poison Apple Cocktail (via The Seaside Baker)
This iridescent, potion-like green cocktail just screams halloween. Get the recipe here. Serve it in a cauldron and you've got an absolute wicked concoction.
Vampire Kiss Jell-O Shots (via XOXO Bella)
A little fireball never killed anybody and what's a party without jell-o shots? Get the recipe here.
How And When To Carve A Halloween Pumpkin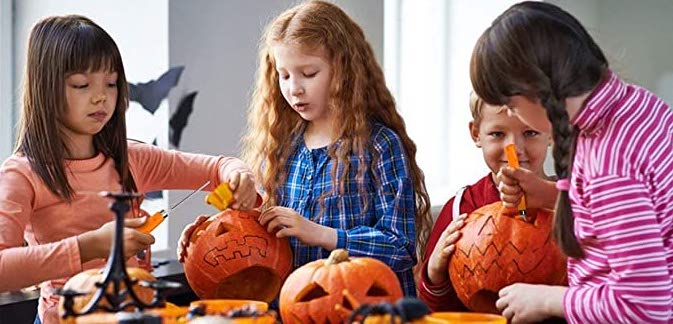 Take a jaunt around nearly any neighborhood in America, and you will see home completely decked in Halloween decorations. At some point, Halloween passed Christmas as the holiday most associated with kitschy ornamentation in your front yard. This makes perfect sense: You already wear costumes on Halloween, so why not dress up your house as well? People seem to be decorating their houses earlier and earlier each year, with many homes completely littered with skeletons and cobwebs by mid-September.
There is one major part of Halloween decoration that you cannot put out a month in advance, and it is the most Halloween decoration of all—the jack-o'-lantern! Ideally, you should wait until the second half of October to go pumpkin picking. And then you should not carve your pumpkin until a few days before Halloween, otherwise it will begin to rot before the big night.
So, now is the time to begin your pumpkin carving plans in earnest. There are some great pumpkin carving kits still available on Amazon.
This 12-piece carving set includes 8 double-sided tools and a saw. The saw is big enough to get the job done but not so big that you need to worry about your kids' safety: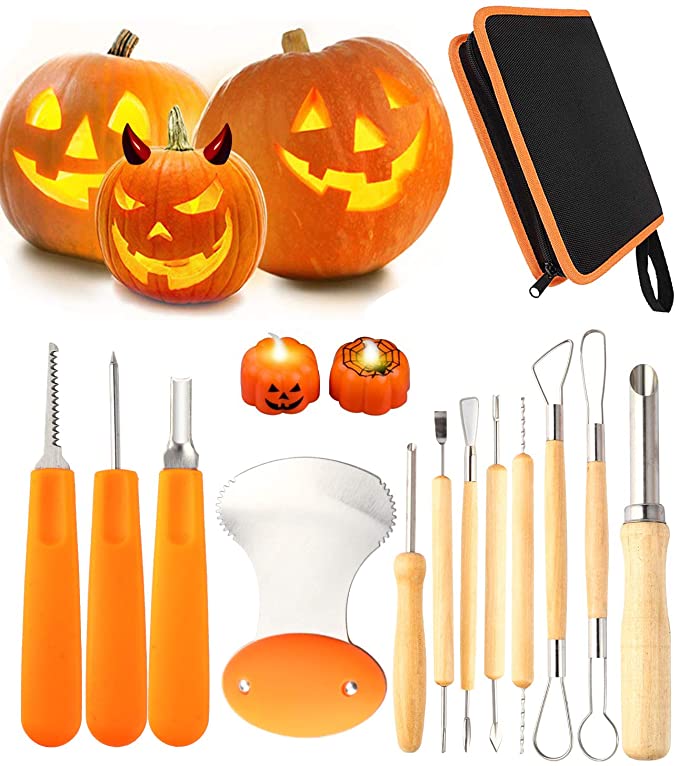 12 Pieces Professional Pumpkin Carving Tool Kit Heavy Duty Stainless Steel Tool Set with Storage Carrying Case Used As a Carving Knife for Pumpkin Hal (Yellow-12 pack) — $16.15
This 11-piece carving set offers a different method: nine of the tools are stencils in the shapes of common pumpkin facial features: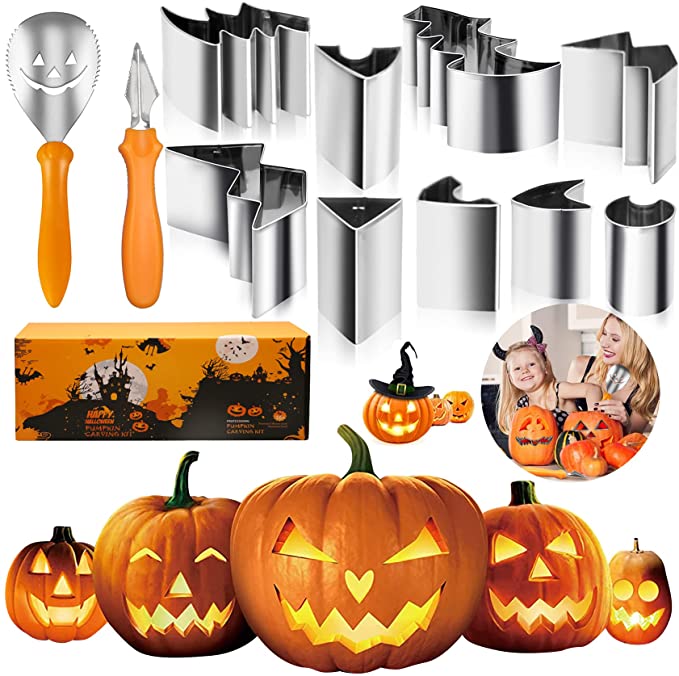 Pumpkin Carving Kit,11PCS Pumpkin Carving Tools with Stencils for Kids Adults,Stainless Steel DIY Pumpkin Carving Set Safe Halloween Decorations Pumpkin Punchers Carver Tool Gift for Kids — $15.99
You may not have even thought about it, but to make a true jack-o'-lantern, you need candles in addition to your carving materials. This 17-piece set comes with 5 LED candles (so you don't have to fear the possibility of igniting a fire). As a bonus, you get an e-book with detailed instructions on how to make some of the most popular faces: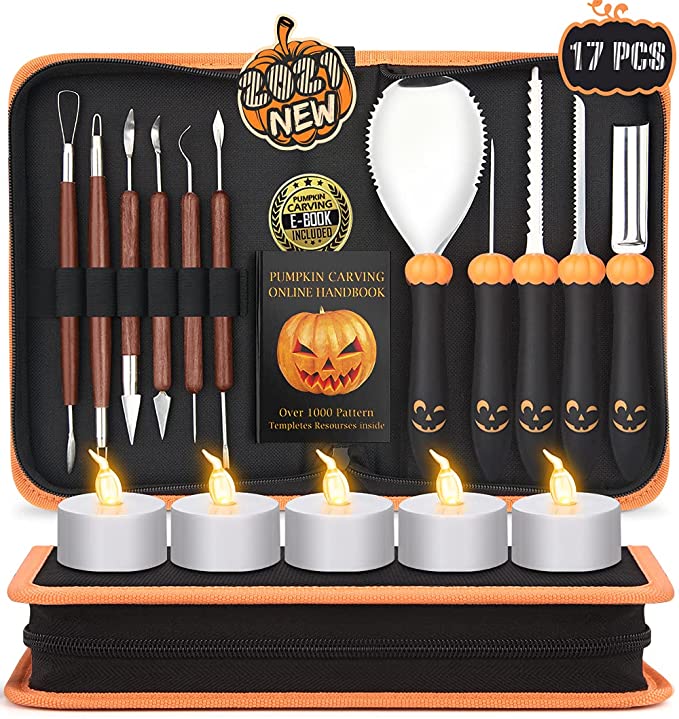 Upgraded 17 PCS Pumpkin Carving Kit for Adults & Kids with Professional Detail Sculpting Tools, Heavy Duty Stainless Steel Knife Set with Carrying Case & 1000 Stencils Ebook for Halloween Decoration — $28.99