Book Review: "Crossroads" Is More Relevant Than It Seems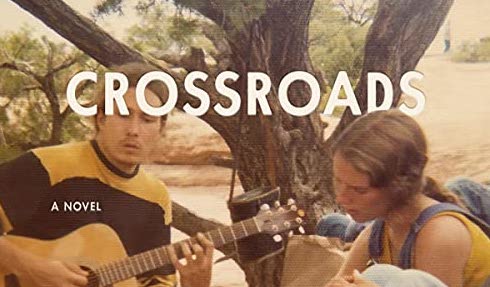 To readers under a certain age, Jonathan Franzen's latest novel, Crossroads will seem like it belongs in a bookstore's fantasy section. As is typical of Franzen's works, the book centers around Midwestern liberals. Unlike his other heroes, these characters do not escape flyover country to join an environmental nonprofit or open a trendy restaurant. The Hildebrandts live, work, breathe, eat, sleep—among other things—in and around a Protestant church. These are white liberal churchgoers, a demographic practically unheard of in America today. It is only by setting the book in the 1970s that the author is able to get the reader to suspend disbelief.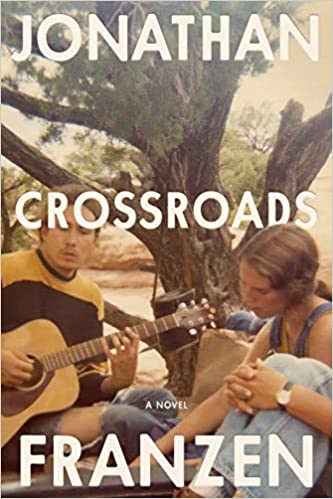 The Hildebrandts are not just cultural Christians, holding on by some common thread so that grandparents can enjoy baptisms and first communions. Their patriarch, Russ Hildebrandt, is the pastor at First Reformed in the Chicago suburbs. In fact, both Russ and his wife are converts to that sect of Protestantism, each rejecting older Christian traditions for varying reasons. Most shocking to modern readers is the vibrancy of the church's youth group, called "Crossroads," from which the book gets its title. In New Prospect, Illinois, Crossroads is the place to be on a weekend night, whether you are a wannabe do-gooder or a popular long-haired, pot-smoking musician.
In 2021, most young people who consider themselves part of the social justice movement would not be caught dead inside a house of worship. Churches are seen as oppressive institutions in service of the patriarchy, and their influence on society is not to be trusted. In Crossroads, Franzen shows how that was not always the case, while simultaneously painting a scene of the last gasp of the Christian Left in America. One of the primary tensions in the book is between Russ, who uses biblical teachings to inform his bleeding heart, and Ambrose, the leader of the youth group, who infuses his sermons with what might be called Moral Therapeutic Deism—heavy on the moral therapy, light on the deism.
It is no spoiler to say that Ambrose wins that battle, a victory foretold by how little a role God and Jesus play in a book ostensibly about a clergyman and his family. Characters are constantly trying to "do the right thing," but the timeworn axiom "What Would Jesus Do" never factors into their calculus. When any of the Hildebrandts do petition Jesus, he or she is looking for license to break one of the Ten Commandments. One of the great perks of liberal Christianity is its lack of strict rules. Of course, it is that very thing that makes it ultimately inessential to human life.
Although at first glance Franzen's least relevant book, Crossroads benefits from being his least preachy. By setting it in the past, he assumes the reader is already familiar with issues like the Vietnam War and the plight of Native Americans. This gives him more space to explore the motivations of each of the characters, and as a result they are more fleshed out than some of his earlier creations. Two decades after The Corrections, Franzen has yet to reach its literary heights once again. Although the Hildebrandts are generally more likable than the Lamberts (and infinitely more likable than the protagonists of Freedom and Purity), the time and place of Crossroads are just too distant to have the same cultural force. Still, this is a very enjoyable novel, and Jonathan Franzen continues to prove why his novel releases function as literary events.
Book Review: 'Verity' By Colleen Hoover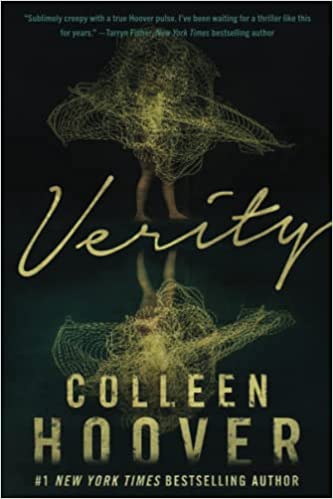 Available on Amazon for $11.26 paperback 
Colleen Hoover is all the rage this summer. The author's 2016 romance novel It Ends With Us gained fame due to the viral nature of #BookTok (the book lover's community on TikTok). I've always loved reading, especially during the summer months by the beach and pool. Surely because of this, my "For You Page" has been flooding with recommendations and reviews as to what to read next. I can without a doubt say that Verity is worth the hype.
Verity was first published in 2018 and has only just become available worldwide in paperback. I started reading Colleen Hoover last summer when I first discovered It Ends With Us on #BookTok and have read four of her other books since. Given that I finished this one in a day, I would say it is extremely readable!
Verity is different from Hoover's usual style and genre of romance. This novel is twisting, unsettling, creepy, and psychologically mind-bending. From the beginning, I could not put it down. The plot follows protagonist, Lowen Ashleigh, a struggling writer who accepts a job offer to complete the remaining books of an unfinished, successful series. Jeremy Crawford, the husband of bestselling author Verity Crawford, has hired Lowen due to his wife's serious injuries. Lowen arrives at the Crawford home, ready to sort through years of Verity's notes and outlines, hoping to find enough material to get her started. What Lowen doesn't expect to uncover is an unfinished autobiography Verity never intended for anyone to read. With shades of Gillian Flynn blending in with Hoover's classic take on romance, our protagonist finds herself uncovering a story so horrifying, and all the while, falling for a grieving man. There is a thrilling twist at the end, which I am happy to debate, but I'm not giving any spoilers until you read it for yourself! Overall, I highly recommend the purchase. Find it on Amazon.
Why Did Will Smith Slap Chris Rock?
On Sunday, March 27, 2022, the 94th Academy Awards took place in Los Angeles. Everybody knows this, despite approximately zero people seeing any of the films nominated for Best Picture. The winner of that Oscar, CODA, was released on Apple TV+. Until learning about this movie Monday morning, I didn't even know Apple made movies. I do not think I am alone in being surprised that their content offering goes beyond the beloved Ted Lasso.
The reason everyone knows about this year's Oscars of course has nothing to do with the films themselves. Instead it was the "slap heard 'round the world," when Will Smith rose from his seat and hit Chris Rock onstage in response to a joke. This moment has been dissected every which way, with viewers analyzing Japanese and Australian broadcasts like the Zapruder film, and partisans coming out of the social media woodwork to defend both Smith and Rock. Setting aside some truthers' insistence that the whole incident was staged, the main question seems to be: "What would prompt Will Smith, widely considered one of the most likable actors in Hollywood, to do such a thing?"
There are a wide range of theories here, ranging from Smith having internalized the protective nature of his character in King Richard to a long-standing beef between Smith and Rock that dates back several award ceremonies. But no matter where you begin, all roads eventually lead to Will Smith's relationship with his wife. Though most reporting on their marriage and its resulting "entanglements" has come from Jada's side of the story, there is one primary source from which we can try and decode the source of Will Smith's anger.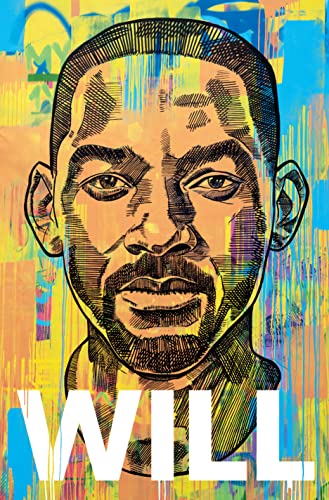 That would be his 2021 memoir, titled Will, co-written with Mark Manson, the bestselling author of The Subtle Art of Not Giving a F*ck. In the book, Will Smith dives deep into his family and its sometimes very public problems. Will Smith will probably never come out and admit that he sublimated his anger at his wife and took it out on Chris Rock. But reading about their struggles in his own words may be our only key to deciphering whatever aspect of his psychology that prompted him to lash out in front of millions of viewers.
Why do you think Will Smith slapped Chris Rock? Let us know in the comments!
Review: 'Klara and the Sun' Is A Book With Moxie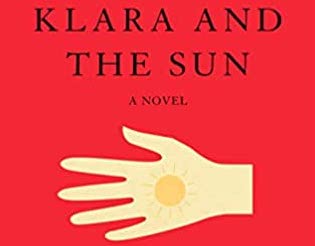 In 2020, a company introduced Moxie, a dystopian "social support robot" designed to help kids learn human interaction. As we wrote at the time, this super creepy product resembles something out of a Black Mirror episode. In a day and age in which children are forced to wear masks when they interact with their peers, what Moxie offers is in some ways more social than what is available in actual social settings. This may be a selling point for Embodied, the company that makes Moxie, but it certainly does not inspire confidence in the direction our once great society is heading. 
I have no idea if Kazuo Ishiguro, the Nobel Prize-winning author who wrote Klara and the Sun knew specifically about Moxie when he was coming up with his latest book. Presumably he researched similar "advancements" in child development technology enough to know that such products are on the horizon. The result is a touching, nuanced depiction of what "life" would be like for a social support robot, and what that means for the human world that welcomes it.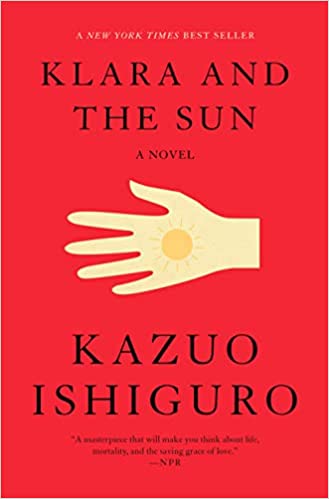 The titular Klara in Klara and the Sun is the story's protagonist, an "Artificial Friend" or "AF," and the story is told from her first-person perspective. From the get-go Ishiguro puts the reader in her shoes, establishing a world in which few things are truly certain. The AF's in the book are programmed with an artificial intelligence, but their core function is comforting and supporting the growth of a human child. There are certain things we take for granted that are completely unknown to Klara, and the first few chapters are critical in helping us understand the way Klara "thinks." As soon as that perspective is fortified, Ishiguro proceeds with the main story. 
After days of waiting in the store for her lucky day, Klara is purchased by the mother of a sick girl to be her artificial companion. Turns out this is a more difficult assignment than that given most AF's, and the reader comes to question what exactly are Klara's responsibilities—if any—as a robot to aid in her convalescence. She certainly goes above and beyond what the girl's parents expect of her, which, as it turns out in a major twist, is actually quite a lot.
It is hard to discuss the themes of Klara and the Sun without including spoilers, since it is such a simple tale whose enjoyment comes from the gradual understanding of the world Ishiguro is painting. It is not quite the world we live in, or at least not yet, but our world is certainly recognizable in it. The adults in the novel make several decisions that would be controversial but nowhere near unthinkable if presented as options today. After reading Klara and the Sun, one can only wonder: Is this where we are heading? And if so, how do we prepare?
The most impressive thing about this short novel is that the author manages to be neither optimistic nor pessimistic about the situation detailed. When I first read the description, Luddite that I am, I was prepared to hate Klara and hope for characters to start smashing the AF's before Skynet takes over. If you come to the book from this viewpoint, I don't expect you to necessarily change your mind about the inherent value of Artificial Friends. But similar to watching the HBO series Westworld, you might come away with more sympathy for the robots than expected. Most importantly, you may realize that there are certain things that are obvious to a nascent species of intelligence that humankind seems to have forgotten along the way. 
Klara and the Sun is certainly a book written for its time, and in future years may be viewed as downright prescient. If the implications of products like Moxie interests you, then I definitely recommend it. I have not read Remains of the Day or Never Let Me Go, the Ishiguro novels that are regarded as classics, but I enjoyed this enough that I certainly will.