My Most Reliable Kitchen Appliance Is My $20 Coffee Pot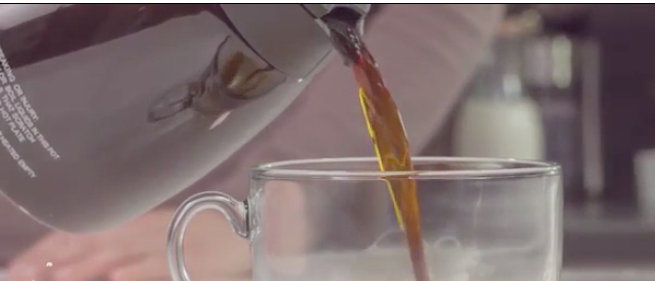 Hi all! I can't tell you how excited I am to be writing here for We Know Products! I love writing in my free time, so when the guys at We Know Products reached out to me, I jumped at the chance to have my work featured in a real life website.
In the future I'm told I'll be given specific products to review, but to start you will get a peek at some of the products I already own and recommend to you, dear reader.
First up, as I take a long look around my apartment, is the kitchen appliance that is most dear to my heart. Nope, I am not talking about the Instant Pot! I mean my coffee maker. I know there are dozens and dozens of fancy-schmancy coffee makers out there, but for me old reliable is a $20 machine I have had since my sophomore year of college.
My Mr. Coffee 12-cup coffee maker (or Hazel, as I call her, since I like to add hazelnut creamer to my morning joe) has gotten me through many late night study sessions and gotten me to work on time after too many too lit Thirsty Thursdays. Hazel doesn't come with many bells and whistles. Actually, I wouldn't say she comes with any bells and whistles. All she does is one thing: make coffee. Before I go to bed every night, I pre-load 8 scoops of coffee. Then, I get up every morning at 6 a.m. and press "on." After I take my daily 6 to 6:15 nap, Hazel greets me with a freshly brewed pot. Depending on how sleepy I am, she usually has some left for my roomie too.
This past December, my roommate and I debated asking for a new coffeepot from one of our sets of parents for Christmas. The conversation didn't last very long. We just couldn't come up with any reason why Hazel wasn't sufficient. We input how much coffee we want, and Hazel delivers that much joe. The only semi-plausible point for upgrading we could come up with was that we might want to be able to preset a brew time the night before. That hardly seemed like enough to justify making our parents spend over $100. (I ended up asking for the Instant Pot instead).
The Mr. Coffee 12-cup coffee maker is for people like us who love coffee. It is definitely good for people on a budget, but you don't have to be on a budget to see the value in a no-frills pot. Next time you are considering an upgrade on your coffee machine, consider a "downgrade" instead. Trust me, you won't regret it!

Toy Dyson Vacuum Is Weirdly Super Popular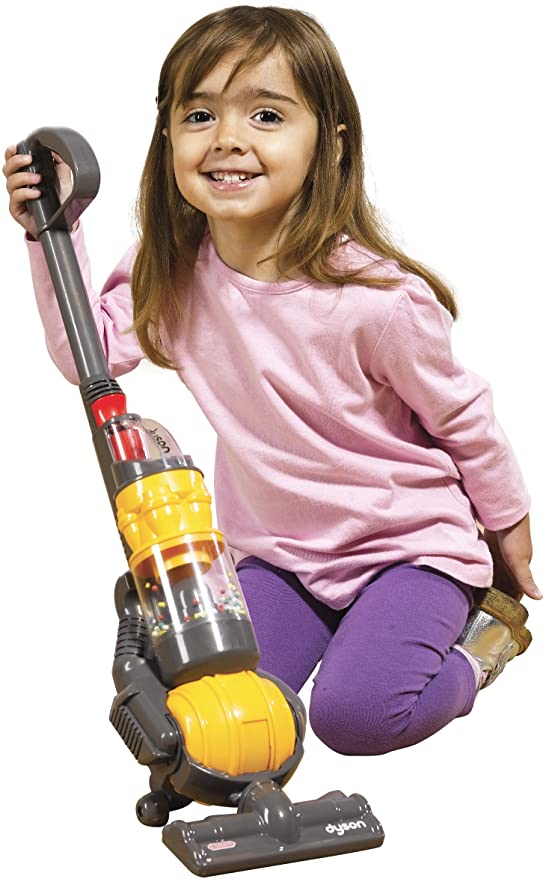 Currently, the #1 bestselling item in Amazon's "Toys & Games" is a miniature Dyson vacuum.
It is incredibly popular, a truth evidenced not only by sales volume but also by nearly 30,000 reviews, most of which give the tiny household cleaner a full 5-stars.

Casdon – Dyson Ball Vacuum TOY VACUUM with working suction and sounds, 2 lbs, Grey/Yellow/Multicolor — $22.49
I am of two minds here.
On the one hand, I think it is refreshing to see a trend in children's toys that does not involve screens. So much "education" these days involves sticking an iPad in kids' hands, and there is no telling how bad that is for their development. Vacuuming, on the other hand, involves actual movement. It can't be done while sitting on the couch. Furthermore, it is practical, since it is something your kids will have do for the rest of their lives.
On the other hand, really? Vacuum cleaners? It is summertime! Kids should be in the backyard playing T-ball or running through slip-and-slides. There will be plenty of time for the kids to vacuum once they hit adulthood.
For those of you who, like me, wonder why kids would be interested in a vacuum cleaner in the first place, I recommend checking out the review section. I do not have children, so I cannot vouch for this, but there seem to be two general reactions to vacuums among the little ones—fascination and fear. It just so happens that this mini Dyson is a suitable toy for both!
With regards to the children who love vacuum cleaners (which apparently many do), then this needs no explanation. Of course they would enjoy playing with one of their own! But even if your children quake in fear at the mere thought of the household cleaning device, they could still benefit from having their own kid-sized version. See, apparently the toy Dyson has helped many such children overcome these fears by familiarizing them with the appliance and by teaching them that vacuum cleaners are harmless tools as opposed to rapacious robots.
If you are actually considering getting this toy for your kiddos, you should know that the little vacuum cleaner (made by a brand called Casdon) does in fact work as a regular-sized vacuum cleaner would. It really picks up dirt, and it has the famous "twist & turn" motion of the real Dyson Ball. Because of this, maybe you can use this to turn vacuuming into a "gateway chore," so to speak. If housecleaning can be presented as fun at a young age, it is going to save you a lot of hassle come later years. Who knows, your kid might even thank you in the long run.
How To Make A Summer 'Mojitarita' Cocktail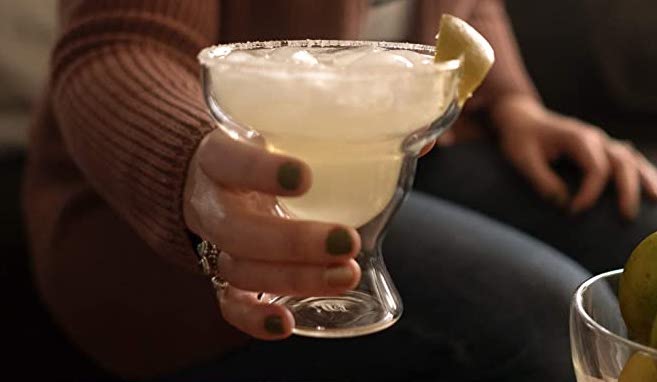 Summer is officially here, and that in itself is a good enough reason to drink (unless you're under the age of 21). And no, I am not an alcoholic, I'm just a young adult trying to survive. Kidding of course, but they didn't coin the term "summer cocktails" for nothing. Margaritas and mojitos are arguably two of the most popular summer cocktails, which is very convenient for me as these just so happen to be two of my favorite drinks. Therefore, it was only fitting that I tried combining the two to create a tequila-lime mojitarita (try saying that 10 times fast). To my delight and quite frankly, as I had expected, this genius concoction tasted magnificently delicious. It was sour. It was sweet. Then, it was gone. 
This refreshing, low-calorie cocktail was sponsored by the only thing in my liquor cabinet, tequila, and inspired by none other than "hot girl summer." Although I cannot guarantee this will become your new favorite drink, I can assure you that it is well worth trying and won't disappoint.
Servings: 4 | Prep Time: <10 minutes | Calories per serving: ~200 calories
Equipment you'll need:
Ingredients:
1 cup fresh mint leaves, more for garnish
½ cup freshly squeezed lime juice
1 lime, sliced for garnish
2 tablespoons granulated sugar*
8 ounces silver tequila
Cold soda water or sparkling water
Instructions (makes 2 drinks at a time)
Tear mint leaves into pieces, then add ½ cup of the mint leaves into a cocktail shaker.
Add ¼ cup freshly squeezed lime juice, 1 tablespoon of granulated sugar, 4 ounces of silver tequila and crushed ice into the cocktail shaker. Shake well.
Strain over ice into cocktail glasses and top off with soda water or sparkling water.
Garnish with fresh mint leaves and lime slices. 
Empty the cocktail shaker and repeat steps 1-4 to make the remaining 2 drinks.
Serve and enjoy! 
*Note: I didn't have granulated sugar, so I substituted it for brown sugar and I didn't notice a difference. It's also worth noting that brown sugar has slightly (emphasis on slightly) less calories than granulated sugar.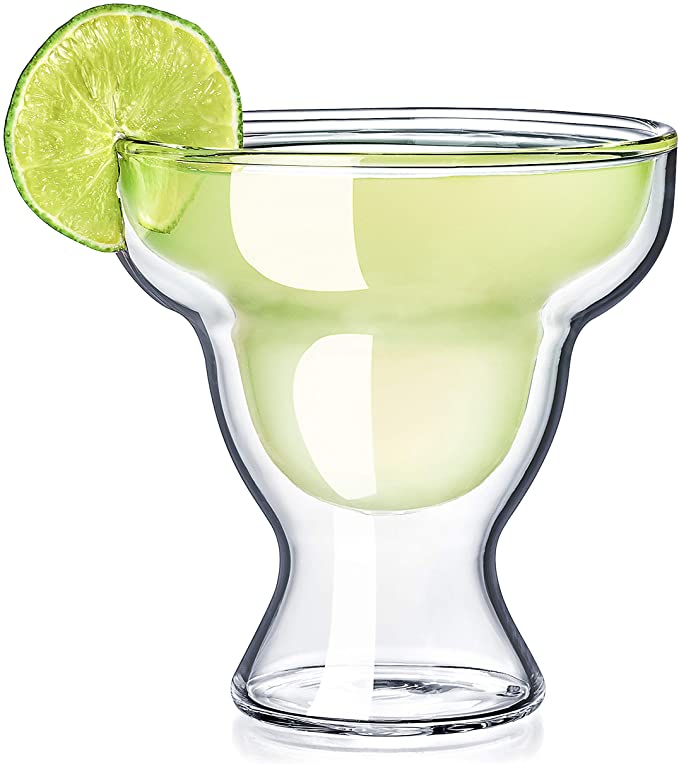 Dragon Glassware, Set of 2 Insulating Double Walled Stemless Margarita Glasses, $29.99
If you want to be real fancy, you can even rim the glasses with salt like you would for a margarita. Just rub the sliced lime around the rim of the glass, dip it in salt and you're golden! Cheers! 
This Fun Sprinkler Is A Great Fit For Our Chaotic Age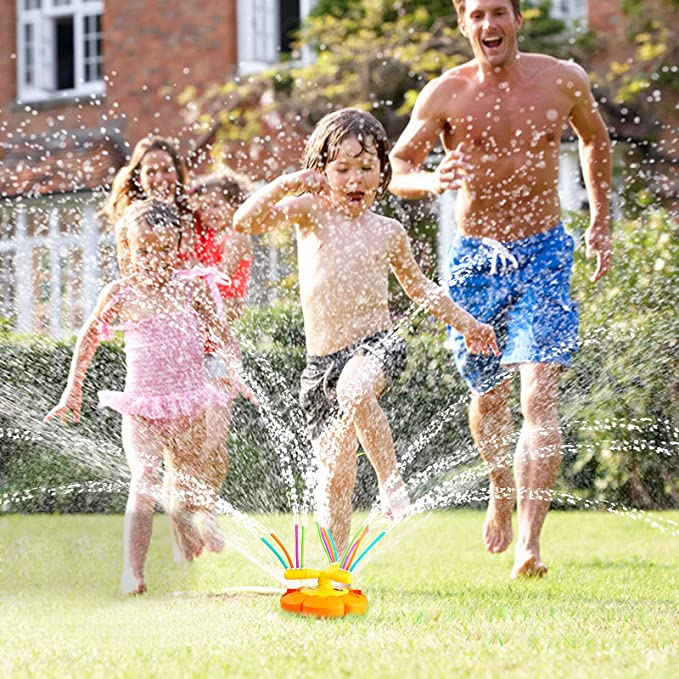 Summer is right around the corner. In case you need more proof beyond looking out your window, Amazon's constantly updating list of bestselling Toys & Games aptly reflects the changing of the seasons. While a version of the fidget bubble pop fad is still perched at the tippy top of the list, products specifically designed for summer usage are starting to climb. The #2 bestseller is a pool float. In the third spot are water balloons. Also up there is this rather interesting sprinkler device.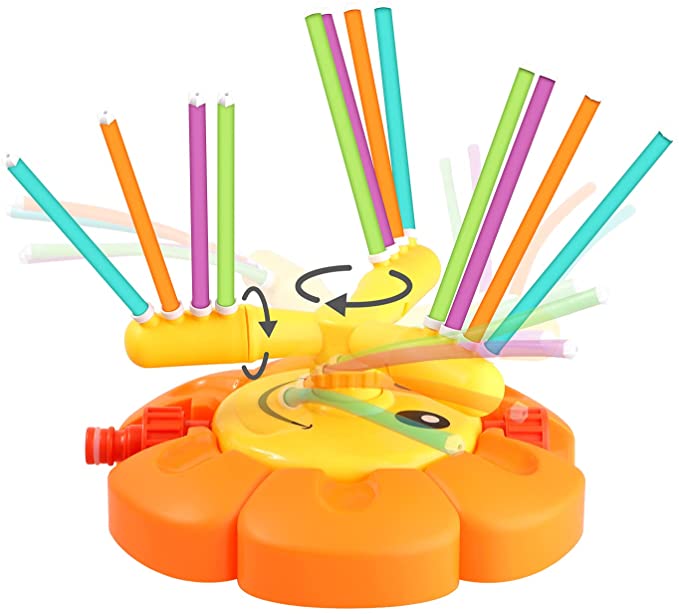 LUPPLE Kids Sprinkler for Yard, Summer Toddler Water Sprinkler Outside Toys for Outdoor Play, Gift for Age 3 4+ Boy Girl Backyard Water Fun Activities, Upgraded Adjustable Angle Spout w/ Wiggle Tubes — $26.99
Running through spritzing water to stave off the heat has been a popular summertime activity since well before my childhood, presumably dating back to the invention of the hose. But this bestselling sprinkler is different than any of the ones we had when I was growing up. The sprinklers I'm used to are designed pretty much exactly the same as those meant for watering your lawn: They follow a consistent tracking pattering, spraying in consistent bursts as the water mimics the path of the sun, 180 degrees in one direction, then back again. This sprinkler, however, reflects the anarchy of the times in which we live. And it does it with something called wiggle tubes.
I must admit, wiggle tubes is not a term I had heard before. Like the inflatable tube men outside car dealerships, wiggle tubes have no master but randomness. They do not spray water for kids to run through in a predetermined direction; rather, they are spun around by a sunflower-shaped base, flopping along the way and dousing any and all things in their path.
This is the perfect backyard sprinkler for the year 2021. Our collective sense of order has largely been forgotten, and attempts to impose one from on high have resulted in various degrees of failure. It makes sense that this should be reflected in children's toys. Why should they be made to run through a sprinkler that follows an internal logic, when such a logic is increasingly ostracized to the margins of society?
Chaos reigns supreme. In all likelihood, your children will enjoy that fact by running through this sprinkler much more than you do as you go about your daily life.