Three Steps To Remove Makeup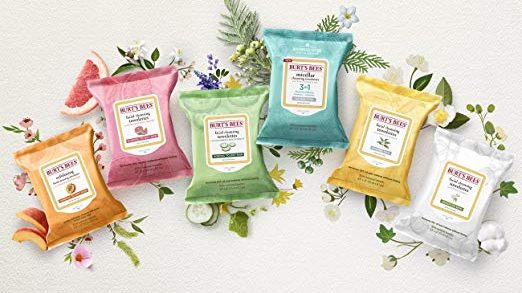 Removing makeup is as important as putting on makeup. If you don't remove your makeup properly, it can cause extensive damage as your skin ceases to breathe. Leaving makeup on also prevents your skin from renewing. Since the majority of makeup is made of oily substances, you will notice more acne and blackhead breakouts the morning after if you let the makeup stays on your face overnight. You should remove your makeup completely to prevent the appearance of fatigue signs.
Burt's Bees Sensitive Facial Cleansing Towelettes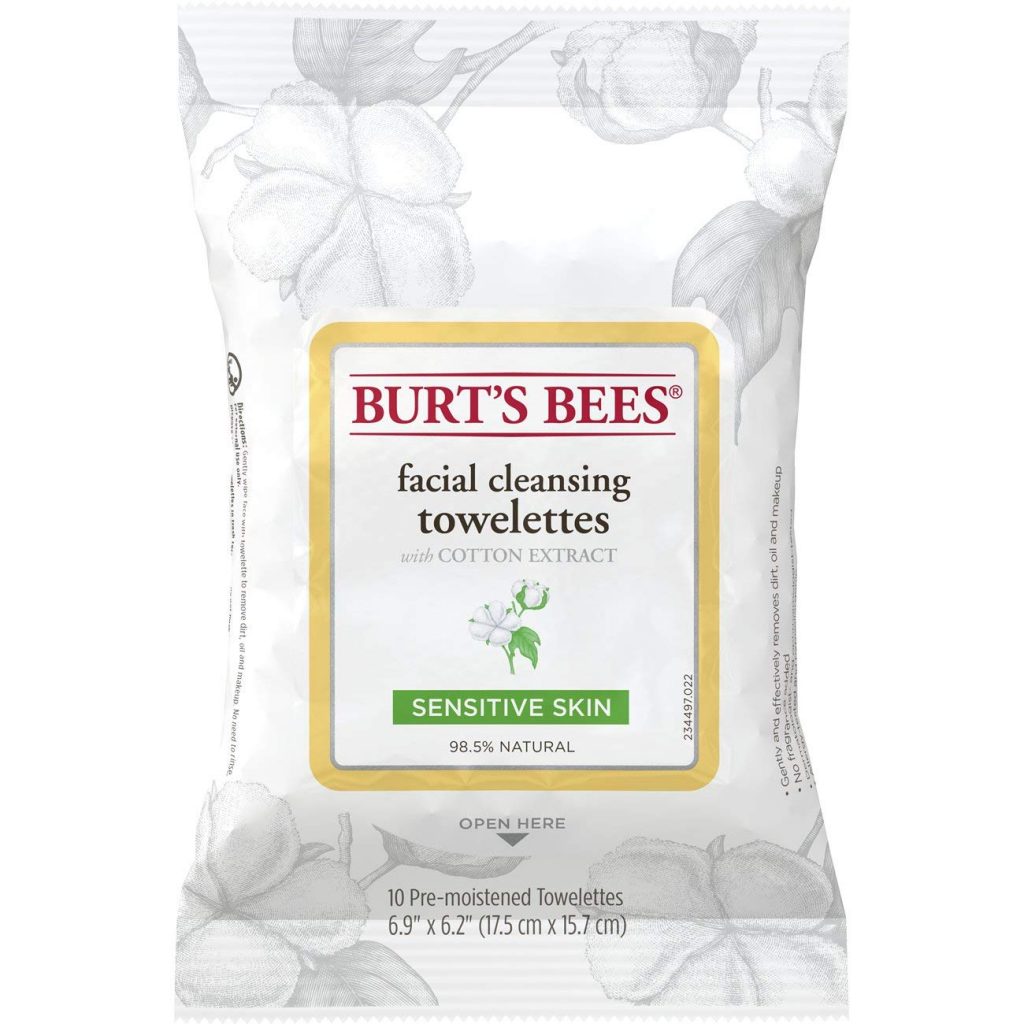 I believe everyone has seen Burt's Bees in grocery stores and drugstores. Some of you might have used some of its products such as its non-irritating cleanser or moisturizer. What I'm going to introduce to you today is its facial cleansing towelettes. There are six types of face wipes for different skin types. The one used by most people is the Burt's Bees Sensitive Facial Cleansing Towelettes; it is formulated with cotton, rice extracts and aloe, which make your skin feels soft and clean. These makeup remover wipes can help you get rid of pore-clogging dirt, oil and makeup, and they have been tested by dermatologists and ophthalmologists alike. Moreover, they are natural, fragrance-free and hypoallergenic. You can use these makeup remover cleansing towelettes at home or bring them with you when traveling. They are ideal to use in the airplane because they are rinse-free. Cleansing oil leaks easily in transition especially if your luggage is squeezed by the baggage handlers. Every pack includes 30 face wipes. I get a new pack every month, which suits me just fine.
Aveeno Ultra-Calming Foaming Cleanser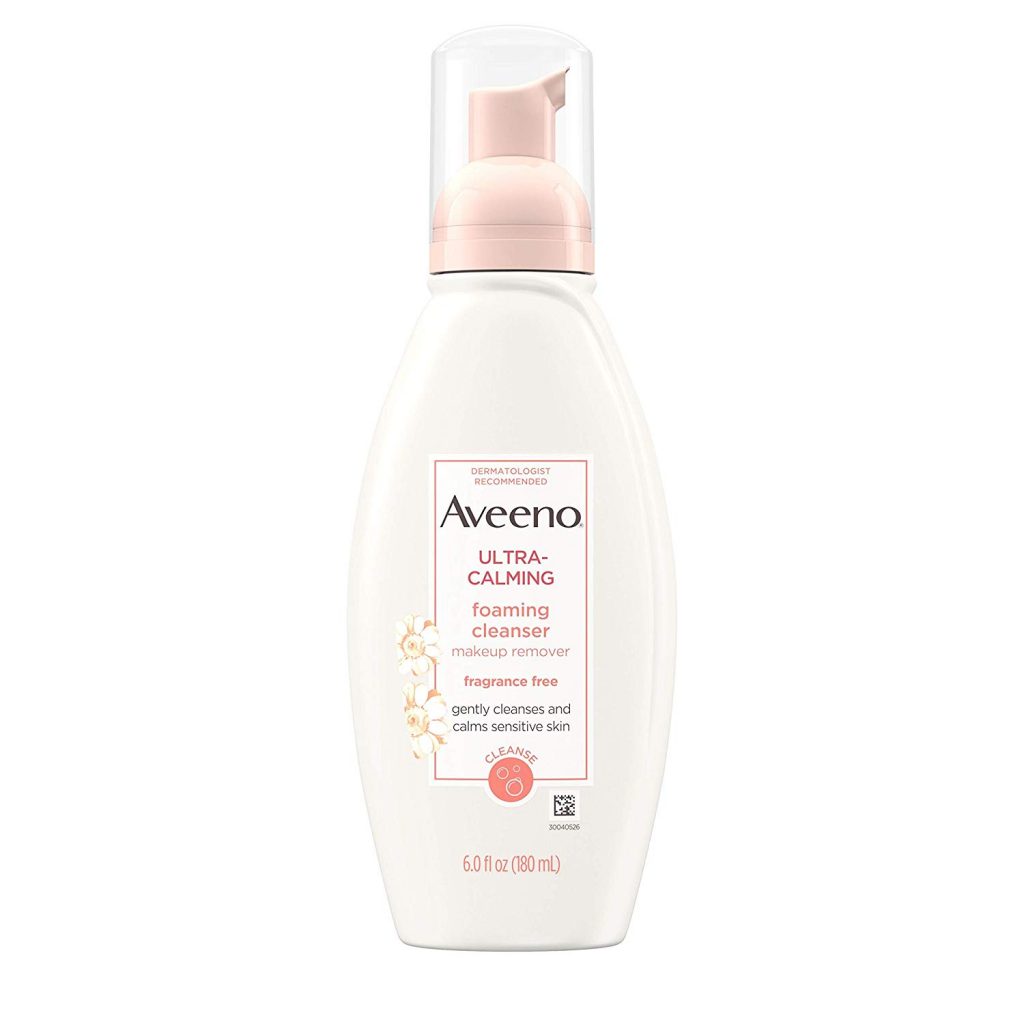 Wearing heavier makeup necessitates more removal time. You need a foaming cleanser for a more invigorating cleanse. My favorite one at the moment is Aveeno Ultra-Calming Foaming Cleanser to really clean out my pores. Most of the foam cleansers aren't recommended for people with dry skin or sensitive skin. However, Aveeno Ultra-Calming Foaming Cleanser is ideal for nearly all types of skin such as dry or sensitive skin, oily skin and acne-prone or teenage skin. It never dries your skin. This foam cleanser creates a foamy lather and helps you to remove oil and layers of makeup. Most people apply sunscreen underneath foundation. Aveeno's foam cleanser can be used to wash off sunscreen as well. You will not have to use another special cleanser to remove water-resistant sunscreen. It is formulated with Calming Feverfew extract that helps improve the appearance of redness and calm irritated, sensitive skin. I use this cleanser twice a day because it is fragrance-free, soap-free, hypoallergenic and non-comedogenic. With Aveeno Ultra-Calming Foaming Cleanser, you can do a typical cleanse.
Borghese Fango Delicato Active Mud Mask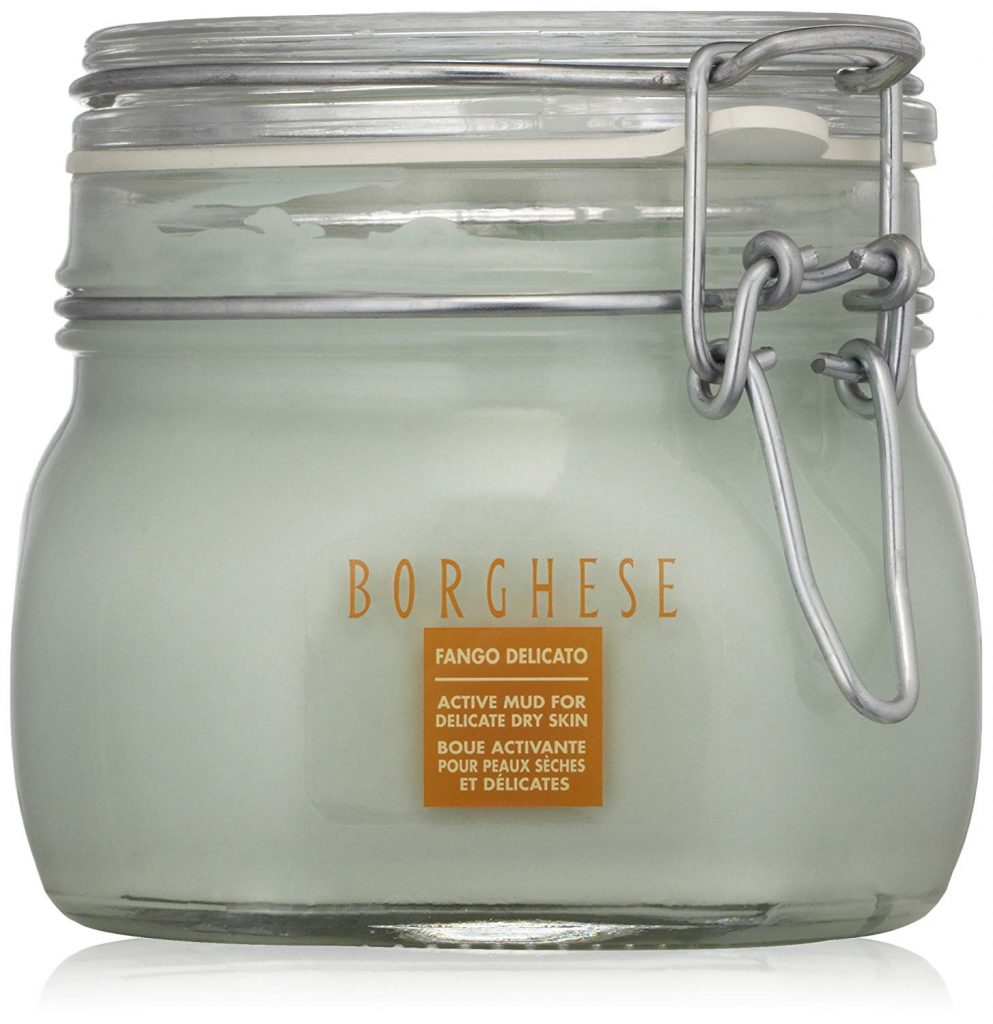 Burt's Bees Sensitive Facial Cleansing Towelettes and Aveeno Ultra-Calming Foaming Cleanser can remove oil, dirt and other impurities. However, you need the Borghese Fango Delicato Active Mud Mask to draw out the toxins that lie deep beneath the outer epidermal level. It is infused with avocado and sweet almond oils. I have been using this mud mask for years. It really helps with getting rid of blackheads and cleaning my pores. Before using the Borghese Fango Delicato Active Mud Mask, I've tried a lot of blackhead remover masks to eliminates blackheads. Most of them did work for a day but never lasted a long period of time. This mud face mask can do wonders for your skin. It hydrates and firms your skin and reduces the appearance of fine lines and wrinkles. As you may have known, oil, dirt and dead skin cells can clog up your pores. Once your pores are clogged up, blemishes, pimples and acne appear. Borghese's Mud Mask can refresh your skin by detoxifying and exfoliating your dull skin. The package comes with a sponge, which can be used to rinse off the mud mask after you leave it on for 5 to 10 minutes.
Crocs Are Officially Back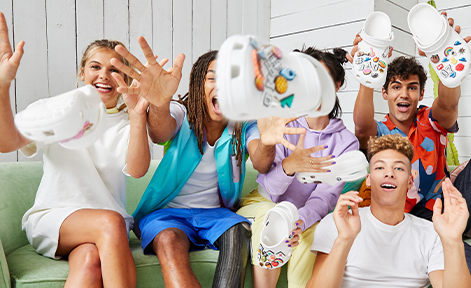 Crocs have made a slow but steady resurgence in recent years. Ever since appearing on a Vogue list of "people, trends, and items that will rule fashion in 2017," consumers have been more and more shameless about rocking the ugly yet comfortable footwear. The brand itself is due some credit; smart partnerships with youthful celebs like Justin Bieber and Post Malone helped it weather the storm when erstwhile King of Crocs Mario Batali got his #MeToo comeuppance in 2018.
But for Crocs the best thing for business has been the COVID-19 pandemic. Even the most bullish forecasters could not have predicted how rapidly traditional norms of style would be thrown out the window. Now, with little reason to leave ones house and interact with other people, comfort reigns supreme. And Crocs are a primarily beneficiary, with 2020 sales numbers expecting to come in at $1.38 billion, representing a 12% growth.
The demand for Crocs shows no signs of abatement. Both Bieber's and Malone's collaborations are constantly sold out, and Post Malone recently earned the brand some good PR by donating 10,000 pairs to frontline workers. If you want one a pair of Crocs "collabs," bookmark this page and periodically check in to see if and when the most popular items have been restocked. But if you want a pair of the comfortable plastic clogs sooner rather than later, Amazon is replete with the company's more traditional offerings, including my long-time favorite, a camo version: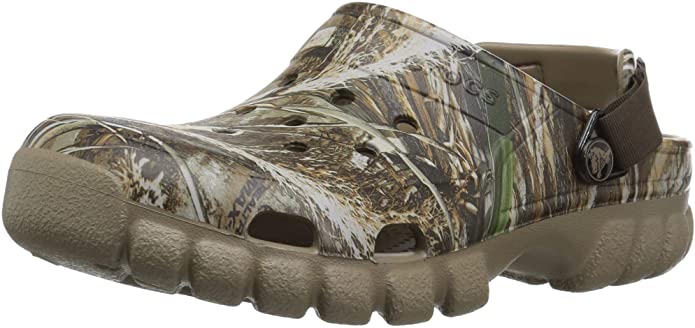 Crocs Men's and Women's Offroad Sport Realtree Max-5 2 Clog — $44.99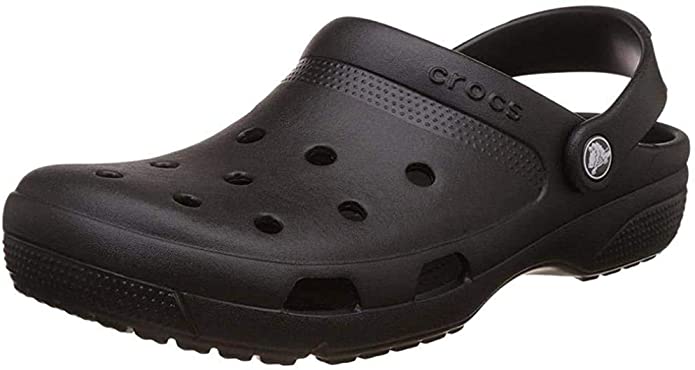 Crocs Unisex Coast Clog — $44.99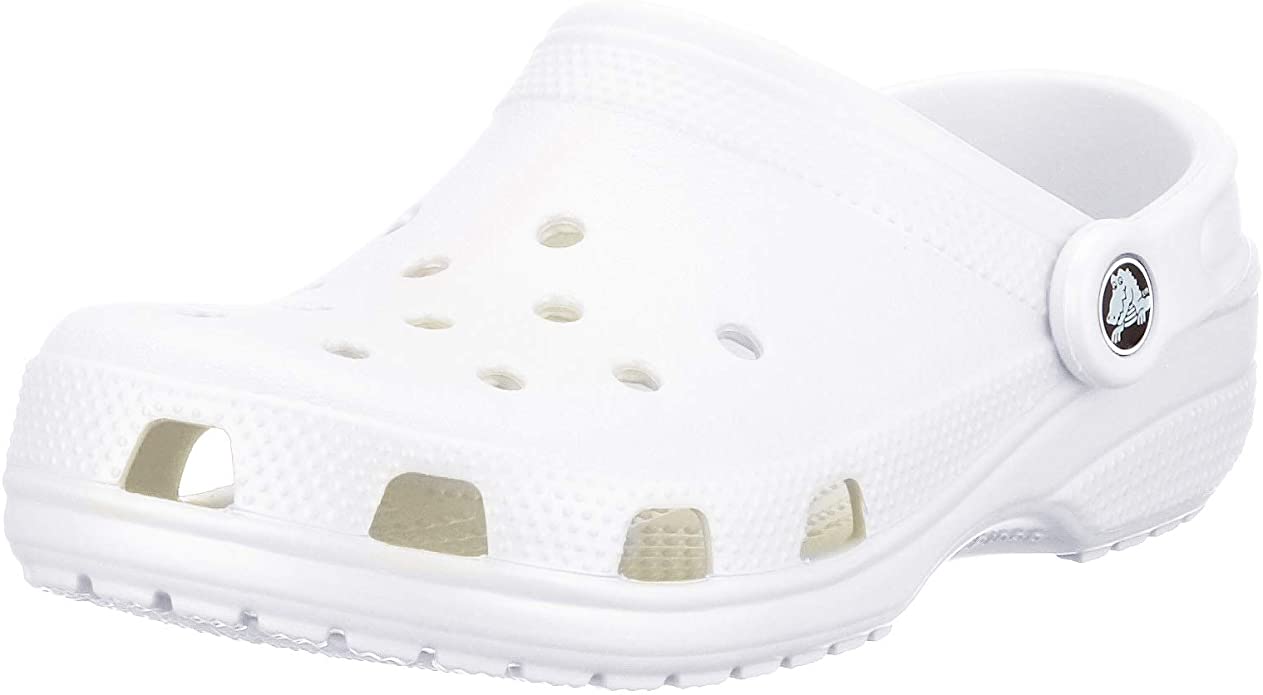 Crocs Men's and Women's Classic Clog | Water Shoes | Comfortable Slip On Shoes — $44.99
If the twin selling points of Crocs are that they are comfortable and that these days nobody will see them, why wait to get ones endorsed by a celebrity? A more classic pair will not only suffice, but it will be cheaper as well. That seems right in line with the Crocs ethos.
Do Touchscreen Gloves Work?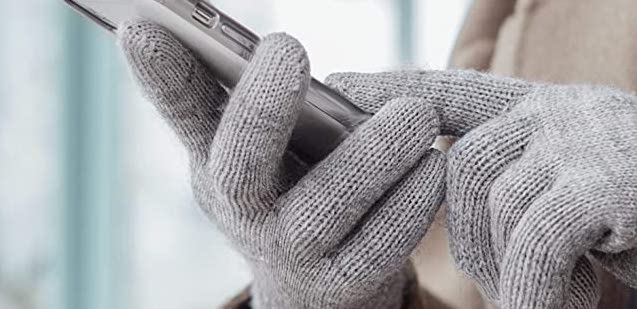 In the year of our Lord 2021, there is only one excuse not to own touchscreen gloves: skepticism about if they really work. Gloves that allow you to use your phone while keeping your hands warm have been around for a decade now, so they should have the technology down pat, right?
There is no doubt that the gloves on the market, such as Moshi Digits Winter Touchscreen Gloves, do let you use the touchscreen of your iPhone with ease. You no longer have to worry about getting your device to respond to your fingertips.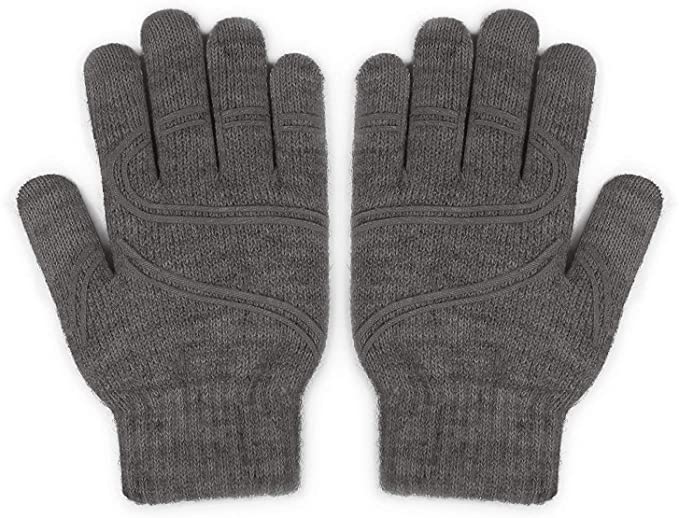 Moshi Digits Winter Touchscreen Gloves, Warm Knit Gloves with 3 Size: S/M/L — $29.95
The only thing these companies haven't quite figured out yet is how to keep your hands warm. Don't get me wrong, the Moshi touchscreen gloves work just as they are supposed to, and they are certainly better than nothing. But they would never been confused with the warmest gloves on the market.
Part of this is a physics problem. How do you keep cold air out while allowing for the warmth of the human touch to escape? I don't have the answer, and it is clear that no one else does yet either. I can only assume they are working on it.
As long as you aren't constantly exposed to the harrowing elements, I recommend the Moshi gloves. If you do have spend a great deal of time in polar temperatures, then look at it this way: Your phone probably shouldn't be out in that climate anyway.
Wait, Are Pajamas A COVID Thing?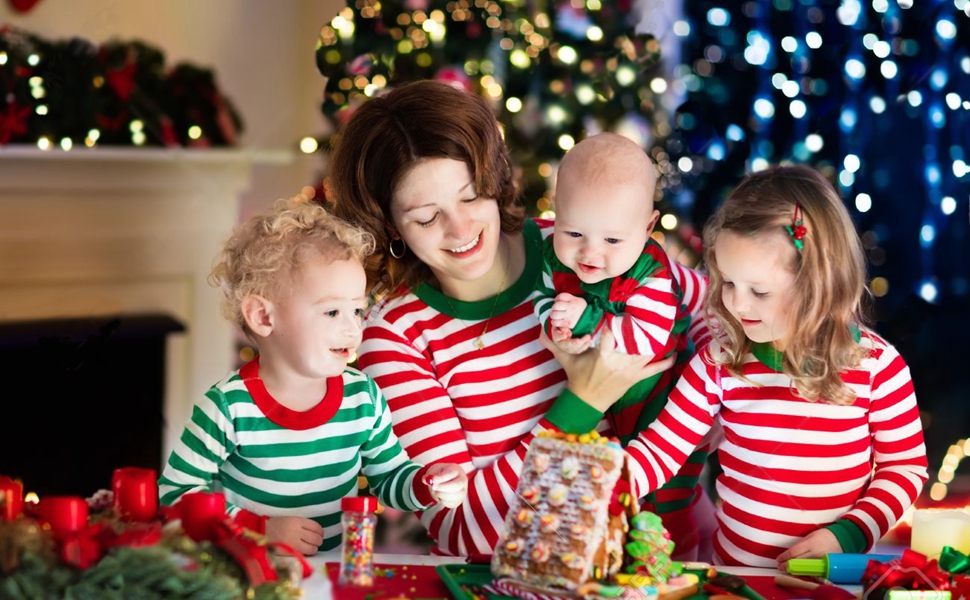 This week, the Washington Post ran a story in the Style section titled "This Is Our Pajama Moment." The article goes on to survey the current state of the pajama industry, interviewing market players and concluding that pajamas are endemic to a "housebound nation."
This may be true. I'm not one to argue the numbers, and there is certainly logic to the fact that as people were forced to spend more time in their home, they would be willing to spend more money on what they wear at home. But still, did people really not wear pajamas before COVID? After reading the article, I think it would be more accurate to say this is our luxury pajama moment. The story highlights Eberjey, a pajama company whose $120 Gisele set is one of Oprah's favorites:

Gisele Long PJ Set — $54 to $139
As the Washington Post also notes, 'tis the season for matching pajama sets, as many PJ purchases will "be fueled by the performative need to share family pix in matching Christmas sleepwear on social media, the 21st-century visual take on the braggy holiday letter, throwing in the pooch for good measure." This one I take issue with. Luxury pajamas may be a COVID thing, but holiday pajamas are certainly not a social media thing. For decades, families have been unwrapping matching PJs on Christmas Eve, taking a family photo and then going to sleep so St. Nicholas can arrive. There is nothing exhibitionist or "braggy" about it. Does everything that gets documented via photograph have to be caused by a desire to show off on Instagram? This seems like a rewriting of history, giving our tech overlords way more power than they deserve.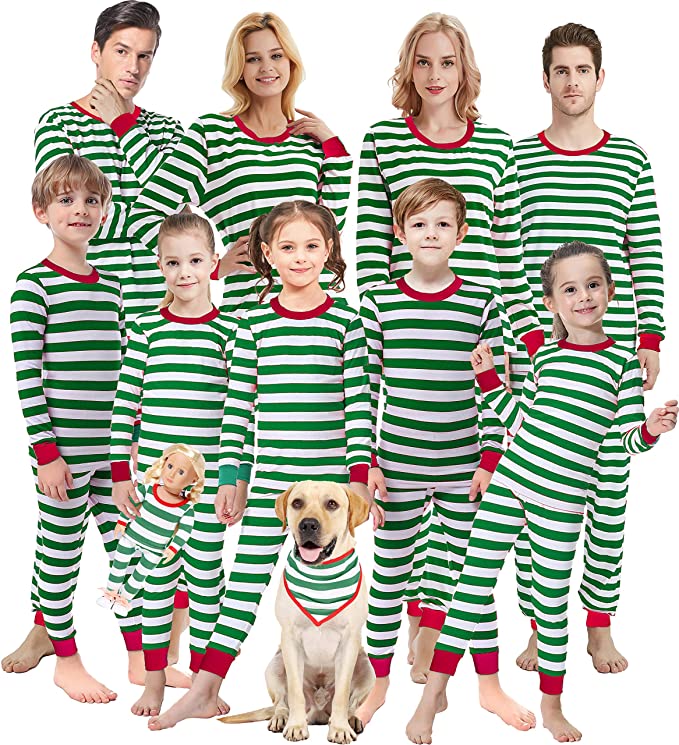 Matching Family Pajamas Christmas Boys and Girls Red Striped Jammies — $8.99 to $37.99
A lot of things have changed because of COVID, and pajama habits may be one of those things. But unlike banana bread or "Tiger King," many families would be purchasing matching PJs around this time of year anyway. Could it be possible that this is actually just a "family moment"? If so, I can see why that'd be something the Post would be loath to admit.