Is The TikTok Tihoo Actually Useful?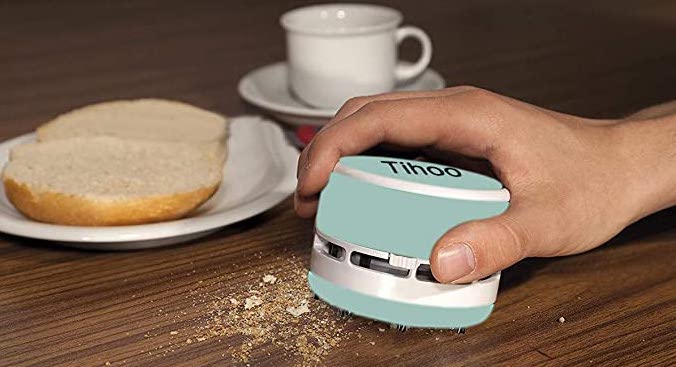 Alright TikTokers, you convinced me. After spending countless hours on the ubiquitous app and scrolling through hundreds of Amazon product recommendations, I finally caved and purchased the Tihoo, an electrical desktop dust collector. Now, out of all the products I've seen, I can't tell you exactly why this product is the one I chose to buy. But I can tell you that I don't regret it. Although the Tihoo wasn't a necessity for me, would it have been as exciting if it was?
Tihoo Keyboard Vacuum Cleaner Computer Desktop Table Dust Sweeper for Countertop Crumbs Collector for Eraser Shaving Table Cleaner for Kitchen Gadgets Mint Office Supplies — $15.99
I'm not going to lie, I wasn't sure the Tihoo would even work that well, but it was so cheap that I just said screw it. Well, slap my ass and call me Sally because this product literally blew my mind. It's so simple, yet so useful. It's essentially a battery powered, handheld vacuum cleaner that picks up all those little crumbs and dust particles that can be a nuisance to clean up yourself. It works on any hard surface and can even be used on carpeting if you're really feeling lazy. I've tried it out on pretty much every surface, including my carpet, and it has yet to disappoint.
For just $15.99 on Amazon, The Tihoo offers an amazing and convenient cleaning solution and will save you from having to manually clean up those annoying little messes again. Shoutout TikTok.
What You Need To Take Up Metal Detecting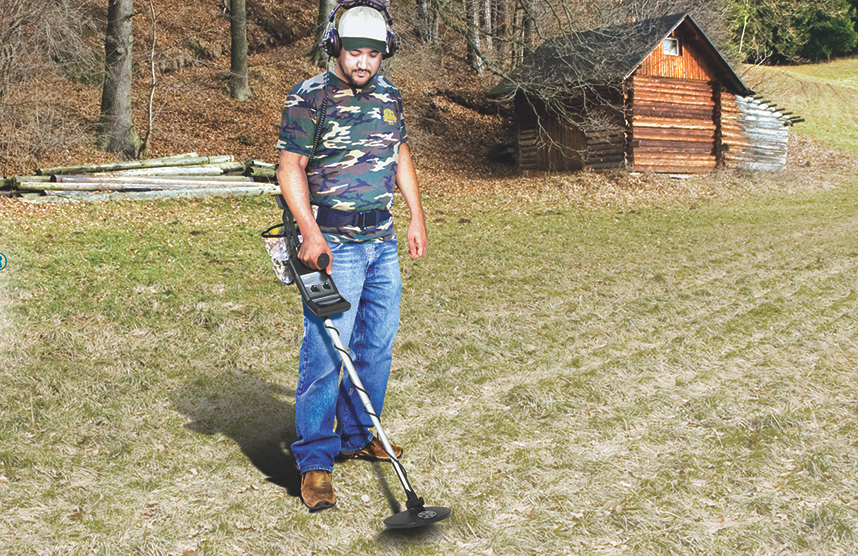 Apparently, metal detecting is popular again. I know this because it is the subject of a recent profile in America's "paper of record" and also because I saw people doing it with my own eyes when I was at the beach a few weeks back.
The New York Times article makes the case that the rise of the "new detectorists" can be attributed to a desire for activities that can be done while social distancing. There is merit to this argument, especially when looking at the sales of metal detectors in 2020 compared to previous years. But I think it goes beyond that. I see metal detecting as an inherently atavistic act. People don't spend their time hovering over the ground with a fancy magnet simply to kill time; they do it to find clues of a lost world that has long been forgotten.
If this sounds appealing to you, then by all means take up metal detecting yourself. Although some of the equipment can get expensive, it does not need to be. Here is a list of some of the best products available, as well as some cheaper alternatives.
To start, the article lists the most popular metal detector as the French-made XP Deus: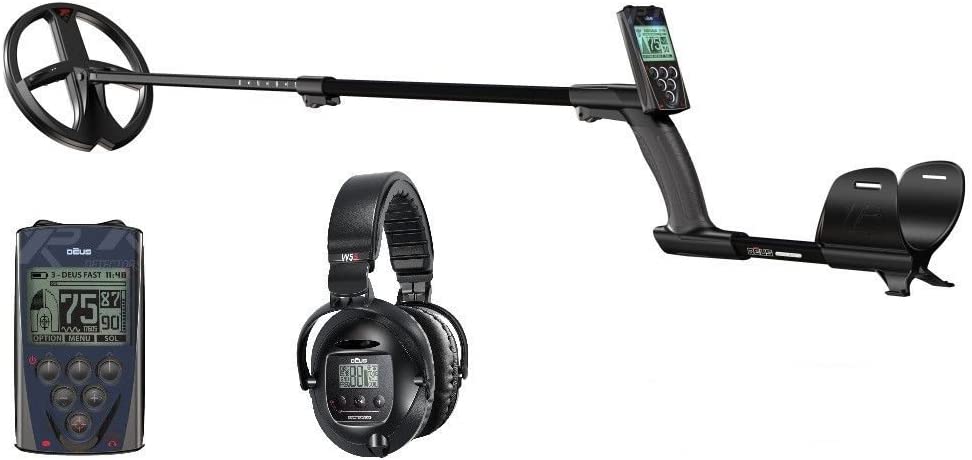 XP DEUS Metal Detector + Wireless WS5 Full Headphones + Controller and 11 inch Coil — $1,299
As you can see, including the headphones and the controller, that will set you back $1,300. If you are a beginner, you do not need to spend nearly that much. Amazon is rife with metal detecting equipment in all price ranges. Instead of the XP Deus, you might start with this $100 model from Bounty Hunter: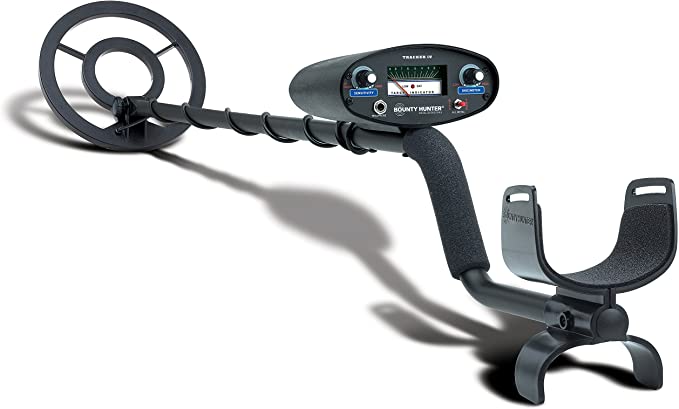 Bounty Hunter TK4 Tracker IV Metal Detector — $102.39
The Bounty Hunter model, despite not having the added accessories, has earned 8,600 (mostly 5-star) reviews.
The article also mentions a specific model for kids, the Nokta Mini Hoard: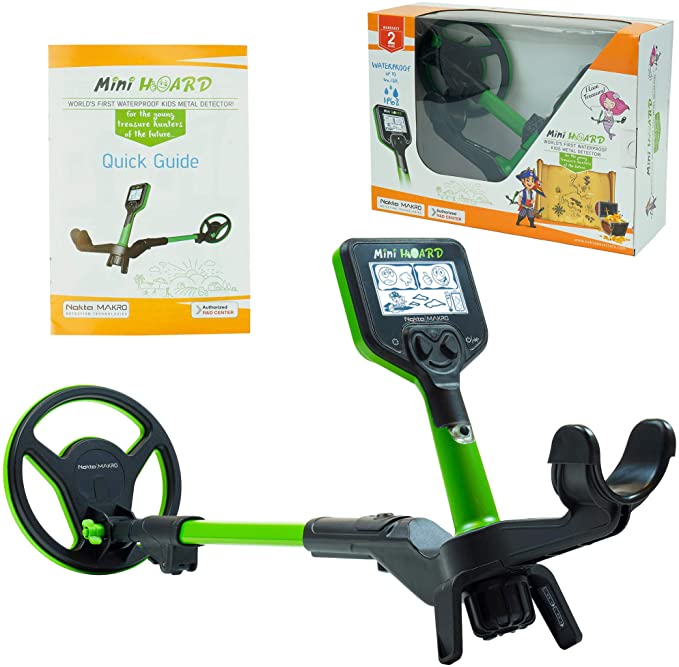 Nokta Makro Mini Hoard Kids Waterproof Metal Detector — $119.95
Although $120 would be a deal on an adult metal detector, there are other specialty kids versions for much less. For example, this set by RICOMAX is available for half the price: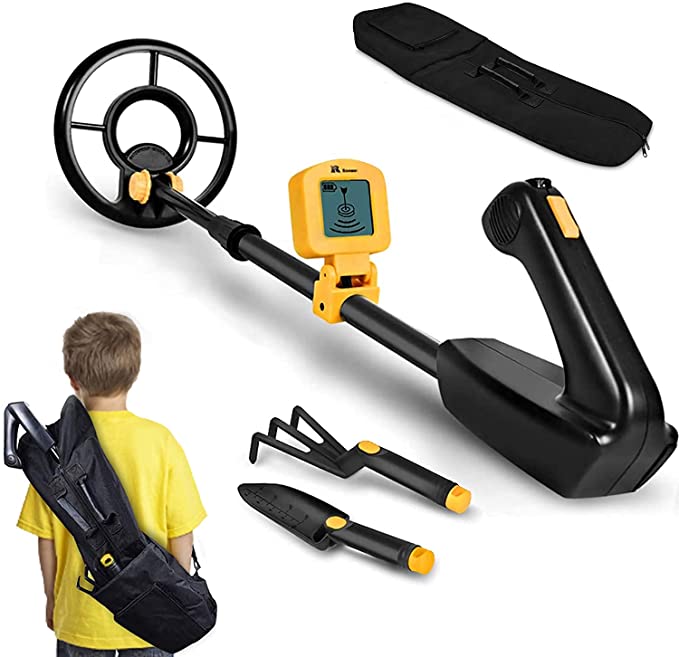 RM RICOMAX Metal Detector for Kids – 7.4 Inch Waterproof Kid Metal Detectors Gold Detector Lightweight Search Coil (24″-35″) Adjustable Metal Detector for Junior & Youth with High Accuracy – Yellow — $59.99
Notice that set comes complete with a miniature shovel and hand claw, as well as a carrying case.
Speaking of these tools, in addition to the device itself, a true detectorist needs a hori-hori (a speciality serrated knife/shovel) as well as a "finds pouch." Luckily, both of these items can be found on Amazon at relatively low prices: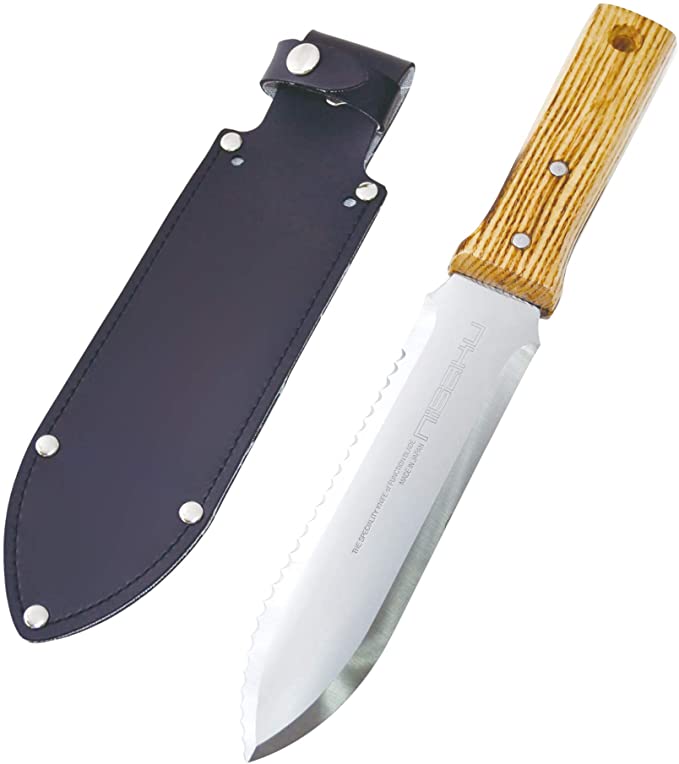 Nisaku NJP650 Hori-Hori Weeding & Digging Knife, Authentic Tomita (Est. 1960) Japanese Stainless Steel, 7.25″ Blade, Wood Handle — $20.23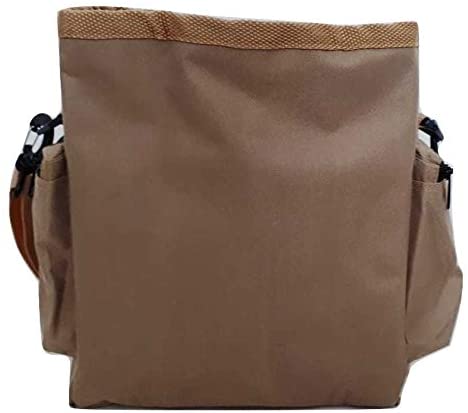 Large Metal Detector Shoulder Bag/Pouch, Treasure Hunting Finds Pouch/Bag. for Garrett, Minelab, Bounty Hunter etc. Features Bottom with Leak Holes, Adjustable Belt Clips & 2 Pinpointer Holders. — $14.99
This brings us to our last piece of essential metal detecting equipment, a "pinpointer." For the uninitiated, a pinpointer is a handheld precision detector used after you've already located the general area of your buried treasure. The top-of-the-line pinpointer is made by a brand called Garrett: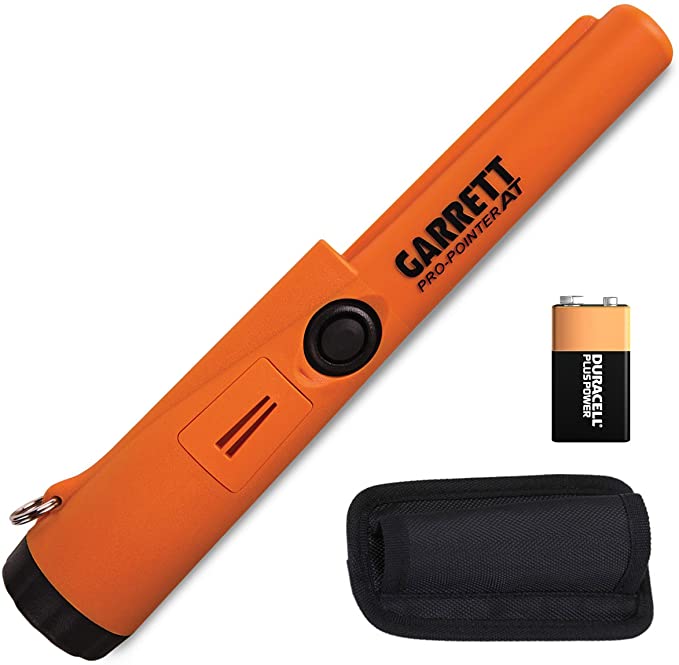 Garrett 1140900 Pro-Pointer AT Waterproof Pinpointing Metal Detector, Orange — $127.35
But as with the other products, you can get a perfectly suitable one for a significantly lower price, such as the one below: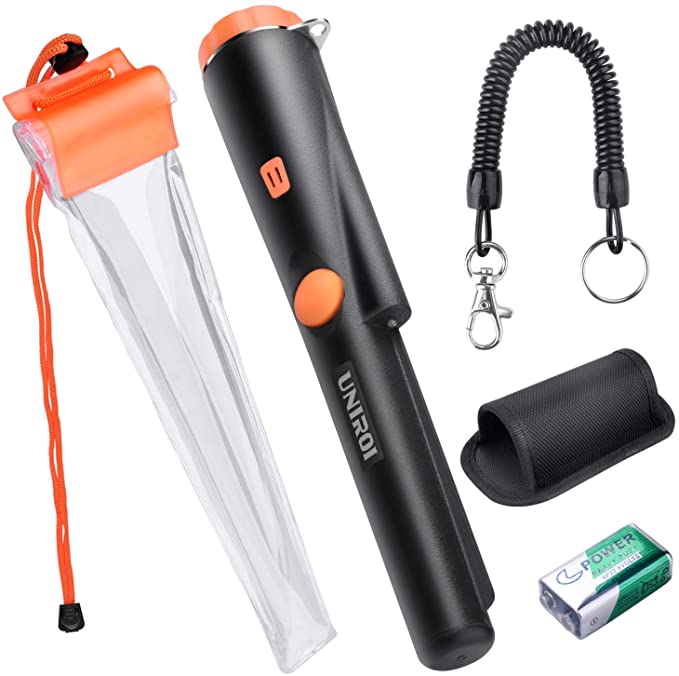 UNIROI Pinpointing Metal Detector, Waterproof Metal Detector Pinpointer IP65 , LED Indicators & Vibration,for Adults and Kids , 9V Battery — $22.99
However much you want to spend on metal detecting equipment, remember that it is an investment. After all, you never know what you might find.
When Is Amazon Prime Day 2021?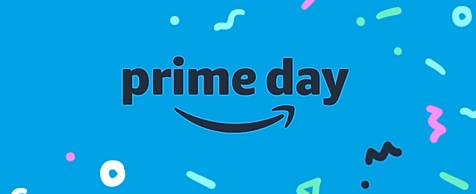 More people in the U.S. have Amazon Prime than go to church on Sundays, making Amazon Prime Day akin to Christmas or Easter for our consumerist nation.
Like Easter, Amazon Prime Day is a moveable feast. And just like in the early days of Christianity, the Amazon faithful have to wait for a promulgation from its church leadership each year to know when their high holy day will be celebrated.
This year, Amazon Prime Day will fall on June 21 and 22, continuing the company's recent trend of doubling the original meaning of the word "day." After holding Prime Day in October last year, this marks a return to tradition of having this bonanza of deals during the summertime, far away from the winter shopping holidays.
We Know Products will be sure to cover Prime Day in more detail in the coming weeks. In the meantime, you can check in daily at Amazon.com for "early Prime Day deals":

Wearable Thermometers Are Here To Stay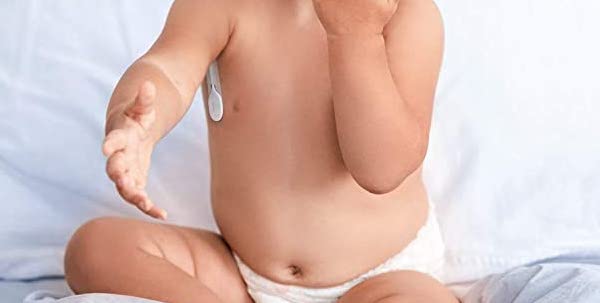 With the days of COVID-19 hopefully numbered, we can start to look back at some of the products and devices people relied during these scary times. It will be interesting to see which items will fade away and which will remain popular even when this is all said and done.
I think the so-called "wearable thermometer" is here to stay. These tiny home medical devices attach to just under your armpit and continuously monitor your body temperature. Unlike a regular thermometer, which provides a snapshot of your temperature and therefore of your health, a wearable thermometer gets a constant reading. That means it can alert you as soon as a fever begins to develop, sensing an immediate deviation from the norm.
In recent years, parents have discovered the use of wearable thermometers, since these simple machines can tell you if your baby sick even when the baby can't. However, the thermometers are no longer just for babies. People have realized that at a time when health is paramount—both for protecting yourselves and those around you—it is important to know immediately when someone may have contracted a deadly virus. By the time you start to exhibit more obvious symptoms, who knows how many people you may have infected?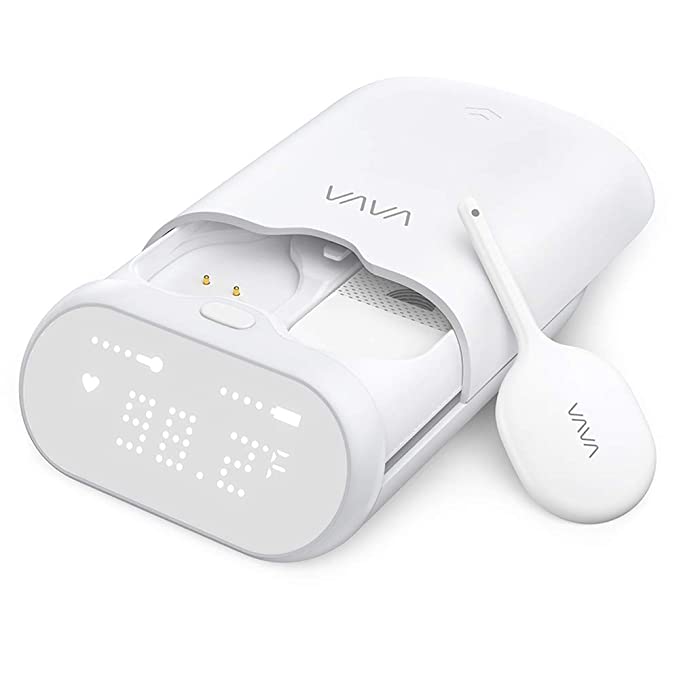 VAVA Smart Baby Thermometer for Kids & Adults, Real-Time Continuous Monitoring Thermometer with Fever Alarm, 24H Battery Life, Wearable Armpit Fever Monitor — $79.99
Right now, one of the best wearable thermometers out there is the VAVA Smart Baby Thermometer. Although marketed as a baby thermometer, it also clearly states it is meant for "kids and adults." I expect that in coming years you will see this line more frequently with a devices which was previously intended for newborns. Especially as the designs get better and they become more comfortable to have on throughout the day, the wearable thermometer will become an essential part of public health.
Although the VAVA thermometer does not have an accompanying mobile app like some of its competitors, it is extremely simple to use: the alarm will beep immediately as soon as temperatures start to rise. It has a battery life of 24 hours, so you can monitor temperature for long stretches of time without worrying about charging. And by using medical-grade non-woven adhesives for its silicone patch, you can expect a much more accurate reading than anything you might wear on your wrist or other body part.