'Inside The Empire' Review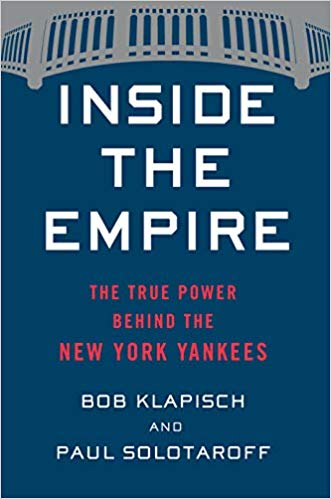 "Inside the Empire: The True Power Behind the New York Yankees" is a book I have not seen adequately reviewed. So, as a long-time Yankees fan, I am going to take advantage of this platform and review it.
There are two takeaways from "Inside the Empire." Actually, before I even get to the takeaways…there are two contradictory theses of "Inside the Empire." Perhaps this is because of the book's unfortunate dual authorship. Bob Klapisch is a respected (if notoriously anodyne) long-time New York sports columnist, with bylines at both the Post and the Daily News. Paul Solotaroff is, uh, some guy? He writes, too? Google "Paul Solotaroff Yankees" and all you will get is results for this book, so it seems that he is nothing more than a ghostwriter for Bob Klapisch, ostensibly a professional writer himself.
Thesis number one: the Yankees are good, and Brian Cashman is to credit. Thesis number two: the Yankees are good, but not as good as the Red Sox, and Brian Cashman is to blame.
Before I go any further, let me be clear, "Inside the Empire" is good. (That's takeaway number one). It is a good read, and any Yankees fan will be happy he will have read it. Although certainly too breezy for the diehards, "Inside the Empire" gives a compelling account of the 2018 Yankees season and the personnel responsible. And unlike its direct predecessor (last spring's "The Baby Bombers" by Bryan Hoch), it does not waste space on the notoriously unreliable and unproductive Greg Bird.
But the albatross of "Inside the Empire" (and this is the second takeaway) is the same albatross that has weighed down the Yankees for two decades now. His name is Brian Cashman. "Inside the Empire" does not know how to treat him, which puts the book in the same camp as most Yankee fans. Cashman, as the man who pulled off legendary heists for Aaron Hicks, Didi Gregorius and Luke Voit, to name a few, deserves respect and commendation. But what about Cashman as the man who has allowed the hated Red Sox to match him measure for measure in rings since he took the job?
Brian Cashman has been general manager since 1998. Under his tenure, the Yankees have won four titles: Three with the squad he inherited in the late '90s and one in 2009. Over the past two-plus decades, the Yankees have won more (and in most cases, significantly more) games than any other team. They managed to build their current superstar homegrown roster without ever suffering a losing season. Day in and day out, these Yankees have been able to sell tickets, able to convincingly tell the media (often through books like "Inside the Empire") that they are doing everything they possibly can to win the World Series.
Unfortunately for Yankees fans, trying to win just isn't enough for a franchise that is in danger of experiencing the first decade without so much as a World Series berth since the 1910s. Should Yankee fans be happy that Cashman did not trade away Aaron Judge and Gary Sanchez? Yes, of course. Should Yankee fans be able to appreciate that Luis Severino and Gleyber Torres not only thrive on the diamond but also off due to the Yankees crucial English-language instruction? No one would suggest otherwise.
The second thesis proffered by Klapisch and Solotoroff will be the more convincing one to fans left with a sour taste of last October, when the New York Yankees were embarrassed by the Boston Red Sox in a manner that should have gotten everyone associated with the team canned — and would have in a prior Steinbrenner era. But either out of gratitude to a front office that gave them enough access to write the book in the first place, or out of the sense of guilt that all Yankee rooters feel for being disappointed in a run that is by most measures a success, the authors pursue this line of thinking halfheartedly. The book ends in a limp note that the reason the Yankees lost to Boston in the ALDS comes down to strikeouts — which, well, is not really the case at all.
The current Yankees are fun and liable to wow their spectators for a solid hundred-ish wins and record-setting home run count throughout the season. But they aren't the Red Sox. Aaron Boone, for all his strengths (hitting a home run off Tim Wakefield, not being hated by Gary Sanchez) does not have the same fire in his belly as Alex Cora. Players may like him more than his predecessors named Joe, but amity does not equal respect and "Era of Good Feelings" doesn't have the same ring to it as "Canyon of Heroes." "Inside the Empire" knows this and hints at it, but the authors tread lightly. After all, Cashman is in charge and will be 'til he dies. And Cash has made clear that no matter how many times Boone hellishly mismanages his supposedly lockdown pitching staff in October (which gave up so many runs in Game 3 of the ALDS that backup catcher Austin Romine pitched), Bob Boone's son will have the job for at least a decade. Klapisch at least presumes to continue to cover Yankees baseball, and he cannot afford upsetting such entrenched powers that be.
Like many fans, the authors of "Inside the Empire" can't decide whether to bury Cashman or to praise him, and since they really don't have a say in the matter, what emerges is a sort of mix: part panegyric and part pablum. Whether we like it or not, these are Brian Cashman's Yankees, and they will be for a long, long time. From the "Inside the Empire" viewpoint, we better get used to it and accentuate the positives. It does make you wonder how many more barren years Yankee fans will have to endure before a change is made at the top. As long as these Yankees are good enough — good enough to sell Aaron Judge jerseys, good enough to make the Wild Card game year in and year out, good enough to inspire nobodies like me to write an entire column about them — the job is Cashman's. It doesn't hurt (as Klapisch and Solotoroff detail in what emerges as their most compelling chapter) that despite a lack of recent postseason success, this general manager's version of the Yankees is making Hal Steinbrenner very, very rich. (Well, richer. He was born very, very rich.)
Ultimately, "Inside the Empire" serves mostly as a useful mouthpiece to Cashman and Hal, which, as a quick read during the springtime of more-or-less meaningless baseball, is perfectly fine. The authors are able to vent just enough frustration and skepticism with Cash's results to differentiate it from a ballclub-issued media guide. But at the end of the day, they, like the team's brass, want you to know that these Yankees really want to win, guys. In today's age of participation trophies (let alone tanking), shouldn't that be enough?

Book Review: 'The Final Girl Support Group'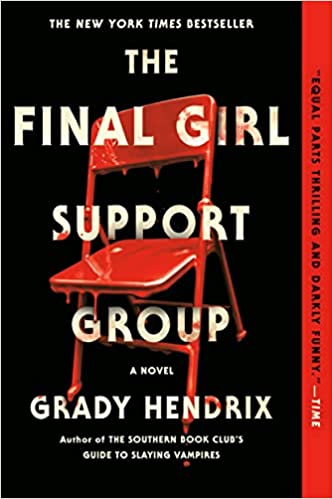 The Final Girl Support Group by Grady Hendrix, $12.18 Paperback 
Release Date: July 2021
Cozy up on your next snow day and read Gary Hendrix's The Final Girl Support Group.
Author of The Southern Book Club's Guide to Slaying Vampires (2020), Grady Hendrix succeeds again in tapping into our favorite horror films to deliver this mystery. Six young women make up the "Final Girl Support Group." Each survived horrific massacres that have been turned into successful film franchises. Movies such as Friday The 13th and Halloween actually happened in this version of America. Twenty years later the spotlight has moved on and society has found new monsters and victims. Still, these women sit in a circle of chairs in a church basement trying to figure out how to live their lives. Paranoid Lynnette Tarkington reluctantly participates in group therapy sessions with Dr. Carol Elliot along with fellow survivors Marilyn Torres, who has buried her emotions in wealth; Dani Shipman, who might have killed the wrong person; Julia Campbell, whose encounter left her in a wheelchair; and Heather DeLuca, who is succumbing to addiction. Some of them are in denial about what happened. Some still live in terror, always looking over their shoulders, imprisoned by their own fears.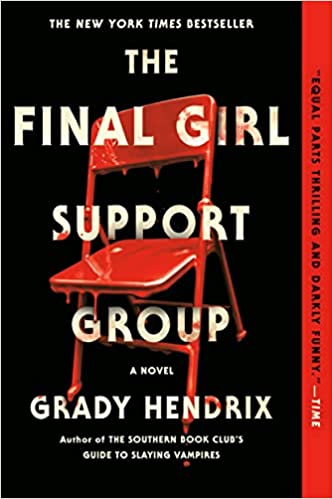 The Final Girl Support Group by Grady Hendrix
After one member of this vigilant sisterhood is murdered and a series of persistent attacks threaten the rest, Lynnette becomes increasingly suspicious that the attacks are originating way too close to their inner circle. "Does this ever end?" Lynnette asks. "Will there always be someone out there turning little boys into monsters? Will we always be final girls? Will there always be monsters killing us? How do we stop the snake from eating its own tail?" The book is creepy enough on its face, but Hendrix's use of narrative tools heightens the unease.
The Final Girl Support Group isn't necessarily scary, but the plot is action-packed and delivers its share of gore. The novel is an ultimately entertaining and inspiring take on horror movies, trauma, and self-determination. Available on Amazon!
Book Review: 'The Seven Husbands of Evelyn Hugo'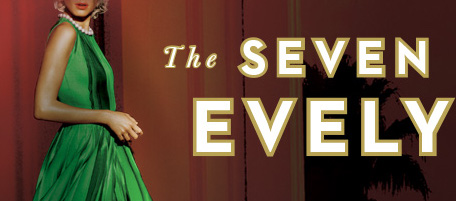 I first read The Seven Husbands of Evelyn Hugo this past month after my friend and I swapped our favorite summer books. I opened the book one Saturday morning and couldn't put it down. Despite the fact that it was published nearly five years ago, The Seven Husbands of Evelyn Hugo continues to captivate readers' interest on BookTok, Bookstagram, and Goodreads.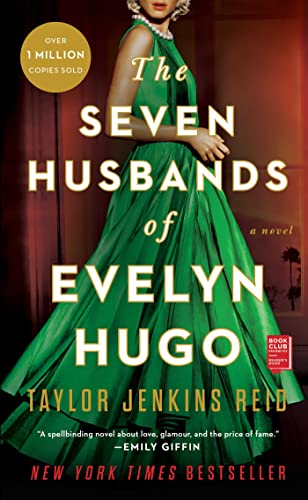 "The Seven Husbands of Evelyn Hugo" by Evelyn Hugo — $9.42 Paperback/$22.36 Hardcover
This story is about renowned Hollywood actress Evelyn Hugo who, after decades of blockbuster hits, is now 79 and ready to give an exclusive interview after years of dodging the press. But the only one granted access is a little-known journalist named Monique Grant. Though she can't understand why she's been chosen, Monique goes to Evelyn's home and finds out Evelyn doesn't just want to do an interview — she wants to lay out every piece of her truth for Monique to write and sell her biography.
Though Evelyn won't answer why she picked Monique to do the job, Monique agrees and Evelyn's story begins to unfold from her calculated beginnings in Hollywood to the millions she enjoys in the present, each section of her life titled by each of her seven husbands and her reasons for marrying (and divorcing) them. As you journey through Evelyn's life, it feels as if you're being granted exclusive access to something you shouldn't be seeing. It's hard to believe the characters and events in this book aren't real celebrities.
To me, a great book is one that makes you forget you're reading in the first place, and The Seven Husbands of Evelyn Hugo does exactly that. It's an instantly captivating book, thanks in part to the story, but mostly to Taylor Jenkins Reid's writing. Her stories flow smoothly, her characters are complex and realistically flawed, and I happily got lost in the pages until the very end. This is the perfect cozy fall read!
Book Review: 'Verity' By Colleen Hoover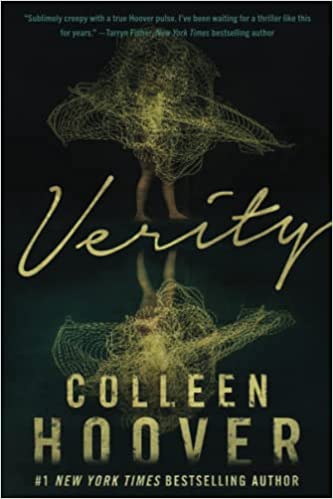 Available on Amazon for $11.26 paperback 
Colleen Hoover is all the rage this summer. The author's 2016 romance novel It Ends With Us gained fame due to the viral nature of #BookTok (the book lover's community on TikTok). I've always loved reading, especially during the summer months by the beach and pool. Surely because of this, my "For You Page" has been flooding with recommendations and reviews as to what to read next. I can without a doubt say that Verity is worth the hype.
Verity was first published in 2018 and has only just become available worldwide in paperback. I started reading Colleen Hoover last summer when I first discovered It Ends With Us on #BookTok and have read four of her other books since. Given that I finished this one in a day, I would say it is extremely readable!
Verity is different from Hoover's usual style and genre of romance. This novel is twisting, unsettling, creepy, and psychologically mind-bending. From the beginning, I could not put it down. The plot follows protagonist, Lowen Ashleigh, a struggling writer who accepts a job offer to complete the remaining books of an unfinished, successful series. Jeremy Crawford, the husband of bestselling author Verity Crawford, has hired Lowen due to his wife's serious injuries. Lowen arrives at the Crawford home, ready to sort through years of Verity's notes and outlines, hoping to find enough material to get her started. What Lowen doesn't expect to uncover is an unfinished autobiography Verity never intended for anyone to read. With shades of Gillian Flynn blending in with Hoover's classic take on romance, our protagonist finds herself uncovering a story so horrifying, and all the while, falling for a grieving man. There is a thrilling twist at the end, which I am happy to debate, but I'm not giving any spoilers until you read it for yourself! Overall, I highly recommend the purchase. Find it on Amazon.