'Inside The Empire' Review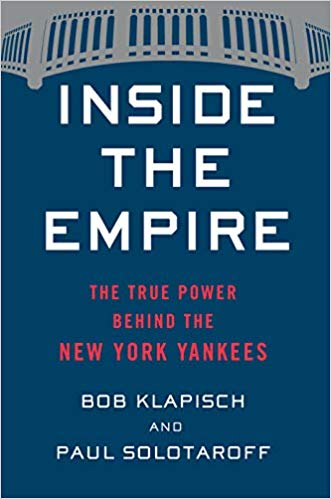 "Inside the Empire: The True Power Behind the New York Yankees" is a book I have not seen adequately reviewed. So, as a long-time Yankees fan, I am going to take advantage of this platform and review it.
There are two takeaways from "Inside the Empire." Actually, before I even get to the takeaways…there are two contradictory theses of "Inside the Empire." Perhaps this is because of the book's unfortunate dual authorship. Bob Klapisch is a respected (if notoriously anodyne) long-time New York sports columnist, with bylines at both the Post and the Daily News. Paul Solotaroff is, uh, some guy? He writes, too? Google "Paul Solotaroff Yankees" and all you will get is results for this book, so it seems that he is nothing more than a ghostwriter for Bob Klapisch, ostensibly a professional writer himself.
Thesis number one: the Yankees are good, and Brian Cashman is to credit. Thesis number two: the Yankees are good, but not as good as the Red Sox, and Brian Cashman is to blame.
Before I go any further, let me be clear, "Inside the Empire" is good. (That's takeaway number one). It is a good read, and any Yankees fan will be happy he will have read it. Although certainly too breezy for the diehards, "Inside the Empire" gives a compelling account of the 2018 Yankees season and the personnel responsible. And unlike its direct predecessor (last spring's "The Baby Bombers" by Bryan Hoch), it does not waste space on the notoriously unreliable and unproductive Greg Bird.
But the albatross of "Inside the Empire" (and this is the second takeaway) is the same albatross that has weighed down the Yankees for two decades now. His name is Brian Cashman. "Inside the Empire" does not know how to treat him, which puts the book in the same camp as most Yankee fans. Cashman, as the man who pulled off legendary heists for Aaron Hicks, Didi Gregorius and Luke Voit, to name a few, deserves respect and commendation. But what about Cashman as the man who has allowed the hated Red Sox to match him measure for measure in rings since he took the job?
Brian Cashman has been general manager since 1998. Under his tenure, the Yankees have won four titles: Three with the squad he inherited in the late '90s and one in 2009. Over the past two-plus decades, the Yankees have won more (and in most cases, significantly more) games than any other team. They managed to build their current superstar homegrown roster without ever suffering a losing season. Day in and day out, these Yankees have been able to sell tickets, able to convincingly tell the media (often through books like "Inside the Empire") that they are doing everything they possibly can to win the World Series.
Unfortunately for Yankees fans, trying to win just isn't enough for a franchise that is in danger of experiencing the first decade without so much as a World Series berth since the 1910s. Should Yankee fans be happy that Cashman did not trade away Aaron Judge and Gary Sanchez? Yes, of course. Should Yankee fans be able to appreciate that Luis Severino and Gleyber Torres not only thrive on the diamond but also off due to the Yankees crucial English-language instruction? No one would suggest otherwise.
The second thesis proffered by Klapisch and Solotoroff will be the more convincing one to fans left with a sour taste of last October, when the New York Yankees were embarrassed by the Boston Red Sox in a manner that should have gotten everyone associated with the team canned — and would have in a prior Steinbrenner era. But either out of gratitude to a front office that gave them enough access to write the book in the first place, or out of the sense of guilt that all Yankee rooters feel for being disappointed in a run that is by most measures a success, the authors pursue this line of thinking halfheartedly. The book ends in a limp note that the reason the Yankees lost to Boston in the ALDS comes down to strikeouts — which, well, is not really the case at all.
The current Yankees are fun and liable to wow their spectators for a solid hundred-ish wins and record-setting home run count throughout the season. But they aren't the Red Sox. Aaron Boone, for all his strengths (hitting a home run off Tim Wakefield, not being hated by Gary Sanchez) does not have the same fire in his belly as Alex Cora. Players may like him more than his predecessors named Joe, but amity does not equal respect and "Era of Good Feelings" doesn't have the same ring to it as "Canyon of Heroes." "Inside the Empire" knows this and hints at it, but the authors tread lightly. After all, Cashman is in charge and will be 'til he dies. And Cash has made clear that no matter how many times Boone hellishly mismanages his supposedly lockdown pitching staff in October (which gave up so many runs in Game 3 of the ALDS that backup catcher Austin Romine pitched), Bob Boone's son will have the job for at least a decade. Klapisch at least presumes to continue to cover Yankees baseball, and he cannot afford upsetting such entrenched powers that be.
Like many fans, the authors of "Inside the Empire" can't decide whether to bury Cashman or to praise him, and since they really don't have a say in the matter, what emerges is a sort of mix: part panegyric and part pablum. Whether we like it or not, these are Brian Cashman's Yankees, and they will be for a long, long time. From the "Inside the Empire" viewpoint, we better get used to it and accentuate the positives. It does make you wonder how many more barren years Yankee fans will have to endure before a change is made at the top. As long as these Yankees are good enough — good enough to sell Aaron Judge jerseys, good enough to make the Wild Card game year in and year out, good enough to inspire nobodies like me to write an entire column about them — the job is Cashman's. It doesn't hurt (as Klapisch and Solotoroff detail in what emerges as their most compelling chapter) that despite a lack of recent postseason success, this general manager's version of the Yankees is making Hal Steinbrenner very, very rich. (Well, richer. He was born very, very rich.)
Ultimately, "Inside the Empire" serves mostly as a useful mouthpiece to Cashman and Hal, which, as a quick read during the springtime of more-or-less meaningless baseball, is perfectly fine. The authors are able to vent just enough frustration and skepticism with Cash's results to differentiate it from a ballclub-issued media guide. But at the end of the day, they, like the team's brass, want you to know that these Yankees really want to win, guys. In today's age of participation trophies (let alone tanking), shouldn't that be enough?

Book Review: The Catholic Church in America
In the coming weeks, President Trump likely to nominate a committed Catholic like Amy Coney Barrett to fill the vacancy on the U.S. Supreme Court. In anticipation of this, the attacks on Barrett's faith have already begun. The implication is that in order to be a qualified public servant in this country, one has to be a committed atheist, or at the very least a Christian who regards his or her religion as simply a club or hobby rather than the truth about life itself.
All of this reminded me of a book I read this summer, titled "The Prodigal Church: Restoring Catholic Tradition in an Age of Deception" by Brandon McGinley. The book examines the role Catholicism has played in American culture throughout the years, going from something loathed to something that was actually celebrated in the mid-20th century. How has it come to be that such an institution came to be where it is now, with no discernible influence on even its professed members? McGinley tracks this movement, citing JFK as a turning point, when it became fashionable to call yourself a Catholic without believing in or acting out any of the Church's dogma.
This is what scares the American secular elite about a potential Amy Coney Barrett nomination to the Supreme Court. As Senator Diane Feinstein famously said to her during her appointment to the 7th Circuit Court of Appeals, "the dogma lives loudly with you — and that's a concern." The ruling powers in America believe they have effectively eviscerated Catholicism in this country to the point that it doesn't actually mean anything. Politicians these days can claim to be Catholic just as easily as they can claim to be feminists or democratic socialists, to give two examples of other labels that sound good to some people but lack any meaningful definitions. There is a great fear in this country that the ascendance of orthodox Catholics to prominence could undo a century's work of secularization.
Regardless of what eventually happens with the Supreme Court vacancy, "The Prodigal Church" is insightful reading for anyone pondering if there is a role for Catholics to play in 21st century America. McGinley identifies several specific areas in which the Church has clearly abdicated its responsibilities, and he provides several prescriptions for how Catholics can once again build faith communities like the enclaves that existed before the siren song of the bourgeoisie gutted them in favor of suburbanization and atomization. Or, as McGinley so aptly puts it, before "The Church…acquiesced to the steamroller."
Alexander de Tocqueville famously wrote about America, "Our descendants will tend more and more to divide into only two parts, some leaving Christianity entirely, others going into the Roman Church." It goes without saying that the first part is alive and growing. As for the second part, it remains to be seen in the coming decades if there is a Roman Church robust enough to welcome newcomers. For this to happen, reading "The Prodigal Church" would be a good place to start.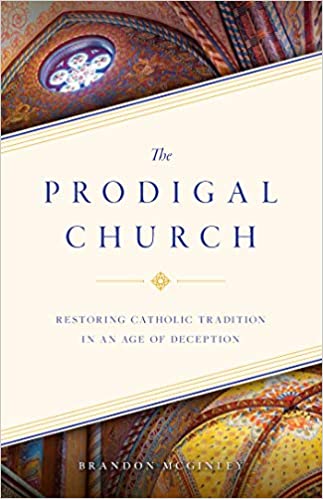 New Book Gives Preview Of Our Brave New World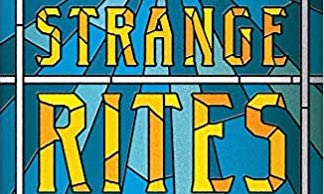 Friedrich Nietzsche's famous quote that "God is dead" dates back to his 1882 book "The Gay Science." The notion entered public consciousness with the provocative 1966 Time magazine cover, which asked, in large red type, "Is God dead?" It has been clear for a while now that, no matter how many holdouts there may be with regard to personal beliefs, the monotheistic God of the Abrahamic religions no longer lays claim to the cultural power He held from the reign of Constantine to the Protestant Reformation.
Until now, what comes next has remained an open question. The husk of institutional Christianity has limped along for the last hundred or so years, with Hollywood and the literati (and recently corporations as well) feeling little to no compunction about dancing on its grave. But if world history has shown us anything, it is that religiosity is a deeply human impulse, and one that will not so easily perish from this earth.
Tara Isabella Burton's new book "Strange Rites: New Religions for a Godless World" takes a look at the various ways religious tendencies are popping up in our post-modern, post-Christian culture. Describing members of upcoming generations as neither purely atheistic or purely Christian, Burton terms them "Religiously Remixed." Just as the invention of the printing press spurred on humanistic transfigurations of the Church into dozens of branches of Protestantism, the rise of the Internet has allowed every Millennial and Zoomer to pick and choose doctrine to follow and idols to worship. These include major commercial properties like Harry Potter and Marvel, self-help and self-care mantras such as those prescribed by Gwyneth Paltrow for women and Jordan Peterson for men, and New Age mumbo-jumbo like horoscopes and tarot cards.
On the surface, these outlets all seem relatively harmless, things for us to do and to care about in an age in which we've been separated geographically from our families and told to put off starting our own. Burton's read on the new normal get significantly bleaker toward the end of her book, as she gives her take on larger social movements she believes have the potential to become institutionalized as religious traditions. Her description of the "Gospel of Social Justice" in particular seems prophetic. Although eagle-eyed culture warriors foretold of the matriculation of "cancel culture" from college campuses to the country at large, even the most pessimistic Cassandras could hardly have predicted this level of unmitigated success. Wanting to tear down statues of George Washington and Abraham Lincoln is no longer a niche position, nor is the notion that it one is to disregard public health imperatives in the name of "anti-racism."
Less prominent but perhaps no less terrifying is the other quasi-religious trend identified by Burton: transhumanism. Unrelated to the "trans" prefix obsessed over by the SJW movement, transhumanism is the desire that humanity should be transcended and our lives prolonged indefinitely. Not uncommon in Silicon Valley, transhumanists (or techno-utopians, as Burton calls them) believe in the power of technology to free us from the chains of flesh and blood. Whereas Gwyneth Paltrow's readers pursue "anti-aging" to merely look young forever, Peter Thiel's are trying to actually be young forever. One of the foremost goals of this movement is to be able to "upload" human consciousness so that one can continue to "live" after one's body has withered away. If you think that such an insane idea lacks appeal, consider that the most popular episode of "Black Mirror," a program typically pessimistic about the role of technology in society, is "San Junipero." In that episode, deciding to be euthanized and "uploaded" to the simulation is considered a happy ending.
The best reason to read "Strange Rites" is to be prepared. The world is changing rapidly, and truths that were once held to be self-evident are now threatened. Even after Enlightenment thinking caused belief in a personal God to wane (remember, most of the Founding Fathers considered themselves Deists), Christianity remained a lingua franca. Today, few people have read the Bible, and if there is anything resembling a shared language, it is more likely to include Muggles and Dementors than angels and demons. In other words, the kids are not all right.
Read 'Dignity' To Stay Connected While In Quarantine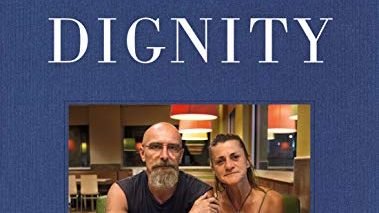 After being basically locked indoors for over a month, it is very easy to feel sorry for oneself. Elon Musk is getting lambasted on Twitter for his declarations of independence, but even so I think most people can understand where he's coming from. Because of the coronavirus, many of us have lost our main source of income, and even those that haven't feel trapped in and desirous of resuming normal social life. Before the quarantine, it was easy to get "stuck in one's own little bubble." Now, it is impossible to get out of it.
This makes Chris Arnade's book "Dignity" all the more important at the present moment. I purchased "Dignity" on Amazon a few months ago after reading a score of glowing reviews from people whose opinions I value. When the book arrived on my doorstep, I was a bit nonplussed: It did not look at all like I expected. The book is big and square, shaped more or less like a coffee table book. This was surprising, since the book is described as Arnade's attempt to chronicle the lives of what he calls "the back row" of America. Who wants to leave out photographs of America's most destitute to help entertain visitors? Disappointed, I placed "Dignity" on my bookshelf, thinking the purchase had been a mistake.
During quarantine, I, like many others, have not been wanting for time. I have done more reading in the past two months than I've done in years, and before long I found that I had run out of material. I considered turning to Amazon to find something new, but I was hesitant about putting any more strain on a logistical system also designed to deliver essentials. Instead, I went to my bookshelf. There I found, of course, "Dignity." I decided to read it.
Like any coffee table book, "Dignity" includes photographs. Unlike any coffee table book I have ever seen, the pictures can by no means be described as beautiful or aesthetic or any adjective indicating that they are pleasant to look at. What they are is "real." Following the tradition of reformers like Jacob Riis, Arnade sheds a light on America's forgotten people. They include drug dealers, prostitutes, preachers and McDonald's workers. They come from different parts of the country and vote in different ways. But they are all American.
As the subtitle of "Dignity" puts it, these are all people "seeking respect in America." Arnade doesn't just show their pictures; he also tells their stories. This kind of story is hard to find these days. Sure, you may see a prestige television take on HBO or Netflix, but such depictions are dramatized and exaggerated. To the contrary, Arnade's descriptions feel lived-in. No embellishments necessary.
If you find yourself looking for something to do as the quarantine goes on, consider picking up this book. While you are stuck at home, it is a way for you to stay connected with the rest of the country; and not just those you are friends with on the internet.