This Putting Green Is The Best Way To Improve Your Golf Game For Under $40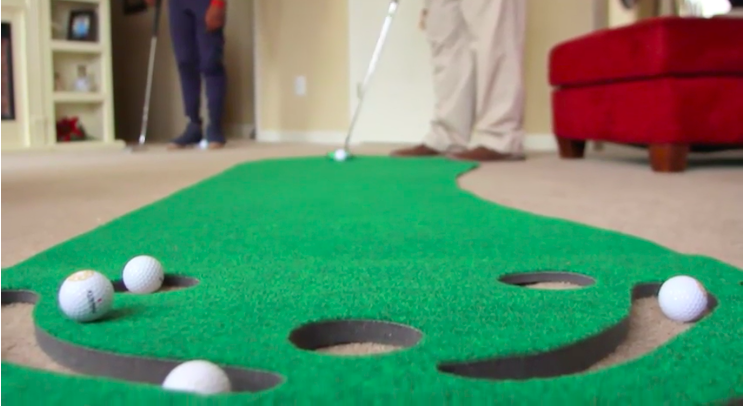 All golfers, no matter how green they may be at the sport, know the importance of the short game. I don't care if you can drive the ball 300 yards; if you 3-putt every hole, you aren't going to win many rounds.  
The good news is that if your putting is a problem, it is a relatively easy fix. Or at least an inexpensive one. Whereas a long game deficiency requires repeated trips to the driving range, you can work on your short game from the comfort of your home or office. About a year ago, I invested in a putting green for my apartment. It only cost me $40. Now, whenever I have a free second or am otherwise sedentary watching the TV, I get up and putt a bit.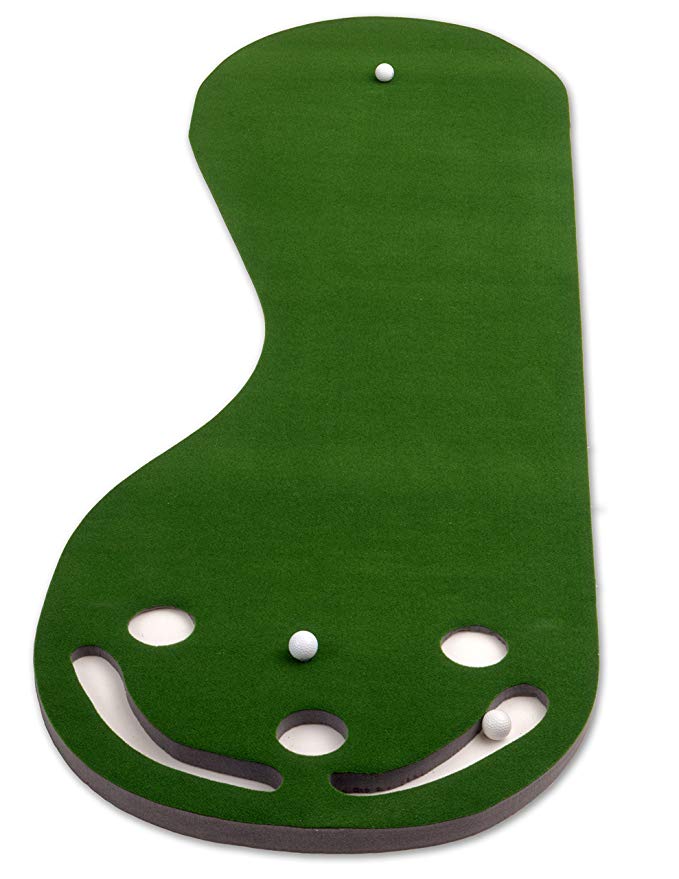 This effort has had a huge impact on my game, and I've already shaved off 5 or 6 strokes. The great part was that I was able to continue practicing all throughout the winter and never lose any of the gains I made over the course of the golf season. I am hoping that by the end of the summer, sinking 7-foot putts will be my competitive advantage.
I'm trying to think of another way a simple $40 expenditure could have such a significant impact on one's golf score. I think this is hands-down the best investment any amateur golfer can make. The putting green comes with three holes and a small ridge right before them, so if there is any downside here it is the lack of diversity of putts you can workshop. That is a small price to pay for the literal small price you pay, however.
Is Callaway Buying Topgolf?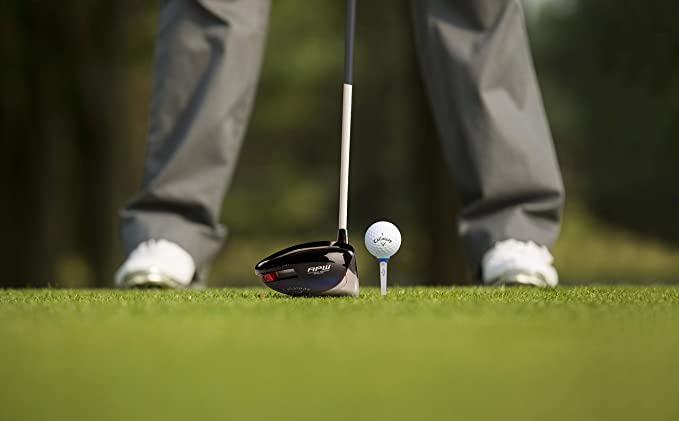 In 2020, many industries have faltered due to the COVID-19 pandemic. Turns out, golf is not one of them. Golf was one of the few recreational activities people were allowed to participate in this past summer, and many people who were not previously golfers decided to take up the sport as a way to stay active. Now that we are butting up against the end of golf season, it is time for many of us to figure out what we are supposed to do in our leisure time.
Callaway, the nation's premier maker of golf equipment, thinks it has the answer. Recent reports indicate that Callaway is close to buying Topgolf. For those who don't know, Topgolf offers an extremely popular golfing experience that does not require you to play 18 (or 9) holes or even to be any good at golf. Instead, you stand on a platform and attempt to hit various virtual markers. With the beer and fraternizing, the experience is somewhat like bowling — albeit the cool and modern bowling a la Lucky Strike, as opposed to the stale and cigarette-laden bowling of "The Big Lebowski."
Unlike some other virtual golfing experiences, Topgolf is outside, and it involves actually hitting golf balls real distances (not into a net that then "projects" the distance). It offers all the good parts of golfing (long drives, alcohol, friends) and removes the slogs (walking long distances, carrying a bag, putting).
How then, if it is basically a glamorized driving range, can Topgolf still be a feasible outing during the wintertime? I've got a two-word answer for you: heated bays. Giant space heaters warm the seating areas, effectively allowing you to up your golf game well into the winter.
We'll see if the Callaway-Topgolf deal actually goes through. But if it does, you can expect A LOT of synergy at the Topgolf near you. If you are new to the game, now might be the time to get look into Strata, Callaway's beginner golf set, and start practicing:

What Even Is 'Snowshoeing'?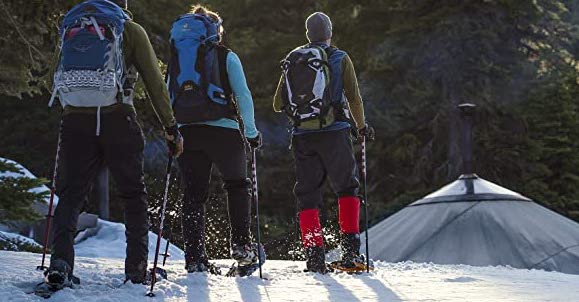 The Washington Post has an interesting article out today with items it expects to be popular over the winter. Most of the items are no-brainers: things that have been popular (and hard to get) since everyone went into lockdown months ago. The list includes modern fitness equipment like treadmills and rowers (I'm still waiting for my Concept2 erg that I joined the waitlist for all the way back in July!) as well as timeless hobbies like yarn and jigsaw puzzles.
The wildest entry on the list, however, is an item that I thought had been confined to Hans Christian Andersen stories and Saturday morning cartoon Christmas specials. Namely, snowshoes. Snowshoes? Those retro tennis racquet-looking things people supposedly attach on their feet to walk outside in a blizzard? Yes, it turns out snowshoes still exist in the real world. And apparently they are going to be all the rage this winter.
Snowshoes in the 21st century have gotten a technological upgrade from the stereotypical pair. A perusal of REI's "snowshoe" section reveals an abundance of interesting models, sort of like compact snowboards for each foot. Some of them even come with poles: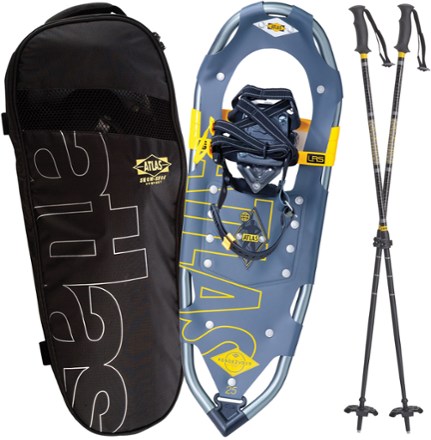 Rendezvous 25 Snowshoe Kit – Men's — $189.95
But who is actually buying these? The Post article quotes a sales manager for MSR snowshoes, who predicts, ""People are going to be less interested in going to ski resorts and more interested in being outdoors with some distance from others." That rings true enough, though I'm still not sure I see the connection with snowshoeing. Thankfully, he elaborates: "Snowshoeing has a lower barrier to entry, and retailers are expecting to see a surge in demand for snowshoe-related products. Our sales team is expecting a 20 to 25 percent increase in snowshoe demand above original forecasted business. Honestly, it could be even higher."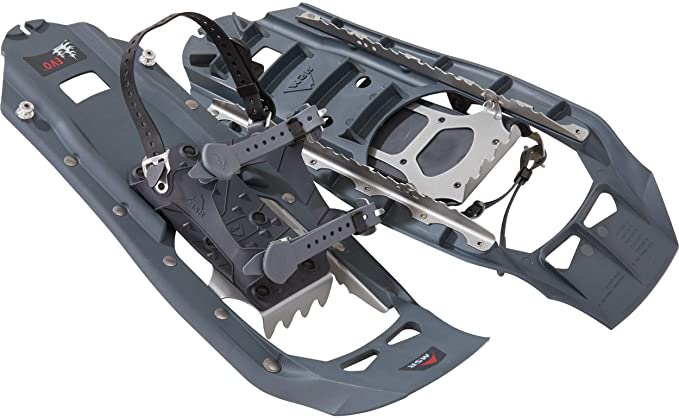 MSR Evo Trail 22-Inch Hiking Snowshoes — $139.95
Alas, he provides little insight into how one is expected to use snowshoes for their leisure. Presumably, folks are supposed to buy a pair and then drive around until they find a spot with snow piled high enough to require snowshoes. If real winter sports like skiing and snowboarding are canceled this year, then that doesn't sound like so bad an idea.
Andy Reid's Shield Hat Is Actually Awesome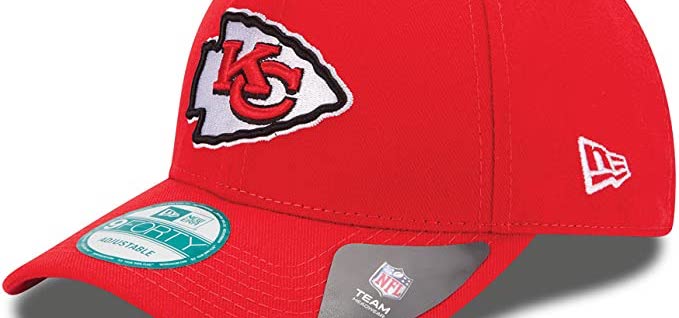 If you watched the return of NFL football last night or spent any time on Twitter, you know about all the hullabaloo surrounding Kansas City Chiefs coach Andy Reid's preferred coronavirus protection measures. All coaches are required to wear a mask this season, but Andy Reid took it to the next level, appending a face shield to his hat so that he looks more like a welder than a bank robber:
Unfortunately for him, do to the weather conditions in Missouri, the Super Bowl winning coach found his ersatz visor fogging up repeatedly, making him the butt of many an Internet joke. A common theme was that this somehow proved that everyone should wear a traditional mask.
I'm not going to argue about the science of condensation or how to prevent that in the future. It may be entirely true that in rainy and humid weather like last night, a face mask is more practical. On the other hand, one of the primary jobs of a head coach on game night is communicating to his players, and anyone who has tried to eat at Subway this pandemic know that it is nearly impossible to understand people when they are wearing their mask, which is how you end up with unwanted mayo on your sandwich.
When you are wearing a shield hat like Andy Reid, you have a way better chance of people understanding what you are saying. Furthermore, contrary to what the Twitterati says, when you wear a shield hat you look way more prepared to fend off the virus. When you wear a mask, you look like you picked up whatever spare cloth was lying around in front of you and stuck it in front of your face. (It should also be noted that it is significantly easier to clean the face shields than it is a cloth mask, which nobody washes often enough).
I don't know if the NFL Shop is planning on selling team hats with face shields attached, but if they are, I would buy one immediately. In the meantime, I will likely have to get one of these and put it on myself: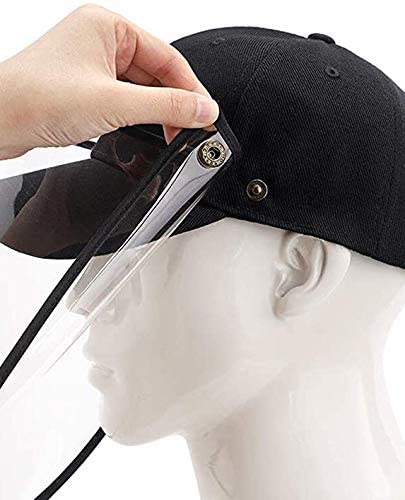 Retail Sign Systems Kids Baseball Cap, 2-8 Years Boys & Girls, Outdoor Dustproof Hat –$12.99