These TaoTronics Bluetooth Headphones Are Great For Those With Tiny Baby Ears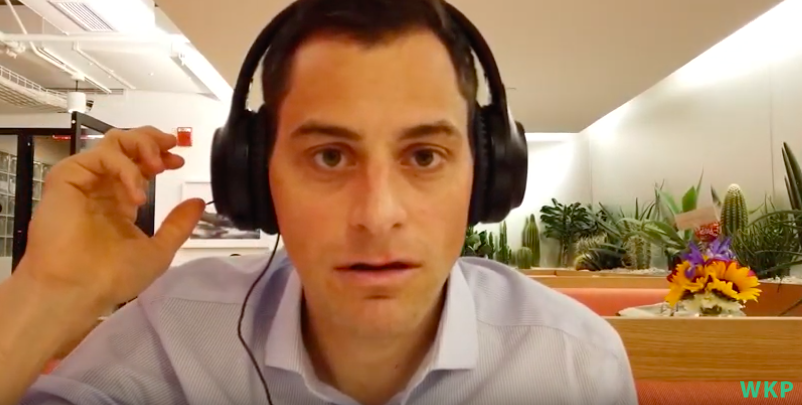 Ever since I got the new True Wireless TT-BH053 earbuds from TaoTronics, my life has changed for the better. I was never going to be one to shell out $200 for AirPods, so the TT-BH053s were my entrée into the earbud modus vivendi that so many of my peers shave embraced. For just $45, I am now always immersed in a world literally inside my own head. It is phenomenal. I can't believe I used to be subjected to everyday noises I'd rather not bother with.
Since the TT-BH053s were such a game changer for my existence, I decided to give TaoTronics another go with their wireless active noise cancellation headphones, the TT-BH060s. (Why they are called BH060 is a mystery to me; these have been on the market for longer than the BH053s. Maybe TaoTronics is counting backwards?)
Long story short, I like the TT-BH060s. They last a long time, boasting 30 hours of Bluetooth playtime on a full charge. (I found that to be pretty accurate.) Even more impressive is the new hyper speed charge; just 5 minutes of charging will give them another 2 hours of battery life. If anything, this turned out to be an undersell. After 5 minutes of charging, I was able to wirelessly use the headphones for the remainder of the day.
Conveniently, if for some reason you do run out of battery life and do not happen to be proximate to potential charging source, you can still use the TT-BH060 via the 3.5mm audio cable. You won't be able to use the ANC technology without juice though, so that's a real bummer.
How is the active noise cancellation technology, you ask? It's perfectly cromulent. It isn't going to drown out any nearby conversations, but neither are any but the most expensive noise canceling headphones out there. There is currently construction going on outside my office building, and the TT-BH060s does a fair to good job at removing that noise from my consciousness. For $70, I am impressed. You can definitely tell the difference when you toggle the noise cancellation switch on and off.
So I like the battery life, I like the noise cancellation, I like the price. What don't I like about the TT-BH060s? Well unfortunately they are not very comfortable. This is surprising coming from TaoTronics, whose TT-BH053s are like pillows for the inside of your ears. Perhaps I am alone in experiencing this issue due to my big ole elephant ears. But it does make things difficult, considering how much time I spend wearing headphones in a given day.
Verdict: I recommend the TT-BH060s to everyone but Alfred E. Newman.
Labor Market Is Booming…If You Are A Cleaning Robot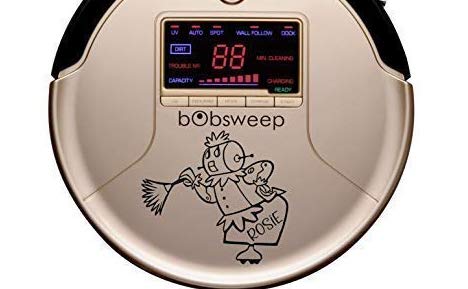 Flying cars may still be years away, but in many ways we inch closer to life in "The Jetsons" every day. If iRobot's Roombas (and their competitors, such as Anker's Eufy, which we reviewed here) were not similar enough to Rosie the Robot for your tastes, then you'll be ecstatic to learn about the new trend sweeping workplaces throughout the country.
During the COVID crisis, a new, more advanced type of cleaning robot has taken the office by storm. The Verge interviewed the heads of several of these companies and reported on these new machines, which go beyond cleaning up messes to actually spray viral disinfectant and UV radiation as they amble along. During the pandemic, the demand for these devices has skyrocketed. For example, Xenes, manufacturer of the LightStrike robots, says sales are up 600 percent.
The creepy part about these developments is less about their functioning, which appears genuinely useful, and more about how people talk about them. Like with Moxie the "social support robot," the elites in business and media seem to be taking it for granted that the current generation of robotics is prepared to become Humanity 2.0. Notice this sentence in The Verge article about the Breezy One, made by a company called Build With Robots:
"Build With Robots says the cost for hiring its machines is between $3,250 and $10,750 a month, depending on the number of robots and the length of the contract."
I'm sorry, but cleaning machines, no matter how "smart," should be "rented," not "hired." I don't care if they are equipped with LIDAR or 3D cameras to self-navigate. They are tools, not human labor. Hasn't this country's professional class degraded the working class enough as it is? Just wait until one of the robots malfunctions, and the HR department refers to it as a "sick day."
One last thing, when designing these mechanical helpers, can we please stop giving them eyes? That includes "large mist-producing jet nozzles on top that look like "a pair of swiveling eyes." I still remember the first time I went to the grocery store and came across Marty, Giant Food Stores' terrifying automated floor checker. Memo to the nerds who make these things: it's not cute, so cut it out.
Is The TikTok Tihoo Actually Useful?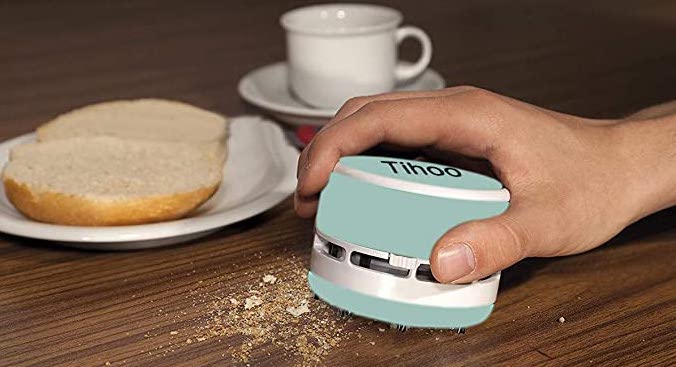 Alright TikTokers, you convinced me. After spending countless hours on the ubiquitous app and scrolling through hundreds of Amazon product recommendations, I finally caved and purchased the Tihoo, an electrical desktop dust collector. Now, out of all the products I've seen, I can't tell you exactly why this product is the one I chose to buy. But I can tell you that I don't regret it. Although the Tihoo wasn't a necessity for me, would it have been as exciting if it was?
Tihoo Keyboard Vacuum Cleaner Computer Desktop Table Dust Sweeper for Countertop Crumbs Collector for Eraser Shaving Table Cleaner for Kitchen Gadgets Mint Office Supplies — $15.99
I'm not going to lie, I wasn't sure the Tihoo would even work that well, but it was so cheap that I just said screw it. Well, slap my ass and call me Sally because this product literally blew my mind. It's so simple, yet so useful. It's essentially a battery powered, handheld vacuum cleaner that picks up all those little crumbs and dust particles that can be a nuisance to clean up yourself. It works on any hard surface and can even be used on carpeting if you're really feeling lazy. I've tried it out on pretty much every surface, including my carpet, and it has yet to disappoint.
For just $15.99 on Amazon, The Tihoo offers an amazing and convenient cleaning solution and will save you from having to manually clean up those annoying little messes again. Shoutout TikTok.
Yes, Bose Sunglasses Are Still A Thing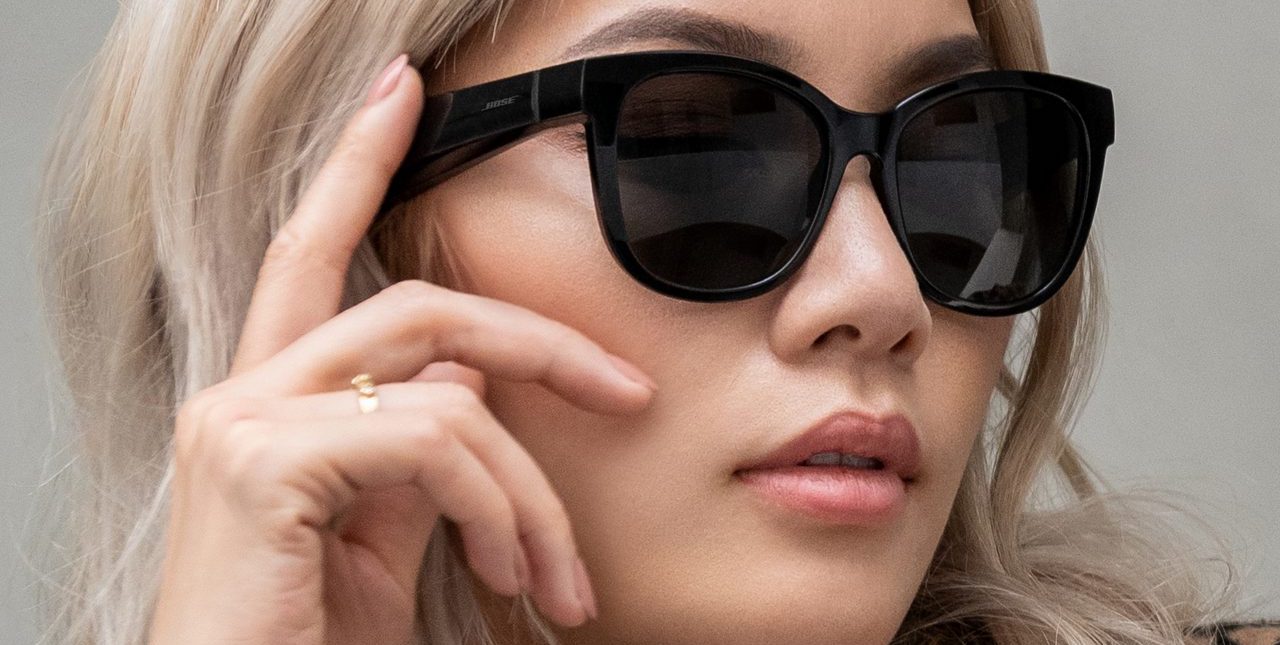 Longtime We Know Products readers surely remember the first time we covered Bose's attempt to make speaker sunglasses a thing, all the way back in May 2019. Speaker sunglasses were apparently a much greater success than Bose's other attempt to get into the "wearables" business, the "SoundWear Companion," which you can no longer buy on the Bose website. Since releasing their first pair of speaker sunglasses, retroactively named the "Rondo," and following it up with the "Alto," Bose has expanded its offerings to include three new styles: the Tempo, the Soprano, and the Tenor.
Bose is putting a lot of marketing dollars into these products, and it's likely you've already seen you favorite Instagram influencers start to flaunt these on specs. But does that mean you need to rush out and buy yourself a pair?
A year and a half later, the best reason to get Bose sunglasses is still being able to cocoon yourself in a world of sound without coming off as standoffish. Unlike AirPods and their knockoffs, wearing a set of sunglasses does not signal to the world that you are currently occupied. Most impressively, despite having to be big enough to blast sound into your ears, the temples are not so large as to clearly indicate a piece of futuristic technology.
For its slogan, Bose is going with "Without the sound, they're just sunglasses." Cleverly, this has a double meaning, highlighting the value of music playing from your frames while also making it known that the sunglasses are subtle enough to be worn for style alone.
It remains to be seen if speaker sunglasses catch on, but in 2020 we are much more bullish on the prospect. After high-profile failures of Snapchat and Google, could Bose be the company that finally cracks the code on popularizing "smart" shades? Only time will tell.