'No Place I Would Rather Be' Review: We Miss Reading Roger Angell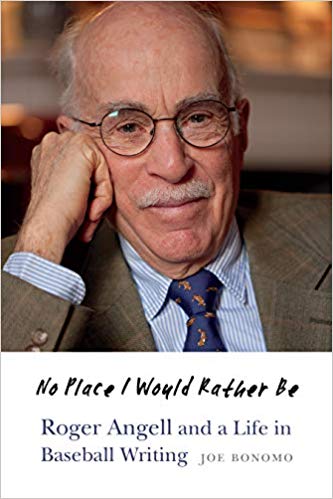 Well, this was a treat. Surprisingly, the best baseball writing I have read all year comes in a book written about baseball writing. That new book is called "No Place I Would Rather Be: Roger Angell and a Life in Baseball Writing" by Joe Bonomo. In it, Bonomo takes the reader on a scenic journey through the annals of Angell, baseball's preeminent philosopher-scribe. Nearing a hundred years old, Angell no longer writes much, and "No Place I Would Rather Be" evokes more than a little sadness at the prolific insight we once had access to as fans of America's pastime.
This book comes out at a time when there are high profile clamors (including from the commissioner himself) of a crisis in baseball. A view of baseball history through the lens of Angell, whose first encounters with the sport occurred when its headliners were Ruth and Gehrig, alleviates this concern. Baseball is always in flux, and if something is eternally in crisis mode then there is no crisis at all.
What we do have in today's day and age is a crisis in baseball writing, a fact little acknowledged throughout the game. Perhaps it is unfair to compare modern sportswriters to Roger Angell, since he was always sui generis, but even if Angell does not like to be lumped into such a group, past generations also had talents such as Grantland Rice, David Halberstam and Roger Kahn. Today's readers, on the other hand, get to read an army of bloggers whose greatest strength is missing the forest for the trees.
Modern baseball writers can be divided into two categories. On one hand, you have the statheads, supremely knowledgeable about the way baseball is now played and how rosters are currently constructed, conversant not just in the alphabet soup of WAR and wRC+ and xwOBA but also in more immediately useful information such as batted ball profile and swinging strike percentage. This faction, sometimes called "the nerds," is obviously ascendant and clearly has useful information to impart. (Fangraphs writer to MLB front office is now a legitimate career path). Unfortunately, its practitioners too often rely on numbers to do the talking for them, occasionally aided by graphs and GIFs. In combing through troves of data to find topics to write about, these authors have a tendency to lose track of the sportswriter's prime directive — craft a compelling narrative for the reader to follow.
On the other side of today's chasm, you will find the traditionalists, the old school BBWAA members whose work has appeared on the back page of your local sports section for at least two decades. This type of baseball writer has no time for baseball's analytical revolution. Yet, instead of sensing an opportunity when the big brains of the baseball writing corps had trouble converting numbers to text, these writers went the opposite direction, lowering their standard to appeal to the lowest common denominator of baseball fan. Apparently thinking that any knowledgeable fan was already lost to the statheads, these traditionalists began filing stories so banal it is a wonder they get paid to write them (usually quite a bit more than the nerds).
Getting to relive Roger Angell's heyday through Joe Bonomo's book is a reminder that baseball writing can be intellectual and accessible. But it is also a reminder that the combination is rare and that save for some propitious circumstances we might not have been blessed with it in the first place. Although "No Place I Would Rather Be" is not a biography, it succeeds in exploring the conditions that made Roger Angell Roger Angell.
The son of a union leader and the first fiction editor of the New Yorker magazine (and stepson of E. B. White), Angell was born and reared in an environment in which words mattered. He also grew up in a city that featured the two best baseball teams of the first quarter of the 20th century, the Giants and Yankees, whose domination in their respective leagues would be enough to catch the attention and devotion of the lonely child from a broken home.
Unlike most so-called journalists, Angell did not set out to be a sportswriter. In fact, he did not pen his first baseball piece for the New Yorker until 1962, when he was over 40 years old. When given his first assignment, he brought his background in fiction-writing to the task and the rest is history.
With Joe Bonomo, this history is in good hands. For the book, Bonomo drew both from the vast archive of Angell's published work and from the writer's copious notes. Putting the two together, he is able to add color to the sketch that Angell has provided himself through all these years of confessional baseball writing. An anecdote about the 1986 World Series and Angell's conflicting allegiances is most revealing in this regard.
"No Place I Would Rather Be" is a great read for devoted fans of Roger Angell as for those who are only obliquely familiar with him. Either way, it will make you pine for his take on the game. The good news is that even if another Roger Angell is not likely to grace us with his presence anytime soon, he has given us thousands of pages to revisit whenever we have the need to reminisce.
Book Review: 'Verity' By Colleen Hoover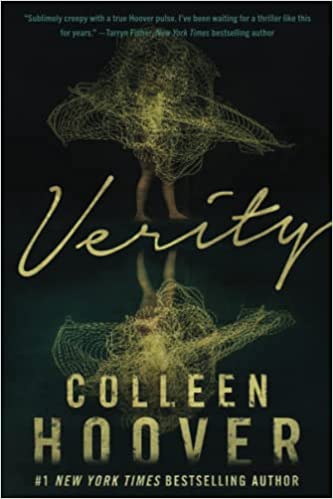 Available on Amazon for $11.26 paperback 
Colleen Hoover is all the rage this summer. The author's 2016 romance novel It Ends With Us gained fame due to the viral nature of #BookTok (the book lover's community on TikTok). I've always loved reading, especially during the summer months by the beach and pool. Surely because of this, my "For You Page" has been flooding with recommendations and reviews as to what to read next. I can without a doubt say that Verity is worth the hype.
Verity was first published in 2018 and has only just become available worldwide in paperback. I started reading Colleen Hoover last summer when I first discovered It Ends With Us on #BookTok and have read four of her other books since. Given that I finished this one in a day, I would say it is extremely readable!
Verity is different from Hoover's usual style and genre of romance. This novel is twisting, unsettling, creepy, and psychologically mind-bending. From the beginning, I could not put it down. The plot follows protagonist, Lowen Ashleigh, a struggling writer who accepts a job offer to complete the remaining books of an unfinished, successful series. Jeremy Crawford, the husband of bestselling author Verity Crawford, has hired Lowen due to his wife's serious injuries. Lowen arrives at the Crawford home, ready to sort through years of Verity's notes and outlines, hoping to find enough material to get her started. What Lowen doesn't expect to uncover is an unfinished autobiography Verity never intended for anyone to read. With shades of Gillian Flynn blending in with Hoover's classic take on romance, our protagonist finds herself uncovering a story so horrifying, and all the while, falling for a grieving man. There is a thrilling twist at the end, which I am happy to debate, but I'm not giving any spoilers until you read it for yourself! Overall, I highly recommend the purchase. Find it on Amazon.
Why Did Will Smith Slap Chris Rock?
On Sunday, March 27, 2022, the 94th Academy Awards took place in Los Angeles. Everybody knows this, despite approximately zero people seeing any of the films nominated for Best Picture. The winner of that Oscar, CODA, was released on Apple TV+. Until learning about this movie Monday morning, I didn't even know Apple made movies. I do not think I am alone in being surprised that their content offering goes beyond the beloved Ted Lasso.
The reason everyone knows about this year's Oscars of course has nothing to do with the films themselves. Instead it was the "slap heard 'round the world," when Will Smith rose from his seat and hit Chris Rock onstage in response to a joke. This moment has been dissected every which way, with viewers analyzing Japanese and Australian broadcasts like the Zapruder film, and partisans coming out of the social media woodwork to defend both Smith and Rock. Setting aside some truthers' insistence that the whole incident was staged, the main question seems to be: "What would prompt Will Smith, widely considered one of the most likable actors in Hollywood, to do such a thing?"
There are a wide range of theories here, ranging from Smith having internalized the protective nature of his character in King Richard to a long-standing beef between Smith and Rock that dates back several award ceremonies. But no matter where you begin, all roads eventually lead to Will Smith's relationship with his wife. Though most reporting on their marriage and its resulting "entanglements" has come from Jada's side of the story, there is one primary source from which we can try and decode the source of Will Smith's anger.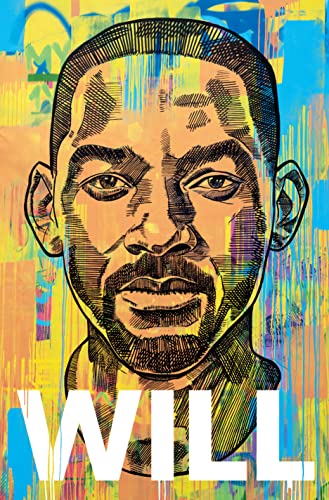 That would be his 2021 memoir, titled Will, co-written with Mark Manson, the bestselling author of The Subtle Art of Not Giving a F*ck. In the book, Will Smith dives deep into his family and its sometimes very public problems. Will Smith will probably never come out and admit that he sublimated his anger at his wife and took it out on Chris Rock. But reading about their struggles in his own words may be our only key to deciphering whatever aspect of his psychology that prompted him to lash out in front of millions of viewers.
Why do you think Will Smith slapped Chris Rock? Let us know in the comments!
Review: 'Klara and the Sun' Is A Book With Moxie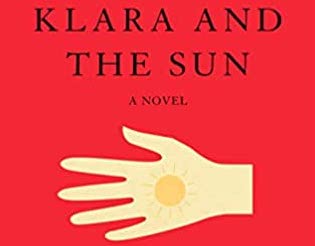 In 2020, a company introduced Moxie, a dystopian "social support robot" designed to help kids learn human interaction. As we wrote at the time, this super creepy product resembles something out of a Black Mirror episode. In a day and age in which children are forced to wear masks when they interact with their peers, what Moxie offers is in some ways more social than what is available in actual social settings. This may be a selling point for Embodied, the company that makes Moxie, but it certainly does not inspire confidence in the direction our once great society is heading. 
I have no idea if Kazuo Ishiguro, the Nobel Prize-winning author who wrote Klara and the Sun knew specifically about Moxie when he was coming up with his latest book. Presumably he researched similar "advancements" in child development technology enough to know that such products are on the horizon. The result is a touching, nuanced depiction of what "life" would be like for a social support robot, and what that means for the human world that welcomes it.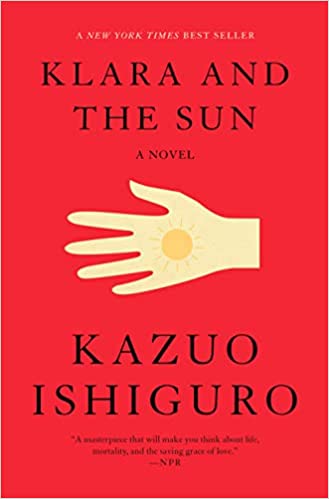 The titular Klara in Klara and the Sun is the story's protagonist, an "Artificial Friend" or "AF," and the story is told from her first-person perspective. From the get-go Ishiguro puts the reader in her shoes, establishing a world in which few things are truly certain. The AF's in the book are programmed with an artificial intelligence, but their core function is comforting and supporting the growth of a human child. There are certain things we take for granted that are completely unknown to Klara, and the first few chapters are critical in helping us understand the way Klara "thinks." As soon as that perspective is fortified, Ishiguro proceeds with the main story. 
After days of waiting in the store for her lucky day, Klara is purchased by the mother of a sick girl to be her artificial companion. Turns out this is a more difficult assignment than that given most AF's, and the reader comes to question what exactly are Klara's responsibilities—if any—as a robot to aid in her convalescence. She certainly goes above and beyond what the girl's parents expect of her, which, as it turns out in a major twist, is actually quite a lot.
It is hard to discuss the themes of Klara and the Sun without including spoilers, since it is such a simple tale whose enjoyment comes from the gradual understanding of the world Ishiguro is painting. It is not quite the world we live in, or at least not yet, but our world is certainly recognizable in it. The adults in the novel make several decisions that would be controversial but nowhere near unthinkable if presented as options today. After reading Klara and the Sun, one can only wonder: Is this where we are heading? And if so, how do we prepare?
The most impressive thing about this short novel is that the author manages to be neither optimistic nor pessimistic about the situation detailed. When I first read the description, Luddite that I am, I was prepared to hate Klara and hope for characters to start smashing the AF's before Skynet takes over. If you come to the book from this viewpoint, I don't expect you to necessarily change your mind about the inherent value of Artificial Friends. But similar to watching the HBO series Westworld, you might come away with more sympathy for the robots than expected. Most importantly, you may realize that there are certain things that are obvious to a nascent species of intelligence that humankind seems to have forgotten along the way. 
Klara and the Sun is certainly a book written for its time, and in future years may be viewed as downright prescient. If the implications of products like Moxie interests you, then I definitely recommend it. I have not read Remains of the Day or Never Let Me Go, the Ishiguro novels that are regarded as classics, but I enjoyed this enough that I certainly will.