"The Age of Addiction" Review: Blame The Capitalists For Your Bad Behavior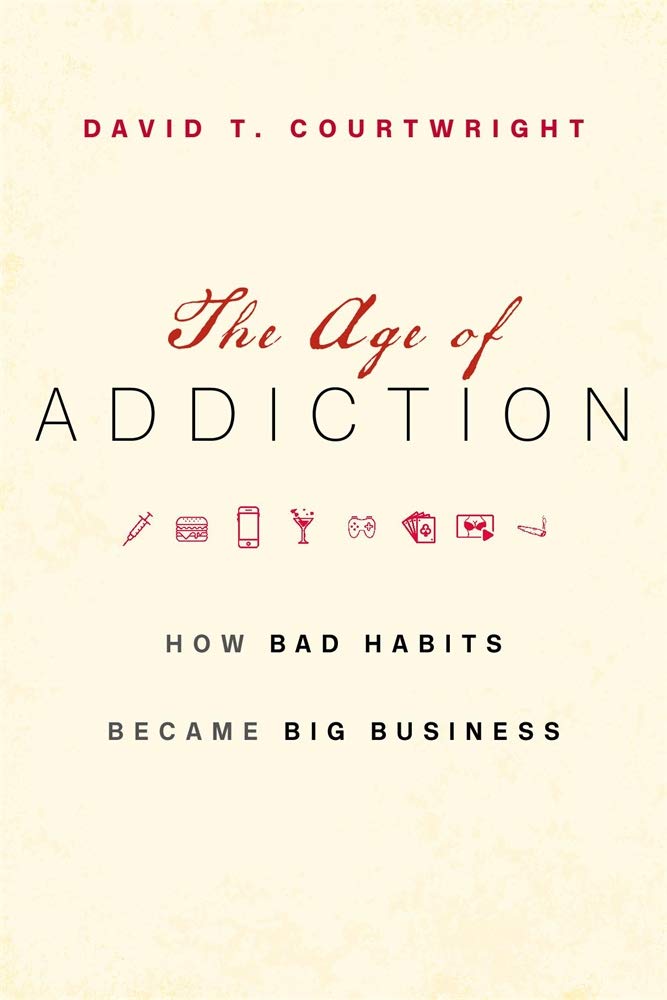 According to David T. Courtwright, author of the new book "The Age of Addiction: How Bad Habits Became Big Business," capitalism is to blame for the human proclivity for addiction. Specifically, he blames what he terms "limbic capitalism," which "refers to a technologically advanced but socially regressive business system in which global industries encourage excessive consumption and addiction."
"The Age of Addiction" lays out the case, and Courtwright provides his readers with a sweeping, compelling and eminently readable work, detailing the history of vice all the way back to the invention of agriculture. Courtwright gives example after example throughout history of businesses taking advantage of the human condition called "hormesis," wherein substances or inputs that are helpful for survival in small doses end up doing great harm when taken in larger ones. Advertisers have been taking this into account for a long time, skirting around our brain's rational functioning and taking direct aim for our baser selves (i.e., our limbic system).
Courtwright's history is fascinating, as he tells a story of the rise (and sometimes fall) of various vices, from ancient viticulture and poppy abuse, through mass production of cigarettes after World War II, all the way to slot machines and, of course, online pornography. Don't pick up this book looking for a solution, which the author does not even attempt to provide. This is actually admirable, and more of this type of problem-identifying book would be better off sans the half-baked proposal inevitably tacked on after the last chapter of research and analysis.
At the end of "The Age of Addiction," Courtwright addresses the two critiques he most often received when sending out his manuscript. One is his lack of an cure-all, while the other is his inability to ever nail down a definition of what he actually means by "addiction." He does a good enough job tackling this criticism, pointing to an earlier chapter he devotes to the scientific disagreements over whether it is possible to be "addicted to food."
Regardless of where one stands in that debate, it is easy to see the similarities between overindulging on sweets, alcohol and tobacco and the modern scourge of society, those digital addictions that monopolize our time. That said, Courtwright comes dangerously close to making some false equivalencies. Sugar may be bad for us, but can one really "equate confectioners with drug and alcohol traffickers," as he attempts to? More to the point, the author spends an entire section explaining how Walt Disney World is functionally the same as Las Vegas or any other den of sin.
The derision of Walt Disney raises another problem with "The Age of Addiction," since discussion of the man's motives begins with this segue: "Disney devoted the 1950s and early 1960s to conquering a new entertainment medium, television, and a seedy old one, the amusement park." Savor it, because that sentence is one of only eight times the word "television" appears in the book.
Six of the other seven times television is mentioned, it is merely regarding the fact that its existence allowed advertisers to reach more eyeballs. In the seventh, he notes digital slot "machines' televisions themes and resemblance to consumer gadgets gave them an aura of entertainment innocence and attracted a new generation of prey." He does not address why similitude to TV programs is useful in keeping "anxious, depressed women" at the slot machines? After going in great detail over the history of booze, smokes, sugars, gambling and the like, Courtwright jumps straight to smartphones and the Internet, without acknowledging the role of televisions in our long march to digital serfdom. This crucial step in the human story paved the way for the slavish screen devotion that keeps our attention affixed to Facebook, Instagram and YouTube for hours on end.
Half a century before the current panic over children not wanting to set down their "short-term, dopamine-driven feedback loops," children (and adults) began to struggle spending their time in ways that did not involve sitting in front of the TV. It was not so long ago that children rushed out of the school bus and into their homes so they could plop down and watch Nickelodeon. Nowadays, that function is largely filled by iPads, but screen "addiction" was not invented by Steve Jobs, and this book would have benefited from a study into why it was (and still is) difficult to sit in a room with a television without turning it on. Unlike video games and iPhones, televisions' pull over us may not be easily ascribable to dopamine science (and in no possible way can be demonstrative of hormesis), but something certainly happened to our brains since the 1950s, and I bet it would not have taken too much effort for Courtwright to find a way to place culpability at the feet of the "limbic capitalists."
Despite this omission, "The Age of Addiction" is very much worth your time. Sooner or later we as a society are going to have to confront the role that Big Business plays in kneecapping us, especially since, as Courtwright mentions, the Silicon Valley types themselves refuse to let their offspring anywhere near the addictive tech products they foist upon us. To the extent that he suggests any sort of next steps, Courtwright implores his readers to operate "against excess." That is all well and good, but that advice will be no match for the moneymaking machine designed to promote excess in all aspects of life. Parents and policymakers alike need constant vigilance in order to confront the system of "limbic capitalism," establishing more limits than currently exist and curbing the influence of this destructive system on future generations. Vice and bad habits may be inescapable, but as Courtwright's history shows us, they can be fought.
Book Review: 'Five Presidents'
"You couldn't have gotten there. You don't—surely you don't—have a sense of guilt about that?"
The most gripping part about Clint Hill's memoir "Five Presidents: My Extraordinary Journey with Eisenhower, Kennedy, Johnson, Nixon, and Ford" comes in one of the final chapters. After letting it simmer under the surface for most of the book, fallout from Hill's role in the JFK assassination comes bursting out in an interview with Mike Wallace on "60 Minutes." To anyone familiar with Hill, a 17-year Secret Service vet and bestselling author of two other books about the Kennedys ("Mrs. Kennedy and Me" and "Five Days in November"), this should come as no surprise. Hill was not merely serving on the Kennedy detail on November 23, 1963; he was the one who jumped on the back of the limousine in an attempt to block the shots. Since that date, Hill's life and legacy have been inextricably tied to the American tragedy. And when Wallace asks him the above question, 12 years after the fact, he had never before discussed his part in it to another living soul. No wonder the dam burst.
Although his relationship with the Kennedy clan is the lifeblood of Hill's recollections, that does not mean that his work for the other four titular presidents plays second fiddle. One of the best parts about a memoir like this, from someone who served administrations of both parties, is an evenhandedness of account that you don't normally get from people with access to power at the highest level. With the exception of Richard Nixon, for whom Hill cannot manage to even thinly veil his contempt, the author is able to provide a compelling and vivid picture of real-life men who actually led the free world. It is easy to treat these dead mean as characters in a history book—as relatable in the present day as Alexander Hamilton or Ulysses Grant. But Hill is able to effectively show them occupying a world not that long lost.
Five Presidents: My Extraordinary Journey with Eisenhower, Kennedy, Johnson, Nixon, and Ford Paperback — $12.61
Of course, one of the reasons many people pick up a Secret Service memoir in the first place is in search of scandal. (Who can forget the minor media squall when an author alleged female Secret Service agents were offended by now President-elect Joe Biden's penchant for skinny dipping). This is not that book. Most of the things now generally known about past presidents' private lives, such as JFK's innumerable affairs, are not mentioned here. This is a credit to the author. Hill's discreetness is likely just the kind of quality needed to survive nearly two decades in the White House.
Older readers will enjoy "Five Presidents" for its recounting of history, providing the ability to read along and reminisce about past events. Younger readers interested in world events will like to learn about facts not often taught in the history books. For example, Hill tells about Nixon fulfilled his promise to reduce the U.S. presence in Vietnam to nearly zero, something that apparently made him popular at the time but that no one remembers today.
Even though it was written after Hill's other books, this might be the one to start with. As a survey of sorts, one can see if they like the style of Hill and frequent writing partner Lisa McCubbin. If so, Hill has made a font of knowledge available on the topic that most haunts him.
Book Review: The Catholic Church in America
In the coming weeks, President Trump likely to nominate a committed Catholic like Amy Coney Barrett to fill the vacancy on the U.S. Supreme Court. In anticipation of this, the attacks on Barrett's faith have already begun. The implication is that in order to be a qualified public servant in this country, one has to be a committed atheist, or at the very least a Christian who regards his or her religion as simply a club or hobby rather than the truth about life itself.
All of this reminded me of a book I read this summer, titled "The Prodigal Church: Restoring Catholic Tradition in an Age of Deception" by Brandon McGinley. The book examines the role Catholicism has played in American culture throughout the years, going from something loathed to something that was actually celebrated in the mid-20th century. How has it come to be that such an institution came to be where it is now, with no discernible influence on even its professed members? McGinley tracks this movement, citing JFK as a turning point, when it became fashionable to call yourself a Catholic without believing in or acting out any of the Church's dogma.
This is what scares the American secular elite about a potential Amy Coney Barrett nomination to the Supreme Court. As Senator Diane Feinstein famously said to her during her appointment to the 7th Circuit Court of Appeals, "the dogma lives loudly with you — and that's a concern." The ruling powers in America believe they have effectively eviscerated Catholicism in this country to the point that it doesn't actually mean anything. Politicians these days can claim to be Catholic just as easily as they can claim to be feminists or democratic socialists, to give two examples of other labels that sound good to some people but lack any meaningful definitions. There is a great fear in this country that the ascendance of orthodox Catholics to prominence could undo a century's work of secularization.
Regardless of what eventually happens with the Supreme Court vacancy, "The Prodigal Church" is insightful reading for anyone pondering if there is a role for Catholics to play in 21st century America. McGinley identifies several specific areas in which the Church has clearly abdicated its responsibilities, and he provides several prescriptions for how Catholics can once again build faith communities like the enclaves that existed before the siren song of the bourgeoisie gutted them in favor of suburbanization and atomization. Or, as McGinley so aptly puts it, before "The Church…acquiesced to the steamroller."
Alexander de Tocqueville famously wrote about America, "Our descendants will tend more and more to divide into only two parts, some leaving Christianity entirely, others going into the Roman Church." It goes without saying that the first part is alive and growing. As for the second part, it remains to be seen in the coming decades if there is a Roman Church robust enough to welcome newcomers. For this to happen, reading "The Prodigal Church" would be a good place to start.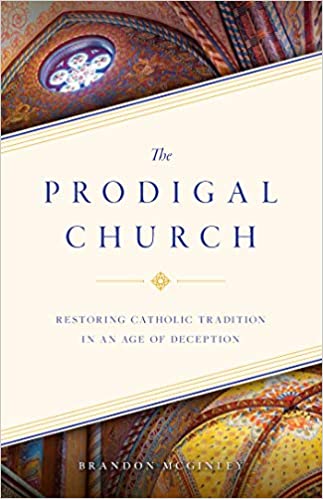 New Book Gives Preview Of Our Brave New World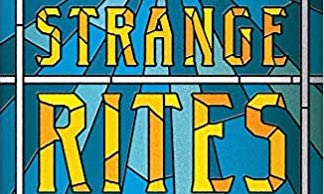 Friedrich Nietzsche's famous quote that "God is dead" dates back to his 1882 book "The Gay Science." The notion entered public consciousness with the provocative 1966 Time magazine cover, which asked, in large red type, "Is God dead?" It has been clear for a while now that, no matter how many holdouts there may be with regard to personal beliefs, the monotheistic God of the Abrahamic religions no longer lays claim to the cultural power He held from the reign of Constantine to the Protestant Reformation.
Until now, what comes next has remained an open question. The husk of institutional Christianity has limped along for the last hundred or so years, with Hollywood and the literati (and recently corporations as well) feeling little to no compunction about dancing on its grave. But if world history has shown us anything, it is that religiosity is a deeply human impulse, and one that will not so easily perish from this earth.
Tara Isabella Burton's new book "Strange Rites: New Religions for a Godless World" takes a look at the various ways religious tendencies are popping up in our post-modern, post-Christian culture. Describing members of upcoming generations as neither purely atheistic or purely Christian, Burton terms them "Religiously Remixed." Just as the invention of the printing press spurred on humanistic transfigurations of the Church into dozens of branches of Protestantism, the rise of the Internet has allowed every Millennial and Zoomer to pick and choose doctrine to follow and idols to worship. These include major commercial properties like Harry Potter and Marvel, self-help and self-care mantras such as those prescribed by Gwyneth Paltrow for women and Jordan Peterson for men, and New Age mumbo-jumbo like horoscopes and tarot cards.
On the surface, these outlets all seem relatively harmless, things for us to do and to care about in an age in which we've been separated geographically from our families and told to put off starting our own. Burton's read on the new normal get significantly bleaker toward the end of her book, as she gives her take on larger social movements she believes have the potential to become institutionalized as religious traditions. Her description of the "Gospel of Social Justice" in particular seems prophetic. Although eagle-eyed culture warriors foretold of the matriculation of "cancel culture" from college campuses to the country at large, even the most pessimistic Cassandras could hardly have predicted this level of unmitigated success. Wanting to tear down statues of George Washington and Abraham Lincoln is no longer a niche position, nor is the notion that it one is to disregard public health imperatives in the name of "anti-racism."
Less prominent but perhaps no less terrifying is the other quasi-religious trend identified by Burton: transhumanism. Unrelated to the "trans" prefix obsessed over by the SJW movement, transhumanism is the desire that humanity should be transcended and our lives prolonged indefinitely. Not uncommon in Silicon Valley, transhumanists (or techno-utopians, as Burton calls them) believe in the power of technology to free us from the chains of flesh and blood. Whereas Gwyneth Paltrow's readers pursue "anti-aging" to merely look young forever, Peter Thiel's are trying to actually be young forever. One of the foremost goals of this movement is to be able to "upload" human consciousness so that one can continue to "live" after one's body has withered away. If you think that such an insane idea lacks appeal, consider that the most popular episode of "Black Mirror," a program typically pessimistic about the role of technology in society, is "San Junipero." In that episode, deciding to be euthanized and "uploaded" to the simulation is considered a happy ending.
The best reason to read "Strange Rites" is to be prepared. The world is changing rapidly, and truths that were once held to be self-evident are now threatened. Even after Enlightenment thinking caused belief in a personal God to wane (remember, most of the Founding Fathers considered themselves Deists), Christianity remained a lingua franca. Today, few people have read the Bible, and if there is anything resembling a shared language, it is more likely to include Muggles and Dementors than angels and demons. In other words, the kids are not all right.