The Lululemon Mirror Is The Latest In Dystopian Tech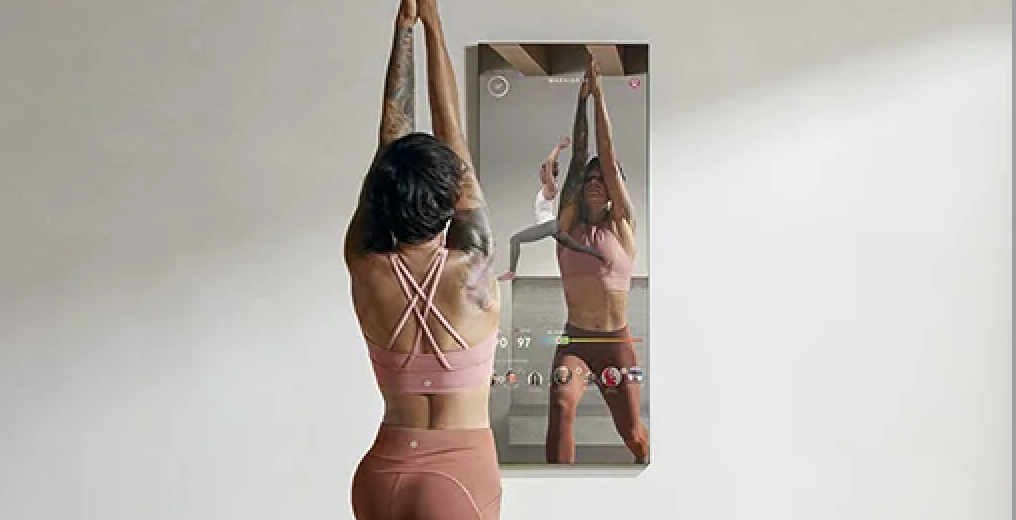 Right before the New Year, we ran an article taking a look at some of the fitness options for keeping in shape in the midst of a pandemic. One option we did not touch on is the Lululemon Mirror, mostly because I did not believe it was a real thing. Like everyone else, I've seen the many ads touting this Bradburyesque contraption over the last couple months. But I figured it was a parody. There's no way the brand known for their overpriced yoga pants aspires to hang a giant two-way looking glass on people's wall, right? Wrong. The Mirror exists, and it is a sign of the times.
For those unfamiliar with the Mirror, it literally a $1,500 mirror, which in addition to filming your movements also displays workout videos so you don't have to go to a gym. Is there a market for this? There must be, considering Lululemon bought the start-up responsible for the device for $500 million.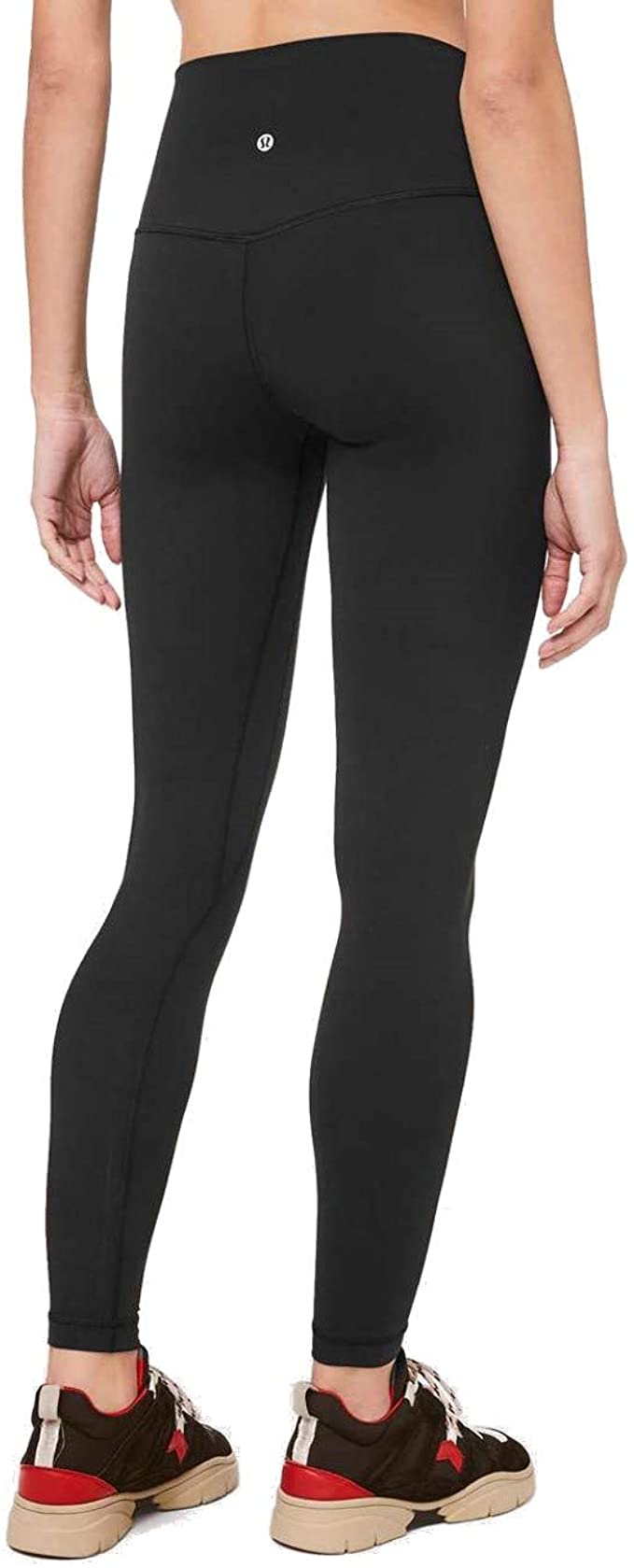 Lululemon Align Full Length Yoga Pants – High-Waisted Design, 28 Inch Inseam — $98 to $148
Such is life during COVID. People are so tired of being trapped in their houses, they are now turning to life-size screens to simulate interpersonal interaction. This also shows how the pandemic has changed our relationship with privacy; now that we are on Zoom every day, performing workouts in front of a camera does not seem like that big of a deal. (For those folks who do still value privacy, Lululemon insists that turning on the camera is merely "an option.")
The Lululemon Mirror is just the latest example of wellness technology designed to capture any and all information about its users. Pretty much all of your important health data is tracked by your Apple Watch, and that isn't even counting the enhancements of Apple Fitness+.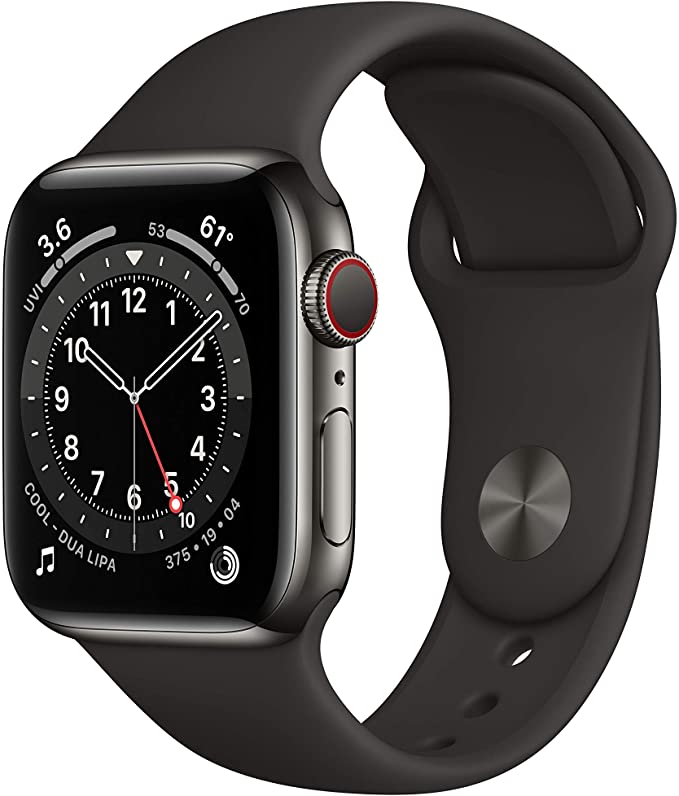 New Apple Watch Series 6 (GPS + Cellular, 40mm) – Graphite Stainless Steel Case with Black Sport Band — $699
And it goes beyond exercise. The Wall Street Journal recently ran a feature on the growing practice of hypnosis via Amazon Alexa devices.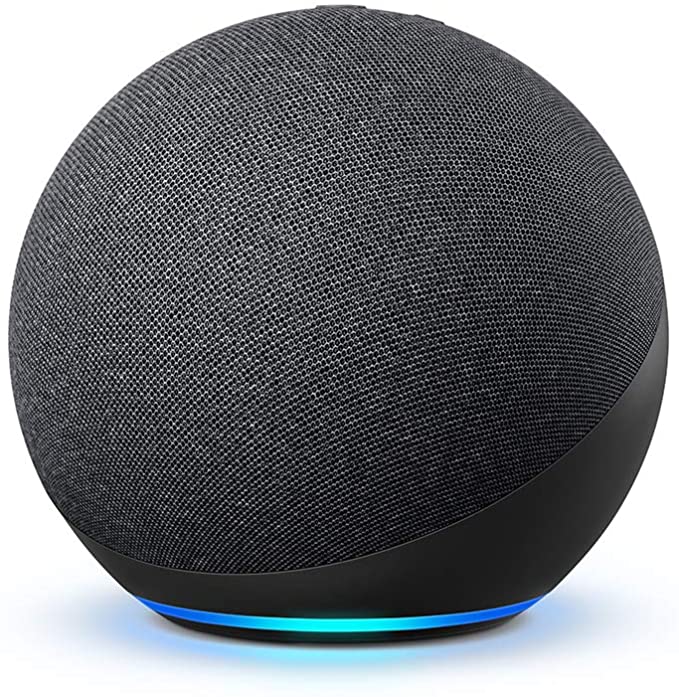 All-new Echo (4th Gen) | With premium sound, smart home hub, and Alexa | Charcoal — $99.99
If people are willing to bare their souls to a miniature robot, who am I to tell them off? But as more and more data is accumulated through these various channels, it's hard not to think that they will be used in some way to manipulate human behavior. Maybe this is a good thing, leading to a healthier populace. Let's hope that's the case. Because if the data falls into the wrong hands, there is little doubt that it could be used to nefarious ends.
Wearable Thermometers Are Here To Stay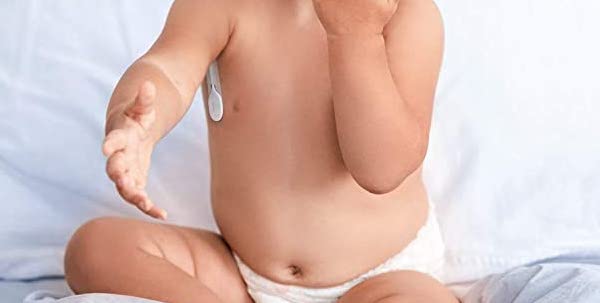 With the days of COVID-19 hopefully numbered, we can start to look back at some of the products and devices people relied during these scary times. It will be interesting to see which items will fade away and which will remain popular even when this is all said and done.
I think the so-called "wearable thermometer" is here to stay. These tiny home medical devices attach to just under your armpit and continuously monitor your body temperature. Unlike a regular thermometer, which provides a snapshot of your temperature and therefore of your health, a wearable thermometer gets a constant reading. That means it can alert you as soon as a fever begins to develop, sensing an immediate deviation from the norm.
In recent years, parents have discovered the use of wearable thermometers, since these simple machines can tell you if your baby sick even when the baby can't. However, the thermometers are no longer just for babies. People have realized that at a time when health is paramount—both for protecting yourselves and those around you—it is important to know immediately when someone may have contracted a deadly virus. By the time you start to exhibit more obvious symptoms, who knows how many people you may have infected?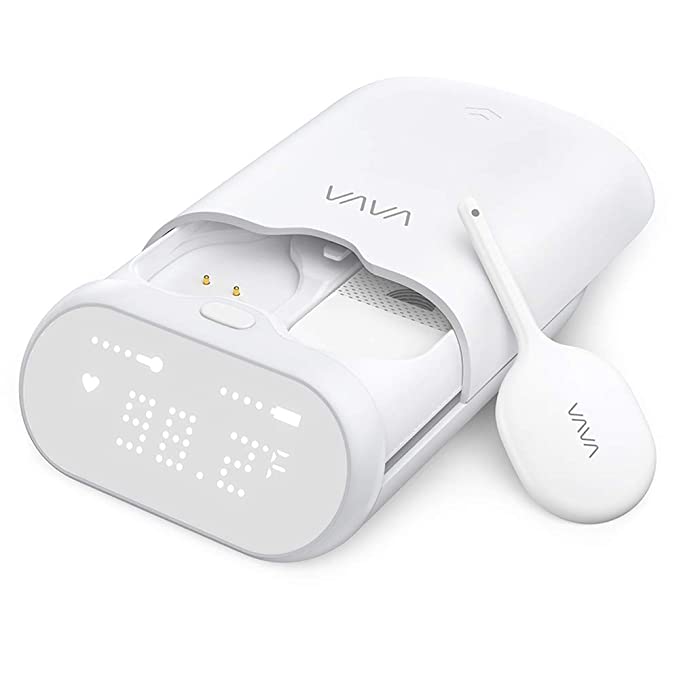 VAVA Smart Baby Thermometer for Kids & Adults, Real-Time Continuous Monitoring Thermometer with Fever Alarm, 24H Battery Life, Wearable Armpit Fever Monitor — $79.99
Right now, one of the best wearable thermometers out there is the VAVA Smart Baby Thermometer. Although marketed as a baby thermometer, it also clearly states it is meant for "kids and adults." I expect that in coming years you will see this line more frequently with a devices which was previously intended for newborns. Especially as the designs get better and they become more comfortable to have on throughout the day, the wearable thermometer will become an essential part of public health.
Although the VAVA thermometer does not have an accompanying mobile app like some of its competitors, it is extremely simple to use: the alarm will beep immediately as soon as temperatures start to rise. It has a battery life of 24 hours, so you can monitor temperature for long stretches of time without worrying about charging. And by using medical-grade non-woven adhesives for its silicone patch, you can expect a much more accurate reading than anything you might wear on your wrist or other body part.
Is It Time To Buy A UV Phone Sanitizer?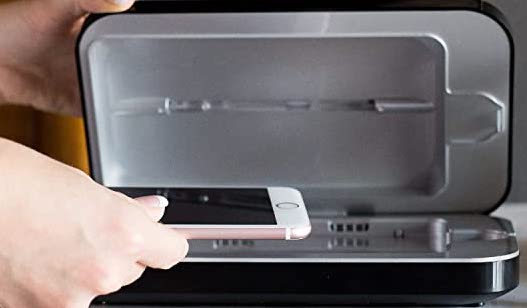 As parts of the country continue to open up after a year of lockdown, more interpersonal interaction is inevitable. If you are not one of the lucky few to be eligible for a vaccine, then of course you should wear a mask when out in public. But wearing a mask does not 100% protect you (or those around you) from COVID-19, so there are other considerations to keep in mind when planning your reentry into the civilized world.
Consider a UV phone sanitizer. These nifty pieces of technology were popular buys at the beginning of the pandemic, but for most people exposure to others was so limited that it was not a particularly good value unless you were a frontline worker. Now you might expect to see people a little more often, so these useful machines are again something to consider.
There are dozens of UV phone sanitizers available on Amazon, but the belle of the ball is the PhoneSoap 3. In addition to ridding your smartphone of 99.99% of bacteria in mere minutes, it also features a USB-C charger so you can clean and power up your phone simultaneously. (The marketing folks at PhoneSoap seem to want to call their device a "UV-C" as a result, but I don't think that is going to catch on).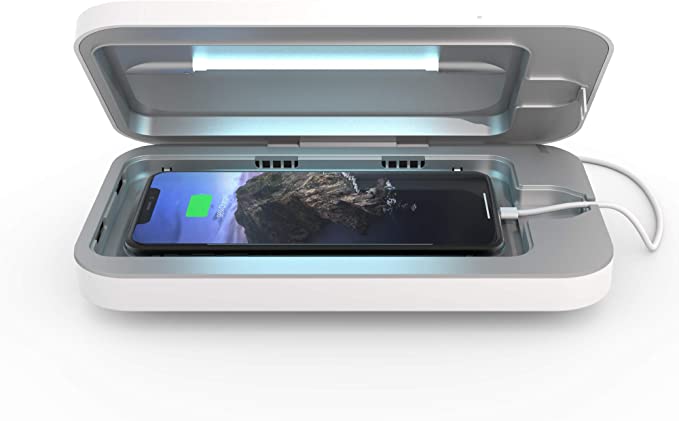 PhoneSoap 3 UV Cell Phone Sanitizer and Dual Universal Cell Phone Charger | Patented and Clinically Proven UV Light Sanitizer | Cleans and Charges All Phones – White — $79.95
The effectiveness of UV radiation in killing harmful microbes is undisputed; it is the same technology used to clean thousands of medical instruments in hospital settings every day. The only question is: Is sanitizing your smartphone necessary?
Perhaps not. It almost certainly wasn't when the farthest you ventured out of the house each day was to your mailbox. But now that our collective situation may once again approach something resembling normalcy, it is a good time to remember that your phone is one of the dirtiest things in your entire house. Throughout a typical day your phone is exposed to more germs than even your toilet.
With a light finally visible at the end of the tunnel, wouldn't it be better to be safe than sorry?
NYT Asks: Do Blue-Light Glasses Work?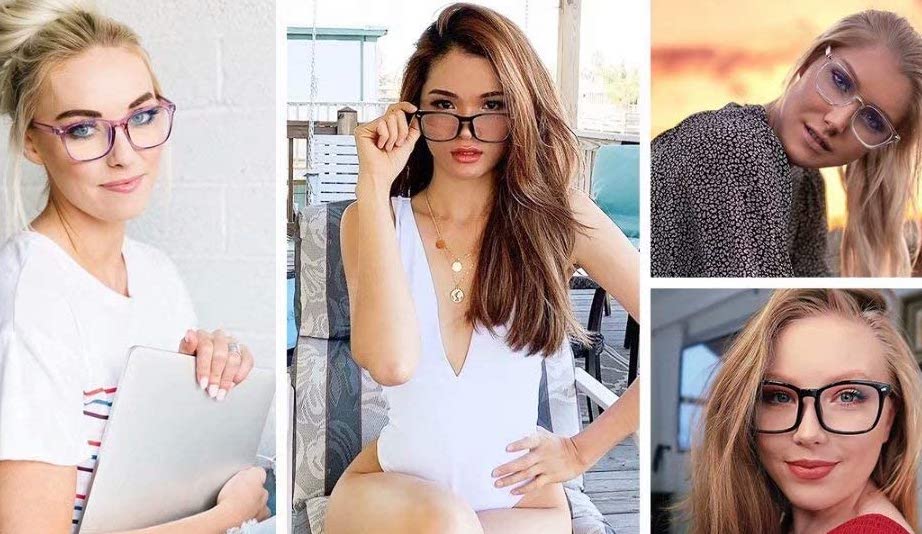 Folks, people are wearing blue-light glasses, and the New York Times is on it.
In a hard-hitting exposé in the Style section, the Grey Lady perceptively notes that blue-light glasses have gotten more widespread in the past year, as quarantining has forced people to spend more time in front of their computer screens. The article goes on to interview "experts," most of whom agree that blue-light glasses, most of which are laughably inexpensive, are nonetheless a waste of money.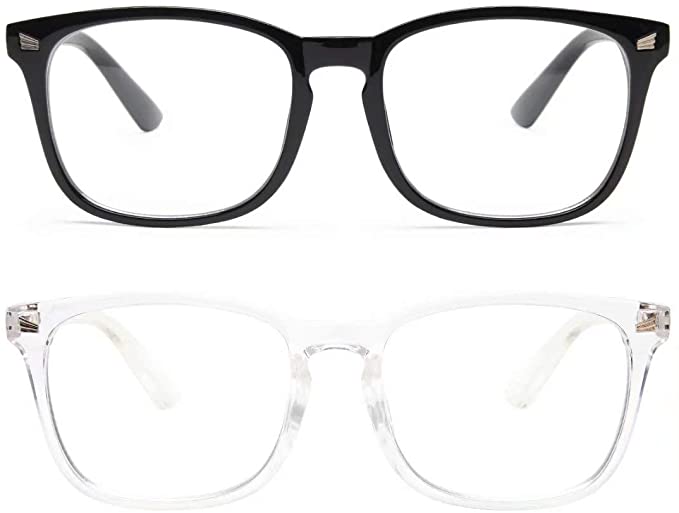 livho 2 Pack Blue Light Blocking Glasses, Computer Reading/Gaming/TV/Phones Glasses for Women Men,Anti Eyestrain & UV Glare (Light Blcak+Clear) — $9.99
Look, I'm not here to tell you that the $10 specs you bought from some random Chinese factory on the internet are actually exactly what you need to relieve eye strain and improve your sleep. I got so-called computer glasses years ago, and I'm under no illusions that they've done anything whatsoever for my ocular health.
But that's kind of the point—what is the Times doing pretending that this is some sort of new trend? For years, people have been telling themselves that this magic eyewear from the internet will absolve them of the guilt that comes from being enslaved to their laptops and smartphones. Everybody knows that spending too much time glued to a screen is bad for them, but just like with the gazillion dollar pharmaceutical industry, they'd prefer throwing money at a problem as opposed to addressing the root issue. Welcome to America.
The most striking thing about the paper of record's feigned credulity on the topic of blue-light glasses is that the very question was addressed in the Wirecutter, all the way back in 2017. For those keeping score at home, the New York Times purchased the Wirecutter in 2016. I'm not sure what new research needed to be conducted in 2021, when navigating to this helpful URL would have done the trick: https://www.nytimes.com/wirecutter/blog/what-are-computer-glasses-and-do-they-work/
Or if you don't want to waste time reading regurgitated "news" articles, you could just spend the sawbuck and make the decision for yourself. Go right ahead: there's nothing stopping you.