My Favorite Workout Clothes On Amazon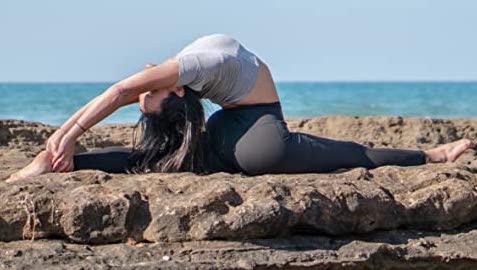 Ok, let's be honest here. Women buy workout clothes for three reasons and three reasons only:
1. To look good
2. To feel good
3. And, lastly, to work out in
As I've mentioned before, I am no fitness junkie. In fact, I am closer to being a rocket scientist than I am a fitness junkie, but that doesn't mean I don't need quality fitness clothing. That simply means I'm not going to spend $100 on one pair of leggings. To be completely honest, I don't care who you are or how much money you have, I personally don't think anyone should ever spend that much money on a pair of leggings. But hey, to each her own. If you're reading this, however, I suspect that we're on the same page. Lululemon, we do not stan. Sorry, not sorry. Quality and affordability are everything, brand names are not. With that said, here are some ideas for workout clothes or "Lululemon dupes." They will make you feel good, look good, and they all can be worn while working out.
Blooming Jelly Womens Quick-Dry Running Shorts Sport Layer Elastic Waist Active Workout Shorts with Pockets 1.75″ — $24.99
If you are a woman who was born in the '90s, chances are, you owned at least one pair of the iconic "Nike Fit" shorts. In middle school, these shorts had a direct impact on your social status, so it was imperative that you had them. I personally had enough pairs to supply an entire village, which, embarrassingly enough, still haunt me to this day. Needless to say, my athletic shorts collection has been in desperate need of an upgrade for quite some time now.
Now, to say I am rather picky about my clothing would be a vast understatement, but when I find something I love, I really love it. Which brings me to these shorts: The Blooming Jelly Women's Quick-Dry Running Shorts. These are hands down, without a doubt, my absolute favorite pair of athletic shorts that I have ever owned. Having grown up as an athlete, that says a lot about these shorts. I mean seriously, I never want to take them off my body. They're comfortable, they look great, they fit perfectly, and they come in 11 different colors. Most of which I will shortly be the proud owner of, so you better get them now before I single-handedly clear out their inventory.
Lemedy Women Padded Sports Bra Fitness Workout Running Shirts Yoga Tank Top — $18.99 to $23.99
As the #1 best seller in Women's Sports Bras on Amazon, with over 32,000 reviews and a 4.6-star rating, you already know this top is a winner. If a Lululemon dupe is what you're looking for, then here you have it. The material is soft and comfortable, and the fit is snug and flattering. I personally like that it's padded, as it provides me with the perfect amount of support; but the pads can be removed if you wish. This versatile crop-top has inevitably become a staple in my closet, and with summer right around the corner, it will most likely be one of the only items I wear. With 19 different colors, you can literally get the perfect one to match your every mood. From the gym to the mall, this cropped tank top will not let you down.
Women's Longline Sports Bra Wirefree Padded Medium Support Yoga Bras Gym Running Workout Tank Tops — $22.99
If spaghetti straps aren't your thing, or if you're like me and want some variation in your fitness wardrobe, then this is the top for you. This padded cropped tank top is a best seller on Amazon that fits great, feels great, and most importantly, looks great. Again, these pads can be removed if you wish to do so, but they do provide just the right amount of support otherwise. Obviously this is another versatile piece that is perfect for the gym or for lounging around in. It comes in six different colors.
Colorfulkoala Women's High Waisted Yoga Pants 7/8 Length Leggings with Pockets — $25 to $29
These are the #1 best seller in Women's Yoga Pants on Amazon for a reason, but as always, it's my job to be completely honest with you guys. The second I pulled these leggings out of the package, I fell in love with just the mere touch of them. Then came the whole "trying on" part, and, well, I got the short end of the stick on this one. The leggings felt amazing on my body, and honestly they didn't look so bad either. That is, except for the ungodly cameltoe they gave me, which I can only blame on my annoying, disproportionate petite frame. The good news, however, is that the majority of you guys won't have to worry about that problem. I ended up just giving them to my sister. Not only does she love them, but they fit her perfectly. Even though these leggings didn't quite work for me, I still give them my blessing.
Headbands For Women, 6 PCS Yoga Running Sports Headbands Tie Dye Boho Pattern Elastic Non Slip Sweat Headbands Workout Hair Fashion Bands for Girls — $12.99
If you couldn't already tell by now, I'm all about versatility. I'm also all about buying products that actually fit. Coming from someone with a pea-sized head, headbands that fit are nearly impossible to come by. Honestly, ordering this set of headbands was a shot in the dark for me, so I was fully prepared to be disappointed. But, to my very unexpected surprise, they actually fit, and I am slightly obsessed. These are the softest headbands I've ever owned, and they're great for working out in or accessorizing with your outfits. They're "tiny head-proof," and since they are made with spandex, they will fit any sized head. If you aren't crazy about the tie-dye, no worries. There are 11 other sets with different patterns and colors to choose from.
As you can see, good quality workout clothes do exist at affordable prices. So maybe it's best to think twice before dropping an unnecessary fortune. Trust me, you'll thank me later.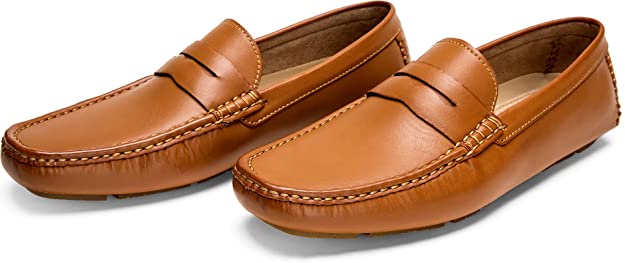 In Amazon Unbound, Brad Stone's essential reading on the continued rise of the e-commerce behemoth, there is a particular line that stuck out to me. Before Amazon opened the floodgates by allowing Chinese sellers to join the platform en masse, the company did a survey to see what was more important to its consumers: quality or price. The results: "And it turned out that plenty of people will buy dirt cheap sneakers on the internet, even if they suspect the shoes are not going to last that long."
This was my thinking when I purchased this pair of loafers from a brand called Jousen. I recently moved into the top floor of an apartment building, and I wanted a pair of slip-ons I could quickly don if I needed to go down to collect a package from the mailroom or something. Since I did not plan to be walking in them more than, I don't know, 100 feet at a time, I did not want anything expensive. Jousen obviously spends a lot of money on Amazon ads, because as I dug through the results it showed up on every page. And at under $40 it was easily the cheapest.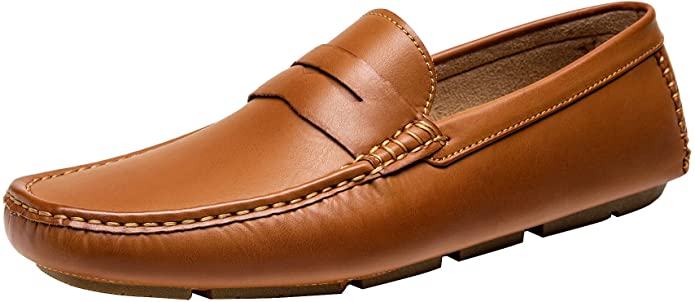 Jousen Men's Loafers Casual Slip On Penny Loafer Lightweight Driving Shoes — $39.99
For $40, I was not expecting a lot. I figured with how sparingly I intended to wear them, I could hopefully get a few month's worth of use. Then when they inevitably fell apart, I'd spend another $40 on a new pair.
That is not what happened. Admittedly, I have owned these loafers for nearly two months and they have yet to fall apart. And I do not suspect they ever will. Because I do not foresee a world in which I put them on my feet ever again. These are by far the most uncomfortable shoes I have ever worn—I can only equate it to wearing a hairshirt on your feet. Every step I took in them felt like punishment for some crime I didn't even know I'd committed.
While I shouldn't have been surprised that a cheap product from a no-name Chinese brand was shoddy quality, I will admit that I was. I know there is a culture gap between what the Chinese make for an American audience and what Americans actually use, but here I thought wearing shoes was a universal experience. Silly me.
The Jousen slip-on loafer has over 1,800 customer reviews. Reading through them, I can only assume the vast majority are fake. Anything with the word "comfortable" in it is easy to disregard out of hand. There is at least one review, however, which I have no doubt is genuine:
Nice and lightweight, but the interior cushioning is lacking, feels like walking of a cement floor, barefooted. Poor arch support, and heel is higher than toe area so you feel if you are walking downhill.
I could not have said it better myself. That is exactly what it feels like—walking downhill on a cement floor in bare feet. If you believe that sensation is worth $40, then by all means purchase your very own pair of this modern torture device. If not, just spend the extra $30 and get Rockports.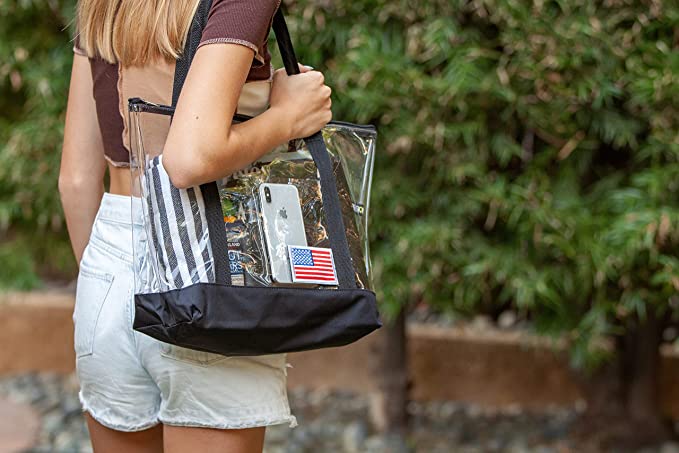 Ladies, it is time to dispose of your beloved cotton tote bags. So says the New York Times in a scathing indictment of the environmental impact of these status symbols, which New Yorker types have used for years to signal to the world that they care about that sort of thing. In an article titled "The Cotton Tote Crisis," the paper of record informs us that you need to use a cotton tote bag a whopping 20,000 times in order to offset the harm it does the environment. Helpfully, they do the math to let us know that amounts to using it every single day for 54 years!
So, think twice before you donate to yet another telethon with the aim of adding to your tote collection. You can still benefit from the peace of mind that comes with carrying your things a reusable bag, but you absolutely do not want one made out of cotton. It is time to switch to a clear vinyl bag:
Clear American Flag Tote Bag — $14.99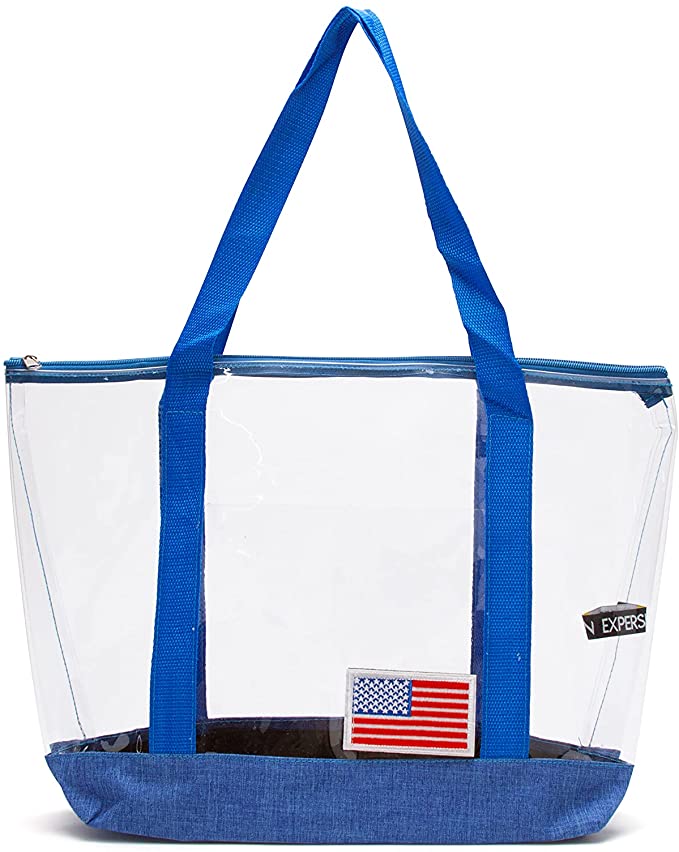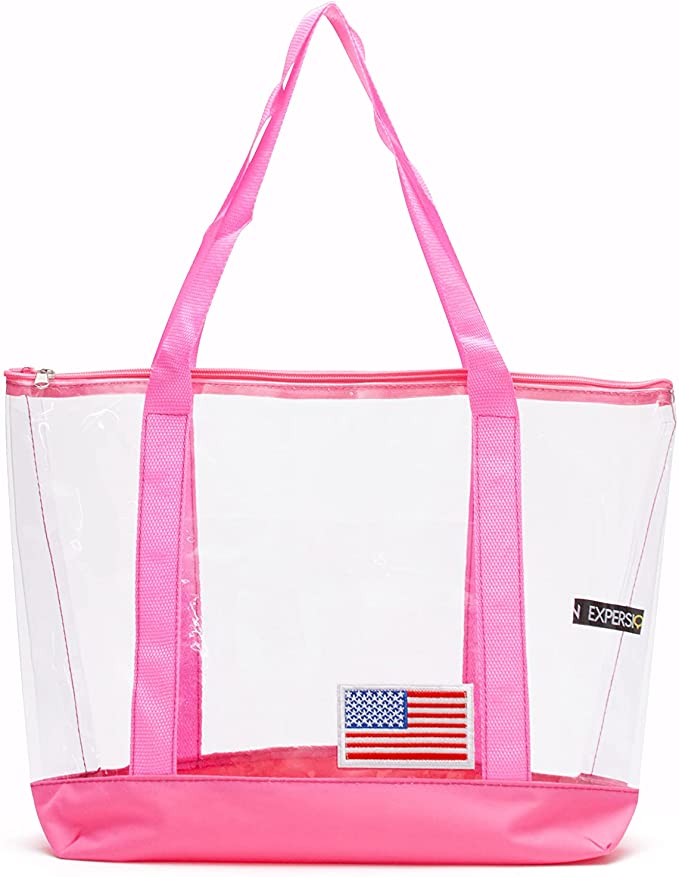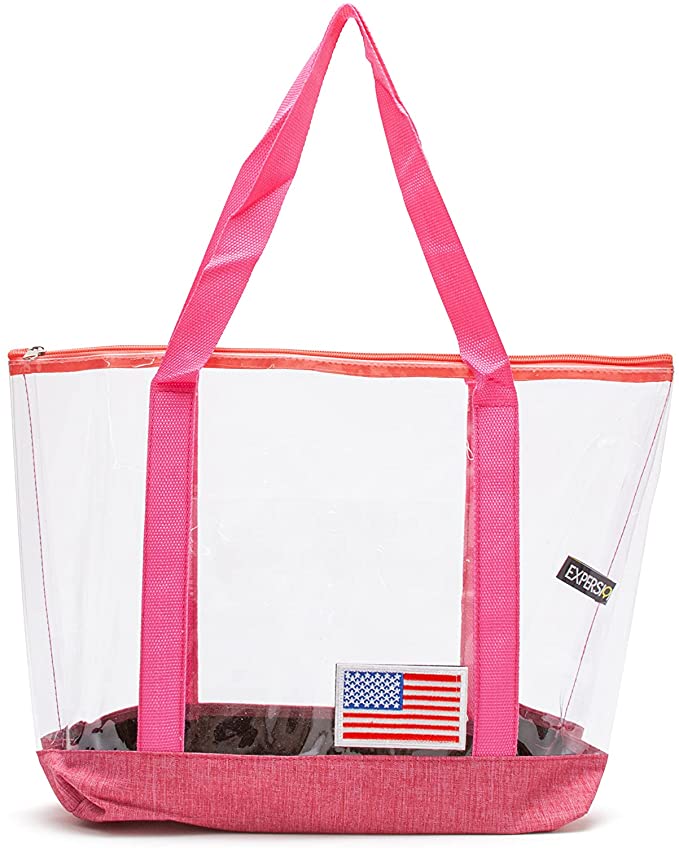 All right, so you'll have to switch out the NPR logo for an American flag, but all things considered it is a trade worth making. Made of vinyl and nylon, you do not have to worry about the global harm done by the cotton industry. Ironically, you will technically be returning to the plastic bag you shunned for the organic material in the first place, but because these bags are reusable you are no longer contributing to the rapidly accumulating waste on our shared planet.
These tote bags are the latest product offerings by Expersion, which sells the clear U.S. flag backpacks as well. With modern security measures, more and more situations are requiring clear bags in order to enter—no longer just schools, but also sporting events, concerts, museums, and other public events. Buying one now can save you hassle down the line. Furthermore, as long as our society continues to be ravaged by COVID-19, it helps that these totes are incredibly easy to clean and sanitize.
Since cotton is out, it is time to make a change. Let Expersion help.
The $18 Funky Monkey Shoes Did Not Live Up To The Hype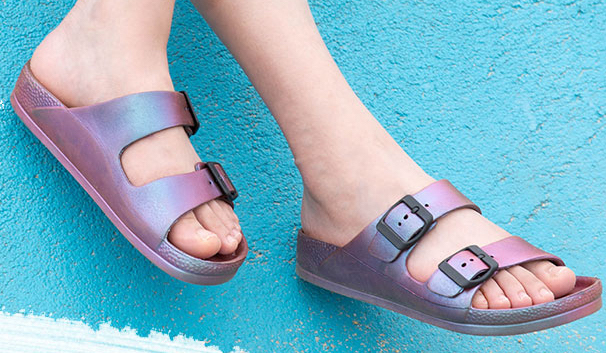 At the beginning of summer, I was in dire need of a new pair of sandals and as usual, I was not looking to spend a fortune. All I knew was that I wanted something similar to the lightweight, waterproof Birkenstock EVA sandals, but cheaper. So my search for the best Birkenstock dupes began, and it wasn't long before I was buying a pair of Funky Monkey sandals off Amazon. Lots of people on TikTok swore by these sandals—some had even said they were better than their Birkenstocks! That, in addition, of course, to the 4-star rating and 42,000+ customer reviews on Amazon, gave me ample reason to buy a pair. Although these shoes come in 45 different colors, I decided to keep it simple and went with black. 
FUNKYMONKEY Women's Comfort Slides, $17.99
I was so excited for my sandals to come in, which of course, took way longer than expected (smh, Amazon Prime). By the time they finally arrived, my expectations were so high that there was no doubt in my mind that these were going to be my new favorite summer sandals. The second I pulled the shoes out of the box, I was struck with utter disappointment: They looked way too big and had an unpleasant stench to them. The product description claims they are true to size, as do the majority of the reviews, so obviously I didn't think twice about ordering my normal shoe size (which, by the way, is a women's 6). Unfortunately, these fit more like a size 7. This wasn't the end of the world, but it wasn't what I was hoping for either. 
(Note: prior to purchasing these shoes, I knew that the EVA material fit differently, but I had tried on a pair of Birkenstock's EVA sandals in my size before, which fit well, so I assumed these would be very similar.)
At the end of the day, I reluctantly decided to keep them because I knew I could make them work. The smell eventually faded and while I don't wear them as much as I had originally planned, I figured they were better than nothing. That is, until they gave me blisters on both of my feet. This was frustrating to say the least, after I was already disappointed by them. Consequently, I now have a pair of clown shoes that give me blisters. Fortunately, they were only $18, so it's not the biggest loss ever, but I most likely won't be wearing these without socks anymore, and I certainly will not be purchasing a pair of these shoes again. 
All things considered, I'd give these shoes a disappointing 2-star rating. I won't tell you not to buy them because my opinion and experience with these sandals are quite unpopular, but prepare yourself for disappointment. Honestly, if Birkenstock dupes are what you're looking for, you might be better off spending the extra $27 on the real deal. 
Birkenstock Essentials Unisex Arizona EVA Sandal, $44.95