Expersion Offers Only U.S. Flag Clear Backpack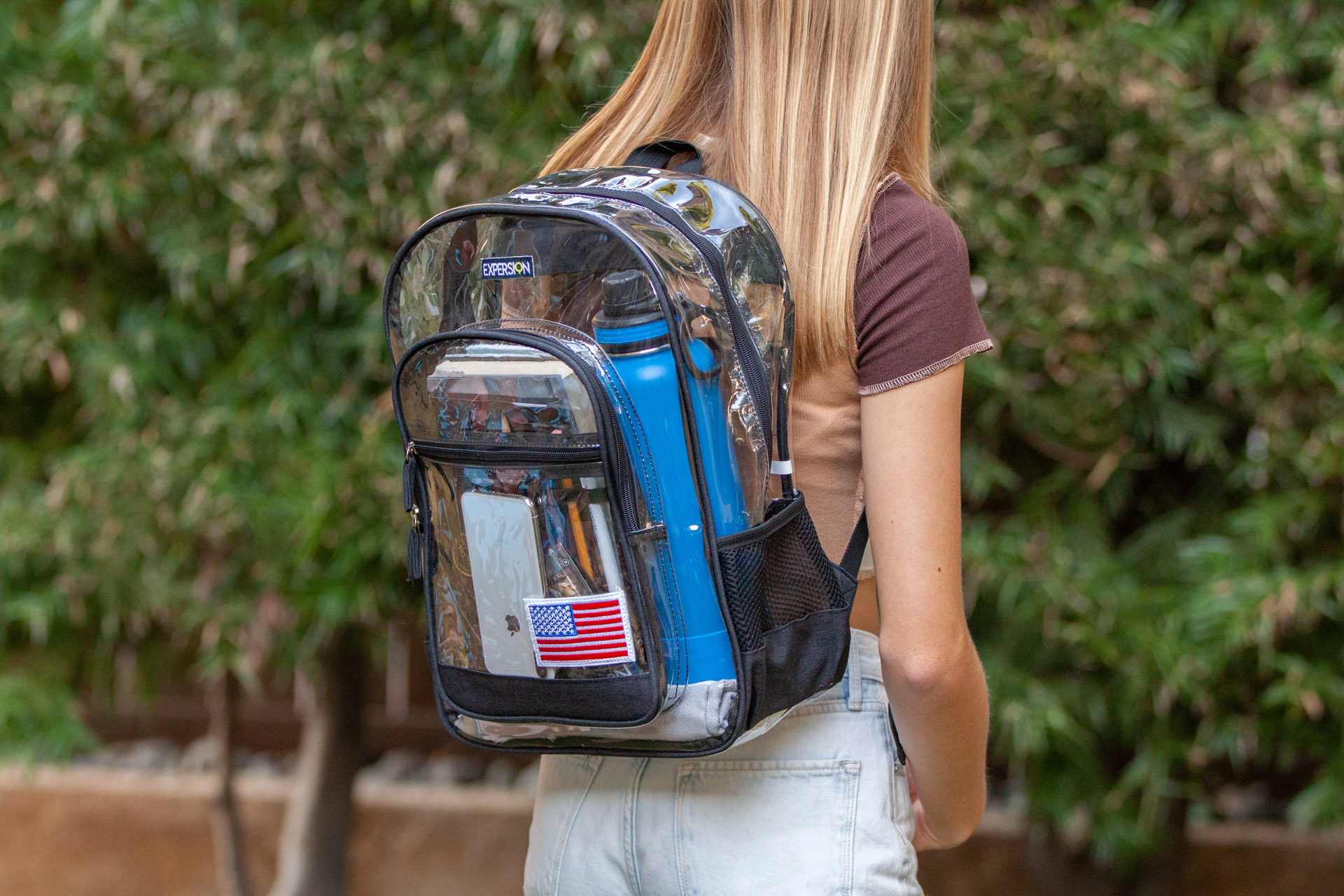 In some cases, children are preparing to go back to school after over a year away due to COVID-19. Unsurprisingly, this brings with it a great deal of anxiety, as students have to readjust to the social pressures that come from being around their peers for six hours a day. Making matters worse, the CDC is now recommending that kids in grades K-12 wear a mask, regardless of their vaccination status. Putting aside the psychological and health implications of this, that is a whole new article of clothing they have to worry about being bullied for! 
And the mask is not the only one. In recent years, more and more schools have mandated that backpacks must be either clear plastic or mesh, so that their contents can be seen by teachers and administrators at all times. This means, sadly, that your child will not be allowed to use her beloved Peppa Pig backpack—that is, if you were even able to find one.
With the coronavirus throwing a wrench in the normal development product pipeline, there has not really been time for major backpack companies to come out with clear or mesh backpacks with designs that make kids smile (let alone popular among their classmates). Most simply have the brand's logo on them, whether it is JanSport, Herschel, or something athletic like Adidas or Under Armour.
Surely, as clear backpack mandates become standard, this will change. But in the meantime, Expersion is the only brand out there that offers such a backpack with a specific theme. The American flag-themed design of this backpack will make your patriotic child feel proud of what is on the outside, rather than embarrassed about what is on the inside. We hope that during this stressful time for kids everywhere, displaying their love of country at school will help them persevere through whatever school throws at them. 
The Expersion U.S.A. clear backpack comes in four colors (black, blue, grey, and pink) and can be purchased at Amazon or Walmart.com:
Black: Buy on Amazon. Buy on Walmart.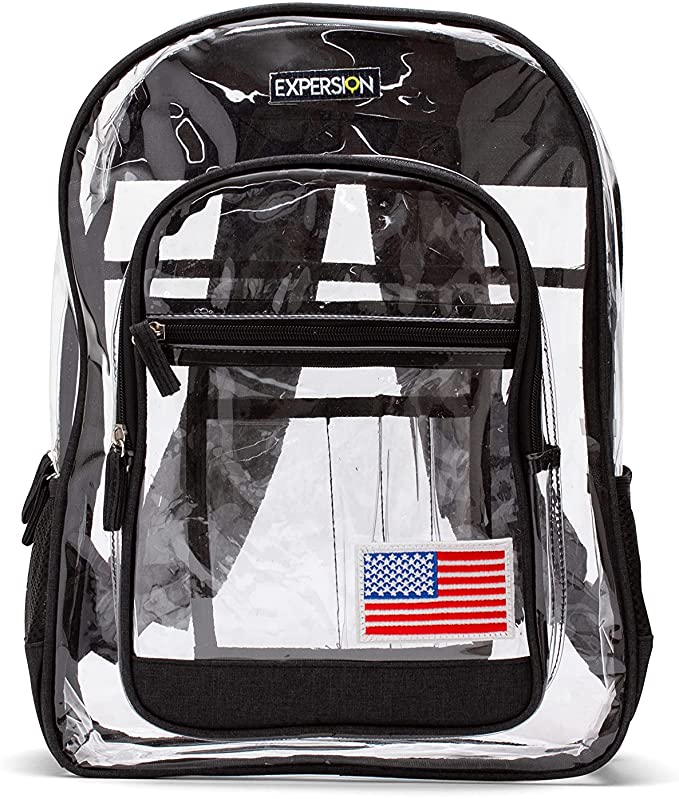 Blue: Buy on Amazon. Buy on Walmart.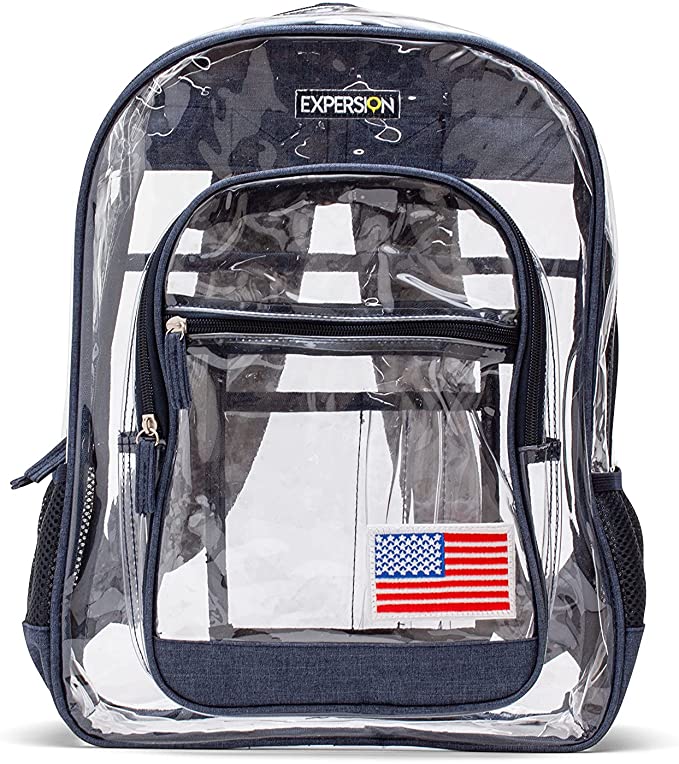 Grey: Buy on Amazon. Buy on Walmart.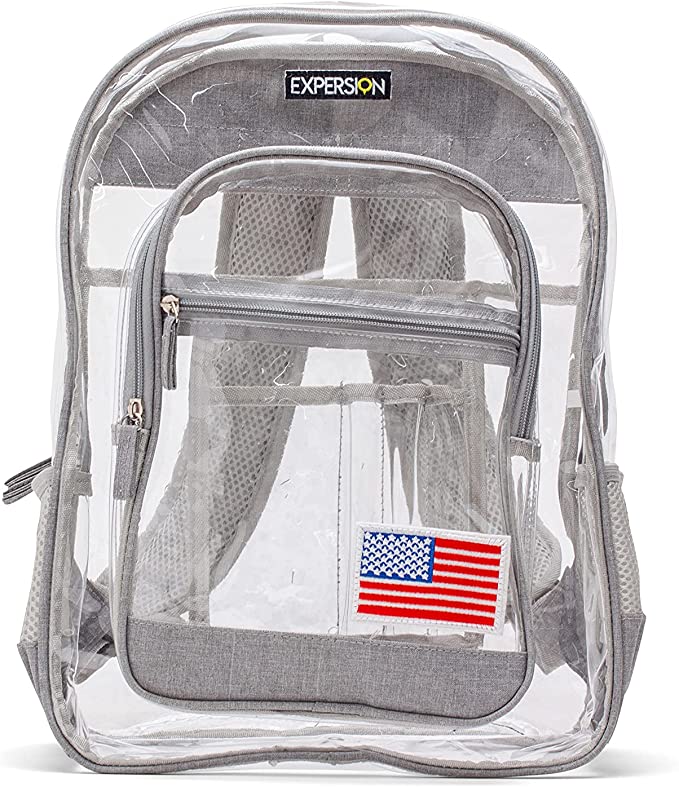 Pink: Buy on Amazon. Buy on Walmart.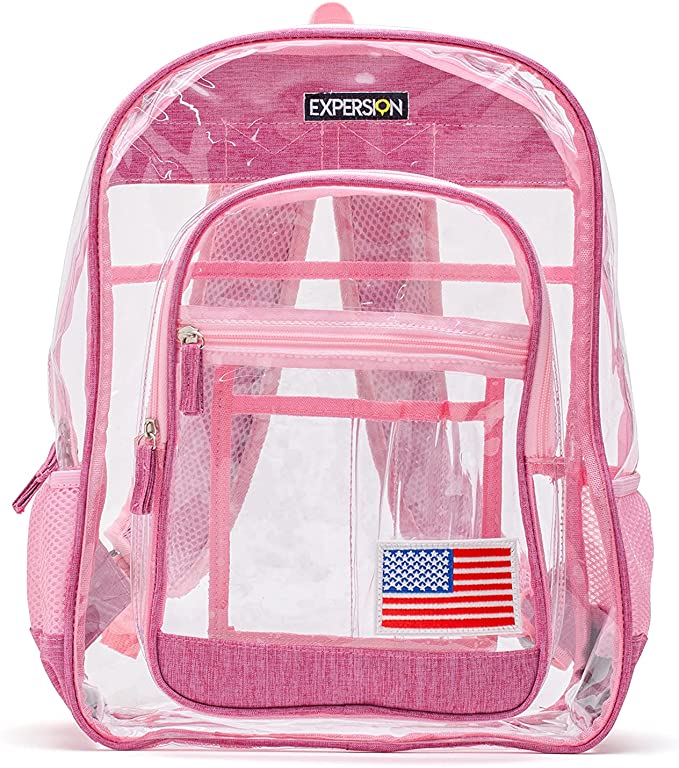 This Rubber Beach Bag Gives You The Space You Need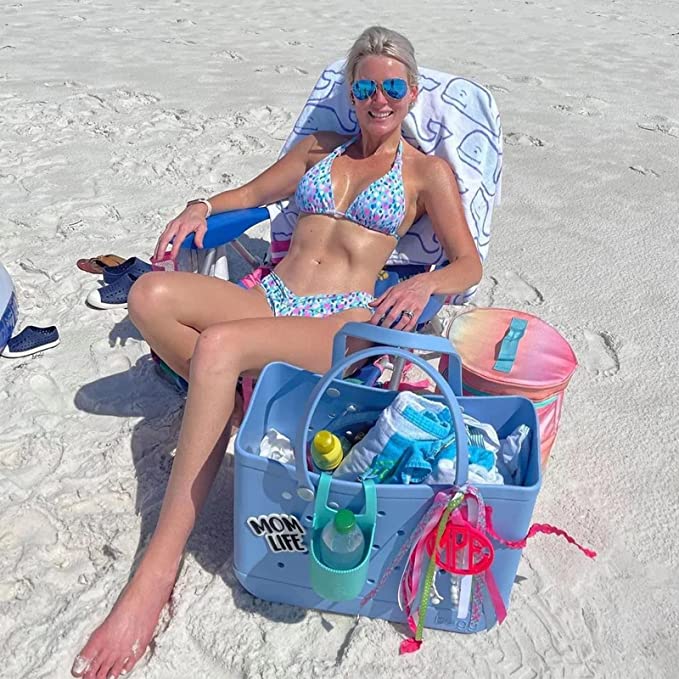 School is out, the tide is in, and summer 2022 is a-go. Though the beach was one of those places you could still travel to even at the height of COVID restrictions, the repeal of mask mandates and negative testing requirements sure make the whole experience much more appealing.
Of course, going to the beach for the first time in years likely means you are in need of supplies. If that is the case, you came to the right place. In recent weeks, We Know Products has written about a variety of beach gear, including a beach table, vacuum-insulated margarita tumblers, and an American flag beach umbrella. Here is another one to add to the list: rubber tote bags.
Now, longtime WKP readers know we are partial to the clear tote bags with U.S. flag patches. But we have also heard from fans who say they like the Expersion totes for going to games and concerts, but that they also want something a little more spacious for beach trips. This rubber tote fits the bill.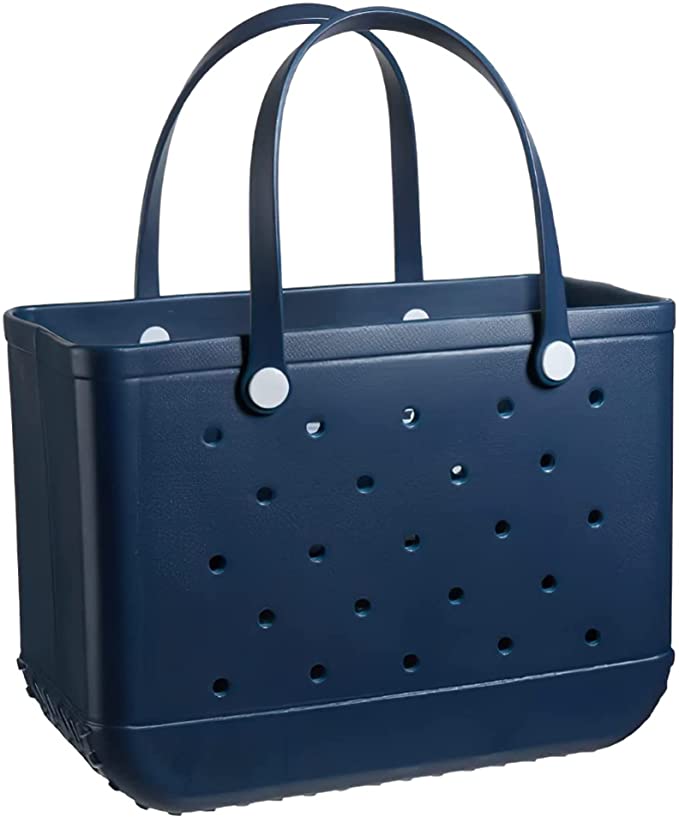 Oversized Rubber Beach Bags Waterproof Sandproof Outdoor EVA Portable Travel Bags Washable Tote Bag from $39.02 to $68.99
As you can see from the item's title, this bag is literally "oversized," so you will have zero problem fitting in everything you need to haul down from your hotel room to the shore.
5 Essential Beauty Products For Summer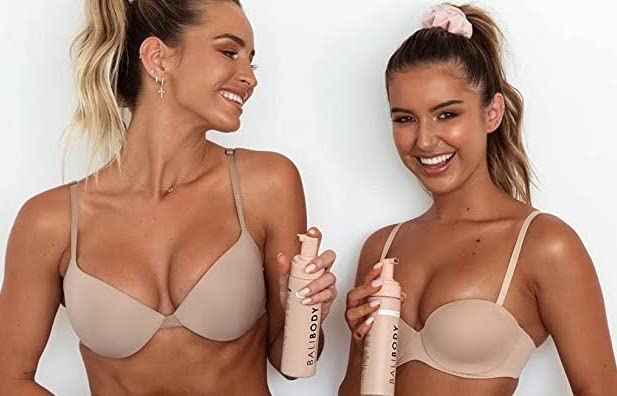 June is rolling around and the summer season is quickly upon us. I'm a July Cancer, so I'd describe summer as the peak of my entire year. The long days, the longer nights, and scorching heat make keeping up with beauty even harder. I've got you covered when it comes to creating a summer survival kit stocked with skincare, makeup, and hair essentials.
BRONZING SERUM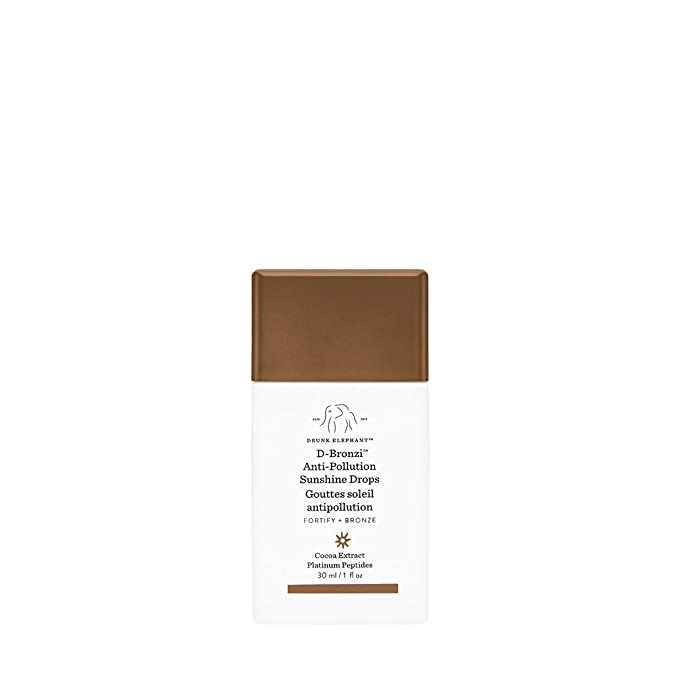 Drunk Elephant D-Bronzi Antipollution Sunshine Serum. Replenishing Face and Body Bronzing Serum for Fine Lines and Wrinkles, $36
Sunshine in a bottle. This serum mimics the effects of Vitamin D for more youthful-looking skin without the damage. It's packed with vital nutrients such as cocoa extract, platinum peptides, and a chronopeptide to brighten your skin. This serum helps reduce the appearance of fine lines and dullness allowing your skin to breathe while also producing a sun-kissed bronzy glow.
2. LIP SLEEPING MASK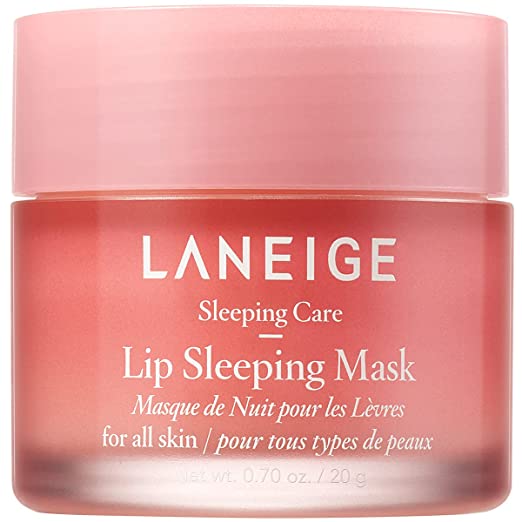 LANEIGE Lip Sleeping Mask: Nourish & Hydrate with Vitamin C, Antioxidants, $22
A leave-on overnight lip mask that soothes and moisturizes for smoother lips. It's a perfect summer staple to hydrate dry, flaky lips from the summer heat.
3. FACIAL SUNSCREEN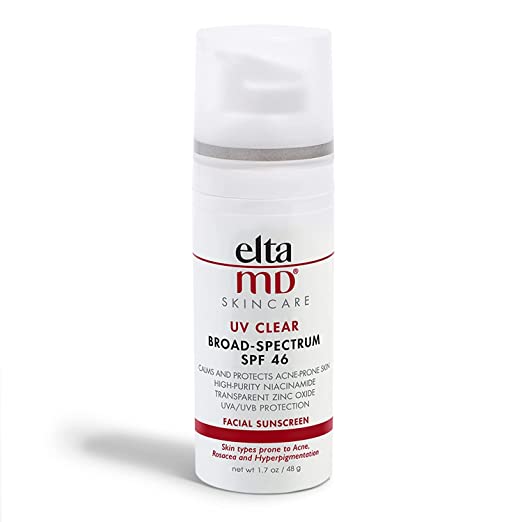 EltaMD UV Clear Facial Sunscreen Broad-Spectrum SPF 46 for Sensitive or Acne-Prone Skin, Oil-free, Dermatologist-Recommended Mineral-Based Zinc Oxide Formula, $29.64
I've been using this product for as long as I can remember. It is a staple to my everyday skincare routine with its light, odorless, and oil-free formula. This facial sunscreen is recommended by dermatologists as it helps calm and protect sensitive skin types prone to acne, rosacea, and discoloration.
4. Self-Tanning Mousse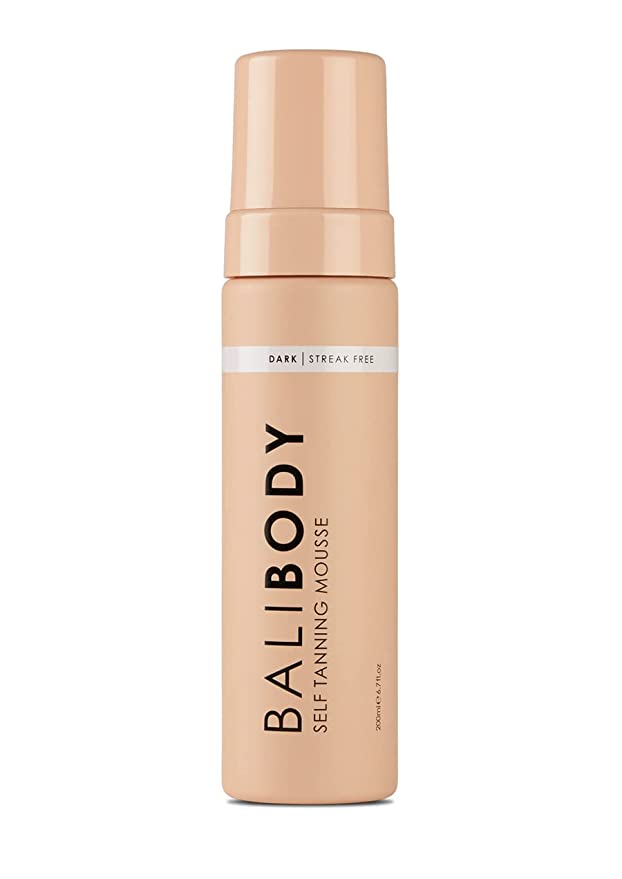 BALI BODY Self-Tanning Mousse, $29.95
Do you want the perfect summer tan without lying by the pool every day? This mousse is enriched with soothing chamomile extract, antioxidant coffee seed extract, and rejuvenating pomegranate extract to leave your skin glowing. Think of it as literally your best summer tan, bottled. It is natural, streak free, and 100 percent vegan.
5. HYDRATING SHAMPOO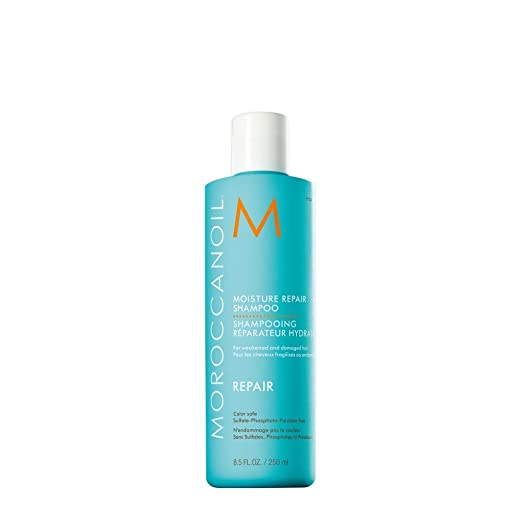 Summer months are full of sun and poolside parties, but they can be horrible on your hair. Between the heat, increased sun exposure, and chlorine, your hair may become dry and brittle. This is a rich and deeply hydrating shampoo that is gentle enough for daily use. Infused with moisture-attracting red algae, antioxidant argan oil, and Vitamins A and E, you'll be sure to always have healthy hair this summer.
Take Your Wine And Cheese Outside With These Picnic Bags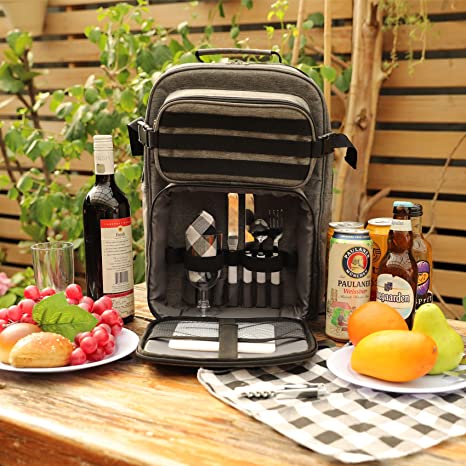 Welcome to March! We keep writing that the teasing nature of the weather is getting us excited for warmer temperatures; now the calendar is finally backing us up. Everyone seems to have the same idea, as evidenced by the fact that picnic bags are now trending products on Amazon. I can't be the only one excited to pack a lunch and a few bottles of wine to enjoy in the great outdoors.
If picnicking is also on your mind, here are some of the best picnic bags available on Amazon:
CleverMade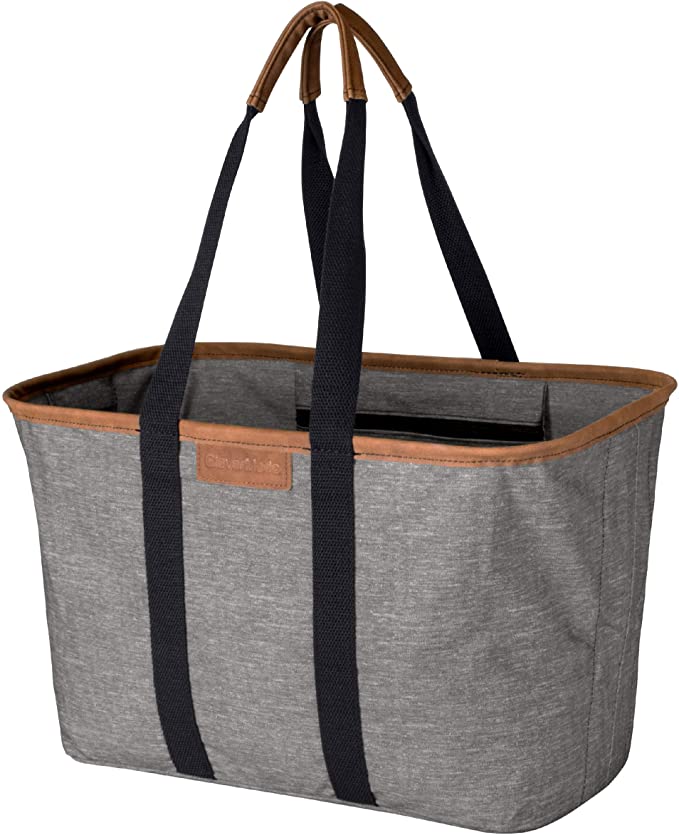 CleverMade 30L SnapBasket LUXE – Reusable Collapsible Durable Grocery Shopping Bag – Heavy Duty Large Structured Tote, Heather Grey — $38.08
If you are the type of person for whom simplicity and elegance are paramount, the CleverMade SnapBasket is for you. It collapses to be the size of a laptop sleeve, then opens up to contain up to 30 liters. Potential uses for this bag go far beyond the modest picnic—take it to work, to the grocery store, pretty much anywhere you need to carry things.
LEGACY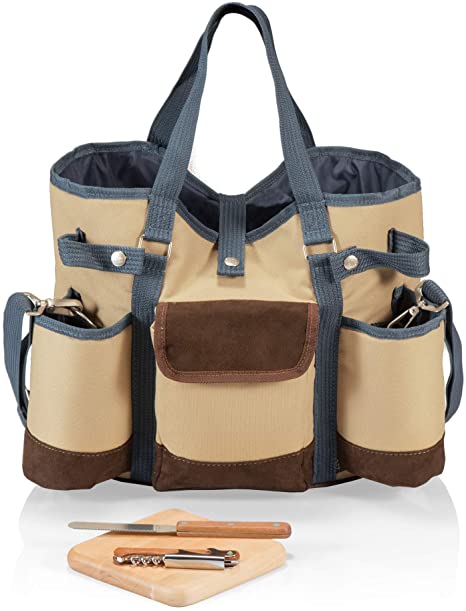 LEGACY – a Picnic Time Brand Country Cheese Service and Corkscrew Wine Tote Bag, 14″ x 12″ x 8″, Tan/Blue — $60.99
The LEGACY tote caught my eye for one simple reason: its twin insulated wine pouches. Although a bit pricier than most picnic bags, its quality and functionality make that price worth paying. Furthermore, it also comes with a hardwood cheeseboard, a cheese knife, and a corkscrew. If you invest in this one, you certainly will be preparing for a picnic.
Vogano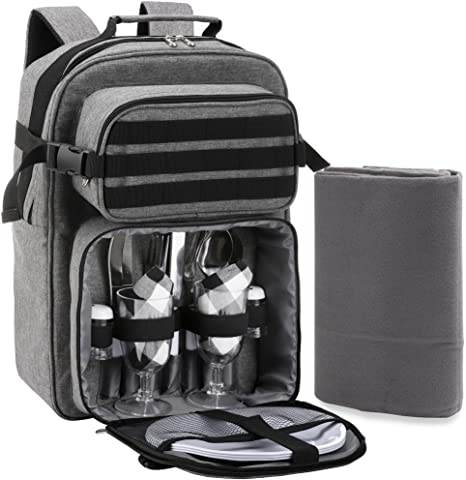 Vogano Picnic Backpack Cooler Bag for 2 Person Set with Insulated Compartment,Fleece Blanket,Cutlery Set,for Hiking Camping Tactical Outdoor — $52.99
There are picnic bags with space for wine bottles, then there are wine bottle bags with space for picnic food. The Vogano backpack falls in the latter category. It was so obviously created with wine drinkers in mind that it has front pouches specifically for storing wine glasses. In fact, it even comes with said wine glasses, as well as 2 table napkins, 2 stainless steel spoons, forks and knifes,1 cutting board, 1 butter knife, 1 bottle opener, and 1 pepper & salt shaker set.
Expersion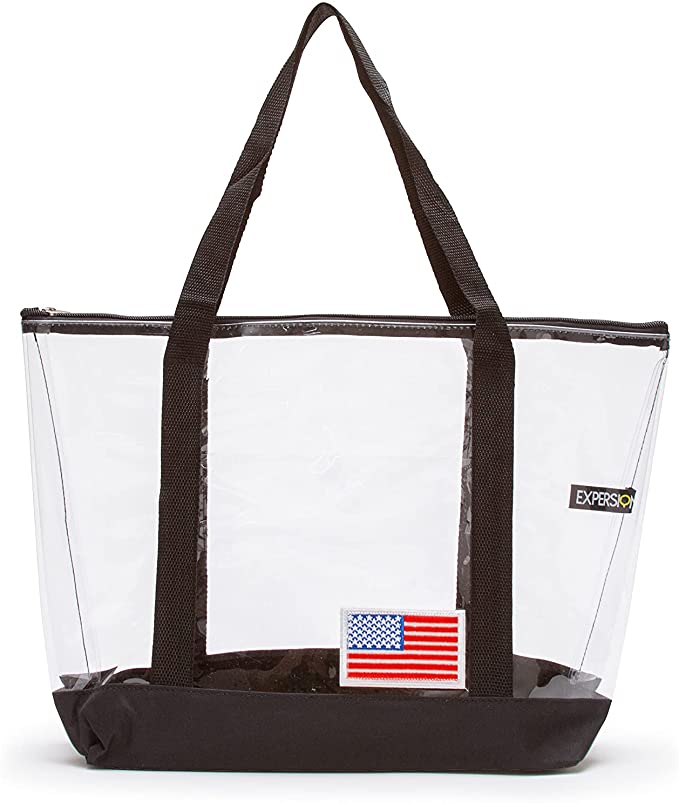 Clear American Flag Tote Bag — $14.99
If price is the most important factor in your decision-making process, then you can't beat this American flag tote bag from Expersion. It may not have the frills of the other bags on this list, but it has the added benefit of being vinyl, and it is therefore very easy to clean with a simple wipe.