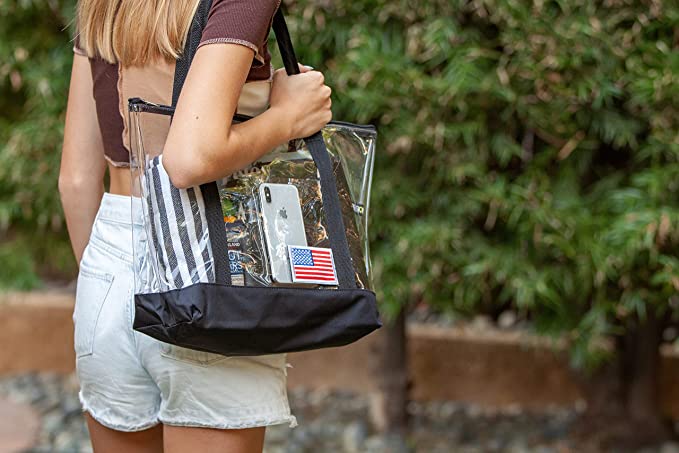 Ladies, it is time to dispose of your beloved cotton tote bags. So says the New York Times in a scathing indictment of the environmental impact of these status symbols, which New Yorker types have used for years to signal to the world that they care about that sort of thing. In an article titled "The Cotton Tote Crisis," the paper of record informs us that you need to use a cotton tote bag a whopping 20,000 times in order to offset the harm it does the environment. Helpfully, they do the math to let us know that amounts to using it every single day for 54 years!
So, think twice before you donate to yet another telethon with the aim of adding to your tote collection. You can still benefit from the peace of mind that comes with carrying your things a reusable bag, but you absolutely do not want one made out of cotton. It is time to switch to a clear vinyl bag:
Clear American Flag Tote Bag — $14.99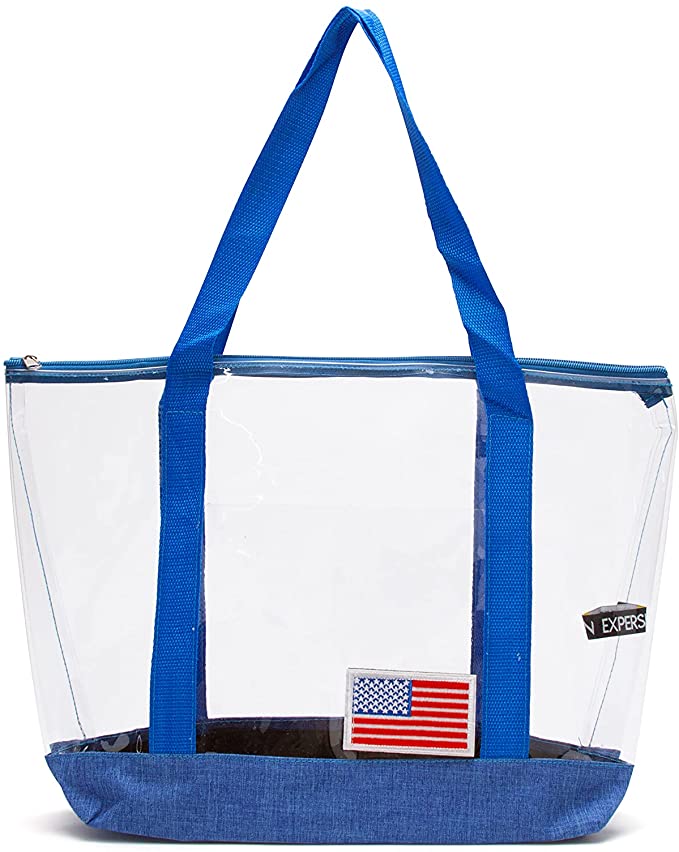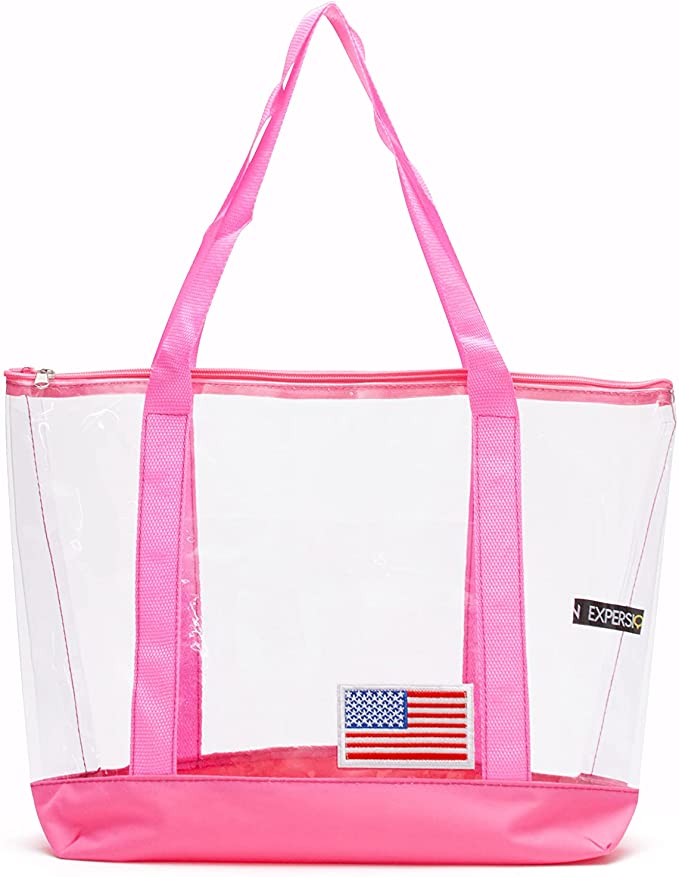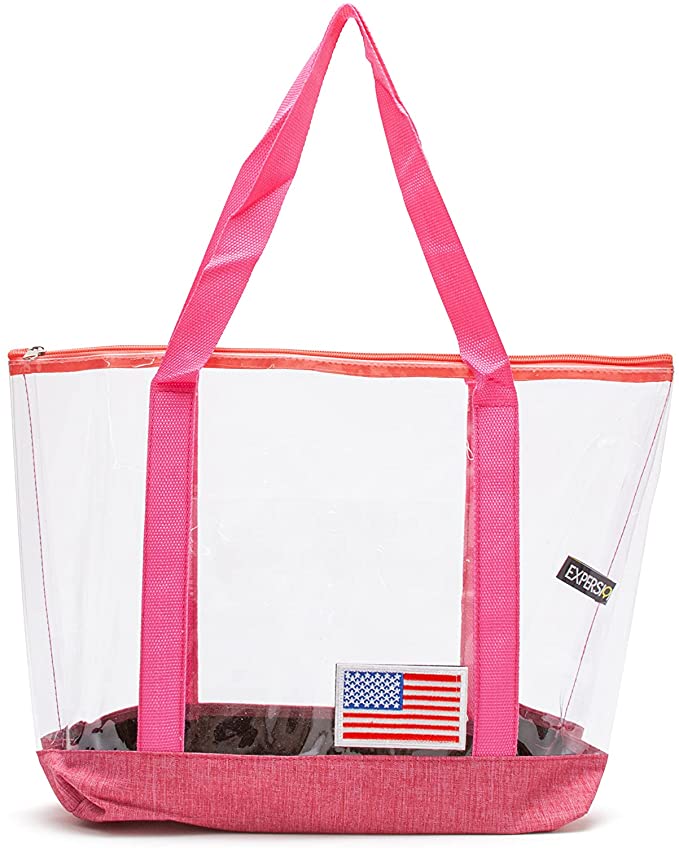 All right, so you'll have to switch out the NPR logo for an American flag, but all things considered it is a trade worth making. Made of vinyl and nylon, you do not have to worry about the global harm done by the cotton industry. Ironically, you will technically be returning to the plastic bag you shunned for the organic material in the first place, but because these bags are reusable you are no longer contributing to the rapidly accumulating waste on our shared planet.
These tote bags are the latest product offerings by Expersion, which sells the clear U.S. flag backpacks as well. With modern security measures, more and more situations are requiring clear bags in order to enter—no longer just schools, but also sporting events, concerts, museums, and other public events. Buying one now can save you hassle down the line. Furthermore, as long as our society continues to be ravaged by COVID-19, it helps that these totes are incredibly easy to clean and sanitize.
Since cotton is out, it is time to make a change. Let Expersion help.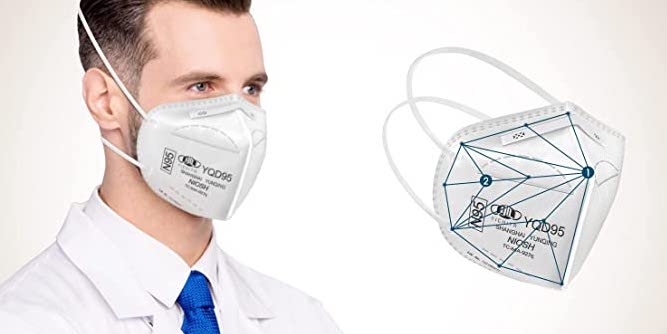 After nearly two years of hectoring its subjects over the need to wear cloth masks in any and all public spaces, the U.S. government now says that cloth masks are basically worthless. I wouldn't through out your cloth masks just yet—who knows when the guidance will change again—but you do need to procure other types of masks just to be safe. Airlines already banned gaiter and bandana masks, your cloth one may be next.
With that in mind, Biden administration announced that it will be sending N95 masks to pharmacies across the country. In theory, each person will be eligible to obtain three free masks. As we saw with the pre-Christmas at-home Covid test rush, it is very possible they will be out of stock when you try to claim yours. You should probably be making other arrangements.
Previously at We Know Products, we took a look at KF94 masks to see if they were more effective than KN95s. The verdict? Both types of masks are perfectly cromulent—less comfortable but more effective than cloth masks, less effective but more readily available than NIOSH-approved N95 masks.
Check out that post for some of the top KF94 options. As far as N95s are concerned, your Amazon options are few and far between. The bestsellers are pricey and not eligible for Amazon Prime delivery: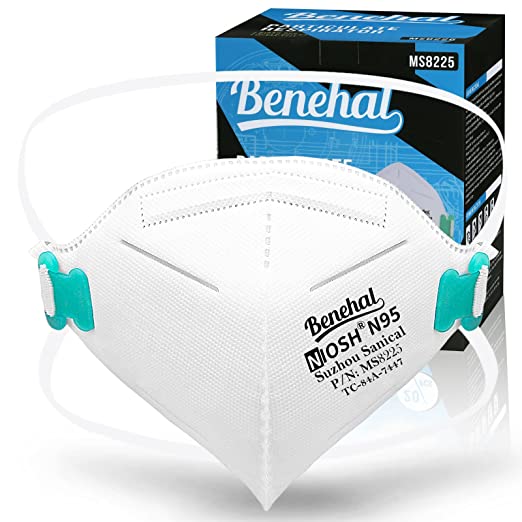 NIOSH Approved N95 Mask Particulate Respirators, Pack of 20 N95 Face Masks, Individually Wrapped, Universal Fit — $59.99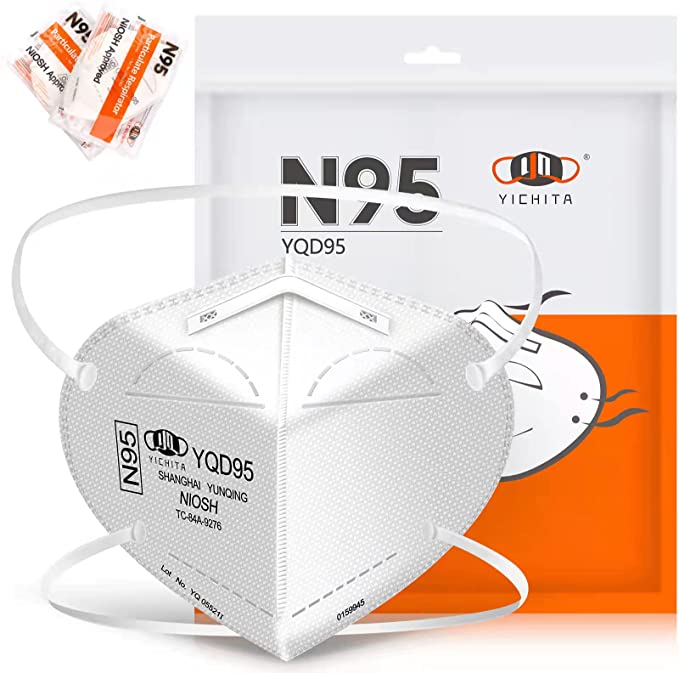 N95 Mask NIOSH Approved, Particulate Respirator N95 Face Masks Universal Fit – Individually Wrapped — $59.74
Unfortunately, Amazon pretty much only lets the Chinese sell "NIOSH-approved N95 masks," so there is always an inherent risk in purchasing them. We will let our readers know if and when they ever let American companies sell U.S.-made N95 masks. I wouldn't hold my breath.
3 Sheet Masks To Help Men With Their Skin Care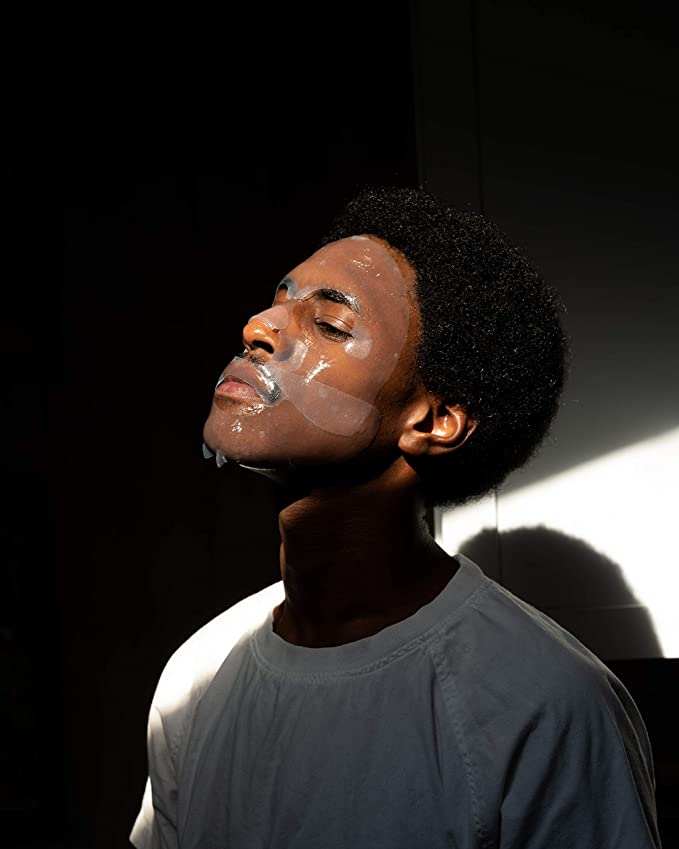 In our hyper-visual age, looking good has never been so important. This is true for people of all ages—whether you are a Gen Zer trying to brand yourself on TikTok or Instagram or a Baby Boomer just trying to make it through a day of Zoom calls while working from home. In 2021, it should go without saying that it is also true for people of both genders. Though beauty products have been traditionally marketed toward women, men are now realizing the importance of self-care.
For me, the biggest wellness discovery of the past two years has been the sheet mask. Being forced to wear a (cloth or surgical) mask whenever I leave the house has not been kind to my complexion. There is actually a neologism for this phenomenon, termed "maskne." No longer solely the plight of awkward teens, acne has spread like a dermatological plague since the onset of COVID-19 regulations. Unfortunately for me, most of the sheet masks available on the market are still intended for women. My guess is this won't last, but for the time being there are few masks for men to choose from. Here are the best ones I have used.
Bro Mask — $28 for 4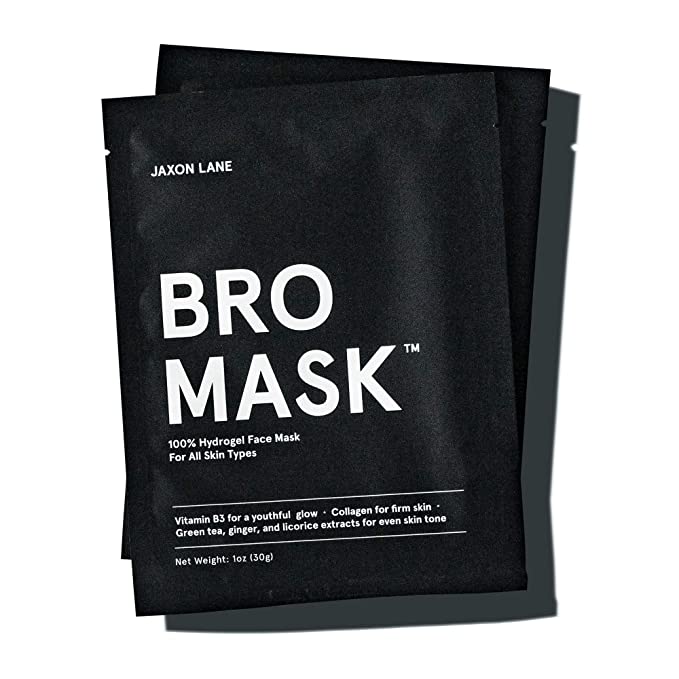 BRO MASK: Korean Face Mask for Men | 2 Pc. Hydrating Anti Aging Sheet Masks Contains Vitamin C, Vitamin E, Hyaluronic Acid, Hydrolyzed Collagen for Face Care & Acne Treatment by Jaxon Lane (4 Pack) — $28
As you may know, the best skincare products are made in Asia, and the Jaxon Lane Bro Mask is no exception. It is actually a two-piece face mask, intended to help guys with beards, and its diaphanous material will make you feel like Patrick Bateman (hopefully without the killing). The biggest downside is its price. At $7 a mask, there are definitely cheaper options available.
Wolf Mask — $25 for 5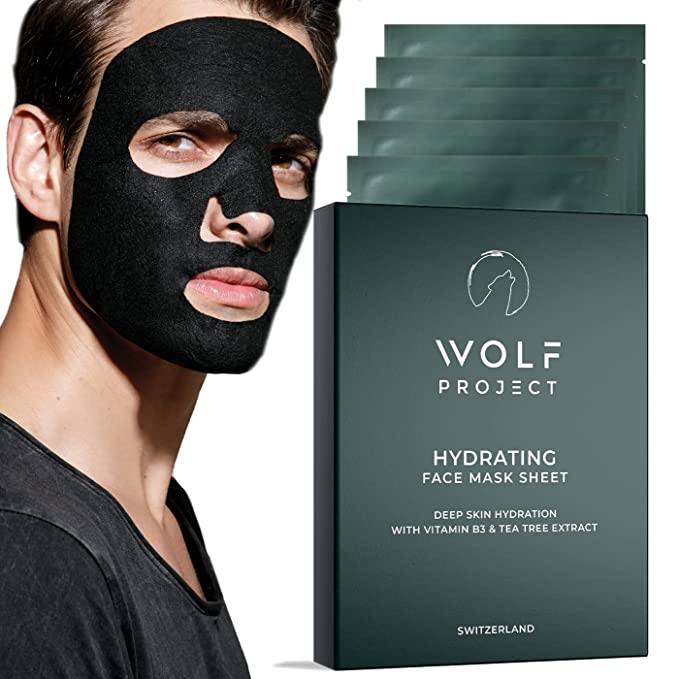 WOLF PROJECT | Hydrating Sheet Mask (5 Pack) – Hydrating and Moisturizing Face Mask For Men – Natural serum, Bamboo charcoal face mask sheets, Vitamin B3 & Hyaluronic Acid for glowing skin — $24.49
Slightly less expensive is the Wolf Project Mask, priced at $5 apiece. This was actually the first sheet mask I ever used, so I credit it with getting me sold on the idea in the first place. A charcoal mask, it is designed to combat aging while moisturizing and hydrating the skin. The latter effect makes it double as a hangover remedy.
SpaLife — 10 for $20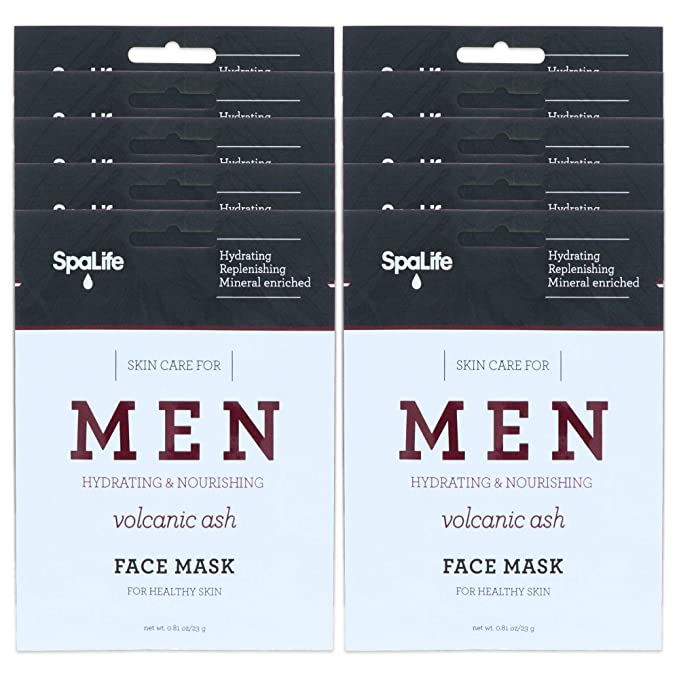 SpaLife Hydrating, Purifying, Anti-Aging, Detoxifying and Soothing Korean Beauty Facial Masks (10 Masks (Men's Volcanic Ash)) — $19.99
At $2 per mask, the SpaLife volcanic ash face mask is incredibly affordable. For that reason, I consider it the perfect entry point for men who are on the fence about starting their very own a skincare routine. Although it may not result in quite as luxurious experience as the Bro Mask or the Wolf Mask, it will still offer a feeling of nourishment that will leave you excited for your next mask.
Remember The 'Amazon Jacket'?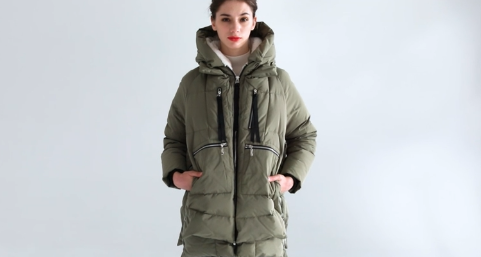 Nearly four years ago, an unassuming winter coat from a no-name Chinese company went mega-viral. Christened the "Amazon jacket" and covered by pretty much every website that does affiliate sales, the Orolay Women's Thicket Down Jacket has nearly 20,000 global ratings on Amazon, although its online plaudits pale in comparison to the street cred it gets from being fashionable among the New York City elite. Given the surprising fact that it is still popular all these years later, one half expects it to turn up in the "Sex and the City" reboot. (I'll let someone who has actually seen the show determine which character is most likely to don it in "And Just Like That…")
Sadly, its success has allowed Orolay to raise its price. Initially priced at under $100, you now have to pay close to double that much if you are a latecomer to the party.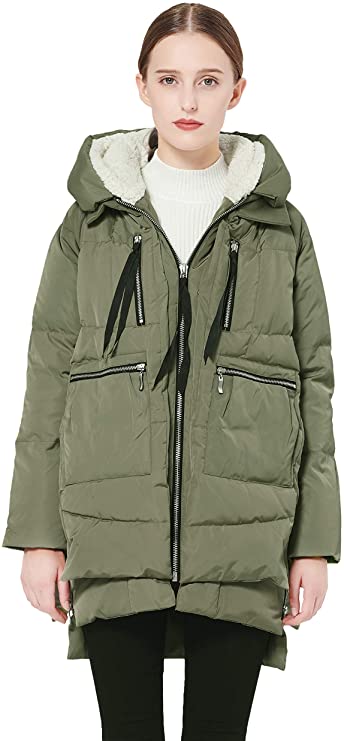 Orolay Women's Thickened Down Jacket — $159.99
Considering that its ubiquity among hip circles has resulted in comparisons to the Moncler, which costs 10 times that amount, this is still a small price to pay in the grand scheme of things. How many times in your life will you have the opportunity to wear something with "Balenciaga influence" without taking from your kids' college funds?