Book Review: The Catholic Church in America
In the coming weeks, President Trump likely to nominate a committed Catholic like Amy Coney Barrett to fill the vacancy on the U.S. Supreme Court. In anticipation of this, the attacks on Barrett's faith have already begun. The implication is that in order to be a qualified public servant in this country, one has to be a committed atheist, or at the very least a Christian who regards his or her religion as simply a club or hobby rather than the truth about life itself.
All of this reminded me of a book I read this summer, titled "The Prodigal Church: Restoring Catholic Tradition in an Age of Deception" by Brandon McGinley. The book examines the role Catholicism has played in American culture throughout the years, going from something loathed to something that was actually celebrated in the mid-20th century. How has it come to be that such an institution came to be where it is now, with no discernible influence on even its professed members? McGinley tracks this movement, citing JFK as a turning point, when it became fashionable to call yourself a Catholic without believing in or acting out any of the Church's dogma.
This is what scares the American secular elite about a potential Amy Coney Barrett nomination to the Supreme Court. As Senator Diane Feinstein famously said to her during her appointment to the 7th Circuit Court of Appeals, "the dogma lives loudly with you — and that's a concern." The ruling powers in America believe they have effectively eviscerated Catholicism in this country to the point that it doesn't actually mean anything. Politicians these days can claim to be Catholic just as easily as they can claim to be feminists or democratic socialists, to give two examples of other labels that sound good to some people but lack any meaningful definitions. There is a great fear in this country that the ascendance of orthodox Catholics to prominence could undo a century's work of secularization.
Regardless of what eventually happens with the Supreme Court vacancy, "The Prodigal Church" is insightful reading for anyone pondering if there is a role for Catholics to play in 21st century America. McGinley identifies several specific areas in which the Church has clearly abdicated its responsibilities, and he provides several prescriptions for how Catholics can once again build faith communities like the enclaves that existed before the siren song of the bourgeoisie gutted them in favor of suburbanization and atomization. Or, as McGinley so aptly puts it, before "The Church…acquiesced to the steamroller."
Alexander de Tocqueville famously wrote about America, "Our descendants will tend more and more to divide into only two parts, some leaving Christianity entirely, others going into the Roman Church." It goes without saying that the first part is alive and growing. As for the second part, it remains to be seen in the coming decades if there is a Roman Church robust enough to welcome newcomers. For this to happen, reading "The Prodigal Church" would be a good place to start.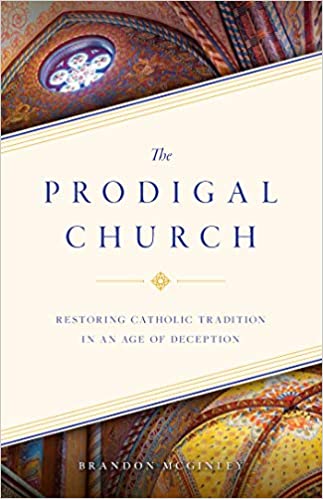 Book Review: 'The Final Girl Support Group'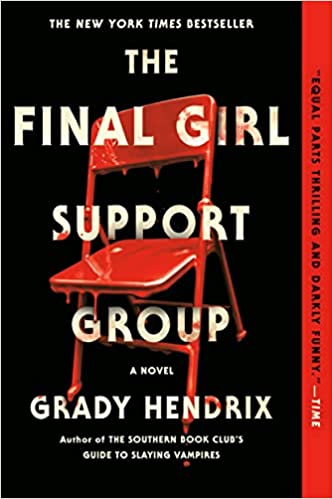 The Final Girl Support Group by Grady Hendrix, $12.18 Paperback 
Release Date: July 2021
Cozy up on your next snow day and read Gary Hendrix's The Final Girl Support Group.
Author of The Southern Book Club's Guide to Slaying Vampires (2020), Grady Hendrix succeeds again in tapping into our favorite horror films to deliver this mystery. Six young women make up the "Final Girl Support Group." Each survived horrific massacres that have been turned into successful film franchises. Movies such as Friday The 13th and Halloween actually happened in this version of America. Twenty years later the spotlight has moved on and society has found new monsters and victims. Still, these women sit in a circle of chairs in a church basement trying to figure out how to live their lives. Paranoid Lynnette Tarkington reluctantly participates in group therapy sessions with Dr. Carol Elliot along with fellow survivors Marilyn Torres, who has buried her emotions in wealth; Dani Shipman, who might have killed the wrong person; Julia Campbell, whose encounter left her in a wheelchair; and Heather DeLuca, who is succumbing to addiction. Some of them are in denial about what happened. Some still live in terror, always looking over their shoulders, imprisoned by their own fears.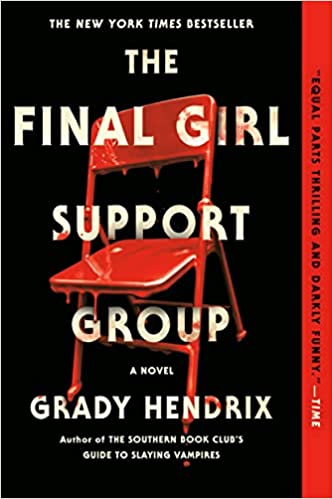 The Final Girl Support Group by Grady Hendrix
After one member of this vigilant sisterhood is murdered and a series of persistent attacks threaten the rest, Lynnette becomes increasingly suspicious that the attacks are originating way too close to their inner circle. "Does this ever end?" Lynnette asks. "Will there always be someone out there turning little boys into monsters? Will we always be final girls? Will there always be monsters killing us? How do we stop the snake from eating its own tail?" The book is creepy enough on its face, but Hendrix's use of narrative tools heightens the unease.
The Final Girl Support Group isn't necessarily scary, but the plot is action-packed and delivers its share of gore. The novel is an ultimately entertaining and inspiring take on horror movies, trauma, and self-determination. Available on Amazon!
Book Review: 'The Seven Husbands of Evelyn Hugo'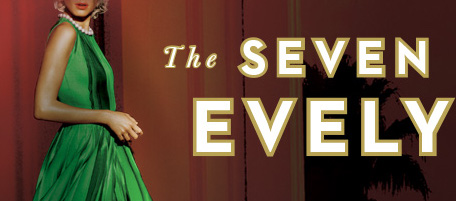 I first read The Seven Husbands of Evelyn Hugo this past month after my friend and I swapped our favorite summer books. I opened the book one Saturday morning and couldn't put it down. Despite the fact that it was published nearly five years ago, The Seven Husbands of Evelyn Hugo continues to captivate readers' interest on BookTok, Bookstagram, and Goodreads.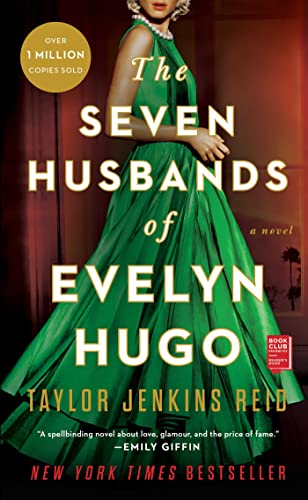 "The Seven Husbands of Evelyn Hugo" by Evelyn Hugo — $9.42 Paperback/$22.36 Hardcover
This story is about renowned Hollywood actress Evelyn Hugo who, after decades of blockbuster hits, is now 79 and ready to give an exclusive interview after years of dodging the press. But the only one granted access is a little-known journalist named Monique Grant. Though she can't understand why she's been chosen, Monique goes to Evelyn's home and finds out Evelyn doesn't just want to do an interview — she wants to lay out every piece of her truth for Monique to write and sell her biography.
Though Evelyn won't answer why she picked Monique to do the job, Monique agrees and Evelyn's story begins to unfold from her calculated beginnings in Hollywood to the millions she enjoys in the present, each section of her life titled by each of her seven husbands and her reasons for marrying (and divorcing) them. As you journey through Evelyn's life, it feels as if you're being granted exclusive access to something you shouldn't be seeing. It's hard to believe the characters and events in this book aren't real celebrities.
To me, a great book is one that makes you forget you're reading in the first place, and The Seven Husbands of Evelyn Hugo does exactly that. It's an instantly captivating book, thanks in part to the story, but mostly to Taylor Jenkins Reid's writing. Her stories flow smoothly, her characters are complex and realistically flawed, and I happily got lost in the pages until the very end. This is the perfect cozy fall read!
Book Review: 'Verity' By Colleen Hoover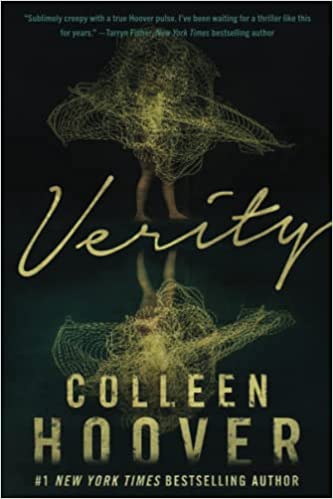 Available on Amazon for $11.26 paperback 
Colleen Hoover is all the rage this summer. The author's 2016 romance novel It Ends With Us gained fame due to the viral nature of #BookTok (the book lover's community on TikTok). I've always loved reading, especially during the summer months by the beach and pool. Surely because of this, my "For You Page" has been flooding with recommendations and reviews as to what to read next. I can without a doubt say that Verity is worth the hype.
Verity was first published in 2018 and has only just become available worldwide in paperback. I started reading Colleen Hoover last summer when I first discovered It Ends With Us on #BookTok and have read four of her other books since. Given that I finished this one in a day, I would say it is extremely readable!
Verity is different from Hoover's usual style and genre of romance. This novel is twisting, unsettling, creepy, and psychologically mind-bending. From the beginning, I could not put it down. The plot follows protagonist, Lowen Ashleigh, a struggling writer who accepts a job offer to complete the remaining books of an unfinished, successful series. Jeremy Crawford, the husband of bestselling author Verity Crawford, has hired Lowen due to his wife's serious injuries. Lowen arrives at the Crawford home, ready to sort through years of Verity's notes and outlines, hoping to find enough material to get her started. What Lowen doesn't expect to uncover is an unfinished autobiography Verity never intended for anyone to read. With shades of Gillian Flynn blending in with Hoover's classic take on romance, our protagonist finds herself uncovering a story so horrifying, and all the while, falling for a grieving man. There is a thrilling twist at the end, which I am happy to debate, but I'm not giving any spoilers until you read it for yourself! Overall, I highly recommend the purchase. Find it on Amazon.