Is This Bubble Pop Game Really 'Chess'?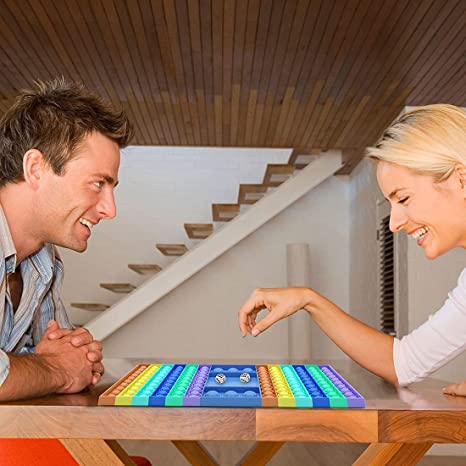 Ever since Netflix's "The Queen's Gambit" took our binge-watching nation by storm, chess sets have proliferated on Amazon. You can find sets made of wood, sets made of plastic, sets made of brass. One thing I was surprised to find, apparently, was "chess" made of the uber trendy fidget bubble pop. Take a look: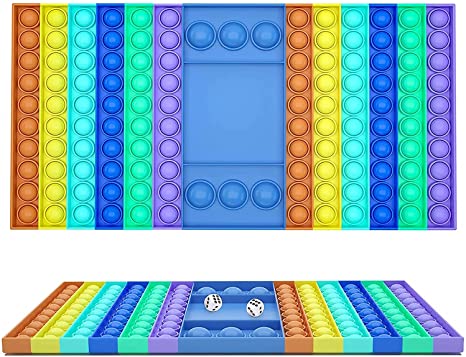 bvcat Big Size Pop Game Fidget Toy, Silicone Rainbow Chess Board Push Bubble Sensory Toys Bubble Popper Fidget Sensory Toys for Parent-Child Time, Interactive Stress Relief Toy Gifts for Kid Adult — $15.96
This comes up when you search "chess" on Amazon. As you know if you have a child, are on TikTok, or read the Wall Street Journal, this rainbow-colored "Pop It" toy that mimics the satisfying feeling of popping bubble wrap, is one of the few enduring fads from the pandemic. In combining it with chess, someone no doubt thought they could capitalize on two of the world's quarantine-era time killers. But, um, take another look at the photo. Then tell me if you can figure out how one might use it to play chess.
Stumped? Me too. Although the listing calls it an "Extra Large Bubble Sensory Rainbow Chess Board," it does not look like any chess board I've ever seen. The inclusion of dice in particular threw me for a loop. The whole shape of the product seems to be more reminiscent of backgammon than chess, although even that is an imperfect comparison.
I spent way too much time examining this listing, trying to figure out what was going on here. Then, toward the bottom, I espied the following "rules" explainer:
The player happily rolls the dice to decide who starts first, which can be a large number or a decimal number. Player A rolls the dice first, then player B presses the same number of bubbles, and the player who presses the last bubble loses the round. The winner presses the big bubble in the middle to start a new round. The player who wins 3 rounds first will be the final winner. Way B The player rolls the dice to decide who starts first, which can be a large number or a decimal number. Players take turns to press any number (1 to 6) of the bubbles they want in a row, and the player who presses the last bubble loses the round The winner presses the big bubble in the middle to start a new round. The player who wins 3 rounds first will be the final winner. Way C You can make your own rules to fight others.
I wonder if when the Chinese watched "The Queen's Gambit" last fall if something got lost in translation, because that bears absolutely zero resemblance to the game Beth Harmon dominated. You can tell the product is Chinese not only from the incomprehensible instructions (what does it mean that the player who starts first can "be a large number of a decimal number") but also from the lenticular brackets in the bullet points:
【Stress relieve】Using high-quality silicone material, this foam sensory toy is a great gift for people with autism, and stress, helping them relieve stress. By squeezing our silicone bubble board, you can get spiritual comfort and emotional release.
【Easy to operating】Just Press the mouse bubbles and they will make a slight popping sound; When all the bubbles on the front are squeezed, you can turn it over and get a brand new silicone bubble board.! Can be reused and cleaned endlessly.
【Entertainment and intelligent】These Puzzle toys are great for everyone age 5 to 85. press the bubbles in turn. The player who presses the last bubble will be punished by the game; It is simple to play. It is an educational toy for children and a practical decompression toy for adults.
The game might be "entertainment and intelligent" (huh?), but I feel dumber just for reading that fetid word salad.
The lack of coherent messaging can help us solve our case. This product is not chess at all, nor anything even resembling chess. If there is one thing I learned from reading everything in the product description, it is not to take any of the words at face value, for there is no guarantee the copywriter has any clue what they mean.
This is simply the popular bubble waffle product with dice. If that sounds like fun to you, then by all means get one of your own. Just please do not call it chess.
Start Shopping For The Hottest Toys Of Christmas 2021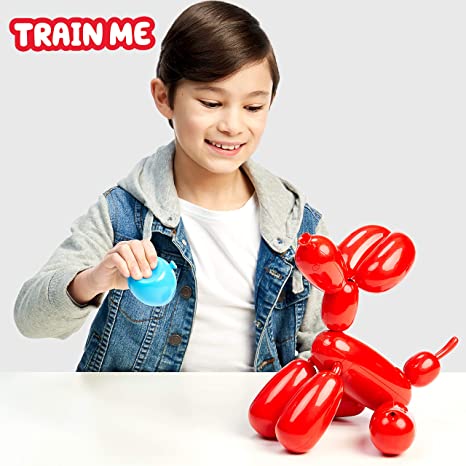 As you may have read, due to ongoing supply chain issues throughout the world, the time to start shopping for Christmas gifts is now. Unfortunately, because of this accelerated timeline, it is too early to develop a finely tuned sense of what the year's most popular gifts will be. Last year we did not know what the hottest holiday toys were until November! This year, that will be way too late. So, we are just going to have to do our best by relying on items that we know have been among the top selling in 2021 so far. Below are the toys that we've covered, along with a link to the first time we wrote about them:
Reversible Octopus Plushie – original article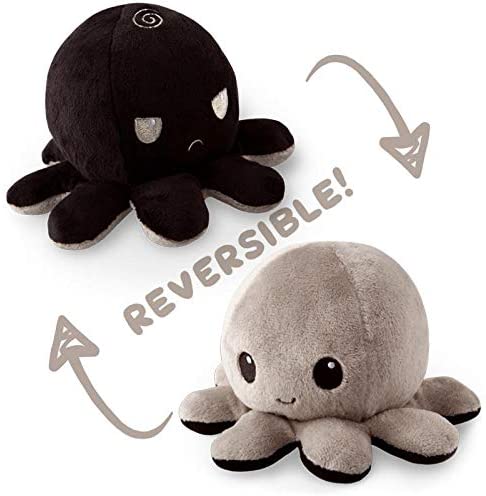 TeeTurtle | The Original Reversible Octopus Plushie | Patented Design | Black and Gray | Show your mood without saying a word! — $15
The reversible octopus plushie continues to be the surprise hit of the COVID era. Turns out people relish the idea of being able to convey their moods to others without having to actually speak to them.
Baby Yoda – original article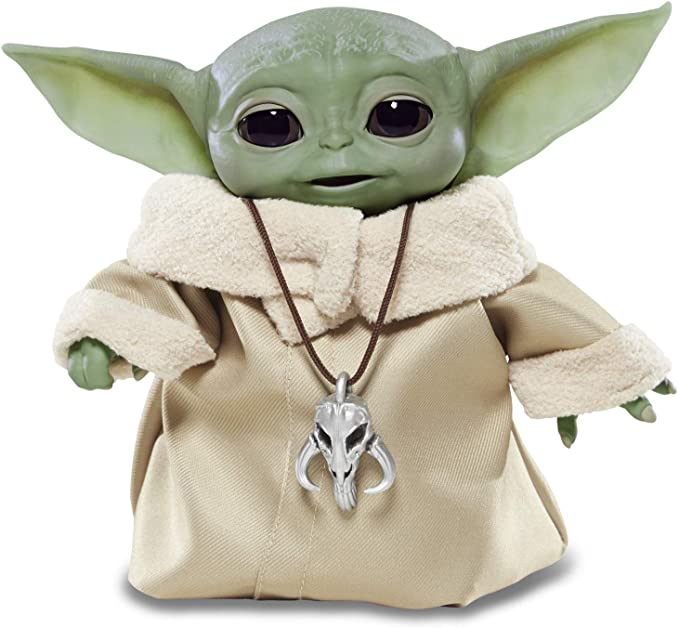 Star Wars The Child Animatronic Edition 7.2-Inch-Tall Toy by Hasbro with Over 25 Sound and Motion Combinations, Toys for Kids Ages 4 and Up — $50.99
Is this the Christmas your child finally gets "The Child" in his or her stocking?
Fidget Bubble Pop – original article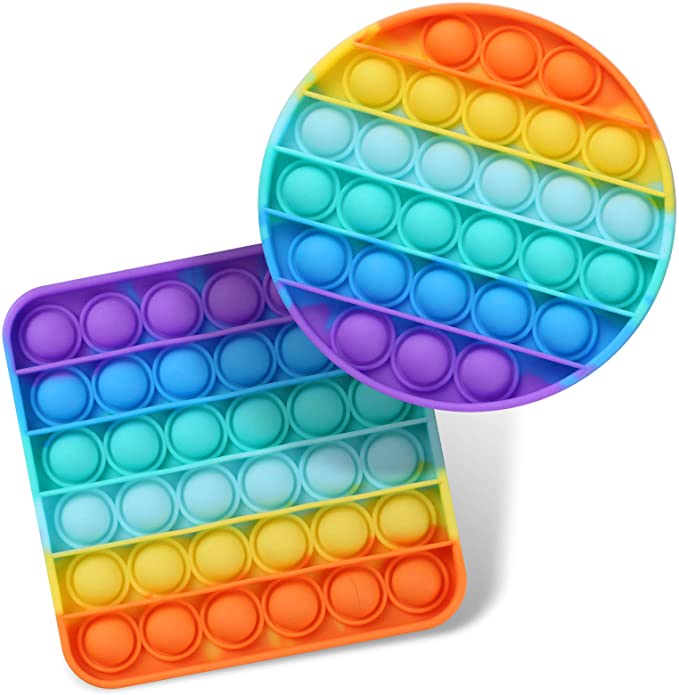 2 Packs Pop Fidget Sensory Toys, Autism Special Needs Stress Relief Silicone Pressure Relieving Toys, Round and Square Squeeze Toys for Kids Children Adults (Set of 2) — $9.99
Fidget bubble pop comes in about a million varieties, from the ubiquitous rainbow color pictured above to American flag and Tyrannosaurus rex themed. There is even a version with dice that is dubiously marketed as a form of "chess."
Squishmallows – original article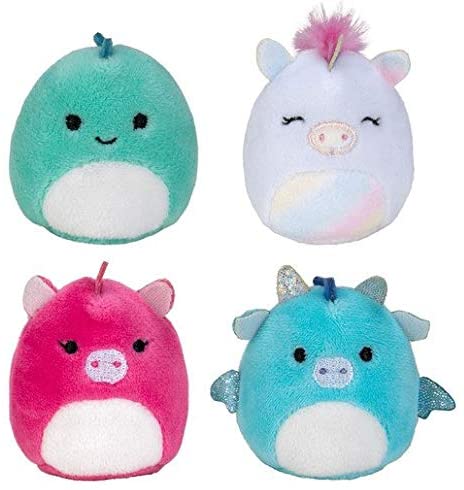 Squishmallow Official Kellytoy Plush 8″ Maui The Pineapple – Ultrasoft Stuffed Animal Plush Toy — $23.93
The eminently TikTok-able Squishmallows went from being difficult to find to being impossible to avoid.
Dyson Toy Vacuum Cleaner – original article

Casdon – Dyson Ball Vacuum TOY VACUUM with working suction and sounds, 2 lbs, Grey/Yellow/Multicolor — $21.99
I still don't get this one. Let the kids play!
Squeakee the Balloon Dog – original article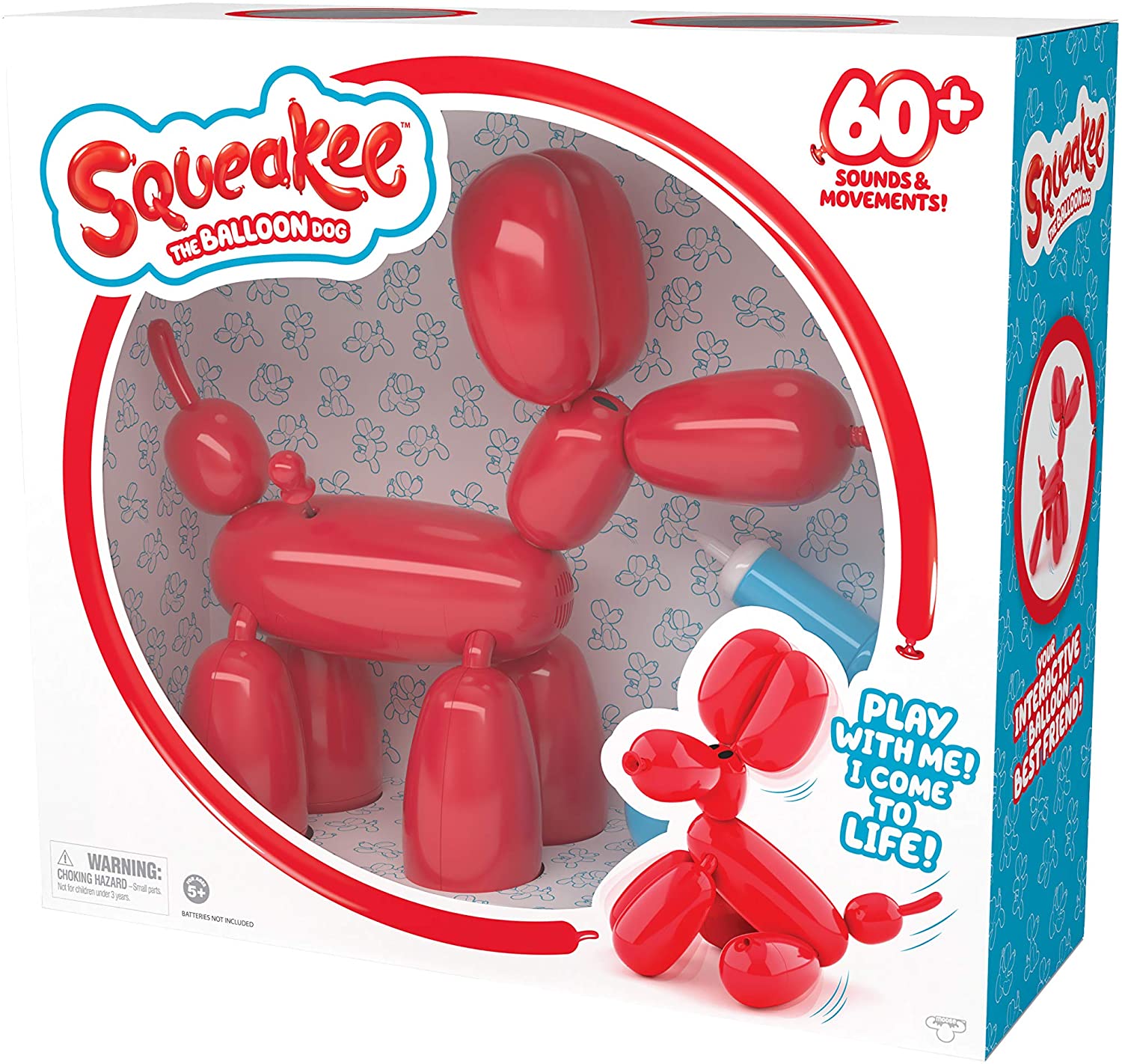 Squeakee The Balloon Dog – Feed Him, Teach Him Tricks, Pop Him, and Watch Him Deflate! , Red — $39.99
Want your son or daughter to grow up to be the next Jeff Koons? Then this is exactly the toy for you.
What Does The Feather In The Blue Origin Logo Mean?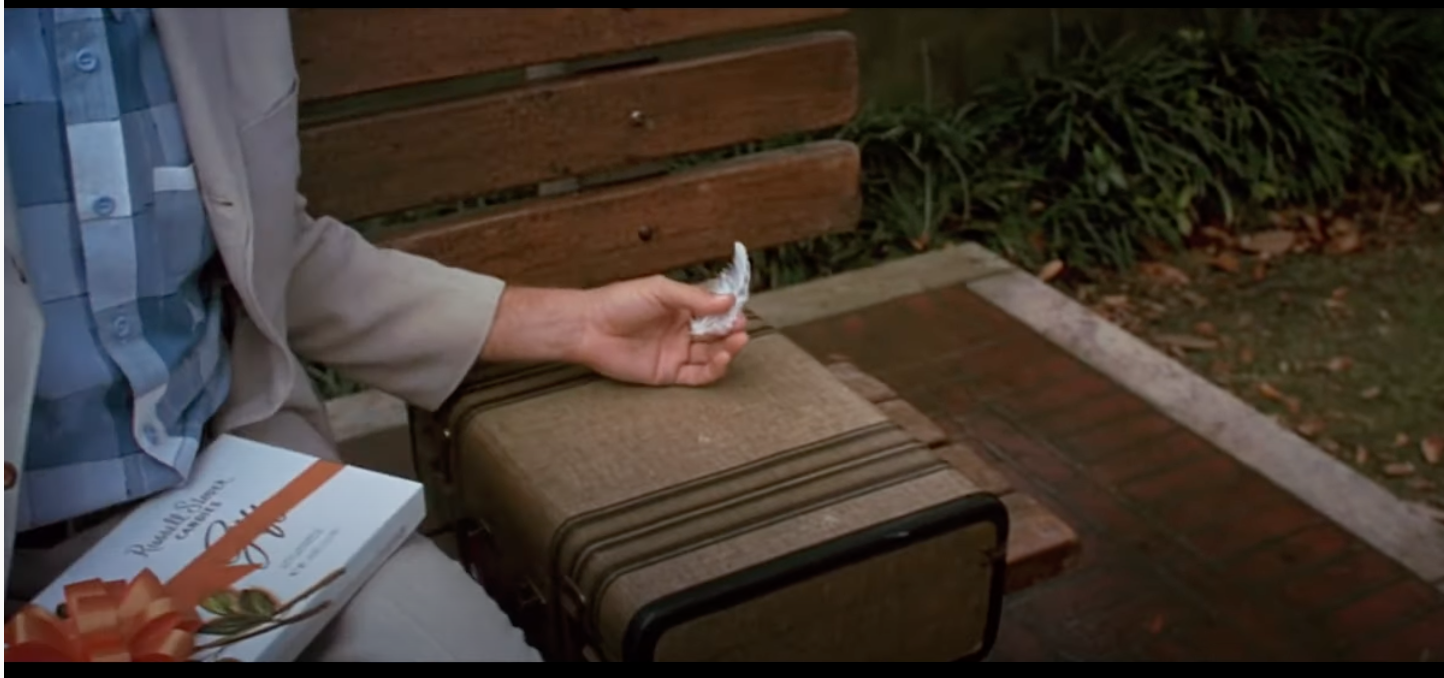 This morning, for approximately four minutes, former Amazon CEO Jeff Bezos ceased being the richest person on the planet for the sole reason that he ceased being on the planet. Unlike fellow billionaire Richard Branson, he and his crewmates crossed the Kármán line. Also unlike Richard Branson, they went up in rocket ship, so all in all the feat of Bezos, et. al. was certainly cooler. But as I was watching it this morning the whole time I could not stop thinking: What is with the feather in the Blue Origin logo?
Jeff Bezos' space escapades are rich with symbolism. He named his rocket the New Shepard, in an homage to the first American to go into space, Alan Shepard. (Side note: This new Space Age makes Tom Wolfe's "The Right Stuff," which immortalized the Mercury Seven, as relevant as ever.) Also aboard the New Shepard today was Wally Funk, a female astronaut who trained for space in the 1960s but who was unable to go because she was a woman. The name of Blue Origin itself is a not-so-subtle reference to Carl Sagan's description of Earth as a "Pale Blue Dot." All of this is great, but none of it explains the feather.
A popular T-shirt on Amazon right now is one featuring a blueprint of the New Shepard. You can see the Blue Origin logo prominent at the top: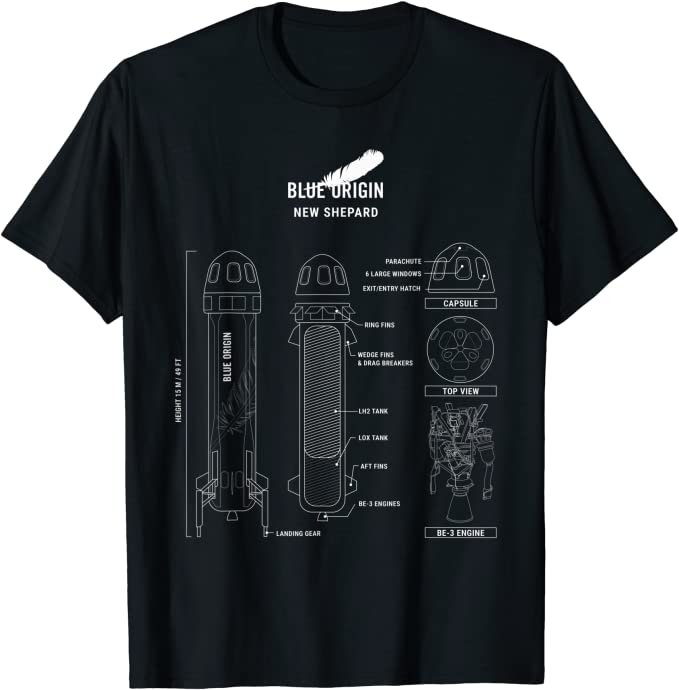 New Shepard Rocket Blueprint T-Shirt — $18.99
The feather rests atop the words "Blue Origin." Any place you see it, whether it is on merchandise or on the New Shepard's landing spot, it is positioned at that 45 or so degree angle. What it most reminds me of is the opening scene of Forrest Gump:
Was this the message that Bezos was trying to send us? Is his "running away" to space supposed to be akin to Forrest, running across America and into our hearts despite being born with a physical limitation? Is this all an elaborate attempt to win back Mackenzie Scott, his own personal Jenny?
The answer is unclear. For what it's worth, the Blue Origin website addresses the feather logo as such:
The Blue Origin feather is a symbol of the perfection of flight. It represents freedom, exploration, mobility and progress. For thousands of years, we humans have been looking up at the birds and wondering what it would be like to fly. Now, we look up to the stars and pursue a bright future for all of us.
Obviously, that is not very convincing. With all the other symbolism surrounding Bezos' plan to take humanity to parts unknown, his answer for choosing a feather logo is "birds have feathers"? Come on, now. Birds may have feathers, but birds do not go into space. If Jeff Bezos had earned his fortune from some industry associated with birds, say like Jack Dorsey and Twitter, then I would at least entertain the notion. Otherwise, the bird story is a front, and more investigation is needed on the topic.
Until I hear otherwise, I am officially concluding that the feather in the Blue Origin logo is a Forrest Gump reference. Do with that information what you will. Now, run, Jeff, run!
Your Reversible Plushie Doesn't Have To Be An Octopus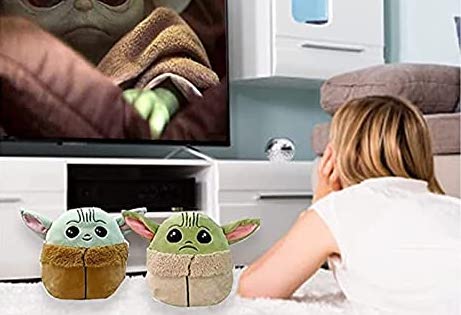 For Fourth of July this year, some friends and I got together at our buddy's house in north Jersey. Being able to see everyone again definitely made it worth it, but the drive from D.C. took forever. Six hours! With a journey of that length, I had to make some pit stops along the way. At every rest area I stopped at, I saw the same phenomenon: A giant wall-to-wall display of the TeeTurtle reversible plush octopus. This got me thinking, if this particular popular plushie is such a resilient trend—5 months after I first wrote about it, it remains a #1 bestseller on Amazon—why haven't more companies capitalized on it by turning their own IP into a reversible stuffed animal?
Turns out, I was not the only one to wonder this. Scroll past the octopus on the list of Amazon's bestselling toys, and you will come across a familiar figure, a reversible Baby Yoda.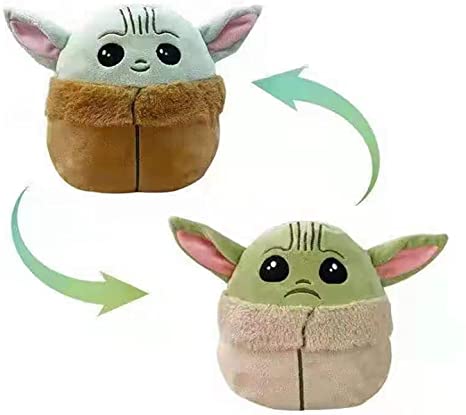 Baby Yoda Reversible Plushie Toys Push Pop Double Sided Flip Plush Toy 6.5Inch Reversable Stuffed Animal Doll for Game Plush Toy for Children's Birthday Gift. — $19.99
The brand name (zhengxi) and the Chinglish product description with its Asian lenticular brackets let you know that it was not Disney who came up with this idea. Yet some factory in China is obviously reaping the rewards.
As I detailed in my initial article, the selling point for the reversible plushies seems to be the dualistic approach to human emotion. Depending on your mood, you can make your toy seem either happy or sad. The market for this has grown with the forced proximity to family members for long stretch of time; understanding each other's state of mind is a key element in staying sane when locked down together.
If this makes sense to you, and you are among the few who have not bought the octopus due to its ubiquity on TikTok, then you might enjoy this little guy from the "Star Wars" franchise. Because no matter whether he is smiling or frowning, everybody knows that the star of "The Mandalorian" will stay cute forever.