Is This Bubble Pop Game Really 'Chess'?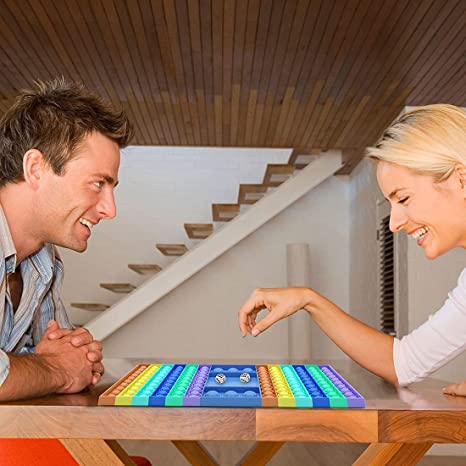 Ever since Netflix's "The Queen's Gambit" took our binge-watching nation by storm, chess sets have proliferated on Amazon. You can find sets made of wood, sets made of plastic, sets made of brass. One thing I was surprised to find, apparently, was "chess" made of the uber trendy fidget bubble pop. Take a look: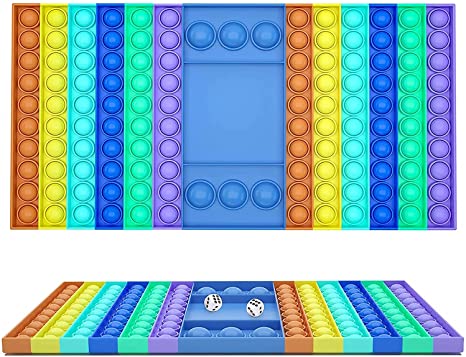 bvcat Big Size Pop Game Fidget Toy, Silicone Rainbow Chess Board Push Bubble Sensory Toys Bubble Popper Fidget Sensory Toys for Parent-Child Time, Interactive Stress Relief Toy Gifts for Kid Adult — $15.96
This comes up when you search "chess" on Amazon. As you know if you have a child, are on TikTok, or read the Wall Street Journal, this rainbow-colored "Pop It" toy that mimics the satisfying feeling of popping bubble wrap, is one of the few enduring fads from the pandemic. In combining it with chess, someone no doubt thought they could capitalize on two of the world's quarantine-era time killers. But, um, take another look at the photo. Then tell me if you can figure out how one might use it to play chess.
Stumped? Me too. Although the listing calls it an "Extra Large Bubble Sensory Rainbow Chess Board," it does not look like any chess board I've ever seen. The inclusion of dice in particular threw me for a loop. The whole shape of the product seems to be more reminiscent of backgammon than chess, although even that is an imperfect comparison.
I spent way too much time examining this listing, trying to figure out what was going on here. Then, toward the bottom, I espied the following "rules" explainer:
The player happily rolls the dice to decide who starts first, which can be a large number or a decimal number. Player A rolls the dice first, then player B presses the same number of bubbles, and the player who presses the last bubble loses the round. The winner presses the big bubble in the middle to start a new round. The player who wins 3 rounds first will be the final winner. Way B The player rolls the dice to decide who starts first, which can be a large number or a decimal number. Players take turns to press any number (1 to 6) of the bubbles they want in a row, and the player who presses the last bubble loses the round The winner presses the big bubble in the middle to start a new round. The player who wins 3 rounds first will be the final winner. Way C You can make your own rules to fight others.
I wonder if when the Chinese watched "The Queen's Gambit" last fall if something got lost in translation, because that bears absolutely zero resemblance to the game Beth Harmon dominated. You can tell the product is Chinese not only from the incomprehensible instructions (what does it mean that the player who starts first can "be a large number of a decimal number") but also from the lenticular brackets in the bullet points:
【Stress relieve】Using high-quality silicone material, this foam sensory toy is a great gift for people with autism, and stress, helping them relieve stress. By squeezing our silicone bubble board, you can get spiritual comfort and emotional release.
【Easy to operating】Just Press the mouse bubbles and they will make a slight popping sound; When all the bubbles on the front are squeezed, you can turn it over and get a brand new silicone bubble board.! Can be reused and cleaned endlessly.
【Entertainment and intelligent】These Puzzle toys are great for everyone age 5 to 85. press the bubbles in turn. The player who presses the last bubble will be punished by the game; It is simple to play. It is an educational toy for children and a practical decompression toy for adults.
The game might be "entertainment and intelligent" (huh?), but I feel dumber just for reading that fetid word salad.
The lack of coherent messaging can help us solve our case. This product is not chess at all, nor anything even resembling chess. If there is one thing I learned from reading everything in the product description, it is not to take any of the words at face value, for there is no guarantee the copywriter has any clue what they mean.
This is simply the popular bubble waffle product with dice. If that sounds like fun to you, then by all means get one of your own. Just please do not call it chess.
We Strongly Recommend 'Chronology' For Family Game Night

We Know Products readers know that we love games. Over the years titles we have recommended include …I Should Have Known That, 5 Second Rule, Half Truth, and Trivillenial. Now it is time to add another to our list—Chronology. I received it as a Christmas gift, and we have already played it so many times that we may be close to exhausting every card in the set.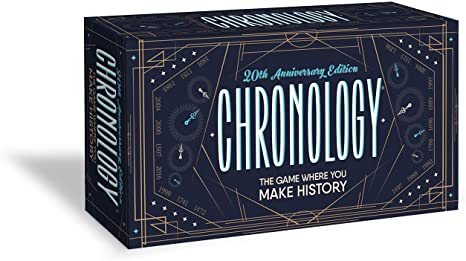 CHRONOLOGY – The Game Where You Make History – 20th Anniversary Edition — $19.99
I had never heard of Chronology until the week before Christmas. I was at a holiday party, and several guests referred to the game as a recent favorite of theirs. They described the rules: Each player starts out with an historical event, complete with the year it occurred. As the game progresses, they are dealt additional cards and challenged to place the date of its happening in the timeline in front of them. In the beginning, this task comes easy. It does not take a history buff to know that Kelly Clarkson winning the first season of American Idol took place after the signing of the Magna Carta in 1215.
But as your timeline grows, so does the level of reasoning required. Even if you have a sense that the NASA launch of Apollo 17, the debut concert of the rock band Kiss, and the the invention of the Rubik's cube all took place in the 1970s, would you be able to correctly slot them in that order?
The best part of this game is that anyone can excel at it. The events tackle a wide range of topics, including not only history but also sports and pop culture. When I played over a dozen times with family over the break, I think every player won at least one time. It is also a great springboard for conversation. For example, the elder statesmen in the group will be unable to resist the urge of telling about how they remember when their households first got color TV.
There is only one issue with the game, and it is a minor one because it does not affect very many cards. For some reason, the B.C. dates are not affixed with that information. Ergo, Julius Caesar's death is listed as "44" instead of "44 B.C." and the first Hanukkah as "164" instead of "164 B.C." In other words, if you didn't know better, you would think that the Maccabean revolt against the Seleucid Empire somehow happened after it was already in the dominion of Rome. (Chronology makers, if you are reading this, please fix this for future editions!)
With sometime like 99% of the dates being after the birth of Christ, this small error hardly diminishes one's enjoyment with the game. Chronology gets the WKP seal of approval and a "strong recommend" for your next family game night.
The Flashing Cube Will End Up In Many Stockings This Year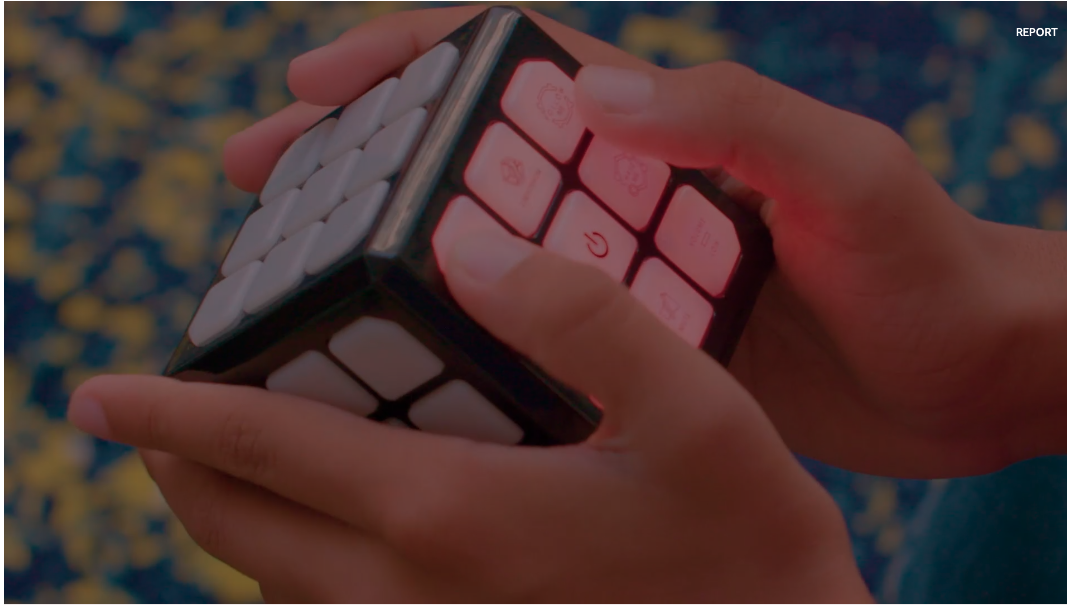 Are you sick of all the pop-its accumulating around your house? Are you skeptical of the claims that the colorful fidget toys are anything more than an educational distraction? A new bestselling toy might help. The "Flashing Cube" (or "Flashdash") is basically an electronic fidget. Yes, it does light up and make noise, so on the surface it may seem more annoying than its analogue counterparts. On the other hand, it offers actual built-in games to help children develop important skills like memory and dexterity.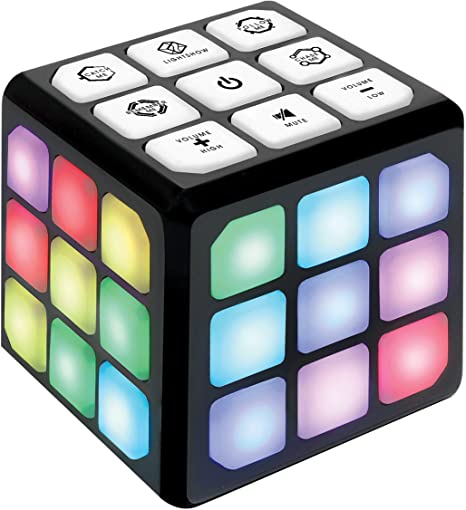 Flashing Cube Electronic Memory & Brain Game | 4-in-1 Handheld Game for Kids — $39.99
The Flashing Cube offers four games, called "Chase Me," "Catch Me," "Follow Me," and "Remember Me." The latter two are essentially an update of the classic Simon, though obviously with more buttons to press there are many more combinations. The abundance of gameplay possibilities is a huge selling point of this toy, since in theory it should take longer for your child to become bored of it and demand something new.
As you can see from the image above, it is possible to mute the volume, though ideally there would be some parental control option so your young one can't just crank it up as soon as it is in his or her possession. Still, the Flashing Cube is shaping up to be one of the most popular stocking stuffers for Christmas 2021—Amazon is selling out of them fast, so you (or Santa!) would be well advised to act fast.
Give Out The Perfect Prizes At Your Halloween Party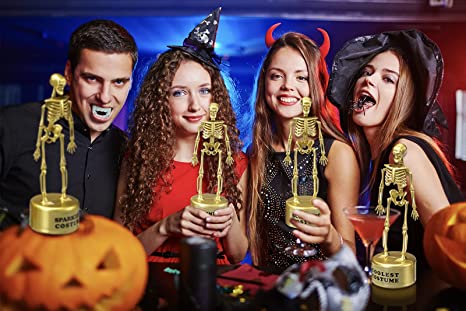 Like the retail stores that already have Christmas trees on display, it is true that we have begun the transition from Halloween to holiday season content. But Halloween is still more than a week away, and though you may not be able to buy your dream costume if you haven't already, there is still Halloween paraphernalia out there that can be delivered to you in no time. One such item that caught our eye was this cute set of skeleton statuettes.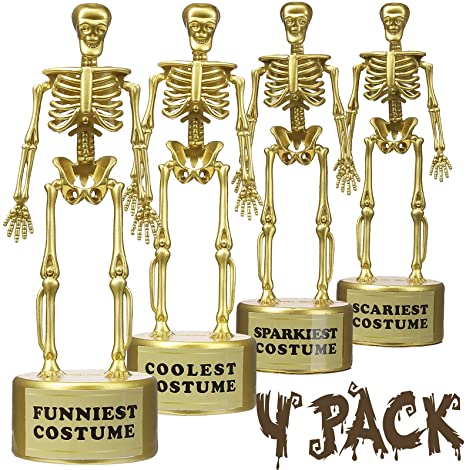 Tiston Halloween Party Supplies, 4 Pack Best Costume Skeleton Trophies, Funny Trophies with Stickers & Transparent Packing Box, Halloween Costume Contest Party Awards — $17.99
As you can see from the above image, this 4-pack comes with stickers so that you can award winners of "Funniest Costume," "Coolest Costume," "Sparkiest Costume" (whatever that means), and of course "Scariest Costume." However, since these titles are stickers that can be applied, you can give them as prizes for all sorts of Halloween-related contests. Do you work at a school or apartment building and want to give out a prize for best door decorations? Here is the trophy you need. Or perhaps you are throwing a Halloween party for your child that will feature classic games like wrap the mummy or find the hidden pumpkins. Sadly, bobbing for apples is probably a no-go this year for sanitary reasons, but to be honest that is one COVID casualty that we could probably continue to go without.
These cool trophies measure 6.7 inches high, so they are about half as tall as an Oscar statuette. There is no doubt that the winners will give them pride of place in their bedrooms or wherever they choose to display their accomplishments. And at just $18, these plastic figurines are cheap enough that you can buy several packs if you are one of those "everybody gets a trophy" families.