Pass Time This Quarantine With Trivillennial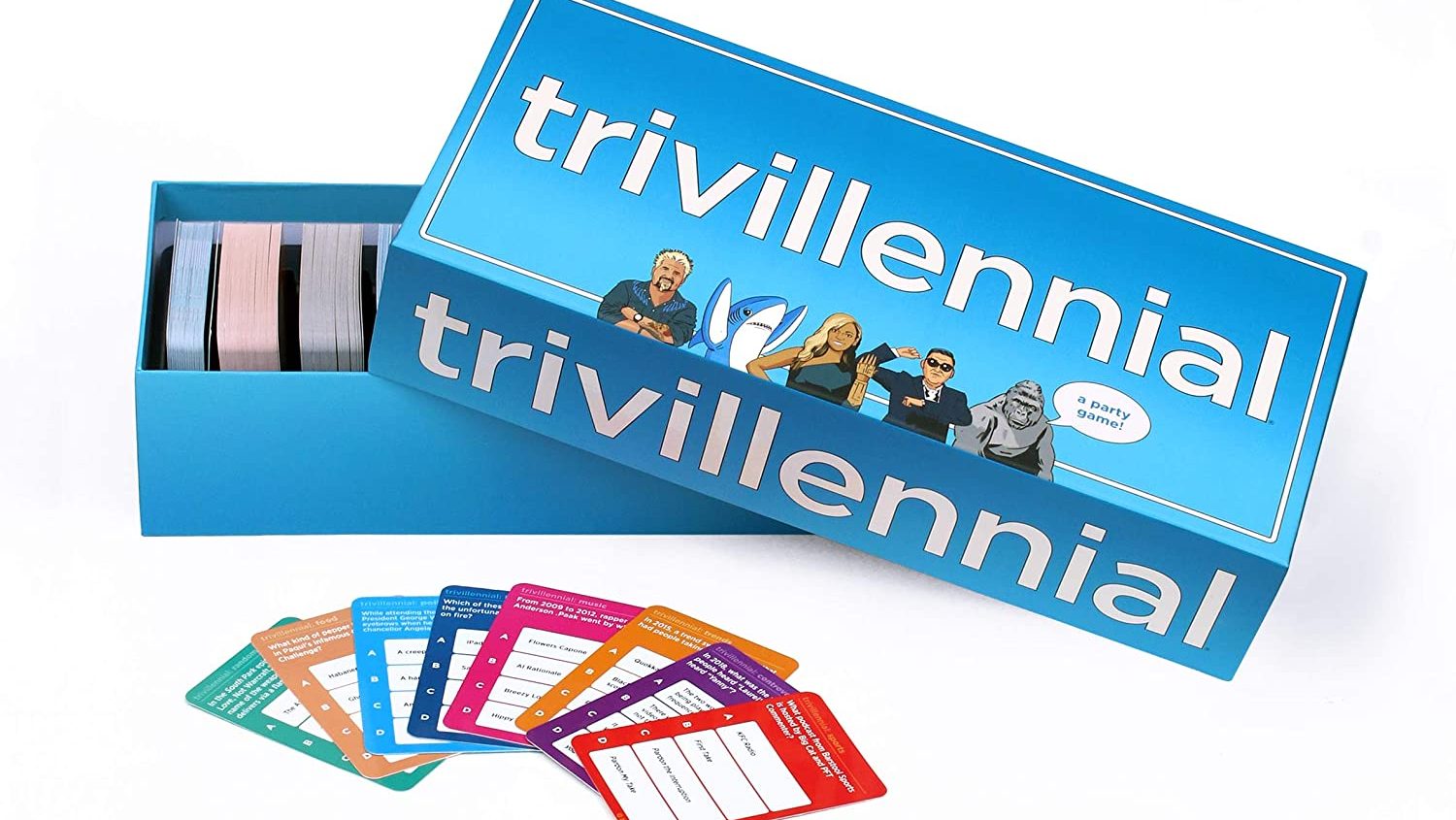 Mandatory social distancing has been going on for more than a month now, and the natives are getting restless. Protests are popping up throughout the country, seemingly less out of ideological fervor than out of the inevitable ennui that comes from being cooped up with the same people every day.
The technological advances of the 21st century ensure that you'll never run out of things to do at home. But watching Netflix over and over again can become monotonous, even if you are discovering content you never knew existed. Furthermore, spending your days glued to a screen can't exactly be good for you.
I recommend taking a break from TV to play a family game. I've come across several new games this quarantine, and I'll detail a few of them in the coming weeks. To start, I want to recommend a game I purchased for my younger sister. It's called Trivillennial.
As the name is meant to imply, this is marketed as "trivia for millennials." Because of this, I was a bit nervous about getting this for my college-age sister. Since she is part of Generation Z (now aptly called Zoomers), she did not seem to be included in the target demographic. However, despite the name, we found that the questions included in Trivillennial were right up her alley. In fact, some of the questions, specifically those dealing with memes of the past two or three years, seemed squarely aimed at her generation as opposed to mine.
The other reason I was skeptical about buying Trivillennial was its abysmal Amazon rating: 3.9 stars. Generally, you only rate and review a product if you have a strong opinion on it, which is why most quality items boast scores somewhere between 4 and 5 stars. A rating below 4 indicated to me that quite a few people absolutely abhorred this game. I almost abandoned the game in search of a better birthday gift for my sister.
Typically, that is what I would have done. But being quarantined, I'm not exactly wanting for time. So I ended up actually reading the customer reviews. The main complaint — pretty much the only complaint, which formed the basis of the spate of 1-star reviews — was that many of the trivia cards listed incorrect answers. Egads! Having written trivia questions in the past, I know that there's really only one requirement: they have to have the right answer! How could the creative team behind Trivillennial go to market without double- and triple- and quadruple-checking all the answers?
Turns out they didn't. Lost on all the negative reviewers was the fact that the answers are listed on the opposite side of the card. All the naysayers were looking in the wrong place. As long as you follow the directions in the box, you'll have no problem locating the answers. I wish whoever wrote the Amazon page put this in bold type in the product description so I didn't waste all that time doing due diligence. (UPDATE: Since I bought the game, the first Amazon bullet point has been changed to: NOTE – The answers are on the reverse (back) side of each card at the bottom!)
Trivillennial is a fun trivia game. Some of the questions are pretty obscure (how was I supposed to remember a bear breaking into someone's backyard to sip a margarita?) but the multiple choice options give everyone a chance, no matter their generational cohort. Zoomer, Millennial, Gen X, Boomer, this game is fun for the whole family. And who knows, you might just learn something about culture today.
'…I Should Have Known That' Takes Trivia Back To The Basics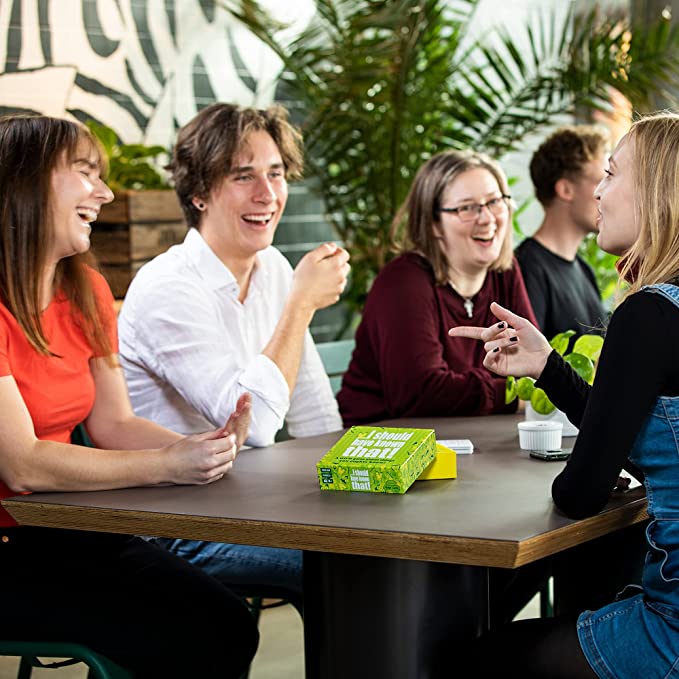 During the pandemic, trivia has been an escape of sorts for my family. We watch "Jeopardy" every night, a hint at a normal routine even without the soothing presence of Alex Trebek. And we've played countless trivia board games, including "Trivillenial" and Ken Jennings' "Half Truth," both of which I have reviewed on this website.
Amid all the uncertainty in the world today, there is something especially appealing about the timelessness of trivia. In a time when things can get "canceled" or memory-holed without prior notice, it can be especially rewarding to remember facts and figures from the past. For example: He may lose his reputation and even his national holiday, but no amount of historical revision can change the fact that in 1492 Columbus sailed the ocean blue.
When a trivia game called "…I Should Have Known That" shot up Amazon's bestseller list last month, I had to buy it.For a time, this game became the single most popular product not simply among its competitors in the trivia space, but among the entirety of Amazon's vast Toys & Games category.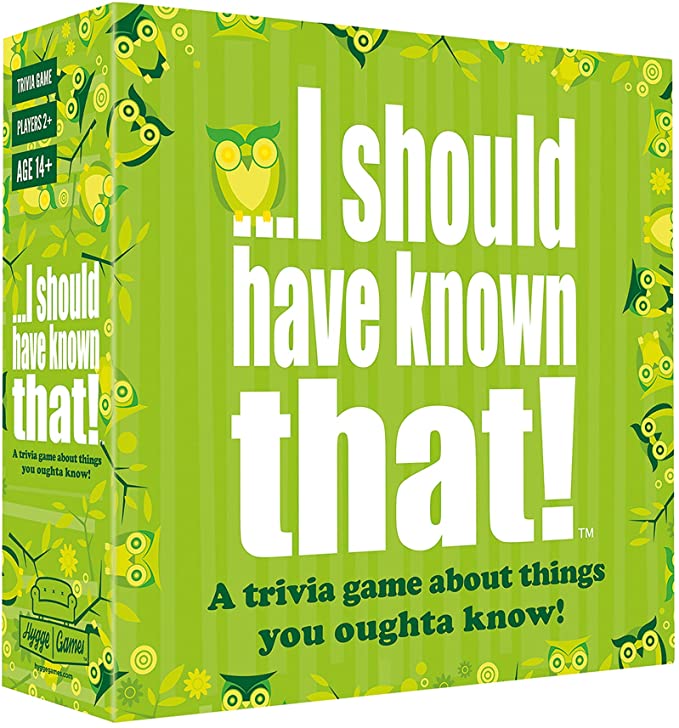 …I should have known that! Trivia Game — $20
Sadly, I was not particularly impressed. I have no idea what caused this particular trivia game's popularity to spike in April, but after playing it I can find little to distinguish it from the many other trivia games available on The Everything Store. The questions are easy, which itself is not a problem; after all, it styles itself as a game of questions that everybody should know. The inconsistency arises from the game's point value system. Each question is assigned a point value, and instead of gaining points for every one answered correctly, a player loses points for each one he or she gets wrong. Questions that everyone should know are worth as many as eight points, while missing trickier ones is not as detrimental to a player's score.
In theory, this conceit might seem a welcome twist to a tired system. But the point values are so inconsistent, you almost have to wonder if they were randomly distributed. A parochial question about British soccer, for example, is given the maximum number of points, indicating a must-know, whereas the first name of Italian dictator Benito Mussolini is considered a tricky one.
Ultimately, "…I Should Have Known That" features a nifty idea, and it is a shame it could not execute a bit better. However, if you are always on the lookout for more trivia questions, you could do worse than this set, especially for just $20. It can certainly provide a few decent hours of entertainment before it is time to move on to the next one.
Classic Monopoly Gets An 'Update'; Sales Skyrocket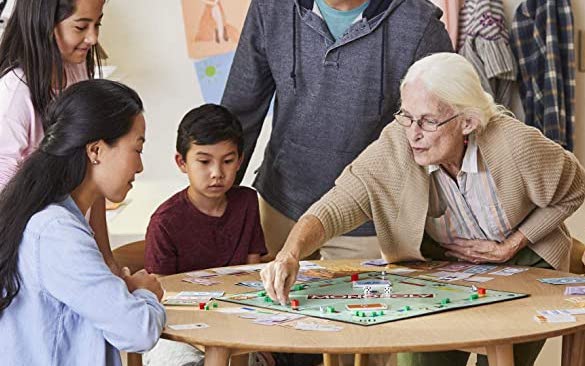 Call it a sign of the times. You can add Monopoly to the list of classic toys and games deemed outdated by some nebulous cultural police. A vote conducted on MonopolyCommunityChest.com, will determine what "socially responsible" cards will replace the timeworn favorites such as "you have won second prize in a beauty contest."
In a trend we have repeatedly seen in recent months following the brouhahas over the erstwhile Mr. and Mrs. Potato Head and the oeuvre of Dr. Seuss, this had immediate implications on the classic board game's sales numbers. Instead of waiting for whatever millennial priorities end up in the rebrand, buyers have taken to purchasing the game's original edition. On the day of the announcement, it shot up way up Amazon's Best Seller chart in the Toys & Games category, at one point even giving the beloved reversible octopus from TikTok a run for its money.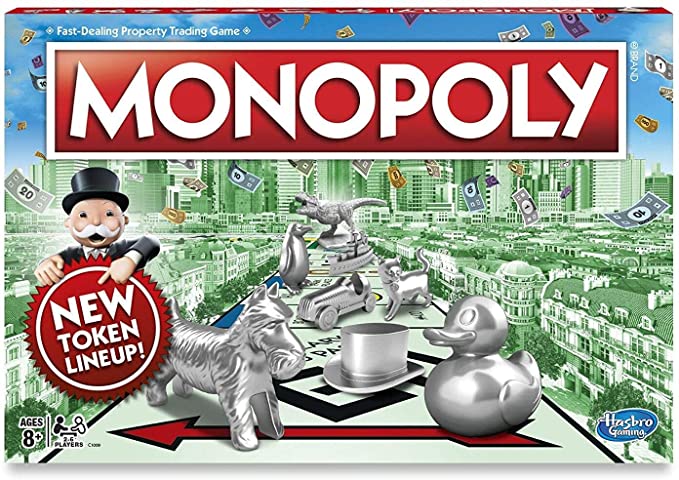 Monopoly Classic Game — $19.92
This makes sense. Monopoly is a fun game, but its primary asset is nostalgia. Community Chest cards like "Xmas Fund Matures" may be foreign and unintelligible to anyone above the earth, but with a game that was first published in 1935, you know that you are playing the same game with your kids as you did with your parents and grandparents. No one expects Monopoly to be an accurate depiction of modern life. (If that were the case, it certainly would no longer take its property names from the now rundown but formerly glitzy Atlantic City.) In a perfect world, Monopoly would exist as Edmund Burke's description of society: a "contract between those who are dead, those who are living, and those who are to be born."
The main beneficiary of this run on nostalgia, of course, is Hasbro. The same company that put the kibosh on America's favorite spuds also owns Monopoly, and it makes a profit whenever a game is sold, be it an old version or the new. In a way, "canceling" a dusty bit of intellectual property might be the best form of marketing. It is similar to how Disney used to only sell its movies at certain times, before then putting it "back in the vault." If people know that something may soon not be available to them, it suddenly becomes much more appealing.
You Can Now Watch Both HBO Max & Quibi On Roku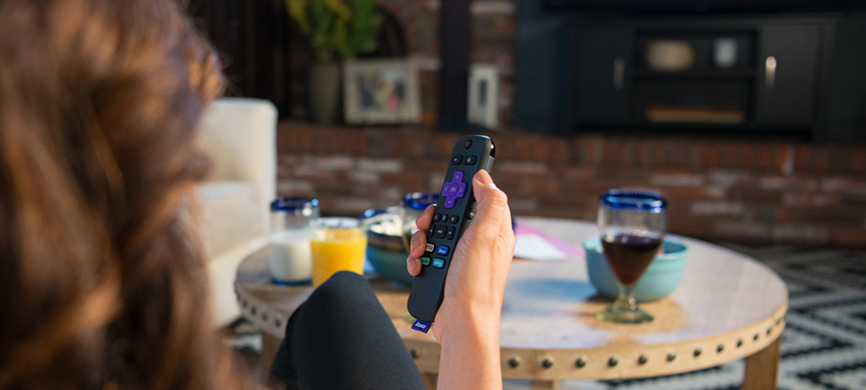 Our long national nightmare is over. When HBO Max launched last June, I liked its offerings but was disappointed that there was practically no way to watch it. Although Christopher Nolan called it "the worst streaming service," it actually has some good content, but since it was not accessibly from any streaming device, viewers were stuck either watching it on their laptops or else purchasing an upgraded Samsung Smart TV. My family ended up doing the latter, and we have no complaints at all with our new 55″ screen. But considering we own a plethora of Amazon Fire and Roku devices, it would have been nice to actually use them to watch the shows we are paying for.
It took many months, but you can now finally watch HBO Max on both Amazon Fire and Roku streaming sticks.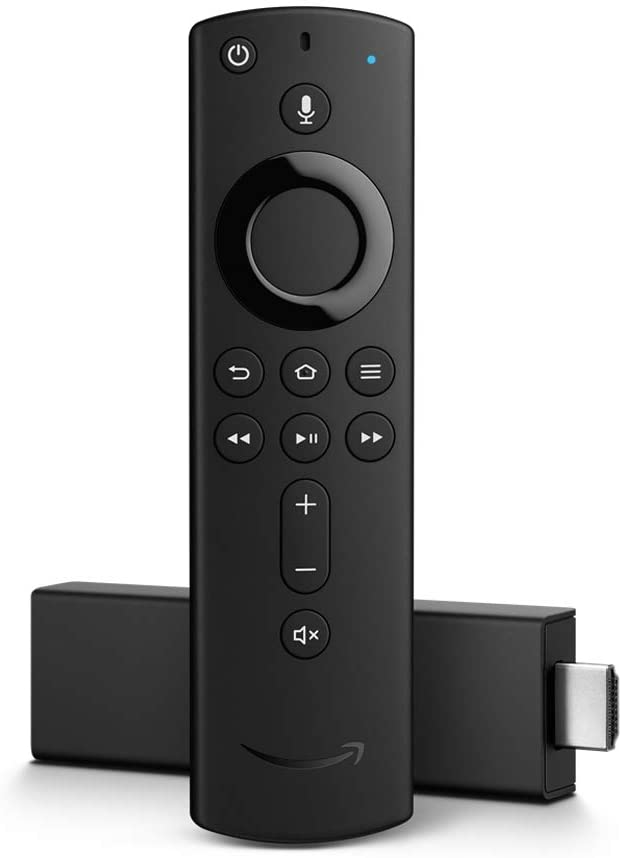 Fire TV Stick 4K streaming device with Alexa Voice Remote | Dolby Vision | 2018 release — $49.99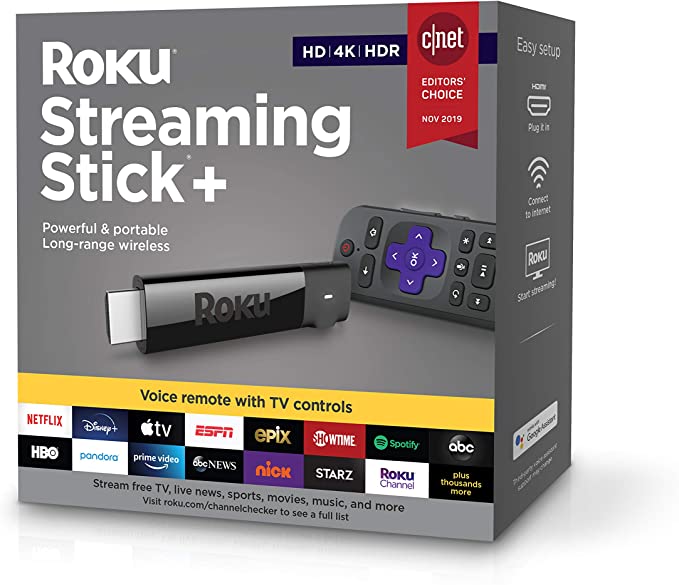 Roku Streaming Stick+ | HD/4K/HDR Streaming Device with Long-range Wireless and Voice Remote with TV Controls — $48.26
What took so long? With Amazon, the answer is obvious. Amazon competes with HBO via its own streaming service, Amazon Prime, and so it was always going to be a tough negotiation. But Roku? Isn't one of the pluses of Roku that it is platform-neutral?
Now we know the answer. Roku announced today that it had acquired the library of Quibi, an erstwhile streaming service that went bankrupt not too long ago. Roku will play those Quibi shows on its devices for free. In other words, Roku is getting into the content business.
Considering reports that sales of their devices have outpaced others on the market during the pandemic, this is big news for the entertainment industry, and it may make negotiations between the various players all the more hostile in the future. For the time being, let us rejoice and be glad that we can finally watch HBO Max in peace. We will deal with the fallout later.